Rock Bottom Restaurant and Brewery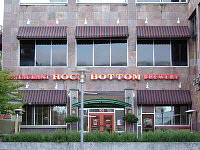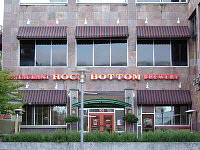 Brewery, Bar, Eatery
550 106th Avenue NE #103
Bellevue
,
Washington
, 98004
United States
(425) 462-9300 |
map
rockbottom.com
Notes:
Recent ratings and reviews.
| Log in to view more ratings + sorting options.
Ratings by schoolboy:
Reviewed by schoolboy from Ohio
3.84
/5
rDev
+21.1%
vibe: 4 | quality: 3.75 | service: 4 | selection: 3.75 | food: 3.75
I had a great time here quite a while back, but I will never forget it. If I ever get back to Bellevue I will seek it out.

I was there for a Microsoft event and until I found this nice watering hole, I was bored because I was alone. After that I was able to just park my butt at the bar and eat and drink there. A revolving door of people came in and most talked with me.

The brews were good, better than the Rock Bottom we used to have here in Cleveland. The vibe and food were good too.
Jan 01, 2015
More User Ratings:

Rated by Pivopijak from Washington
1
/5
rDev
-68.5%
vibe: 1 | quality: 1 | service: 1 | selection: 1
Closed for business.
Jun 26, 2019

Rated by rbowser from New Hampshire
1
/5
rDev
-68.5%
vibe: 1 | quality: 1 | service: 1 | selection: 1 | food: 1
Google maps reports this location as permanently closed.
Feb 24, 2017
Reviewed by barleywinefiend from Washington
3.44
/5
rDev
+8.5%
vibe: 3 | quality: 3.5 | service: 3 | selection: 4
A: A typical Rock Bottom. I was in on a Saturday about lunch time and it was pretty quiet. I was the only one at the bar but I imagine this place becomes very busy at times.

Q: I had the seasonal Pils which was not to bad and the Hop Bomb which I had previously had and it was pretty right on.

S: The server was nice enough, provided good, prompt service

S: About ten handles total. About seven mainstays and three rotating. Everything from a Pils to a specialty porter.

F: Did not try any food.
Aug 21, 2011
Reviewed by beerandcycling88 from Washington
3.25
/5
rDev
+2.5%
vibe: 3 | quality: 3.5 | service: 3.5 | selection: 2.5 | food: 4
Went here recently with some friends.
This place seems like an above average chain. The atmosphere is standard chain atmosphere.
All of their beer is their own, which was disappointing as I found their beer to be quite average.
The service was not bad but it was nothing special either.
The highlight of the place was the food. I had a roasted vegetable pizza that was excellent and my friends were happy with theirs.
The prices were standard chain prices with beer coming in around $5.00 or so and the food around 10 to 12.

Overall this place is nothing special. It is simply an above average chain restaurant. However if there is nothing around that is better it is a good place to go for decent food and some beer.
Jul 24, 2011

Reviewed by FightingEntropy from Minnesota
3.78
/5
rDev
+19.2%
vibe: 3.5 | quality: 3.5 | service: 4 | selection: 4
The RB is in the heart of a business district down the street from the Sheraton business hotel we were staying in. Big and well dwon RB, with the basic restaurant and light wood bar on the first floor, and the Top of the Rock Lounge upstairs, which was full and had more TVs.

Sitting down at the bar, I got very quick and attentive service even though I was just getting a beer tray of samples. Eight beers on tap that night I was there, and all were pretty good. Stay away from the Liquid Sun and Nisqually Nut Brown, Euro lager and nut brown respectively. But for a downtown location, the Hop Bomb, Harvest Ale, and Humpback Pale Ale were all very respectable, well hopped beers. Being my first night in northwest since I was 10, I was happy about this--travelling from Minnesota, if the local yuppie suit and tie crowd were drinking this many hops, the places pushing the limit should be very cool in the days to follow (which was true!).

Seattlites are an interesting breed. I mentioned yuppie post work with his tie pulled down was there, many others looked like an L.L. Bean explosion. Kinda a rugged yuppie. And, lots of laughing, which was true in Elysian earlier tonight. Food, beer, friends, and laughs are loud and strong. Any place where my own head turning loud laugh is 2nd or 3rd in the room is ok by me. Just seemed like they enjoyed other, all with a very relaxed atmosphere.

While maybe one of the best RBs I've been to, it's still just a sports bar with fake silver metal molded ceiling and the slightly above standard RB beer level--high end macro with a couple interesting ones worth the trip.
Nov 11, 2006
Reviewed by xoqx from Washington
3.68
/5
rDev
+16.1%
vibe: 4 | quality: 3.5 | service: 3.5 | selection: 4 | food: 3.5
The Rock Bottom Brewery in Bellevue, Washington is right downtown near the main commercial and business areas. Parking is free with validation. The brewery has a bar area on the main floor, ample dining area, and another bar and pool tables upstairs. They sell some beerish merchandise like shirts and branded pint glasses. The food is good with limited vegetarian options. Their burgers are fine and they will cook them as ordered, which I appreciate. The salmon fish and chips is okay; there's a reason salmon is not the usual fish of choice for that dish. The bar has LCD screens with football games and they have a full assortment of liquor.

I have found the service to always be friendly, if not always informed. Our most recent server did not seem to know what cask conditioned ales are, but after asking found out they do have one.

In terms of the beers, there are about 6 regular ones, and a rotating seasonal or two. They have a lager, unfiltered wheat, an amber, a pale ale, a nut brown and a stout. Some of their beers are branded with some local name (e.g. Nisqually Nut Brown) but you can be sure this is the same English Brown Ale as the Uptown Brown (Boston), Molly's Titanic Brown (Westminster, Colorado), and Sweet Magnolia Brown (Charlotte, North Carolina) to name a few. They do not have schooner glasses, which bothers me because I often want something much larger than a taster, but slightly smaller than a full pint so I can taste more beers without calling a cab.

I recommend this brewpub, especially if their rotating taps are as good as the wonderfully hoppy Harvest Pale Ale they have available this October 2005.
Oct 17, 2005
Reviewed by zacharius from Washington
3.14
/5
rDev
-0.9%
vibe: 3 | quality: 3 | service: 3 | selection: 3.5
This place has the bar upstaris above the restaurant. It is a bit noisey and you have to walk by people eating their dinner. Many young people are hanging out here. Average atmosphere, pretty decent people hang out here.

The beer is ok, tastes a little watered down like it was brewed for mass consumption, while nothing awful, nothing spectacular either. I came here after going to the taphouse, although I don't like the beers this place brews that much at least they are fresh and reasonably priced.

Service was bad, nobody ever came by the table but if you walk up to the bar it's fine service. Bartender knew the beers there, which was good because I don't know that much about Rock Bottom's beers.

Selection was decent, they brew 8 or so different beers. A person should be able to find something drinkable here.
Jan 02, 2005
Reviewed by beertaster13 from Washington
3.5
/5
rDev
+10.4%
vibe: 4 | quality: 3 | service: 3 | selection: 4 | food: 4.5
Went here for my wife's 21st birthday. We love there food and there fajitas are top notch. The atmosphere of this restraunt/brewery is packed on weekends and very slow on the weekday. The quality is average, while the food is excelent the beer isn't the greatest you will find, although there beer club is great to join. The service was fast at the beginning but once we ordered the waitress had a hard time keeping up with are refills of beer. Selection on the food menu is great, the beer menu is not average, just the RockBottom beer is available through the restraunt on tap. A good place to go for a great bite and an average beer.
Feb 17, 2004
Reviewed by jreitman from California
3.95
/5
rDev
+24.6%
vibe: 3.5 | quality: 4 | service: 4 | selection: 4 | food: 4
The Rock Bottom Brewery in Bellevue is downstairs from one of the best movie theaters in the area. The brewery is two stories with a casual restaurant/bar downstairs and a more lively area upstairs with pool tables, live music, etc. The atmosphere is good, but due to the acoustics in the building it always comes across as exceedingly noisy. The beers are pretty good but not stellar and the food is pretty decent. Overall, a very nice experience.
Jun 01, 2002
Rock Bottom Restaurant and Brewery in Bellevue, WA
Brewery rating:
3.69
out of
5
with
3263
ratings