Thoroughbred Gold
| Daniel Thwaites Brewery PLC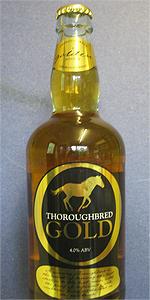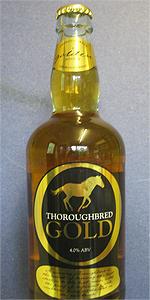 BEER INFO
Brewed by:
Daniel Thwaites Brewery PLC
England
,
United Kingdom
thwaites.co.uk
Style:
English Pale Mild Ale
Alcohol by volume (ABV):
4.00%
Availability:
Winter
Notes / Commercial Description:
No notes at this time.
Added by JohnW on 10-23-2009
HISTOGRAM
Ratings: 9 | Reviews: 8
None found.
More User Reviews:

3.03
/5
rDev
+3.1%
look: 3.5 | smell: 3 | taste: 3 | feel: 3 | overall: 3
A 500ml clear glass bottle with an indiscernible BB date for 2011 (so I don't know if this is out of date). ABV is stated as 3.7%.
Poured into a Sam Smith's pint glass. Highly carbonated; this one goes everywhere upon opening. A clear golden hue with plentiful carbonation. Forms a somewhat frothy head of white foam that disappears after a minute or so. Aroma of light malt with hints of biscuits, roasted grains, stewed leaves and a background solvent note.
Tastes of light malt with a mild bitter finish. Notes of biscuits, subtle roasted grain, stewed leaves and a faint hint of citrus. Slightly acrid. Mouthfeel is tingly and dry, but insubstantial. Watery body. Aftertaste of bitter stewed leaves.
A fairly average ale - unexciting. Nothing horrible, but little to stimulate the senses. Body is also pretty thin. I probably won't bother with this again - there are more exciting options out there.
906 characters
3.73
/5
rDev
+26.9%
look: 4 | smell: 3.5 | taste: 4 | feel: 3.5 | overall: 3.5
This Thwaites beer appears to be only available in bottles and from some chains of UK supermarkets, and not always available in a Thwaites pub - unless you ask for it specially!
Pours medium gold colour, decent fairly dense head, which lasts reasonably well. Strong pungent aroma as soon as you open the bottle, of resiny hops. The flavour echoes this in a strong bitter resin hop flavour, fairly smooth and light in texture, though the overall taste seems much stronger than the 4% alc would hint at. According to the label, a blend of Fuggles and Golding hops, together with Mariss Otter and Pearl malts are used in this beer.
The malt flavours are laid back, only slightest hint of sweetness, the hops dominate right through to the end. A decent session beer, though I find two bottles is plenty with the strong flavours dominating. Maybe the most up front beer Thwaites produce, as all their cask beers on hand pull are fairly mellow and easy drinking.
JohnW
B'ham UK Oct 2009
983 characters

1.16
/5
rDev
-60.5%
look: 2 | smell: 1 | taste: 1 | feel: 1 | overall: 1.5
This was a wild card buy because it was on the cheap, nothing really to be excited about here... quite the opposite to be honest. Very similar to Stella Artois; a skunky, light and horrible taste. The skunkyness was really the defining factor, I would be interested to see if it held up any better away from the clear bottle and would certainly consider a half pint on tap otherwise I doubt I will be drinking this again - generally I would say of even bad drinks that I would take it over a standard beer like stella but in this instance its so similar to stella, if it was the choice between the two I would probably just opt for a case of stella as opposed to a similar number of these and save a few quid.
709 characters
3.86
/5
rDev
+31.3%
look: 4.5 | smell: 3.5 | taste: 3.5 | feel: 4.5 | overall: 4.5
500ml clear bottle poured into a standard English pint pot.
A. Bright gold coloured beer. Very clear with a half a finger's thick white, bubbly head.
S. Juicy malt.
T. Some fruity malt characteristics sadly let down by the lack of anything else on the palate.
M. Medium bodied.
D. A pleasant offering from Thwaites. I will own up to not being a particular fan of their beers but could quite happily down one or two more of these. I just wish there was a little bit more complexity in the nose and in the mouth.
515 characters

3.32
/5
rDev
+12.9%
look: 4 | smell: 2 | taste: 4 | feel: 3 | overall: 3.5
Poured to reveal a golden body with a decent white head it looks good but...
The aroma, sorry the smell, no the stink
urrgghh! smelled the home out
B.O. and rotten cabbage with a hint of raw sewage.
The taste thankfully is more hops with a savoury caramel flow that tapers with a little peppery nose
good mouthfeel and slightly lively carbonation
I won't be buying this again
the beer is drinkable but the missus would probably throw me out.
448 characters
2.63
/5
rDev
-10.5%
look: 3.5 | smell: 3 | taste: 2.5 | feel: 2 | overall: 2.5
Pours a very clear deep golden colour, tending toward bronze actually, even when held up with the light streaming through it. Head forms initially, but then settles to some scummy big bubbles. More interesting are the bubbles left in the bottle, where they form a massive honeycomb of large bubbles above the liquid left there. Overall, it's decent enough for an English Mild.
Nose is mild and thin, with a slight skunking early on. Some mild malty grain characters come through, lending a kind of thin sweetness. There's an upturn in the aromatics, but it still feels like it's coming from the malt—hops are almost completely absent.
Taste is thin and weak as well, with a light crispness of grain on the back palate, but watery otherwise. Really, there's very little to talk about with regards to this beer—it's empty; perhaps not unpleasantly so, but empty nonetheless.
Particularly bland English beer. It may tick some of the admittedly easy English Mild boxes, but it really doesn't give you anything in the package.
1,028 characters
2.8
/5
rDev
-4.8%
look: 3 | smell: 3 | taste: 2.5 | feel: 3 | overall: 3
3.7% abv in a 500ml bottle:
Copper coloured with plenty of bubbles & a bubbly, pinky sized white head that lasts.
Sweet smelling lemon & honey with some malts coming through.
Has a clean taste with hints of lemon & is sweet tasting although slightly watery. As expected it finishes with a mildly bitter taste.
Rather light bodied, the beer tingles the tongue although is slightly more watery than you would like. The carbonation is good.
A fairly good beer that is not overly bitter & rather drinkable.
http://abarwithnoname.wordpress.com
546 characters
3.72
/5
rDev
+26.5%
look: 3 | smell: 3.5 | taste: 4 | feel: 3 | overall: 4
Bottle bought from supermarket. Alcohol 3.7% abv rather than the 4% currently listed above.
Light amber colour with a relatively thin white head. The nose is sweet with hints of honey and lemon. The taste is more citric than I had imagined, more than reflecting the lemon in the nose with clean, grassy notes. The feel is rather thin but the beer is dry enough that it doesn't seem watery.
Doesn't really seem to fit the English pale mild ale but on the other hand it certainly isn't what I would have expected from a beer describing itself as gold. All that said, I really like this very refreshing number.
609 characters
Thoroughbred Gold from Daniel Thwaites Brewery PLC
Beer rating:
2.94
out of
5
with
9
ratings