The Knickerbocker Tavern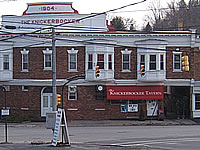 PLACE INFO
Type:
Bar, Eatery, Beer-to-go
3957 6th Ave
Altoona
,
Pennsylvania
, 16602-1654
United States
(814) 942-0770 |
map
knickerbockertavern.com
Notes:
No notes at this time.
Added by DrunkenPanther
Ratings: 14 | Reviews: 13
Reviews by slander:
4.4
/5
rDev
+3.3%
vibe: 4 | quality: 4.5 | service: 4.5 | selection: 4.5 | food: 4
Dan, having fucked up our Monday night stint with a selfish family funeral sends me packing for Altoona solo. I ain't happy out of the gate and a shit ride out due to the mess that is construction on 219 doesn't help the cause. Up the main drag looking for I don't know what, and finally the large rounding building on the corner, marked 1904 for all to see, with a crazy strip of Philly row houses alongside. Why, Hello, old people sitting on porches watching me park...
You're greeted by a sign explaining that if you park in the Doggie Den lot next door, they will tow your ass. Haven't even gotten in the door yet, and you've put me on high alert; thanks for the uncool adrenalin rush. And in. It's a slight tight room with a small "L" shaped green Formica topped bar with a wood lip & piping foot rail. Seating for nearly a dozen collectively between there and a small extension down up front. 12 taps on a stainless steel tower in front of me, and another 8 on the turn. Barback is a long horizontal cooler with booze tiered running the back half and shelved across the length on 2 rows over logo'd mirrored panels. Jager machine on the barback counter, and glassware stacked below. Slat wood piece overhanging the bar with inlayed spots, and mounted TV's on the ends.
Deep red walls with mounted lamps, old brewery signage (Ruppert, Knickerbocker), old PA license plates from the 50's, framed black & white portraits and Altoona pics, Jimmy Durante (and a questionably source of debate) Eddie Cantor caricatures. Mounted, what I can only assume is a faux zebra head. 4 booths behind me & a pair of hightops to the rear below glow rope lined windows, their sills lined with big booze bottles displayed.
A small hallway leading elsewhere with an old gas pump tucked in there. I think technically it's to the side but I would call this a backroom, just the same. Small 6 seat wood bar on the far wall, even smaller than the one up front, with a framed mirror barback wall and a 6 tap tower on cooler unit kegerator action. High ceilings with wood cross beams and fireplace brickface nicely done. TV's in the corners, and old cigarette ads framed. Bar counter in the middle of the room separates the bar area from the 8 booths & tables beyond. Further on to a back back room with another 6 tables.
And an outside surprise, one crazy enclosed beer garden, tucked between buildings, it's big brick to all sides, some of which are hop lined. 4 dozen or so tables under umbrellas pushed together where need be. Strung lighting everywhere, trees, bushes & plants, flowers on window sills, and wall mounted lamps. The enclosed Kourtyard, as they call it, is gorgeous and a total surprise in contrast with the surrounding 'hood. Most unexpected.
And having taken the tour, I need to get back barside for drink & food & drink. Started with a cup of chili, it was good; scallions, onions & cheese, shoulda had a bowl. And then the blackened tuna salad on the Erictender's recommendation. There were greens, yes, and you can leave the pepper mill with me, thank you. The salad was quite good, but the tuna itself was a good bit tired.
24 beers on in all, including the handpump here and the 5 taps in the back room. A solid mix of PA offerings (Victory Sunrise Weiss & Helios, Troegs Sunshine Pils, Weyerbacher Fifteen Smoked Imperial Stout, Yuengling), regional goods (Brooklyn Buzz Bomb Ale, Southampton IPA, Southern Tier Phin & Matt's Extraordinary Ale & IPA, Ommegang Witte, Sam Adams Noble Pils & Cherry Wheat, Magic Hat Circus Boy, DogFishHead 90 Minute IPA), the great beyond (Atwater Java Porter, Great Divide Hibernation, Green Flash Hop Head Red, 21st Amendment Brew Free or Die IPA, Stone 14th Anniversary Emperial IPA, He'Brew Bittersweet Lenny's R.I.P.A., Widmer Hefe), and a few meh imports (Guinness, Hoegaarden). And the Victory Hop Devil on the handpump. I drank the Sam Adams Noble Pils (I do like), Southern Tier Phin & Matt's (poor man's Gumball head, excellent), and the cask Victory Hop Devil (did not suck). Beer was clean & fresh.
And bottles, bottles, bottles. Stand up Pepsi cooler up front with 22's & 750's (DogFishHead, Moylans, Troegs, Stone, Rogue, Bear Republic, Brooklyn, New Holland, Victory, Sierra Nevada, Otto's, Southern Tier) and a doublewide cooler in the rear room with nearly 7 dozen or so 12 oz singles (Bells, Founders, DogFishHead, Victory, Troegs, Yards, Weyerbacher, Green Flash, Anderson valley, Brooklyn, Stone, Rogue, Arcadia, Sam Adams), all but a few being American craft beer. Some good bottlings all around, as if I need to stray from the taps.
Talking with homebrewer Mark from Texas, a kid happy as shit to be able to make your own six pack from the goods in the back room cooler. In general, the crowd was good 'til loud, older brown liquor drinking drunk guys showed up (shut up!). Good drink, cool scene. Yeah, I'd go again. Solid joint.
4,900 characters
More User Reviews:
4.6
/5
rDev
+8%
vibe: 4 | quality: 5 | service: 4 | selection: 5 | food: 4.5
I made the mistake of this being the first bar I had ever been in. The experience there was so wonderful that all the other bars I've been in are a disappointment, I set my hopes too high from the get go.
Outside of the terribly small parking lot (I occasionally park down a block or two just to avoid that mess), it's a great place. Very welcoming inside, a beautiful "Kourtyard" in the summer, and a pretty nice clientele. My only complaint about the building itself is that the music is occasionally a bit loud , a jukebox that you hear a lot of hard rock and the occasional pop/rap from. That might just me being a bit boring though, as I'm the type that goes there in the afternoon on a day off.
I'm no expert by far when it comes to beer, but from what I can tell they always have a great selection. I've learned a lot about beer from the excellent advice of the two bartenders I like (Bjorn is amazing). They're always rotating what's on tap, and they often hold tasting events that'll focus on a specific style or brewery, as well as a variety of liquor and wine tasting if you're also into that. They seem to have something for just about everyone.
The food is good, nothing I've tried has been worse than satisfactory while the majority of it has been delicious. All your staple foods. The 1904 cheese steak is to die for.
The one thing I will say bad about the place is that the service isn't always the best. If you're at the bar you're good, but if you're in the back room on a busy day you might go unnoticed sometimes. I can't say for sure if that's always the truth (I've only been back there two or three times), but I did have some trouble flagging the wait staff down for something.
1,716 characters

3.58
/5
rDev
-16%
vibe: 3.5 | quality: 4 | service: 2.5 | selection: 4.5 | food: 2.75
Stopped in for supper while in town for business. Two things stood out - the variety of the draft beer offerings and the outdoor courtyard seating. Quite unassuming on the outside (although in a funky old building) and the entry is into a cramped bar area. The staff was helpful enough - they are not overly intrusive as is the custom at many places trying move you through like cattle. The food selection was varied enough for anyone to find something they would want. Beer offerings ranged from local PA to a few Belgians and nice West Coast breweries. Worth a try when in town.
580 characters

4.55
/5
rDev
+6.8%
vibe: 5 | quality: 4.75 | service: 4 | selection: 4.5 | food: 5
I'm a regular here so I may be a bit biased. This is hands down my favorite spot in Altoona. The staff is all knowledgeable about beer and can always suggest something depending on your favorite style. Be sure to ask about their upcoming events which regularly include not only special beer flight nights but also wine, tequila, bourbon and more.
346 characters
4.58
/5
rDev
+7.5%
vibe: 5 | quality: 4 | service: 5 | selection: 5 | food: 3.75
After a long day on the backroads of Pennsylvania we happened upon this unassuming old tavern whose only indication that it's been there a long time is that it retains the original sign. You enter through the bar area, like any old good bar and it looks like that's all there is, but it keeps going, there were at least two more sections of seating and a beautiful outdoor area, what a surprise on the outskirts of altoona. The beer selection was excellent with a good variety of PA beers and "imports" from places such as california. there were even a few beers I hadn't seen before which is unusual for a Philadelphian in these parts. My sandwich was pretty ho hum but the bartender talked us into the wings and I'm glad we listened. He claimed they are fresh never frozen...whatever it is, they were excellent. The staff was extremely friendly. If I ever find myself in altoona again I'll be sure to make a stop, hopefully I won't have a long drive ahead of me so I won't have to limit my beer tasting as much.
1,013 characters

3.94
/5
rDev
-7.5%
vibe: 3.5 | quality: 4 | service: 4 | selection: 4
stopped in here after pints for pets, it was talked up all day. the layout of the place is a bit odd with everything being spread out/divided. the entrance/main bar area is small and crowded. there are a few booths and limited seating at the bar. decent selection of beer on tap and bottles in a small cooler. the outside patio is the nicest thing about this place, pretty large in size and plenty of seating. the back bar and side room can accommodate most of the place's occupancy. only about 6 beers on tap at the back bar, but also some more bottles. i even saw a 2009 bigfoot in that cooler! staff was friendly. from what i understand, this is the best craft beer bar in the area. it was a little underwhelming for me, but i guess craft beer hasn't really exploded in altoona yet. and if that's the case, i'll be back the next time i'm in town.
849 characters
3.88
/5
rDev
-8.9%
vibe: 4 | quality: 4 | service: 3 | selection: 4.5 | food: 4
I've been the to Knick several times. I love the beer selection. They have a nice variety on tap and a cooler full of 25 ouncers to go. There is a decent 12 ounce selection in the back.
I swear, though, the bartenders specialize in looking busy by doing nothing. I have waited for a beer for ten minutes and have not been able to figure out what the bartender was doing while not waiting on me. Perhaps it's part of their training. The rest of the wait staff is responsive.
I don't want to sound negative. This is probably the best place in the Altoona area. You should go there.
581 characters
4
/5
rDev
-6.1%
vibe: 4 | quality: 4 | service: 4 | selection: 4 | food: 4
Stopped in here after the Pints for Pets Brewfest in Altoona, for some refueling & sobering up before hitting the road back to Pittsburgh. My dad's selection (with my endorsement), as there was an entry on it in Ken Hull's "Going Local," a book on local, independent eateries & breweries in central PA.
The vibe of this place impressed me: it's really got an old school kind of feel to it. I don't know if it's housed in a defunct hotel or what, but the high ceilings, old wood, & decor gave it a cool 1920's inn feel. I've always wanted to visit one of those "hotel bars" so famous in PA, I have a feeling they feel kind of like this place. There were multiple rooms, as well as a nice courtyard that I think would be great on a summer evening.
The service was prompt & friendly, & our waitress was kind enough to autograph my dad's book. The food was pretty good, too -- the crabcake sandwich seriously hit the spot after all the beering we'd done earlier that day. Prices were pretty reasonable, too. And I liked the portion sizes -- our spinach dip appetizer was just enough that we were satisfied without feeling carbed up & bloated.
Our agenda being what it was, I didn't actually drink any beer, although I scoped out the draft & bottle selection. I wasn't blown away by it, but it was respectable, certainly plenty quality stuff to choose from. Some highlights were bottles of Burton Baton & World Wide Stout, those stick out in my memory.
A cool place, for sure. Not sure I'd go out of my way to hit it again, but if I'd be happy to return if in the area. I'd recommend it to passers-through.
1,605 characters

4.35
/5
rDev
+2.1%
vibe: 5 | quality: 4 | service: 4.5 | selection: 4.5 | food: 4
This is a really nice place. First off, the atmosphere is amazing. The clientèle was all upscale... I didn't see any riffraff or dirty drunks here.
The menu is quite impressive. I had the fish & chips which was good. The wife had the crab cakes which were amazing. The Knick had about 14 crafts on tap which were wide ranging. They also have a cooler with singles in it.
Overall, it is a nice place to take the wife or girlfriend. It is even clean enough to take children to. It is a nice neighborhood bar minus the dirties and drunks.
538 characters

4.6
/5
rDev
+8%
vibe: 4.5 | quality: 5 | service: 4.5 | selection: 4.5 | food: 4
I used to live in Altoona years ago now and i always enjoyed going to the Knickerbocker. It was a nice place to kick back and relax.
A- great place especially when the patio is open and it is a cool summer night. Love to sit out there and drink a nice cold beer.
S-quick and very pleasant and the waittresses were smokin' hot!
They always had a wide variety of beers to choose from. On-tap and in bottle.
I honestly never had any fodd there.
It was a bit more pricey than some other places in Altoona but the beer, friends and the atmosphere made it well worth it!
570 characters
4.18
/5
rDev
-1.9%
vibe: 4.5 | quality: 4 | service: 4.5 | selection: 4 | food: 4
Talk about a business trip, from Binghamton, NY to Altoona in the same day! No wonder I was looking for a place to relax with a beer and a burger. Saw this place on BeerFly and figured I'd give it a shot, it was only a five minute drive from my hotel.
It was a warm evening, so I sat in the large back garden. The surrounding brick rowhouses make for a comfy setting, and the crowd was lively, but not overwhelmingly loud.
Tap selection seemed a bit limited - I grabbed a $4 Victory hefeweizen - but the extensive selection of domestic and imported bottles made up for that. Settled on a bomber of Rogue Shakespeare Stout for $7.50.
As for the food, it's pub food. But it was well made - the wings and burger I had were fine - and they had an extensive selection of apps, salads and sandwiches, all reasonably priced.
I don't know if I'll ever be in Altoona again. But if I am, at least there's one worthwhile place to fuel up and chill out.
954 characters
4.2
/5
rDev
-1.4%
vibe: 4.5 | quality: 4.5 | service: 4 | selection: 4 | food: 4
This is the place to go in Altoona to enjoy a nice selection of fine brews, both on tap and in bottles, and good pub food. The atmosphere is that of a friendly and comfortable local pub that makes you feel like staying there for hours. The pub is located in The Knickerbocker townhouse complex, originally constructed by the Pennsylvania Railroad for it's employees and guests in the early 1900's. They are very reminiscent of the row houses in Baltimore or Philly. The front bar room is decorated with a variety of antiques and beer memorabilia. The bar seats about 12 and there are about 5 or 6 comfortable booths. The backbar, which recently opened, is the refinished great room of the house that was originally occupied here. Lots of wood, extremely high ceilings and a nice fireplace. Off to the side is another small room with a pool table. The highlight of the place in the spring, summer and early fall is the outside courtyard. I swear that this was transplanted from Belgium, Germany, the Alsace, etc. Very European feel with a stone patio, lots of red brick and hop vines growing up the walls. What a great place to enjoy a warm summer evening sipping fine brews!
The taps number about 12 between the front and back bars. Some of the current offerings include: Rogue Chocolate Stout, Smithwick's, Guiness, Troeg's HopBack, Boddington's Pub Ale-nitro, Harp, Paulaner Hefe and Woodchuck Cider. The selection changes frequently and Bjorn, the owner, does his best to keep interesting beers available while fighting PA's arcane and ridiculous distribution laws. The "Knick" also offers a wide selection of designer martinis and great line-up of single malt scotch and tequillas.
The service is always friendly and efficient. They try to make you feel welcome and have a great time, as any good pub should. The place is now open on Sundays at 11am and during the rest of the week at 4pm. Bjorn said they will be remodeling the front bar area and upgrading the menu --all good news. If you find yourself in Altoona or driving through cental PA, do yourself a favor and look up the "Knick"!
2,099 characters
4.13
/5
rDev
-3.1%
vibe: 4.5 | quality: 4 | service: 4.5 | selection: 4 | food: 3.5
Altoona is not a city known for its great beer selection. The Knickerbocker is known for their diverse collection though.
The pub is setup in an English pub style with a bar and booths in one room and a connected game room with a pool table, darts and fussball.
The bar boasts about 10-12 drafts ranging from macro-swill to some much better beers. To be honest though, their draft selection is never quite as enjoyable as their bottle selection. The cooler boasts about 100 different bottles. A mix of both imports and micros can be found here.
If you like cigars and martinis, this bar also has a great selection of the two.
The Knick is definitely the top bar in Altoona if you happen to be passing through.
715 characters
The Knickerbocker Tavern in Altoona, PA
4.26
out of
5
based on
14
ratings.