Bangla
| Hepworth & Co. (Brewers) Ltd.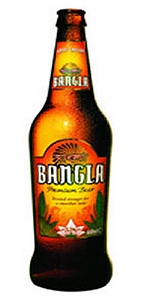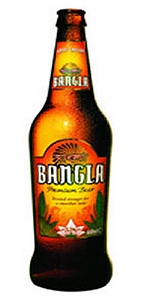 BEER INFO
Brewed by:
Hepworth & Co. (Brewers) Ltd.
England
,
United Kingdom
thebeerstation.co.uk
Style:
Euro Pale Lager
Alcohol by volume (ABV):
5.20%
Availability:
Year-round
Notes / Commercial Description:
No notes at this time.
Added by jdhilt on 07-01-2006
HISTOGRAM
Ratings: 12 | Reviews: 5
Reviews by flyingpig:
3.5
/5
rDev
+17.1%
look: 3.75 | smell: 3 | taste: 3.75 | feel: 3.5 | overall: 3.5
660ml bottle, Kings Cross Tandoori, London (£4.25):
Bright amber with a foamy white head that holds pretty well for a pale lager. Clear and there is some signs of carbonation showing.
Corn & some lager malts with light and sweet notes. There is some grassy hops as well and overall the beer is light on the nose with a clean and fresh aroma.
Light and clean taste with some grassy hops, faint background fruits and some light bitterness. Quite refreshing tasting and one that goes down well with a curry.
Clean and refreshing too, particularly with spicy food. There is a slightly grainy feel but nothing major. Carbonation is moderate to strong and the beer goes down easy.
A pretty good pale lager and much better than one would expect going in. The taste is a crisp and clean one with a nice bite at the end and it goes particularly well with spicy food.
863 characters
More User Reviews:
3.73
/5
rDev
+24.7%
look: 3.5 | smell: 3 | taste: 4 | feel: 4 | overall: 4
I must wear my glasses while out shopping, I must wear my glasses while out shopping.
Write that 100 times you naughty boy!
The temples of Dinajpur, the tea gardens of Sylhet and the rain forests of Sundarban are all in Bangladesh, but this beer hasn't been anywhere near them.
I am trying to drink round the world, this beer hasn't helped.
The truth is I quiet liked the beer (for a UK brewed lager).
Brown 660ml bottle, best before 31 Mar 09, drank Feb 09.
The normal pale golden yellow that all lager/pilsners/helles usually appear like. the same small white disappearing head and the same non-aroma most have too. Thin looking, as again some lagers tend to do.
This beer however was a sweet version, not sickly, but even in the non-aroma there was a hint of something sweeter than normal.
It had flavour too, nothing huge, just a presence and a bodyfeel over and above your regular Curry cooling lager, maybe the 5.2% alcohol helped?
Even though I was disappointed to discover it came from Hepworth's I enjoyed the beer.
1,033 characters



2.88
/5
rDev
-3.7%
look: 3 | smell: 2.5 | taste: 3 | feel: 3 | overall: 3
Pours a three finger white head that fades quickly leaving a trace of lace. Chrystal clear light amber color. Good carbonation and medium bodied. Apple juice/cider nose. Starts sweet, fizzy apple flavor hints of adjuncts in background. Brewer says "With a strength of 5.2% ABV, Bangla is stronger than most Indian beers and has a fuller flavour and smoother taste, which perfectly complements spicy food." Didn't know what to expect. $1.99 for a 660ml bottle from John's Market Place Tigard, Or.
495 characters

3.38
/5
rDev
+13%
look: 3.5 | smell: 3 | taste: 3.5 | feel: 3.5 | overall: 3.5
I tasted this 660ml bottle on 11.04.2009 (in date). Brewed in Manchester (so much for "Bangla"). It poured a clear amber coloured brew with a thin head that lingered. Some lacing remained.
Not much to smell here really.
It tasted surprisingly good; somewhat sweet with a nice enough tang to it.
Should be good with food, but in fact this was decent enough to drink on it's own. Not bad!
386 characters

3.03
/5
rDev
+1.3%
look: 3.5 | smell: 3 | taste: 3 | feel: 3 | overall: 3
3.3
/5
rDev
+10.4%
look: 3 | smell: 3 | taste: 3.5 | feel: 3 | overall: 3.5
I was quite upset to see that this is actually brewed in the UK. Oh well.
A - Clear, dark golden colour with a frothy inch or so of white head that falls away quite quickly.
S - Not much on the smell. Quite grainy & there is a touch of spicy, grassy hops.
T - Grainy malt with some soft stone fruit touches.
M - Medium bodied, quite smooth, medium to high carbonation.
D- Decent. Decent enough to get again? Probably not.
422 characters
Bangla from Hepworth & Co. (Brewers) Ltd.
Beer rating:
2.99
out of
5
with
12
ratings