Sussex
| Hepworth & Co. (Brewers) Ltd.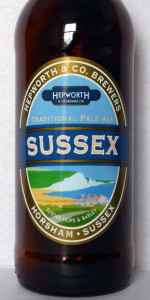 BEER INFO
Brewed by:
Hepworth & Co. (Brewers) Ltd.
England
,
United Kingdom
thebeerstation.co.uk
Style:
English Pale Ale
Alcohol by volume (ABV):
3.50%
Availability:
Year-round
Notes / Commercial Description:
No notes at this time.
Added by jarmby1711 on 02-19-2011
Ratings: 5 | Reviews: 5
Reviews by vancurly:
3.38
/5
rDev
+6.6%
look: 3.5 | smell: 3 | taste: 3.5 | feel: 3.5 | overall: 3.5
a) Off-white rocky foam, nice lace. Pale amber/golden colour.
s) Black tea, bread crusts, hint of citrus & ginger powder
t) As it smells, but underpinned with a solid malt backbone. Lingering piney bitterness that is medium and persistent.
m) Initially light & tingly. A dextrinous cushion becomes evident that saves it from feeling like a softdrink. Pleasant feel, nice to drink.
o) An interesting beer to analyse; its components are quite distinct,yet work well together. Good for a couple of pints in the afternoon.
518 characters
More User Reviews:
3.15
/5
rDev
-0.6%
look: 3.25 | smell: 3.25 | taste: 3 | feel: 3.25 | overall: 3.25
Clear yellow. Large bubbles.
Blonde beer hops (Golding and Admiral).
Bitter kick. Hops again with some balance provided by light malt background.
Standard English Summer Pale Ale.
179 characters

3.21
/5
rDev
+1.3%
look: 2.5 | smell: 4 | taste: 3 | feel: 3 | overall: 3
Light sessional English bitters, this really takes me back to my working in a Scottish pull-tap real ale pub days... the drinking, not the working that is. And many a fine ale I consumed while on said premises under the guise of "trying it out so I can better inform the customers", ahhh, memories.
Poured from a 500ml (what no pint size?) bottle into a tulip pint glass.
A: This ale comes rushing out of the gates with excitement only to fizzle down to nothing like a horse I decided to back in a race. The body is cloudy orange with a pale though nonexistent head.
S: Hop aromas are prominent and fruity. There is a light caramel malt base as well but it's a typical bitter all the way.
T: Given time to let warm to room temperature (a hat tip in the way of the Poms) this ale exhibited some classic bitter hop twang with a light malt grain base, again the memories flow like pull-tap ales.
M: Fairly on the light body, low carbonated easy-to-drink style that makes a sessional just that; a sessional.
D: Quite easy to drink... too easy. A higher ABV would certainly not have gone astray, however it is a bitter-sweet trip down memory lane nonetheless. Overpriced for what I would pay here but at this point in my beer review "career" it's become more about ticking boxes than discovering a brilliant new brew. In two words: adequately sufficient.
Food match: I don't see why the English like drinking a brew like this with a curry (I don't understand how you would even be able to taste a bitter after a beef Vindaloo). I would pair this ale with fish and chips or a steak pie you would commonly get from a local pub.
1,627 characters
2.91
/5
rDev
-8.2%
look: 4 | smell: 3 | taste: 3 | feel: 2.5 | overall: 2.5
Nice dark gold , slightly brown with a creamy cloudy head
Mineral to tinny to smell, but there is some biscuity malt there
Underwhelming in flavour, in fact I couldnt decide what I could taste if anything at all
Finish quite sharp but overall is quite watery in the mouth
I would have to say I was disappointed.It was just a beer and was tending towards a macro quality to it
382 characters
3.2
/5
rDev
+0.9%
look: 3 | smell: 3 | taste: 3 | feel: 3 | overall: 4
Pint plus a half on cask at the local social club. I've had this on cask 2 or 3 times now and it is a solid beer, but not spectacular. If anything, try it out if you are new to English bitters as it is incredibly representative of the style.
A: amber, transparent, no fizz, no head (only a tiny amount of bubbles at the top of the glass)
S: grainy, rustic
T: bitter, subtle but with a sharp bitterness, slightly biscuity
M: very little to no carbonation, but very drinkable
D: the low ABV plus the subtleties of the beer make this a potential session beer. Personally, I rarely have more than 1 pint at a time, but this is very drinkable and could convince one to change that rule.
NOTE: I would tend to disagree with the classification of this as a pale ale, as to me it seems to be a classic English bitter.
815 characters
Sussex from Hepworth & Co. (Brewers) Ltd.
3.17
out of
5
based on
5
ratings.