Curious Porter
| Hepworth & Co. (Brewers) Ltd.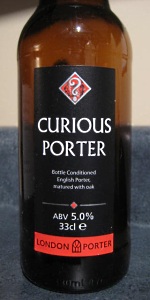 BEER INFO
Brewed by:
Hepworth & Co. (Brewers) Ltd.
England
,
United Kingdom
thebeerstation.co.uk
Style:
English Porter
Alcohol by volume (ABV):
5.00%
Availability:
Year-round
Notes / Commercial Description:
No notes at this time.
Added by EmperorBevis on 03-25-2012
Ratings: 11 | Reviews: 6
Reviews by biboergosum:
3.66
/5
rDev
-0.5%
look: 4 | smell: 3.5 | taste: 3.75 | feel: 3.75 | overall: 3.5
330ml bottle, aged on oak at an English winery. New things are good! What's not good, however, is the exclusivity of availability of this brewer's offerings to the good folk of Alberta, Canada.
This beer pours a clear, dark ruby amber hue, with four fingers of billowy, fizzy, puffy beige head, which leaves some broad swaths of chunky lace around the glass as it slowly sinks away.
It smells of dark bready malt, warm toffee, zingy dried orchard fruit, dry Euro-chocolate, and herbal, leafy hops. The taste is grainy, weakly caramelized malt, musty drupe fruit, mildly nutty dry-ish mocha, some faint ashy tobacco, a hint of wood planks, and more leafy, earthy hops.
The carbonation is a tad peppy, fine bubbles and all that, the body medium-light in weight, and with a small edginess, that while not precluding outright smoothness, doesn't promote it either. It finishes a wee bit off-dry, the lingering chocolate malt notes struggling in the face of some slowly emerging astringent fruit, ashy, and woody characters.
A decent enough porter, in the old-world style, though lacking the lactic sourness one might expect. However, the rather too well-hidden barrel notes may have something to do with this, flavour integration being the complicated beast that it is. Worth a try, at the very least.
1,301 characters
More User Reviews:


3.3
/5
rDev
-10.3%
look: 3.5 | smell: 3.5 | taste: 3 | feel: 3.5 | overall: 3.5
A 330ml bottle with a BB of Nov 2012. Picked up ages ago from Waitrose. The label states that this is brewed with four types of malt, hopped with Admiral and matured with oak (not quite sure what this means). Bottle conditioned.
Poured into a Sam Smith's pint glass. A dark reddish-brown colour with light carbonation. No obvious signs of bottle conditioning. Forms a large head of creamy beige foam that lasts for a few minutes before subsiding. Aroma of sweetish dark malt with notes of roasted grain, chocolate, mild dried fruit, faint molasses and a hint of stewed hops. Not as roasty as it could be, but rather nice.
Tastes of dark malt with a mild roasted character and a dry finish. Notes of roasted grain, subtle coffee, chocolate, hints of dried fruit, faint molasses and stewed hops. Weakly acidic, possibly from carbonic acid. A tepid bitterness upon swallowing. Mouthfeel is smooth and dry with a subtle tingliness. Decent body, though a little thin and undercarbonated. Somewhat astringent, with an aftertaste of dark malt and stewed hops.
Not bad, though nothing mind-blowing. Looks alright and smells quite nice. Both aroma and flavour could have done with an increased dose of roasted malt, and the flavour lacked depth and intensity. The body could also use beefing up; thicker and with a shade more carbonation. It drinks nicely enough but isn't particularly memorable. Worth trying but no need to seek it out.
1,431 characters
3.32
/5
rDev
-9.8%
look: 3 | smell: 3.5 | taste: 3.5 | feel: 3 | overall: 3
330ml bottle (best before 12 Nov 2012) poured into a Westmalle chalice on 25 July 2012.
Lovely deep dark ruby red body with an off-white/cream coloured head that soon turned into a wispy, thin nothingness. Pity about the head retension being so poor.
Dark chocolate and burnt ground coffee in the nose and taste: the over roasted malts feel gives the brew a pleasant flavour but prevents the mouthfeel to be creamy or overly rich.
OK, but not a beer i'll seek out again.
473 characters

3.85
/5
rDev
+4.6%
look: 3.5 | smell: 3.5 | taste: 4 | feel: 4 | overall: 4
cola black body with a reasonable enough slight off white head.
aromas as expected a good belt of coffee but there is a hint of cola there, perhaps this is why it is called curious.
The taste is intense and complex bouncing bitter expresso with a slight sugary butter fudge, liquorice flavours a bit like Pontefract cakes and a depth that gives dark red wine hints
Thick and heavy going good solid porter.
?
419 characters

3.67
/5
rDev
-0.3%
look: 4 | smell: 3.75 | taste: 3.75 | feel: 3.25 | overall: 3.5
330ml bottle poured into tulip 22/9/13
A near black with a deep cola edge, large light mocha foam sticks around for a while and leaves lots of random lace
S raisin and plums, coco powder, faint charred wood, hard toffee, herbal notes and some licorice
T not far from the nose with more fruity notes, maybe just a hint of coffee as it warms
M quite light, it foams up and then flattens out, a little slimy and a char, coco finish
O decent brew but lacking the richness of great porters, feels basic but its a minor complaint
nothing memorable but decent nonetheless, I doubt I'd bother again though
607 characters

4.18
/5
rDev
+13.6%
look: 4 | smell: 4 | taste: 4.25 | feel: 4.25 | overall: 4.25
From a bottle during a visit to London. Best before date of Sept 2017.
A deep complex brew with a low ABV. I like it. The chocolate malt is obvious in the taste and nose. The oak barrel aging comes though in the taste as well. I'm surprised at other ratings. Taste is personnel but I suggest that this brew is under rated.
324 characters
3.75
/5
rDev
+1.9%
look: 3.75 | smell: 3.75 | taste: 3.75 | feel: 3.75 | overall: 3.75
Curious Porter from Hepworth & Co. (Brewers) Ltd.
3.68
out of
5
based on
11
ratings.