Louis Quatorze 14th Anniversary Imperial Stout
| Snoqualmie Falls Brewing Company & Taproom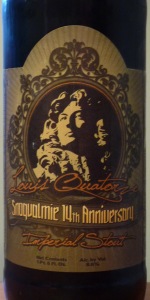 BEER INFO
Brewed by:
Snoqualmie Falls Brewing Company & Taproom
Washington
,
United States
fallsbrew.com
Style:
Russian Imperial Stout
Alcohol by volume (ABV):
8.60%
Availability:
Limited (brewed once)
Notes / Commercial Description:
No notes at this time.
Added by draheim on 01-22-2012
This beer is retired; no longer brewed.
Reviews: 13 | Ratings: 27
2.21
/5
rDev
-41.8%
look: 3.5 | smell: 2.5 | taste: 2 | feel: 2 | overall: 2
One time only, let's see how this on stacks up.
Pours a dark ale with a solid finger of mocha foam which slowly falls to a quilt of the same. Frost lace. Smells of dark chocolate, some licorice and a substantial amount of butter. The butter is a little off putting. Flavors are of molasses, some toasted malts and a little honey flavors. The flavors are there, but it is really subtle and less robust than I have come to expect from a quality RIS. The body is brutally thin with hi carb - seems overly attenuated with poor temp management.
This is not a particularly good beer. Certainly has obvious deviation from typical RIS character, and the butter tones are too much.
674 characters
3.19
/5
rDev
-16.1%
look: 4.5 | smell: 3 | taste: 3 | feel: 4 | overall: 3
Big-ass bomber purchased about a week ago at Jim's Homebrew in Spokane for $6.85.
Poured a dark brown that seemed black once in the glass, with a big, creamy tan head. Said head took a few minutes to drop, leaving some spotty lace behind.
Some coffee notes in the nose, but there's not a whole lot going on at first. After letting it warm up a bit, chocolatey notes emerge to give off a sweet scent, along with some roasty malts. Still, there's not enough oomph. It just doesn't smell like an Imperial stout.
The taste starts off with some molassesy sweet notes and some milk chocolate flavors, but then there's a mild coffeeish bitterness. The taste then sort of just subsides. There's no hoppy zap at the finish, no real dryness at the swallow – and no sign of a high abv.
Between medium and full in the body, with a coating mouthfeel.
A decent beer, but by no means representative of the style. Not really worth seeking out, unless it's on sale. And wtf does Louis Quatorze have to do with Snoqualmie?!
1,026 characters
3.52
/5
rDev
-7.4%
look: 3.5 | smell: 4 | taste: 3.5 | feel: 3.5 | overall: 3
thanks to johnmichaelsen for sharing this at my birthday tasting, enjoyed chilled from a bomber.
The color is black with opaque clarity and thin cap of pale tan that settles to a ring. The smell is slightly woody and roasty with prune and slight spice with fruity yeast ester that combines with a slight roasted malt odor. The feel has a spicy texture with dry toasted graininess and lots of dark grain tannin and astringency with light alcohol and mild sweetness with moderate carbonation.
The flavor is good with dry body that leads to tastes of anise and a good roasted tast with slight raisin and prune-like dried fruit tanginess with mild anise back in follow up tastes with some tannin which is tea-like with a very dry finish that is mostly astringent. Overall I don't find much wrong with this it isn't off really, it just isn't that drinkable for the style, it lacks the body you expect in a big stout and seems to dry. I liked having the chance to try this more than the beer itself, Thanks John!
1,012 characters
3.55
/5
rDev
-6.6%
look: 3.5 | smell: 3.5 | taste: 3.5 | feel: 3 | overall: 4
Poured into 10oz goblet. Poured a nearly solid black color (there was just a bit of translucence around the edges) with about an inch of medium brown head that had pretty good retention and lacing.
The aroma had just the right amount of roastiness, enough to notice, but not so much as to dominate the other aspects or smell burnt. The was also a nice earthy grain scent and just a touch of lightly funky yeast. The grain and yeast were still present on the tongue, but a bit disappointingly, the roast had a stronger presence and seemed to push the other flavors to the side. It was almost coffee like.
While the body was good, I thought it was on the thin side of average. Drinkability was very good, the rare Imp Stout that I wanted some more of, it went down so easily. Overall, a very nice example. Worth having a couple if you see it on tap and probably worth setting up a trade for.
891 characters
3.65
/5
rDev
-3.9%
look: 4 | smell: 4 | taste: 3.5 | feel: 3.5 | overall: 3.5
Great name and great label, but the beer... meh...
The beer pours a blackish brown color with good head retention and lacing. The nose is pretty nice, as I pick up considerable licorice, dark chocolate and a hint of leather. The flavor profile replicates the nose, but the mouthfeel was a bit thin, and I thought there was a bit too much hoppy bitterness and licorice on the finish (in combination, it was just a bit much). The finish is ultimately quite dry in this beer, with the bitterness and licorise mroe than countering the modest upfront sweetness.
An interesting beer and a bit atypical for an RIS. Not sure it's something I'd want to revisit.
654 characters

4
/5
rDev
+5.3%
look: 4 | smell: 4 | taste: 4 | feel: 4 | overall: 4
22oz bottle into a snifter. Pours a deep dark brown w/ a thick, dense mocha head, sticky lacing. Deep mahogany light shines through around the edges, so a little thin for a true imperial stout.
Aroma is molasses, dark roasted malt, bitter cocoa, dark fruits and an elusive hint of nuttiness.
Taste is bitter chocolate, dark roasted malt, licorice. Some fruity notes, hints of burnt sugar or molasses.
Dry finish, bitterness throughout.
Overall a pretty good imperial stout from a solid local brewery.
504 characters
4
/5
rDev
+5.3%
look: 4 | smell: 4 | taste: 4 | feel: 4 | overall: 4
A: Poured black with good carbonation presenting a brown cap and some lacing
S: Big roasted malt, chocolate, light booziness on the nose with perhaps a bit of licorice
T: Moderate amounts of cocoa with some roasted and black malt presenting a big roastiness and a little bit of char like tastiness. A little booze sting with some sugary sweetness, dry with a lightly bitter finish from some bitter cocoa and bittering hops. Some coffee notes about mid palate also hang in there until the finish.
M: Big body, hearty and tasty. Well carbonated with no major flaws
O: A pretty good RIS and probably the best beer Snoqualmie has produced to date
647 characters

4.03
/5
rDev
+6.1%
look: 4.5 | smell: 4 | taste: 4 | feel: 4 | overall: 4
Pours dark with a nice tan head. Smell is dark, roasted malts and some coffee notes. Taste is roasted malt, dark chocolate, mild hoppiness and a little bitterness in the finish. This was also quite dry, which I like. Mouthfeel was smooth with a good amount of carbonation. Overall a nice beer though a little less heavy than what I've come to expect from Russian imperial stouts.
379 characters

4.06
/5
rDev
+6.8%
look: 4.5 | smell: 3.5 | taste: 4.5 | feel: 3.5 | overall: 4
Poured into a Gulden Draak tulip. Pours pitch black. One finger fine light brown head with good retention and lacing. Light aroma of dark and roasted malt. Interesting flavor, subdued roasted and toasty malt up front followed by smokier malts and ending with a smoky hop bite. Medium mouthfeel. Unusual and it really grew on me as I drank it. A very nice stout.
361 characters
4.23
/5
rDev
+11.3%
look: 4.5 | smell: 4 | taste: 4.5 | feel: 4 | overall: 4
Poured from 22oz bottle into an ale mug. Thick, opaque, black stout. Good amount of head that clings liberally to the sides of glass. Head hangs around for a long time. Caramel and licorice aroma with some ester (banana?) and grain alcohol character. Hops is subsumed within the roasted malt aroma. Great flavor starts with lots of round sweetness from the malt that covers the whole palate. The bitterness of the hops comes in a bit at the finish, but it leaves plenty of room for the malt. There is also some smokiness. This is a big beer, meaty and chewy. Not highly carbonated, particularly after sitting for a few minutes. Better as it warms. Overall, this is a great anniversary offering from one of my favorite local breweries. I would say it is a tad sweeter than the typical Imperial Stout, but I like it a lot. I hope I have a chance to get it on draft.
863 characters

4.3
/5
rDev
+13.2%
look: 4 | smell: 4 | taste: 4.5 | feel: 4 | overall: 4.5
Poured near-black with two fingers of dark khaki head. Roasty aroma of dark cocoa and espresso.
Moderate carbonation and a smooth, creamy mouthfeel. Coffee up front followed by dark chocolate, gentle caramel, and licorice bitterness on the tail end.
Very tasty stout -- great feel, barely any heat, and lots of balanced, roasty flavors.
338 characters
4.42
/5
rDev
+16.3%
look: 4 | smell: 4.5 | taste: 4.5 | feel: 4 | overall: 4.5
22oz bottle split into a pair of large snifters
Pours black with a brownish small head. Totally opaque, very fine carbonation visible around the edges. Smell is stouty. Immediately makes me think of Old Rasputin (which is a good sign). Roasty, chocolatey.
Taste is lots of chocolate followed by a really nice roasty coffee finish.
Mouthfeel is thick but not sticky or heavy. Very nice beer!
393 characters
4.45
/5
rDev
+17.1%
look: 4.5 | smell: 4.5 | taste: 4.5 | feel: 4 | overall: 4.5
Black pour with a decent off-white head. Aroma of dried dark fruits, graham cracker and roasted malt. Flavor of cappucino, graham cracker, licorice, dark chocolate, and a touch of rum with a creamy body. Finish is fairly lengthy, and dryish. Overall, a very tasty stout.
270 characters
Louis Quatorze 14th Anniversary Imperial Stout from Snoqualmie Falls Brewing Company & Taproom
3.8
out of
5
based on
27
ratings.