Schwarzer Abt
| Klosterbrauerei Neuzelle GmbH
BA SCORE
68
poor
36
Reviews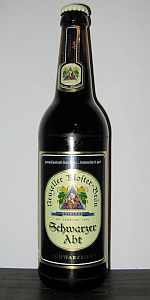 BEER INFO
Brewed by:
Klosterbrauerei Neuzelle GmbH
Germany
klosterbrauerei.com
Style:
Schwarzbier
Alcohol by volume (ABV):
3.90%
Availability:
Year-round
Notes / Commercial Description:
No notes at this time.
Added by John on 08-20-2002
Reviews: 36 | Ratings: 46

1.59
/5
rDev
-41.3%
look: 3.5 | smell: 2 | taste: 1 | feel: 2 | overall: 1.5
0.5 litre bottle, purchased in Darmstadt.
Pours a very dark red, nearly black, with a full head that faded fairly quickly.
The nose is sweet (in a rotten-fruit sort of way) with a lot of smoke, cherry, and rum aromas.
The beer, which is very syrupy in mouthfeel, tastes horrifically sweet, with faint flavors of smoke, cherry cough syrup, and stale coffee.
Overall, this is among the worst beers I have ever had in my life. The first sip alone was nearly enough to make me gag. I could barely finish six sips before I threw the rest away. They add an inverted sugar syrup to the beer, and this is in no way balanced with everything else. The result is a syrupy mess of a drink that resembles NyQuil far more than it does beer.
Avoid it. At all costs.
756 characters
4
/5
rDev
+47.6%
look: 4.5 | smell: 4.5 | taste: 4 | feel: 3.5 | overall: 3.5
This is a lager? This tastes more like a porter than anything else. Granted I had this after a few Weiss beers, but the cocoa and coffee notes were the overwhelming influence on this bier. Pours a nice dark dark black with a tan head that hung around long enough for a cup of coffee. Very different from the other black biers I have had, much deeper in flavour and richer in the mouth.. I would like to give it a higher score, but against the type it doesnt hold up, but it would make a great porter
499 characters
3.86
/5
rDev
+42.4%
look: 4.5 | smell: 3.5 | taste: 4 | feel: 3.5 | overall: 4
Very pretty beer, looks almost like Guinness, tight, tan, ever present head, but not as brown, with a deep burgandy, nearly purple caste in the light. Very dark for a schwartz.
Aroma is clean and light- ripe plums with some smokiness.
Soft on the tongue going in, intensely sweet with flavors of carmelized dark grains and juicy plums and pears. Sweet, rich German malt flavors coat your mouth making you think your drinking something much bigger and stronger than a < 4% beer.
Finish is clean, with a nice husky grain and mild hop bitter aftertaste. Totally recomended if you like dark lagers and Double Bocks. May be too sweet for some.
647 characters
5
/5
rDev
+84.5%
look: 5 | smell: 5 | taste: 5 | feel: 5 | overall: 5
Wow! What an amazing beer to stumble upon. Best German Schwarzbier I have tasted. The Black Abbott is a beer to search for....
Pours midnight black and appears very well carbonated, but not overly so. A nice soft tan head forms and perches on top like a cloud. The aroma is rich, earthy, and breadlike with crisp roasted chocolate undertones. The taste is mellow and smooth with no harshness: chocolate, roasted -- perfect. The mouthfeel is also rich and thick, but not cloying. A great, great beer for those who can appreciate its ebony richness.
556 characters
2.03
/5
rDev
-25.1%
look: 3 | smell: 2.5 | taste: 2 | feel: 2.5 | overall: 1
Thud. That was the sound of this dud of a beer hitting the ground. Boy was I disappointed in this beer. The bottle looked quite appealing, purchased at Whole Foods in Vienna. "Germany's Abbey Beer". Hmmm. Smell is very sweet, somewhat smokey but with a good whiff of corn, even though I don't think there's any in here. Maybe a little vanilla. Taste... yuck. So sweet I almost spit it out with a finish that tastes like the but of a cigarette. I'm not kidding. This stuff is a vile brew. It left such a horrid aftertaste in my mouth I had to go drink water for a few minutes. $3 down the tubes.
594 characters
4.35
/5
rDev
+60.5%
look: 4.5 | smell: 4.5 | taste: 4.5 | feel: 4 | overall: 4
This beer pours a clear very dark red/brown with a large tan creamy head and a firm mouthfeel. The smell is a smokey malt with hints of coffee-very pleasant. The taste is a smokey very sweet malt with little or no hop character. I really enjoyed this beer and think it would be very good as a dessert beer although I could really drink it any time. The sweetness could be overpowering though, and if you find the thought of sweetness and beer not very palatable you might want to pass on this one.
497 characters
4.6
/5
rDev
+69.7%
look: 4.5 | smell: 4.5 | taste: 5 | feel: 4.5 | overall: 4
A clear, very dark red-brown Black Lager with a largish tan, creamy head. The smell is sweet and malty along with coffee. The taste is also SWEET and malty finishing like strong coffee. The texture in my mouth is firm. I found this beer to be fabulous, although very sweet; I would drink more as a dessert beer.
(source: Savannah, GA)
337 characters
1.93
/5
rDev
-28.8%
look: 3.5 | smell: 3 | taste: 1.5 | feel: 2 | overall: 1
Let it be known that nowhere on the bottle does this beer advertise itself as anything other than a regular schwarzbier. Only by carefully reading the ingredient list can the hapless drinker notice the existence of the massive amounts of sugar in this beer (Invertzuckersirup).
A: Dark dark brown with a light tan head that dies away quickly, leaving no lacing. Carbonation continues to rise up from the bottom of the beer.
S: Malty, with definite sugary overtones, but they seem to be reasonably well balanced by a typical schwarzbier nose.
T: Oh god, sad times. I mean, I checked out this beer's profile after buying it and noticed the existence of the Invertzuckersirup, but I didn't think it was going to be quite like this. It's like someone took a perfectly decent schwarzbier, emptied out half the bottle, and replaced it with sugar - sugar that happens to have the incredibly unfortunate aftertaste of used charcoal and Robitussin. After about five sips to confirm its terribleness, I think I'm actually going to dump this out - and that's saying something.
M: It could be worse, but it's still pretty unhappy - okay going down (the carbonation helps), but the cloying, syrupy aftertaste just lingers in your mouth for what appears to be eternity, which kind of kills it for me.
D: This makes me sad and feels like quitting, but I'm going to go pour it out now. 'Nuff said.
1,386 characters
4.85
/5
rDev
+79%
look: 4.5 | smell: 4.5 | taste: 5 | feel: 5 | overall: 5
I am very surprise about the other ratings, my bottle came straight from Germany, a friend brought it ( a German) and recommended it, I wonder if they do not travel well or are too old...
v: Black and opaque color, luxurious, sticky tan head.
S:Dark roasty sweet, chocolate, molasses, a really nice beer.
M: is nice a smooth. silky smooth light body.
D:Truly an exceptional schwarzbier. Seek this out. the balance of that beer is outstanding, still do not understand the F grade of this beer, I guess it was a bad bottle...
no Pairing:
542 characters
2.24
/5
rDev
-17.3%
look: 4 | smell: 2.5 | taste: 2 | feel: 3 | overall: 1.5
Nice and dark brown with a large light tan head of small bubbles. Aroma is clean with notes of raison. Tastes sweet with raisons, brown sugar, chocolate and some roasted malts. I realized after opening this one that it contains some kind of syrup ("Invertzuckersirup"). I guess it's not awful, but just way too sweet. Mouthfeel is medium-bodied, good carbonation, fairly normal. Cloying sweetness, ended up pouring the rest out after 250ml. Seems like the actual beer in here is not so bad, but I would avoid this unless you like syrup with your beer.
554 characters

2.11
/5
rDev
-22.1%
look: 4 | smell: 3 | taste: 1.5 | feel: 2.5 | overall: 1.5
On tap at Hotel Till Eulenspiegel's Bierkeller in Würzburg(Probably the coolest bar I've yet seen in Germany), served in a narrow .3l mug.
Appearance- Didn't really have much of a light to check it against, but it was a very opaque brown, darkest German beer I've seen in a while, with a nice, soft, almost creamy head that rather resemble the bubbles on top of Swiss Miss. My first impression was something along the lines of: OMGKBS! That was about as good as it got.
Smell- My nose isn't terribly good, but I managed to pick out a little standard roastiness. Nothing special, nothing really off-putting either.
Taste- When the Bierliste said Caramel, Bitter Chocolate, and Coffee, they meant it. Except maybe the "Bitter" part. No bitterness, no backbone, no balance. Sweet Jesus, no balance. I didn't know anything about the brewery and didn't see the bottle, so I was quite amazed that such unchecked palate-sticking sweetness could come from pure malt. When I found out it was beer with sugar syrup added, I was kind of surprised, mainly because I thought they must have used some chocolate syrup and Starbucks syrup as well. I swear I could still feel it cloying to the back of my mouth when I woke up the next morning. Needless to say, hops nor anything that resembled them showed up at any point, regardless of temperature.
Mouthfeel- Not too shabby, thick and pleasantly soft for a few swishes. Later though, it becomes hard to distinguish the feel of the beer in your mouth and the chewy residue of sugar on your palate.
Drinkability- It was pleasantly different for the first few sips before the sweetness really started to build up, but after that it was simply a chore, even though I only got roughly 10oz. The sweetness and trying-too-hard flavor features are just too powerful and too persistent to make for an enjoyable drink. And the looks you get from the waiter and other patrons for drinking "Mädelbier" don't help.
1,945 characters
Schwarzer Abt from Klosterbrauerei Neuzelle GmbH
2.71
out of
5
based on
46
ratings.