Compunction
| Russian River Brewing Company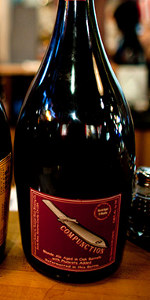 BEER INFO
Brewed by:
Russian River Brewing Company
California
,
United States
|
website
Style:
American Wild Ale
Alcohol by volume (ABV):
5.40%
Availability:
Rotating
Notes / Commercial Description:
No notes at this time.
Added by clickpush on 04-01-2007
Reviews: 87 | Ratings: 285
4.05
/5
rDev
-8%
look: 4 | smell: 4 | taste: 4 | feel: 4.5 | overall: 4
04/15/07- Had on tap at the Russian River Brewing Co in Santa Rosa, CA.
Presentation- 14oz tulip pour plus a 2oz sampler via the tap.
Appearance- Clouded off golden colored pour, maybe a bit of a hue towards orange. Smaller less than a 1/4 inch head which thins out soon thereafter. Leaves behind a few nice lace rings.
Smell- Decent amount of barnyard funk and a heavy dose of brett. This will be sour.
Taste- Hmmm, sour, but not the intense sour I was expecting. Seems like more towards a lambic style...maybe even a gueuze. I can taste what could be a light muddled plum flavor, but can't make out the apricot.
Mouthfeel- Very lightly carbonated and flows very easily down my gullet. Lambic style smooth.
Drinkability- Had a cold when I tried this, so I'm either giving it too much due, or not enough. Hoping I see it again in the future so I can give it a better review. As is, another classic example of what an american brewery can do with belgian style brews.
★
985 characters

4
/5
rDev
-9.1%
look: 4 | smell: 4 | taste: 4 | feel: 4 | overall: 4
On tap at Toronado SF, part of a Russian River take over on 2/12/13. Review is from notes. 6oz pour into a stemmed tulip.
The beer pours a nice soft lemon color, bits of straw and gold, slight chill haze, lots of bubbles rising to the top of the glass, a small fizzy white head sits atop the beer but recedes immediately and leaves no lacing. The aroma is nice, light hazy grain, funky hay, light citrus, tart fruit character, possibly the pluot? I'm not that familiar with pluots, it has some apricot character to it, but not getting any plum. The aroma is nice and easy, but the fruit is a bit faded and muted, but inviting. On the tongue there is light citrus and some soft fuzz fruit flesh, again, must be pluot, funky brett character, light vinegar and some pale grain at the finish. It's easy to drink, refreshing and lively, but the fruit seems a bit muted. The body is juicy and full, less lively than expected with lower carbonation, a bit of a funky dry finish.
Verdict: A good sour from Russian River, but sub standard in comparison to many of their creations. I enjoyed drinking this, but wouldn't choose it again over their standard trio of sours.
★
1,162 characters

4
/5
rDev
-9.1%
look: 4 | smell: 4 | taste: 4 | feel: 4 | overall: 4
Growler, thanks Geist.
Beer is yellow and hazy with a minimal head and low lacing, moderate to low carbonation.
Aroma is fruity, sweet, lactic, acetic mild.
Beer is clean and bright, effervescent, nice fruitiness, the temptation base comes through nicely. I prefer temptation over this but this is a nice beer overall.
★
321 characters
3.95
/5
rDev
-10.2%
look: 4 | smell: 4 | taste: 4 | feel: 3.5 | overall: 4
On-tap at O'Brien's, San Diego.
Pours a hazy light straw/gold color with a light white head. Mild sour aroma with a hint of vanilla and wheat. Light bodied with medium carbonation and easy to drink (low ABV too). Tastes of cherry, wheat, and some light yeast. Good, but not particularly compelling to me.
★
305 characters

3.93
/5
rDev
-10.7%
look: 4 | smell: 3.5 | taste: 4 | feel: 4.5 | overall: 4
Thanks to Relative Brewing for securing this nectar for this tasting. Served in a mini-snifter.
Pours a slightly-hazy apricot color with a half-finger of head. Aroma brings some really nice notes of grapefruit juice along with the zest of a Ruby Red. There is a slight sour character in the nose, though not all that much comes through. A find a bit of purple plum in there, but that character seems a bit muted.
The flavor melds the citrus peel character with some plum and red grapes. A good level of pucker factor hits here, though not nearly as much as is generally the case with Russian River. All together, the taste is definitely more integrated and complex than the nose, but doesn't really take it to the next level. `The finish is fairly dry and is probably the best component of this beer, although at the same time it does drink quite well and is certainly more quaffable than a few of their other wilds.
★
918 characters
3.87
/5
rDev
-12%
look: 3.5 | smell: 4 | taste: 4 | feel: 4 | overall: 3.5
Still getting used to sours, so read this review with that in mind.
On tap at Russian River.
Cloudy, pale yellow liquid served in a tulip glass. Topped with a medium sized, white head. Decent lacing.
Scent was tart, touch of vinegar, lots of citrus. Small bit of sweet, fruit-like in character.
Taste was TART! Pretty much entire experience for me. To my taste, this was like Supplication, but dialed up quite a bit in the tartness department. Again, chewable vitamin C comes to mind. Sour cherries, perhaps? I had no luck finding the pluots....Finish seemed to bring in a little bit of grass.
Mouthfeel was relatively light. Carbonation seemed medium to high, could be just the acidity of the beer. Pretty dry.
Overall, still getting into this style, but I can see why people develop a love affair with it. Very good beer!
★
829 characters
3.83
/5
rDev
-13%
look: 4 | smell: 3.5 | taste: 4 | feel: 4.5 | overall: 3.5
No link because I'm at the brewery dudes...pours a hazy amber, middling carbonation, and the bubbles are tiny! Champagne like...tiny wisp of head adorns this, like melted marshmallows that are just starting to cool...nice so far...only 6% ABV, I'm surprised...nose is dominated by sour peach...and tart cherry...very typical for their sours, but peachier....not much else in there but it's crisp and robust...flavor is mostly brett sourness and a lot of that peach from the nose....apparently they used pluots in this brew, and I'm getting that now that I think about it...the carbonation is super crazy on the tongue...like a Black Metal blast beating...it's all over the place. Did I mention I'm going to see Steve Smyth, Lance Skitzo abd all the rest as Sweet Leaf tonight?? Well I am...in any event..this beer is a subtler version of their various sours...I like...
What I like most: the subdued brett profile and beautiful color.
What I like least: the price at $6.75/glass and lower ABV
Verdict: fans of sours must try it...nuanced and excellent...
★
1,057 characters
3.75
/5
rDev
-14.8%
look: 4.5 | smell: 4.5 | taste: 3.5 | feel: 3 | overall: 3.5
On tap at the brewpub. From notes.
A: Pours an apricot body with some haziness to it. It's lighter than the Temptation I was double-fisting. The head is off-white, with good retention and some register marks down the glass.
S: Plum and apricot, yup yup yup. I've never had a pluot but I think I've figured out where the name comes from. It's oaky in the nose, with a contribution of (surprisingly) grapefruit. Lactic sourness, mineral notes, and a small barnyard note.
T: If you're looking for a fruit bomb, look elsewhere. It's fruity, but nicely integrated with other flavors to let everything have a say in the final product. Plums, apricots, grapefruit. It's quite bretty, moreso than the Temptation I ordered at the end of the glass. I pick up leather, hay, barnyard. The also brett seems to contribute a strong mineral note to the beer; I had this same complaint about Sanctification and I'm raising it again here. This is a good beer, but I just don't like the mineral finish. There is also a light, buttery oak presence in the finish. If this was wine-barrel aged, I'm not picking it up.
M: Carbonation is light-medium, but with the dry body it still seems pretty spritzy. As I mentioned above, the aftertaste is a bit of a turnoff. It wasn't harsh enough that I didn't want to drink it, but I was conscious of it during every sip.
D: It's good, and I'd certainly have it again, but I'm lukewarm about it in general. I enjoyed Temptation, Consecration, and Supplication more.
★
1,493 characters
3.75
/5
rDev
-14.8%
look: 4 | smell: 4 | taste: 3.5 | feel: 4.5 | overall: 3.5
Thanks to Alex for sharing this...A peachy color, decent carbonation considering the circumstances...The aroma is a very acidic grapefruit juice with typical Russian River oaky undertones. Pretty balanced...The taste represents more of the oak than I would like, loses a lot of the citrus and acidity. The citrus isn't really defineable to me, grapefruit like, but I guess that's the unfamiliarity with a plout..The feel reminds of a dry white wine.
Another decent RR sour but nothing significantly different than other beers.
★
527 characters
3.73
/5
rDev
-15.2%
look: 4 | smell: 4 | taste: 3.5 | feel: 3.75 | overall: 3.75
Tap to glass @ Russian River Brewing tap room@ Santa Rosa,CA
A: golden, hazy, cloudy,
A: Fruity, passion fruityy
T: tart heavily sour
MF:
OA: Excellent beer for the style, not to repeat, look for- not my preferred style
Drank: April 19, 2016
★
246 characters

3.7
/5
rDev
-15.9%
look: 4 | smell: 4 | taste: 3.5 | feel: 4 | overall: 3.5
1/29/2011
On tap at O'Brien's ConsumpTION night. Pours pellucid straw golden with a foamy white cap. 
S: Aroma is not unlike Temptation, but with subtle pluot notes. I've never had a pluot, but it smells as I'd expect, which is a mixture of apricot and plum, but more apricot than plum. A little lemon is in there along with oak. Barnyard notes are subtle, and there's a firm lactic presence.
T: Flavor displays a moderate lactic sourness which accompanies notes of apricot, plum, and lemon. Fruit isn't very strong. There's a noticeable buttery oak character. Sourness is pretty clean. No real acidity.
M: Upper light in body. Moderate carbonation. Smooth mouthfeel.
Overall: I recall liking the first batch a lot more, but that was a long time ago so it's hard to be sure. Pretty good, not great. Kinda simple and could use more acidity.
★
845 characters
2.56
/5
rDev
-41.8%
look: 4 | smell: 3 | taste: 2.5 | feel: 2 | overall: 2
On tap at DLD. 8oz. sample
A: Cloudy apricot. Short white head, frothy. Not much retention but a bit of lacing.
S: Very sour. Vinegar. Oh, man, what am I getting myself into? Sweet but with overpowering sourness.
T/M: Loads of sour cherries in the front. Sourness is massive. Very tart cherries, cranberries, raspberries. Vinegar is nearly overpowering. Body is light and feels very watery. Mild bitterness in the back. Gherkins pickles keeps popping into mind. It actually makes my mouth pucker a bit and then water to try and dilute it.
D: I haven't had too many soured beers but this is by leaps and bounds the most sour. I made it about half way through the sample and had to call it quits. The vinegar and sourness just intensified far too much. I appreciate what RR and all these breweries are doing with sours but I just don't think I'll even develop a taste for them. There have been styles that I've 'not liked so much' in the past but none that I have not at least come around to and none that I continually can't finish.
Note: Please don't flame me :)
★
1,067 characters
Compunction from Russian River Brewing Company
96
out of
100
based on
87
ratings.