Damnation Batch 23 (Oak Aged)
| Russian River Brewing Company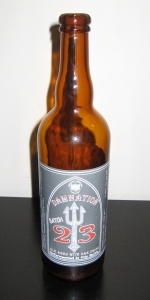 BEER INFO
Brewed by:
Russian River Brewing Company
California
,
United States
rrbeer.com
Style:
Tripel
Alcohol by volume (ABV):
11.00%
Availability:
Rotating
Notes / Commercial Description:
We turned our regular Damnation recipe into a Tripel. It is bittered with Tomahawk and has Sterling and Cascade in the mid-boil and finish. The beer was then aged on new American oak chips for two to three weeks.
Added by bosco7 on 07-07-2007
Reviews: 242 | Ratings: 571
4.47
/5
rDev
+6.2%
look: 4 | smell: 4.5 | taste: 4.5 | feel: 4.5 | overall: 4.5
750ml bottle bought at City Beer, SF. Shared with oakbluff and fisherman34, sampled from a snifter.
Big inch of head off a gentle pour, colour is a deep blood orange with lots of chunky sediment throughout. Great head retention and lacing. Aroma is oaky with hints of vanilla, red licorice, herbs. fruit: juicy apricots, peaches, plums, apples. Delicious.
Taste is extremely deep and comforting with tons of malt, oak, vanilla. Herbaceous and maybe a little medcinal. Fruity and spicy with some peppery notes. Orange, peach, tangerine, maybe a little tropical note. Lovely and complex, and as great as advertised. Soft and a little creamy in the mouth, but not too heavy duty in the body. Carbonation is zippy, but not obnoxious. Dries nicely. Overall this is an exceptional beer, superb balance and packed with flavour. I may never drink this again, so I'm going to savour the moment!
887 characters
4.21
/5
rDev 0%
look: 4.5 | smell: 3.5 | taste: 4.5 | feel: 4 | overall: 4.5
750 ml bottle acquired in a trade with tevering99, thanks for giving me the chance to try this brew
Split with a buddy tonight, poured into my Duvel tulip glass, sipped on for over an hour
A-Golden orange, darker than the regular version, monsterous 1 1/2 inch soapy white head, lots of small bubbles stuck around for close to ten minutes, nice lacing all the way through
S-Complex fruit variety, bananas, apricot, tangerine, lemon, dried raisins, figs, then the good stuff from the barrel that consisted of strong oak aromas, some vanilla, and a hint of booze
T-Starts off with orange peel and lemon, then strong oak and mild vanilla flavors, dry finish with some wine-like tastes, as it warms it becomes more sweet and I taste other fruits like peaches, tangerines, and white grapes, not much hoppiness in this and has even less than normal Damnation, fruit and sweet malt is nicely balanced by the oak chip flavor, later on I tasted yogurt and milk, this beer seemed to be all over the place, but the taste was great overall
M-Medium body, lots of carbonation but not overly active after a minute or so, taste lasted a long time, creamy mouthfeel with sweetness and spice at different times
D-Could have drank this bottle and then some by myself, smooth and easy to drink, although it is eleven percent alcohol, hidden very well though, not too heavy on the stomach, kept me coming back for more, scary drinkable considering its style
Much better than standard Damnation in my opinion, idea of aging a pale Golden ale is interesting b ut it works, highly recommended if you can track down a bottle, hope Russian River will do this with another batch in the future
1,673 characters
4.18
/5
rDev
-0.7%
look: 4.5 | smell: 4 | taste: 4 | feel: 4.5 | overall: 4.5
Well, like all Russiaan River Belgian style beers, this was amazingly drinkable. I'm generally not a fan of beers that use oak chips as compared to full barrel ageing, but this one was restrained enough in the oak department to still be quite tasty. If wholee barreels had been used it probably would have been ethereal- especially ones that had been softened by long use. Poured very pale golden with an excellent head that faded tto a ring. Smelled sweet and oaky with some light notes of Belgian yeast. Tastes a bit sweet to start with more oakiness quickly following as well as some apple and pear flavors as well as a bit of straw. Crisp and refreshing with a just a bit of tannins on the end. Goes down very easily, even with the oak- shocking for its high abv. Not my absolute favorite beer from them, but very nice.
823 characters
4.08
/5
rDev
-3.1%
look: 4.5 | smell: 4 | taste: 4 | feel: 4.5 | overall: 4
Another amazing beer provided by lou91. Thank you sir!
750 mL cork and caged bottle poured into a tulip.
Pours a clear light copper hue with a fluffy two finger bleach white head. Stickiness is all over and doesn't plan on letting go. Lots of tiny bubbles constantly racing to the top. Smell is of white grapes, fresh autumn apples, and sweet citrus. Spices and some pepper also emerge as well as a tingle of honey in the nose. A tiny hint of wood also mixes in throughout. After the first sip, the one thing that comes to mind is a sweet NY Riesling. Honey and pear up front with a spicey corriander tingle. Pleasant oak flavors with a honey and banana combination. The aftertaste is a bit boozey with some vanilla. Mouthfeel is pretty creamy with a medium body. Carbonation is very smooth, I really enjoy how this one feels in the mouth. I may be taking a different approach with Damnation by trying Batch 23 first, but hey, everyone is different. A non-oak aged version is in the fridge waiting as we speak, Batch 30 to be exact. Russian River continues to blow me away. Keep up the good work Vinnie!
1,105 characters
4.32
/5
rDev
+2.6%
look: 4 | smell: 4.5 | taste: 4.5 | feel: 4 | overall: 4
I found Damnation (original) to be a decent easy drinking Belgian Pale Ale but with some of the other impressive beers from RR, this one is somewhat typical and not a favorite of mine. This beer, the Oak Aged Damnation Batch 23 was much better in my opinion. In this case the wood Oak aging worked terrifically. It adds a magnificent new dimension of depth and character that I enjoyed greatly.
JohnMichaelsen deserves a huge thanks. Bringing this beer back for CA and the willingness to share it at our tasting is very generous. Thanks friend!
Appearance: Pours hazy light yellow color with a soft white head and little lace on the walls of my tasting snifter.
Smell: Sweet apples and honey with wine like alcohol presence, beautiful vanilla oak and spices with a touch of citrus fruit. Very nice!
Taste: Vanilla and oak lay gently atop the sweet sugars and honey yeast flavors. There is a pleasant wine like flavor and a touch of sour apples and hint of cherry wood.
Mouthfeel: Very very soft, effervescent and then dry finish.
Drinkability: I found this to be a very tasty easy drinking Strong Belgian Ale. Very very nice.
Hope this is helpful.
Cheers!
1,163 characters
4.46
/5
rDev
+5.9%
look: 5 | smell: 4 | taste: 4.5 | feel: 5 | overall: 4.5
750ml bottle received via I Want That BIF from lou91. Corked and caged, Batch 023. Thanks for the opportunity...
Poured into a Rapscallion glass, formed a 1" beige head over the darkly golden brew. Super-dense head lasts and lasts, due to generous rejuvenation from the bottom constantly sending up more and more tiny bubbles. Lacing is plentiful and sticky.
Aroma is sweet, lightly spicy, with twinges of alcohol and oak coming out at the end. Taste follows the nose's guide, with the front being the sweet/spice area, and the latter half being oaky and alcohol focused. Halves meld together better as the brew warms. Mouthfeel and drinkability are very impressive. Except this is the only bottle I have, so I'll have to just remember this one, and keep an eye out in the meantime.
786 characters

4.25
/5
rDev
+1%
look: 4 | smell: 4 | taste: 4.5 | feel: 4.5 | overall: 4
Pours a hazy honey and straw gold with a decent white head that quickly recedes to a ring. Aroma is sweet honey, soft vanilla, lemon, and some grassiness; a little agitation also produces some nice woody oakiness and some booziness. Nice soft sweetness cushions the palette up front before some lemon and citrus develops, a touch of tartness fights to surface but is held pretty much in check by the sweetness. Nice grassy and straw flavor towards the end mix well with a crisp effervescent bite on the tongue. Alcohol becomes evident mid taste thru the finish but is never overpowering in the taste. Oak flavor also comes in mid taste and pushes into a drying finish. Really wish I had another one of these as this seems that it will develop very nicely with a couple years in the cellar. Thanks to Tim for the chance to try this.
831 characters
3.7
/5
rDev
-12.1%
look: 4 | smell: 4 | taste: 3.5 | feel: 4 | overall: 3.5
Poured from the bottle at the brewery on July 25, 2007 into a thin chalice. I am immediately taken aback by how mellow the oak is. This isn't an overwhelming bourbony oak by any means, just a light dusting of wood and vanilla. Body pours a brilliant and well carbonated gilded copper with a 2 inch off white head that dissipates quickly to a steady but thin lace. Loads of butter in the aroma like a California Chardonnay. Taste is sweet and boozey. Orange and sweet apples, tannins, vanilla, and a touch of spiciness. Chewy and very warming mouthfeel. Barleywine like. Fairly drinkable. I managed to finish the bottle, mostly by my self so it must be. Should improve with time. Plan on revisiting in a couple years.
717 characters

4
/5
rDev
-5%
look: 4 | smell: 4 | taste: 4 | feel: 4 | overall: 4
Quite oak-like in the aroma, but it is not overpowering & in fact took me a second to recognize. The beer is a brilliantly clear, copper tinged, gold color and is topped by a frothy, initially two-finger thick, pale, off-white colored head. Aromatic notes of buttery oak, vanillin, orange zest, and a light, yet sharp, spicy oak character. The hints of vanilla and orange remind me a bit of an orange-cream candy, though the aroma is fairly dry smelling. Boozy notes of warm alcohol are present, especially if you linger too long over the nose. Slightly must, but overall the aroma is nice, but not all that striking. It actually might not be the alcohol alone that is noticeable, but really a lot of the spicy oak character that is accentuating a sharpness / hotness in the aromatic finish.
The taste is quite a bit sweeter than the aroma suggested, but it is well within line for a beer of this strength. The sweetness accentuates a note of orange / lemon zest. This beer is actually fairly dry over all & becomes lightly sweet as my palate adjusts to it. The beer finishes with a mix of hot, higher alcohols, bitter hops, some light phenolics & spicy oak character. The oak / barrel character is quite a bit more subtle than the aroma would have suggested, which in my opinion is a good thing. Oak notes of vanillin, spicy, woody oak and a touch of tannic astringency are all noticeable if you dig a bit, but really they contribute to the overall character of this beer. Really the oak, while not hugely apparent individually, does have a large effect on the flavor profile of this beer (from the vanilla notes, the spicy character, to the perception of bitterness, astringency & alcohol in the finish). Floral notes of honeysuckle, orange blossom and bird of paradise add an interesting component to the flavor profile. The residual sugars provide a nice, softly creamy, heft to this beer that makes this beer contemplative; it is nothing like a chewy, all malt beer (like a Barleywine), as it is fairly light for its strength. In fact, at times it is down right drinkable; I think a big part of this is that the carbonation helps to refresh and lighten up the overall perception of this beer.
This beer definitely is strong, while the 10.5% does not quite hit you over the head, it is still noticeable. I really am enjoying the soft, orange like flavors & aromas in this beer; these notes pair quite well with some of the oak components. I have a feeling this beer will age quite well for a long time. In fact, this beer really needs to age for quite some time as it is a bit too young right now; perhaps a year but maybe even three would do this beer wonders To tell you the truth, I wouldn't be surprised if this peaked at 5 or 10 years even. It is certainly not a bad tipple right now, it is just that I see this getting a lot better.
2,848 characters
4.35
/5
rDev
+3.3%
look: 4.5 | smell: 4.5 | taste: 4.5 | feel: 4 | overall: 4
a - pours a beautiful deep amber, with a decent head and lacing to the top of the riedel tumbler
s - citrus on the nose with a slight white wine smell (oak)
t- very smooth for the abv, but i guess that's why they aged in oak, (be careful), oak highlights throughout especially when warmed
m-rather thinker mouthful than the original damnation, not an overwhelming amount of alcohol taste, just the right carbonation but my mouth and lips feel a bit sticky
d-very dangerous beer to drink if you don't pay attention, obviously a definite sipper you should share with someone. A great beer to have as a Digestive after a great meal in SF.
Luckily I am able to get this beer easily from my favorite shop in SF, City Beer! I will lay down several bottles because this one will be a great beer if not already in a few years. I have sent(traded) at least a 6 back east and can't wait to see them review it.
906 characters

4.4
/5
rDev
+4.5%
look: 4.5 | smell: 4.5 | taste: 4.5 | feel: 4.5 | overall: 4
A little something special for my 200th review. Had on-tap at the brewpub yesterday in Santa Rosa. The board said 10.5% abv, 56 IBUs, and described the beer as an oak-aged triple.
a - pours a golden amber color, slightly hazy, one-finger head with decent retention for the abv, and nice lacing
s - some lemon/citrus noticeable in the aroma, oak more evident as the beer warmed, apple and pear also detectable, alcohol hints with a little spice particularly clove
t - nice maltiness up front, big fruity flavors develop, pear and red apple most evident, nice oak accents, especially as the beer warms, some spice/clove along with a nice alcohol burn on the finish
m - medium-bodied, moderate carbonation, sweet but somewhat dry finish
d - somewhat limited due to the 10.5% abv, but a great beer to sip on , alcohol is there but not overwhelming in the taste, very complex flavor keeps you drinking
Quite a bit different from the regular Damnation. I like this a bit more than the regular because the flavor and aroma are more complex and rewarding. Great one-off beer by RRBC. Better get your hands on this while it lasts.
1,139 characters
4.32
/5
rDev
+2.6%
look: 4 | smell: 4.5 | taste: 4.5 | feel: 4 | overall: 4
From Russian River's Bottle Log :
"Special bottling to celebrate the 23rd bottled batch of Damnation. 11% ABV, different hop bill. Aged on new American oak chips."
I obtained this bottle from the brewpub 2 days ago.
Pours a golden orange color with a white fluffy head that quickly dissipates but leaves the sides of the snifter and the top of the brew pleasantly laced.
Huge banana aromas, some baked bread, sweet caramel, lemon rind, and clove in the nose. A lot more banana compared to the regular bottlings.
I am immediately aware of the increase in original gravity: thicker mouthfeel, higher alcohol flavors, and sweeter flavor. Wow, you can really taste the alcohol in this one. Lots of banana upon drinking, a lot more than its sister. Baked apple, cinnamon, clove, pepper, and lots of higher alcohol in the finish. Once the beer has warmed up oak/woody flavors are more apparent.
I really feel that the drinkabilty of this "batch" dropped with the increase in alcohol and body. Overall I feel that this is a very good beer however very different than past Damnations. Sip this one. Plan on laying a couple bottles down.
1,138 characters
Damnation Batch 23 (Oak Aged) from Russian River Brewing Company
4.21
out of
5
based on
571
ratings.