Quay Street Brewing Company
BEER AVG
-
none
Awaiting 10 Ratings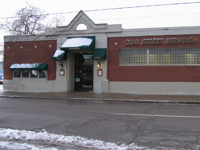 PLACE INFO
Type:
Brewery, Bar, Eatery, Beer-to-go
330 Quay St
Port Huron
,
Michigan
, 48060-3828
United States
(810) 982-4100
// CLOSED //
Notes:
No notes at this time.
Added by fantome
Ratings: 10 | Reviews: 7
Reviews by cratez:

3.38
/5
rDev
+1.8%
vibe: 3.5 | quality: 3.5 | service: 3 | selection: 3.5 | food: 3.5
Located in downtown Port Huron, The Quay Street Brewing Company is a small and quaint brewpub and restaurant with a focus on traditional Italian cuisine and American pub grub.
The bar is at the front of the interior beside some brewing vessels while the upstairs dining room and patio overlook the Black River. Various Italian beer posters line the walls, presumably in keeping with the restaurant's food theme. We sat in a booth with a partial view of the grain room. The decor is very old fashioned, almost drab, and on the whole this place resembles your typical family eatery.
In terms of selection, the six standard draught beers include a pale ale, nut brown, and stout. I went with the seasonal "specialty" brew which happened to be the 442 Porter. It was spot on for the style, very roasty and port-like with a full-bodied, chocolaty mouthfeel and ashy-dry finish, and it paired well with my BBQ ribs and beer battered fries. My girlfriend wasn't over the moon about her spinach pie, but she enjoyed the chicken and walnut salad and we both thought the banana bread - which comes in a mixed basket free of charge - was really good.
Service was average as the host and waitress were polite but uninterested and our server didn't describe any of the beers or specials to us. I'm also not used to getting ID'd at bars. However, the drinks and food arrived quickly and the waitress left us alone while we ate. Price wise we were quite happy with the affordability of everything.
Although Quay Street is nothing spectacular, I would say it's worth a stop if you happen to be in Port Huron. At the time of our visit we were doing a cross-border beer run to Wolverine Market and Ryan's Party Store and we decided to pop in here for dinner. For the most part we were satisfied with our experience and in future we'll probably stay in town overnight so we can try more of the brewpub's beers.
1,899 characters
More User Reviews:



3.43
/5
rDev
+3.3%
vibe: 3.5 | quality: 3.5 | service: 3.5 | selection: 3 | food: 4
Right away I can tell you that I'd give the food about four stars, and the beer two stars.
I got the chicken sandwich (grilled... you can get it fried if you'd like) and really enjoyed it. The best part had to be the sauce that was on the side -- I don't know what it was, but it was tasty and had a slightly spicy kick. The fries served here are beer battered and outstanding, a lot like a steak fry. Also at the table was an onion ring basket and duck tenders. The onion rings were pretty "bleh" and had almost an odd taste to them. They seemed to be fresh made, but I wasn't impressed. I hadn't had duck before, but I thought the tenders were awesome. They come as a small portion (and I don't know the price..), but it came with a side of an Asian dipping sauce and honestly tasted like a semi-dark chicken... surprisingly tasty.
As for the beer, I tried the stout, pale ale, and the cream ale... the stout was average at *best*, the pale ale was mediocre at best, and the cream ale wasn't worth it at all -- some pretty poor beer as a whole. The general consensus at the table was the same.
As for the place itself, it's pretty roomy and has a nice look to it, but there's a somewhat stale smell upon walking in. On the plus side, it's relatively fancy looking, and the bathrooms are really clean. I'd never come here for the beer, but the food was a nice surprise.
*I put the quality at a 3.5 mainly because of the food ... not the beer.*
1,448 characters
2.3
/5
rDev
-30.7%
vibe: 2 | quality: 1 | service: 3 | selection: 3 | food: 3
This place is not a beer destination. I got the sampler which comes out on a mat with each beer on its location. There were several varieties to try. However, all the beers tasted roughly the same. It was kind of like they don't clean the equipment between batches. This might not have been bad in itself but none of the beers were particularly good so they all tasted like the same below-average brew.
The food was adequate and the water was fine. I did not bother looking for swag. I didn't even bother finishing my beer samples.
532 characters
3.25
/5
rDev
-2.1%
vibe: 2.5 | quality: 3 | service: 4 | selection: 3 | food: 3.5
I've wanted to try Quay Street for some time now, and it was a nice change of scenery from the Metro Detroit brewpubs, being on the water and all.
It's hard to really pick apart the atmosphere of the the place... Nothing too special, except for the view of the canal, so I'd say it really isn't too far removed from walking into any comparable chain restaurant/bar. It really didn't strike me as the place where you could sit at the bar and talk beer with a the guy on the stool next to you, but rather just an independent restaurant that decided to brew their own beer.
7 beers were on during my visit. 6 menu beers (wheat, raspberry wheat, brown ale, stout, pale ale, cream ale) and a seasonal Pilsner.
I was told by some friends that the beer wasn't great and I confirmed this last night...The beers were n fact a bit of a let down, especially the pale ale! No hop nose, no hop flavor, very little bitterness. To be specific, the beers lacked definition and character and hardly stood up the the styles that they were representing, with the exception of the brown ale that is. The brown ale was actually very good! Roasty, toasty and by far the stand out of the menu beers. The seasonal Pilsner could have been any BMC "Pilsner" re-branded. They're not trying to blaze any brewing trails and they certainly are not being adventurous, which is just fine, but the basic quality of the beers could use some improvement.
They did have a full service bar with BMC in bottles/cans, but only their house beers were on tap, which is always something I like to see in a full service brewery/restaurant.
Over all, it was a decent experience, even if the beer is a little below average. The servers were friendly and attentive, the food was above average American pub fare, and the prices are reasonable for what you get.
The wife and I made the trek up 94 from Metro Detroit to Quay Street, so unless you're close to Port Huron, making a trip up that way or just looking for a new brew pub to try out, it's hard for me to make a recommendation.
2,044 characters
3.6
/5
rDev
+8.4%
vibe: 4.5 | quality: 3.5 | service: 3.5 | selection: 3.5 | food: 3.5
I pulled the boat up to this joint and climbed up the dock and went on in for beer and food. Tried a couple different kinds of beer and they were all pretty decent. Food was on the "good" side of bar food. Waitresses were friendly and helpful. And we got a pretty one, too. And I left with a pint glass souvenir. I won't mention whether the glass was stolen by my jerkoff friend or if it was paid for. The fact that it's on the water is the best thing about the place. I'll go back. I have to try more of their beers. I don't think I gave them a fair shake. I had already been drinking in the sun so I'd like to go back with a more judgemental mindset next time.
662 characters
4.28
/5
rDev
+28.9%
vibe: 5 | quality: 4 | service: 4 | selection: 4.5 | food: 4.5
This brewpub has a very good outside patio right on the canal downtown and you also have a good view of the river in the distance. The beers are good and true to style. I enjoy hoppy ales and the IPA tasted great to me. They also had a stout, a brown ale, a pale ale, a cream ale, a wheat beer, a red ale and raspberry wheat. Anyone should be able to find a beer to enjoy in their well-made selection of beers. The food is better than the average brewpub food. I recommend the place highly especially if it is nice enough to sit outside.
537 characters

3.03
/5
rDev
-8.7%
vibe: 4 | quality: 2 | service: 4.5 | selection: 2 | food: 4
The Quay Street Brewing Company has been in Port Huron for several years and has a very nice location on the river. I grew up in this city and visit Quay Street 2-3 times/year.
The quality of the food is good. I would say it is a step above your normal brewpub food. Lots of salmon, steaks, salads, burgers, ect. and the prices are reasonable. The place was very busy last time I was there and we had a 20-30 minute wait for our table on a Saturday night. This may have been due to a hockey tournament that was in town that weekend. The staff was very attentive and pleasant.
Each time I have been to Quay Street I have been dissappointed in the quality of the beers. I have really tried to like them (because this is the only brewpub in town) but just can't. The five or so beers (if they have not run out) are mainstream and boring. In addition, there is always a funny aftertaste. I am not sure what it is but it is has been there on each of my visits.
So would I go here again? Yes. Will I look forward to their beer. No.
1,031 characters
Quay Street Brewing Company in Port Huron, MI
0
out of
5
based on
0
ratings.