Charlie's Ale House - Navy Pier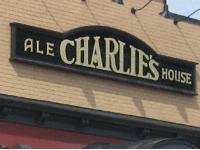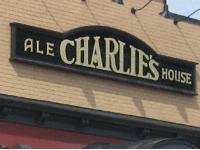 PLACE INFO
Type:
Bar, Eatery
700 E Grand Ave
Chicago
,
Illinois
, 60611-3436
United States
(312) 595-1440
// CLOSED //
Notes:
No notes at this time.
Added by jreitman
Ratings: 9 | Reviews: 9
Reviews by tapman:
3.05
/5
rDev
-9.2%
vibe: 3.5 | quality: 3 | service: 3 | selection: 3 | food: 3
OK, so my points are not great for this place, but you have to unjderstand one thing...it's on Navy Pier. I'll explain, Navy Pier is a place you go with families and girlfriends.
There is no category for me to rank the feeling I get when you are with the entire family, including screaming kids and screaming-over-the-kids aunts, and at any time you can say, "well, I'm going to the Ale House. The beer selection isn't too spectacular. They have local Goose Island brews and maybe one other rotating beer that would be considered exotic, but mostly Heineken, Buds, and Blue Moon.
Food is mediocre, its no Rock Bottom, and like everything at family oriented Navy Pier it is a bit overpriced. Not great, but its all Navy Pier has and right now its better than nothing.
774 characters
More User Reviews:

3.33
/5
rDev
-0.9%
vibe: 2.5 | quality: 3.5 | service: 3.5 | selection: 3 | food: 4
(Dec 16, 2010)
The beer worthiness of this place depends upon which standard a person chooses to measure it.
If rating the beer selection of this place against other great Chicago beer bars, Charlie's would fall very short of "worthy." I doubt anyone goes out of their way to drink a beer at Navy Pier given the mind numbing chatter of tourists and kids. The decor is nice, well kept, but very old world commercial. The food is typical of any other bar and grills. The service is also pretty average. The bartenders aren't beer knowledgeable, which doesn't really matter I guess.
As for the beer, there is nothing worth noting. Import Drafts: they have the usual line up of boring imports like Bass and Stella Artois. Domestic Drafts: this section is decent enough - they carry a good line of Goose Island and New Belgian, but nothing to outlandish. Import Bottles: it looks like a who's who of InBev and SABMiller products. Domestic Bottles: there is too much space wasted on macro swill with only a few noteworthy bottles from Rogue. For the most part the domestic bottle selection was the usual craft beer line up.
So in relation to other beer joints in Chicago this would fall in the C area. However, if a person had to go to Navy Pier, if a parent had to take their kids to visit the Christmas Winter Wonderland for instance, then this place would be worthy of a look-see. In Navy Pier this place has the best beer selection; therefore, compared to the other beer serving places at Navy Pier, Charlie's ranks at the top.
Conclusion: check this place out if you have to go to Navy Pier and feel the urge to drink a beer. The place is well-kept, and service, while being mostly impersonal, was very prompt and relatively attentive. It is a bit pricey for what they offer. On the other hand, I thought it was fairly reasonable for a tourist destination.
P.S. The Charlie's Ale house in Andersonville is much better. I had to amend my, atmosphere rating. I previously gave it a 3.5. After some thought I realized I have never liked going to Navy Pier. The few times I have gone as a tour guide for out-of-town family members the experience was mind-numbing. I would seek refuge in Charlie's, but that was because it was the only beer sanctuary at the Pier.
2,266 characters
3.18
/5
rDev
-5.4%
vibe: 3.5 | quality: 3.5 | service: 2 | selection: 3.5 | food: 4
If you happen to be in the Navy Pier area, this is your only option. Besides that, you can grab a Bud in the "beergarden", but that is about it.
It is a non-descript, nothing special bar, but it has a sitting area outside that is quite pleasant. The selection is acceptable, with a few good locals, enough to have a couple in a sunny afternoon.
Food is better than expected, but the staff is absolutely clueless. Make you own choice, expect poor pouring in the wrong glass, and do not waste your time asking anything about beer.
Considering the highly touristic area, you could do a lot worse.
595 characters
2.95
/5
rDev
-12.2%
vibe: 4 | quality: 2 | service: 2 | selection: 4 | food: 4.5
Charlie's Ale House is not a bad stop, if one finds themselves on Navy Pier without the usual tourist and screaming children aura that is usually true of the area. The Ale House itself is decent in its surroundings, with outdoor seating and a decent list of brews to choose from.
the brews are not served correctly, however. after ordering a Goose Island IPA and inquiring if the bar had any tulips to drink out of, the server simply replied 'no', even though there were a few rows of tulips right out next to the tumblers behind the bar. so aside from a lack of knowledge from the wait staff, it is a decent place to enjoy a cold one.
the food is also much better than one would expect, and the prices are reasonable, which is a plus.
737 characters
3.13
/5
rDev
-6.8%
vibe: 3 | quality: 3 | service: 3.5 | selection: 3 | food: 3
visited the navy pier on a wednesday night with my wife last week while in chicago. ok, i had to squeeze in some "touristy" things on our trip ... lol!
well, it's a tourist spot. luckily, we caught a real nice fireworks show but, before hand, we were hungry and had to kill an hour of time before the show started.
up and down the pier (which is looong!), you'll stands loaded with macro-brews. so, at least with charlie's you can enjoy a local favorite; goose island which my wife and i did along with sharing a turkey pot pie.
charlies does give a "wow" factor but, it is a good option when over at the pier and you need a brew and don't want want your typical macro.
672 characters

3.63
/5
rDev
+8%
vibe: 3 | quality: 3.5 | service: 4 | selection: 3.5 | food: 4
Well, let me put into perspective that I went with my wife and child (he's 4). I thought the atmosphere was "OK". It wasn't too special, but it wasn't awful. They needed to turn up the AC, though because it was stuffy.
The quality was above average. The beers were a bit typical of "nicer beer bars" but still... decent quality brews.
The service was good. The waiter was very nice and attentive. He was also helpful. He didn't go above and beyond, but I was not disappointed by any means.
The selection is above average (in relation to beer). The food selection is good. The food is also good. I had the pot roast and it was pretty tasty. My wife ventured for the buffalo chic sandwhich and she thoroughly enjoyed it. My 4 yr old, well he opted for the PB&J. His only complaint is that the hot french-fries were melting into his sandwhich...and he had too much PB and J on the bread. BUT, he still ate it.
Overall, it was OK... I'd go back... BUT, there are so many choices in Chicago...
1,001 characters
3.43
/5
rDev
+2.1%
vibe: 3 | quality: 3 | service: 4.5 | selection: 3 | food: 3.5
The place is perfectly located next to the lake but on this cold day it was better to sit inside with the nice pub feel. They had some nice varaiety of beers in bottles and drafts but it was far from excelllent. I had some Goose Island Honkers and 312 they were both good and the service was excellent. I ordered a Sirloin Steak sandwich that was very good but like others have said a bit overpriced. When it comes to the beers the prices were fair. Overall a nice place but alwasy room to exapnd the taps.
506 characters
3.88
/5
rDev
+15.5%
vibe: 4 | quality: 4 | service: 4 | selection: 3.5 | food: 4
Pretty typical of English style Pubs. It has a great approach, comming just off of the Navy Pier with an impressive view to the lake and the ships. A table outside gets you more connected to the water and the sidwalk activity. Fairly crowded for the Sunday brunch time, but the servers seemed to keep up and wear a smile. A scan of the beer menu shows about 20 bottled beers and another 4 - 6 on tap. Mostly typical bar beers, with a few pints reserved for the serious beer enthusiests. With a roast beef dinner, I had a Charlie's Red Ale and a Three Floyd's Alpha King, while my girlfriend had a few Goose Island samplings. Though the beer was priced accordingly, the food, though good, was overpriced. The brunch for 2 costed over $60. It's a nice place for food, but consider somewhere else if you are on a beer quest. Though charming, warm, and active, the place seemed a bit stoic and tourist-driven. Pretty good, but there are better bangs for your bucks.
961 characters
3.7
/5
rDev
+10.1%
vibe: 4 | quality: 3.5 | service: 3.5 | selection: 4
Lets start off by saying this is a place geared to the tourists who flock to Navy Pier. However, this is a fun place and they offer some very surprising choices given their location.
The bar is not that large, but it is supplemented by a very nice outdoor beer garden. The beer garden is a great location to check out the ships and the passing throngs of strolling people. The bar itself has nice high ceilings and makes good use of wood to create nice pub type atmosphere.
Charlie's has 25 or so beers on tap. They have a nice selection of Midwest micros including 2 Goose Island offerings, two from Bells, and single selections from Two Brothers and Three Floyds. In addition you can get Sam Adams, Fullers, Smithwicks, Sierra Nevada. They also offer two of their own beers, but I'm not sure who the brewer is.
The bottled selection includes Dogfish 90, Flying Dog Barley Wine, Rouge, Anchor, more Bells the usual Miller/Bud stuff and that Chicago favorite Old Style.
Prices range from $4 to $5.50 but remember this is Navy Pier, so you expect to pay a little more.
The service was decent, but a little harried. The food looked good and the people I was with liked their burgers, but since I didn't have any, I will wait till my next visit to review.
If you are in Chicago and end up a Navy Pier, this place will be a welcome site for a good beer break!
1,382 characters
Charlie's Ale House - Navy Pier in Chicago, IL
Place rating:
0
out of
100
with
9
ratings