Laughing Skull Bohemian Pilsener
| Red Brick Brewing Company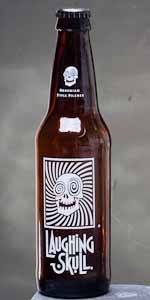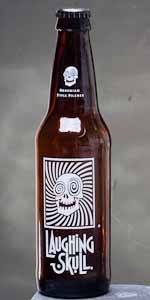 BEER INFO
Brewed by:
Red Brick Brewing Company
Georgia
,
United States
atlantabrewing.com
Style:
Czech Pilsener
Alcohol by volume (ABV):
not listed
Availability:
Year-round
Notes / Commercial Description:
No notes at this time.
Added by BeerAdvocate on 07-11-2002
This beer is retired; no longer brewed.
HISTOGRAM
Ratings: 10 | Reviews: 8
Reviews by aracauna:
3.32
/5
rDev
-0.6%
look: 3 | smell: 3.5 | taste: 3 | feel: 3 | overall: 4
Rerate 5/25/05: Yes, Atlanta Brewing has really turned their beer around. The problems that so many people including myself were noticing a year ago are gone now. The Peachtree Pale is a solid beer as is the Red Brick Ale. The Red Brick Bock is better than solid and reaches into really good. This loses the off flavors of previous years and is now simply a decent pils. There's a dry malty body and the hops are noticeable leaving a clean bitterness and slightly grassy aroma. Actually wouldn't make for a bad lawn mower beer.
5/27/04: Not overly impressed. All of the Atlanta Brewing Company offerings that I've tried have this weird taste to them that I can't place my finger on. It's a bit unpleasant. This beer isn't too bad though. Really light.
760 characters
More User Reviews:

3.3
/5
rDev
-1.2%
look: 3 | smell: 3 | taste: 3.5 | feel: 3 | overall: 3.5
Common light yellow color, with a twinge of chartreuse (which I seem to be noticing more and more in Pilsners), my Laughing Skull came from the tap with a frothy one-finger head. Its smell was like just about every other pilsner I've had, so I guess that makes it "classic." Solid overall taste, with a clean finish and no bitterness whatsoever. It was a touch light in the mouth.
This wasn't bad, but it was just like a myriad of other pilsners I've had, with nothing to distinguish it. Still, I'd drink it again I suppose.
527 characters
2.36
/5
rDev
-29.3%
look: 3 | smell: 2 | taste: 2.5 | feel: 2 | overall: 2.5
Laughing Skull Pils was lacking in head and smell/aroma; it just wasn't there. And it seemed to have "too much" pils color, almost like an artificial color. Taste and body was short of expectations, along with an aftertaste, but still a drinkable beer, if you're buying.
270 characters
3.98
/5
rDev
+19.2%
look: 4 | smell: 3.5 | taste: 4 | feel: 4 | overall: 4.5
Its hard to find a pilsener that makes much of a statement, because in general they are usually the "white bread" of the beer world. I found this beer to be quite nice, with a sweet and malty character, balanced with a nice punch of hops at the finish. Very drinkable. My friend with whom I sampled this said, the next party he has, he is tempted to have a cooler full of this to see if he can lure any Bud Light drinkers over to better beer.
445 characters
2.63
/5
rDev
-21.3%
look: 3 | smell: 2.5 | taste: 2.5 | feel: 2.5 | overall: 3
Clear gold color on the pour, average in size white head, frothy in texture, with fair lace. The nose is light malt; clean and crisp, front is malt, lightly sweet with a cadaverous top. Finish is potently acidic, sparsely hopped, droughty aftertaste. Love the label, but the beer offers little else, at least for me, just the old "Run of The Mill" Pilsener.
359 characters


1.79
/5
rDev
-46.4%
look: 4 | smell: 2.5 | taste: 1 | feel: 3.5 | overall: 1
The beer arrived on the table a pale golden amber with a slight haze and a white head which coated the glass from top to well, when I could drink it no longer.
The aroma was cardboard, like the box your beer came in. The aroma was the first thing that entered the nasal passages and later some hop aroma emerged.
The flavor was as if someone took a cardboard box and cramed it inside the glass and then asked you to consume it. The bittering was at a fairly high level, but it was impossible to get past the oxidation and that oxidation was not caused at the place the beer was purchased. The flavor was also fairly grainy as if they had used 6-row for the beer to save some cash.
The finish was grainy with lots of cardboard long into the finish. The body was medium.
I guess I will end the review wit the comment that this one is a non-starter...just skip it.
Pint at Summits in Sandy Springs, GA.
914 characters

3.86
/5
rDev
+15.6%
look: 4.5 | smell: 3.5 | taste: 4 | feel: 3.5 | overall: 4
First thing that drew me to this beer from afar was the painted glass of the skull. After looking at the bottle, I discovered it was a pilsner. But I tried anyway even though pilsners sometimes tend to be plain. This beer was not too bad. It was sweet and it had a malty character to it. It has a nice balance of flavors. Hop flavor to the finish. Drank straight form the bottle so I cannot comment on the head or lace, but this is very drinkable. Plus you get a nice bottle also.
487 characters
3.78
/5
rDev
+13.2%
look: 3.5 | smell: 3 | taste: 4 | feel: 4.5 | overall: 4
A bit dark for a pilsner, deep golden. Slight nutty aroma (also, hint of diacetyl?) Smooth malt taste. Creamy mouthfeel, medium body.
Hop bitterness was medium, with very little hop flavor. Nice quaffable beer, and thick enough to keep me interested. Would buy again.
270 characters
Laughing Skull Bohemian Pilsener from Red Brick Brewing Company
Beer rating:
3.34
out of
5
with
10
ratings