#'s Ale
| Red Brick Brewing Company
BA SCORE
84
good
34
Reviews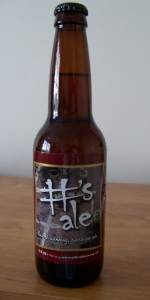 BEER INFO
Brewed by:
Red Brick Brewing Company
Georgia
,
United States
atlantabrewing.com
Style:
English Bitter
Alcohol by volume (ABV):
not listed
Availability:
Fall
Notes / Commercial Description:
No notes at this time.
Added by SaCkErZ9 on 11-01-2007
This beer is retired; no longer brewed.
Reviews: 34 | Ratings: 40
4.43
/5
rDev
+20.4%
look: 4.5 | smell: 4 | taste: 4.5 | feel: 4 | overall: 5
This was a surprise. Pours a nice golden amber with a great white head that remains for the majority of this short session. A pretty light scent but very inviting. Light floral and citrus hops with a cereal like grain and not much sweetness. Very good taste, not exploding with flavor but clean and extremely refreshing. A light biscuity cereal flavor with pale malts and just a touch of caramel. I love the hops in this one in that they're present but not overwhelming. Juicy citrus with a touch of peach and pineapple, quite unique hop profile. The mouthfeel is light with a good carbonation if not a tad too much. Unbelievably drinkable on-tap, I'd like to try a bottle. This is right up there with the likes of Terrapin's Rye in terms of drinkability. A true session Pale Ale if there ever was one. Fairly simple, though very unique all in the same. I could drink this all damn day.
886 characters
4.05
/5
rDev
+10.1%
look: 4 | smell: 4 | taste: 4 | feel: 4.5 | overall: 4
This comes out of the tap a nice clear dark golden with a thick, fine-bubbled head. Aroma is strong and richly hoppy with a hint of spice. Flavor is very hoppy and fairly but not fiercely bitter, and has a touch of sweetness and of spice. Texture is a bit edgy, but it does down the hatch quite smoothly.
304 characters
3.95
/5
rDev
+7.3%
look: 4 | smell: 4 | taste: 4 | feel: 3.5 | overall: 4
Got this on-tap at Atlanta Brewing Company.
Pours a light copper color with a one-finger white head. Slightly cloudy. The head dissipates into a thin layer of bubbles on top. Lacing sticks around for a bit, but disappears pretty quickly.
Smells very malty. Bready, with some hop fragrance in there.
Tastes pretty good. The malt taste is the biggest, and there aren't many hop flavors - the bitter ending is the most prevalent. Pretty solid.
Mouthfeel is OK. It's got a good thickness, but the carbonation is a bit too much. If the carbonation was a little less it would be a lot smoother.
Drinkability is good. Nothing stands out, so it's not spectacular, but it's certainly not bad.
Overall this is a solid beer, but there are no overly redeeming qualities. A good session beer.
785 characters
3.88
/5
rDev
+5.4%
look: 4 | smell: 3.5 | taste: 4 | feel: 4 | overall: 4
I had this earlier in the spring when it was fresher and picked some up sine it was fairly well reviewed and because it seems like their beers may have improved a bit since they moved. This is a pretty solid beer. Nothing exciting, but reasonably well made and serviceable for what it is. Pours amber with a thin head that sticks around as a cap and leaves some simple lacing. Slightly grainy aromas, and quite yeasty. The taste is a bit coppery, very maltty, chewy, and meaty with a light bitterness. The mouthfeel is almost Alt-like, with a firrm dry chewiness. Quite drinkable and worth picking up to try when you see it around.
631 characters
4.12
/5
rDev
+12%
look: 4 | smell: 4.5 | taste: 4 | feel: 4 | overall: 4
A - Nice honey, good head leave slowly, sudsy lacing.
S - Sweet bready malt. I almost feel like I am eating it.
T - Much the same as the smell. Small but present hop finish.
M - Medium to full. Good carb, good mouth coating.
D - Nice, maybe a little too cloying for a session beer.
285 characters
4.1
/5
rDev
+11.4%
look: 4 | smell: 4 | taste: 4 | feel: 4 | overall: 4.5
Now this one I really did not know what I was going to get. It said that it was an excellent session beer on the bottle, but that is a loaded statement for sure. I really do not remember where, or even when I picked this bottle up, I am guessing on my last trip to Atlanta back in December but who knows. Anyway, it has been sitting and waiting for me to get to it, so I decided to clear it out last night to see what was going on. A nice twelve-ounce bottle served straight out of the fridge and poured in a Sweetwater pint glass.
A - As I started to pour this one into the glass, it became quickly obvious that it was going to be a voracious pour, so I quickly slowed it down, but even still, it took two times to get the full bottle into the glass. A huge head, almost immeasurable in size formed on the top and quickly spilled over down the sides of the glass. Very vigorous and lively pour here. The color was bright amber yellow, somewhat hazy and cloudy, but very light and bright. There was tons of carbonation visible throughout the entire glass, which really kept up throughout the entire session. Nice side glass presentation as well, and the head, never completely faded on this one.
S - The aroma was that of a classic blond ale, right away I picked up on this fact. Nice light yeast and fruity characters coming out right away. Some light smells of peaches, bananas, light cereal grains, and grasses were all picked up right away. Very bright aroma, here for sure. Really a nice tight profile and seemed to be very nice. A touch spicy in the back end I was starting to pick up, and some muted hop aromas, though nothing terribly extreme here. Overall again this was a classic blond ale aroma for sure.
T - The flavor was bright and right in your face the very first second you tasted it. Huge yeast and fruity flavors popped right on your tongue the second it hit your mouth. Lots of light cereal grains, light fruit, bananas, peach, a hint of lemon perhaps, all mingling in together and giving it a very light flavor. Hints of grass coming through now along with a slightly muted hop profile are really starting to make this one pop now. The finish was crisp, clean and quick, straight to the point. A nice sharp cutoff of light grassy hops gave way to a lingering flavor of light grain.
M - Super light bodied and very highly carbonated would be the best way to describe this one. The feel was extremely light, classic for a blond ale, and much lighter then even a pale ale would be. Huge carbonation profile really helped it go down effortlessly, with a smooth clean and crisp finish.
D - Overall this was a truly sessionable beer in every context of the word. Virtually no alcohol in it, a super light body, really great flavors and a very nice carbonation profile, meant you could literally drink this one for days without coming close to having too much.
Overall, I am not the biggest fan of the style, however, this may have slightly changed my mind. I could easily session this one for a good few hours before I got tired of it. I don't know that I would actively seek it out, but if it came my way again, I could not say I would be terribly disappointed.
3,183 characters
4.13
/5
rDev
+12.2%
look: 4.5 | smell: 4 | taste: 4 | feel: 4 | overall: 4.5
12oz bottle into mug
Even with a delicate pour a big frothy head emerges, and has pretty good retention. Crysal clear light amber hue with a lot of rising carbonation. After a while, the head settles to a thick pillowy cap.
Faint malt aromas with a little bit of fruity esters. The hops are faint as well, but balance the malts well.
The flavor is mostly toasty malts, not much hop flavor to speak of, but the hops do lend a little bit of bitterness and spiciness to go along with the peppy carbonation. The finish is very clean, mostly the grains lingering. In the middle there is some light estery fruit flavor, same as in the aroma.
This is a pretty good session ale. It's certainly not an American Pale Ale, as it's currently labeled. I think it's more like an English Bitter. Recommended.
797 characters
3.84
/5
rDev
+4.3%
look: 4.5 | smell: 3 | taste: 4 | feel: 3.5 | overall: 4.5
On-tap at Taco Mac (Crabapple). I had heard about the elusive Numbers Ale quite sometime ago, and became absolutely delighted when I spied the black tap handle sporting random numbers. Could it be? Could it really be??
Appearance: Pours an effervescent, clear coppery-golden body with a small, fizzy white head.
Smell: Almost nil, folks. Alright, alright, I'll swizzle and swirl and cram my face in the glass to see if there's anything lurking in there. Oh, the things I DO for you people. Very light floral hops and a mild graininess. There's your aroma!
Taste: Exceedingly light toasted pale malt flavor. Only a small dose of sweetness. A solid spicy hop flavor and bitterness shoves the sweetness oughta the way and holds tight through the finish and into the aftertaste.
Mouthfeel: Medium-bodied. Moderate carbonation.
Drinkability: There was a bit of a scuffle at the bar between those who considered this a blonde ale and those who thought it was clearly an APA. Thankfully, we quickly realized this isn't a beer worth fighting over.
1,049 characters
4.1
/5
rDev
+11.4%
look: 4 | smell: 4 | taste: 4 | feel: 4 | overall: 4.5
Straight from the website:
"Numbers was originally introduced in late 2005 and in 2006 won Best Local Brew, Critic's Choice, in Creative Loafing's Best of Atlanta. Numbers is best described as an American-style bitter, with a slight malt sweetness, moderate hop bitterness and medium hop aroma and flavor. "
I agree with everything mentioned. Light to medium body with nice hop bitterness and hop aroma. Somewhat sweet but certainly not cloying. This was very enjoyable.
472 characters
#'s Ale from Red Brick Brewing Company
3.68
out of
5
based on
40
ratings.