The Mellow Mushroom Bogart Pale Ale
| Red Brick Brewing Company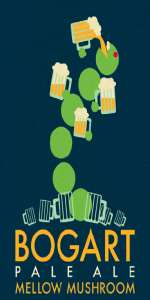 BEER INFO
Brewed by:
Red Brick Brewing Company
Georgia
,
United States
atlantabrewing.com
Style:
American Pale Ale (APA)
Alcohol by volume (ABV):
not listed
Availability:
Year-round
Notes / Commercial Description:
No notes at this time.
Added by oberon on 04-03-2009
This beer is retired; no longer brewed.
Ratings: 10 | Reviews: 9
Reviews by jamiesessions:
3.48
/5
rDev
+11.2%
look: 3.5 | smell: 3 | taste: 3.5 | feel: 3.5 | overall: 4
Golden-colour with a slight head that quickly dissipates. Slight floral and citrus scent, but overall nothing too impressive. Tastes like your standard pale ale, hops are present, and it is by no means bad, but it misses something to really give it that "pop". Feels pretty standard, maybe a bit light, but a pretty good overall feeling, and it goers down quite well. While i wouldn't necessarily order another, it certainly does the trick.
440 characters
More User Reviews:

2.68
/5
rDev
-14.4%
look: 3 | smell: 2.5 | taste: 3 | feel: 2 | overall: 2.5
I know the Mellow is trying to cater to non craft beer drinkers with this but really whats the point?Poured into a standard pint glass a light golden with a thin quick to fade white head,not really any aroma to speak of here just a hint of toasted malt but thats it.Very watered down in the mouth with not much of a flavor profile,a touch of toasted malt and a passing grass note.Why would a macro drinker switch to this...uh not really sure.
442 characters
3.43
/5
rDev
+9.6%
look: 3.5 | smell: 3 | taste: 3.5 | feel: 4 | overall: 3.5
Had on-tap at Mellow Mushroom in Decatur.
Pours a clear copper color with a half-finger off-white head. The head dissipates into a wispy layer on top leaving light lacing.
Smells of sweet pale malts with hints of citrus hops.
Tastes similar to how it smells, although the hops have a bit larger presence. Pale malt flavors up front are followed by light amounts of citrus hop flavors that carry through to a mildly bitter ending.
Mouthfeel is good. It has a nice thickness with moderate carbonation.
Drinkability is OK. I didn't have a problem finishing my glass but I'm not sure about ordering another.
Overall this is an alright beer but it's not one I would really seek out again.
689 characters
3.51
/5
rDev
+12.1%
look: 4 | smell: 3 | taste: 3.5 | feel: 3.5 | overall: 4
I stumbled into this one on tap at the mushroom tonight. I heard rumours they were starting their own beer so to say, and had not seen it around town before, so what the hell. Served in a pint glass and consumed on 04/18/2009.
The pour was really nice. Clear amber in color with two inches of white foam on the top that hung around for a few moments before settling down but being constantly replenished by the carbonation that was bubbling up to the surface. Very light aroma, almost non existent as it let off the slightest touch of light hops but really I had to search for it. The flavor though was a good bit better as was light, clean, crisp, and had the slightest malt bakbone to it while remaining clean and true to style. Nice body and really quite drinkable.
Overall I was not expecting much, but it really was not that bad at all. I could have had another, too bad its not their beer.
897 characters

3.23
/5
rDev
+3.2%
look: 3.5 | smell: 3 | taste: 3 | feel: 4 | overall: 3.5
Appearance: hazy orange in color with 1/2" head that breaks apart quickly.
Smell: little aroma here as some malt sweetness and a hint of floral bitter is light and tough to pull from the glass.
Taste: caramel, light orange citrus, and a mild floral bitterness produces a rather average pale ale.
Mouthfeel: medium bodied. Lightly crisp from start to finish. Aftertaste is very brief.
Drinkability: had this at the Mellow Mushroom in Myrtle Beach on a recommendation of the waitress. Not very memorable but went well with my pizza.
535 characters
3.6
/5
rDev
+15%
look: 3.5 | smell: 3.5 | taste: 3.5 | feel: 3.5 | overall: 4
Ordered this beer at the Lexington Mellow Mushroom location. The beer had been advertised for quite some time, but finally, here it is...
The beer is delivered in a standard pint glass and with a color that seems to straddle the hue of Pilsner and Pale Ale. A somewhat froathy head falls soon enough to a lace, but leaves a fair amount of lacing behind.
Moderate aromas of citrus and pine takes the fore front while the malts give a slight cracker like breadiness in the distance. Not overly fruity or complex. Just a crisp, clean aroma that doesn't overwhelm.
Flavors also favor the hops with pine, grassiness, grapefruit, and orange zest taking the lead. A modest malt component again rides the line of malt and grain flavors but ultimately finds a crisp and clean malt flavor.
Body is a bit light for the Pale Ale style, showing some grain textures and thinness in it's wake. Hops provide a pleasant dryness and spiciness that saves the beer in the end.
A pretty good beer that is easy enough to drink and is great for chasing down the hearty pizzas and hoggies. Understanding the intent of the beer, I think it does a good job for both the beer enthusiast and the guy who just wants a beer with his/her pie. Good beer all around. The beer reminds me of the sub-definition of the Pale Ales style that now lables as the Extra Pale Ale.
1,342 characters

3.03
/5
rDev
-3.2%
look: 3 | smell: 2.5 | taste: 3 | feel: 3.5 | overall: 3.5
#70. Purchased at Mellow Mushroom in a pitcher with some of my friends.
(Appearance) Pours a foamy 1 finger depth head. Retention is average for it's short height. Color is a medium gold, mostly translucent and has lively carbonation levels. Appearance is substantial but there is little excitement factor. 3
(Smell) not very pungent. Some very dominant caramel tones and a slight bit of floral hoppy aroma. Smells slightly citrusy, but the overall aroma is lacking. Average rating on account of the average potency. 2.5
(Taste) Mostly clean caramel malts and some citrus and floral hoppy tones most prevalent on the otherwise bland finish. Nothing too bold or exciting about the beer but it's not too bad. 3
(Mouthfeel) nice balance of crisp and smooth textures here. It tastes incredibly clean for being unfiltered. Light/Medium body tones. Appropriate mouthfeel for it's style. 3.5
(Drinkability) a casual session beer, appropriate for casual drinking and coincidentally enough good combined with pizza, so it was decent enough to finish the pitcher but not exciting enough to draw me back to here specifically for the beer itself. 3.5
Verdict: a decent complimentary beer but nothing too special. Always good to find little surprises like this thrown in the middle of the draft menu, but this one needs to beef up the intensity and excitement in order to be something worthy of repeat visits. C (3)
1,408 characters

3.5
/5
rDev
+11.8%
look: 3.5 | smell: 3.5 | taste: 3.5 | feel: 3.5 | overall: 3.5
Didnt realize that the bogart was the mellow mushroom house ale when I ordered it. $2.00 at happy hour
Very drinkable for $2 but for .50 more I coulda had sweetwater.
That being said, wasn't too shabby.
Poured a pale yellow. Thin head. Light hops. Little carbonation.
First drink I wasn't impressed but it got much better as it went. I will go back up and raise the ratings a bit.
387 characters
3.18
/5
rDev
+1.6%
look: 3.5 | smell: 3 | taste: 3 | feel: 3.5 | overall: 3.5
Appearance: Clear, light copper body with a tall, fizzy, white head.
Smell: Light pale malts with a light touch of graininess. Mild wafts of floral and vaguely citrusy hops.
Taste: Mild pale maltiness with a light, indistinct sweetness. The flavor dries out rapidly, particularly as you pass by the spicy, floral, and only minutely citrusy hops and medium bitterness. Finishes dry and quite crisp.
Mouthfeel: Medium-bodied. Medium-high carbonation.
Drinkability: A very simple and basic beer that, along with their Reverend Mudbone, seems designed to be a relatively light beer to pair with food.
600 characters
The Mellow Mushroom Bogart Pale Ale from Red Brick Brewing Company
3.13
out of
5
based on
10
ratings.