Long John Ale
| Red Brick Brewing Company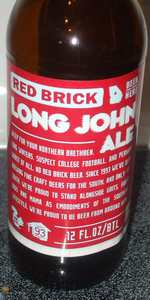 BEER INFO
Brewed by:
Red Brick Brewing Company
Georgia
,
United States
atlantabrewing.com
Style:
Belgian Strong Dark Ale
Alcohol by volume (ABV):
8.20%
Availability:
Winter
Notes / Commercial Description:
No notes at this time.
Added by khiasmus on 11-25-2008
This beer is retired; no longer brewed.
Ratings: 36 | Reviews: 30
2.18
/5
rDev
-29.9%
look: 3 | smell: 2.5 | taste: 2 | feel: 2 | overall: 2
A - The color was a hazy/murky red with a finger of off white head that quickly disappeared and left some lacing.
S - Little smell, a bit of raisin and dried fruit.
T - Uh....I think whomever traded me this at Dark Lord Day was mad at me. The taste was similar to rotten raisins fermented over Belgian yeast and spiced in secondary fermentation. As far as both the category and winter beers, this is near the bottom.
M/D - Mouthfeel was hard to rate because I tried to throw this back as fast as possible but overall, if you're still considering drinking this, don't. Drinkability? I wish I had a funnel handy to make it go quickler.
637 characters
2.91
/5
rDev
-6.4%
look: 3.5 | smell: 2.5 | taste: 3 | feel: 4 | overall: 2.5
I've been a big fan of ABC brewing products since I discovered that the brewery was around the corner from where I work. They have a happy hour three times a week with four beers for eight bucks and live music on occasion. What's not to like right?
I've tried the Winter brew on tap and it's not what I remember in this bottled version.
The beer pours well with a nice finger thick, creamy tan head and a deep red brown color.
That's where the comparison with "Belgian Style Ale" ends. Where most of these styles are warm, rich and smooth, this effort demonstrates lifted, volatile notes.
Almost perfumey nose followed by a rather coarse flavors of hops, spice and weak coffee. Definitely not the richness of Belgian ales. Just a little shy of the mark.
757 characters
3.67
/5
rDev
+18%
look: 3 | smell: 3.5 | taste: 4 | feel: 3.5 | overall: 3.5
A: Deep brown hue with 1 and a half fingers of a creamy golden brown head that dissapates very quickly. Slight lacing left on the glass.
S: Pleasant chocolate smell accentuated by a malted scotch flavor.
T: A nice balance of smooth roasted coffee flavors, combined with chocolate and scotch with a hint of scotch whisky in the finish. Very interesting combination of flavors.
M: Smooth medium bodied beer. Good carbonation balance.
D: Good drinkability for a winter brew. Really warms up the body after a couple of these.
525 characters
2.71
/5
rDev
-12.9%
look: 4 | smell: 3 | taste: 2.5 | feel: 2.5 | overall: 2.5
Picked this beer up at a little wine shop in North Carolina...had never heard of the brewery, so I thought I'd give it a shot.
So, the bottle reads "Belgian-Style Ale." Mostly, I agree. It is in that style, but not an excellent representation of it. The appearance is brown/dark amber with a decent head that quickly fades. There is a little sediment floating around in the glass, as well.
The smell seems pretty close...a little funky, caramel, some chocolate notes, maybe some dark candy sugar, figs, dried fruit.
As for the taste, there isn't much body here...it's tasting a bit watered down. There is some good bitterness up front, and then again on the back of the tongue, but where the weight of the beer should be, it is lacking. I'm not sure what it is...the best way I can describe it is to say it tasted like a slightly watery/less flavorful spiced brown ale.
Overall, a decent beer...not undrinkable, but probably not one I would pick up again if I saw it. I'm glad I tried it, but this isn't one to really write home about.
1,040 characters
3.47
/5
rDev
+11.6%
look: 3 | smell: 3.5 | taste: 3.5 | feel: 3.5 | overall: 3.5
Bottle had at Twain's in Atlanta.
Pours a hazy dark brown color with a thin layer of tan bubbles on top. The head recedes quickly to a thin ring around the glass leaving no lacing.
Smells of bananas and bubblegum with hints of roasted malts and subtler hints of bread.
Tastes similar to how it smells. The banana/bubblegum flavors rule throughout, with bready undertones and a nondescript ending.
Mouthfeel is good. It's a bit on the thin side and doesn't seem to have as much body as it should.
Drinkability is good. I finished one without a problem, but I'm not sure I'd want another one.
Overall I didn't think this beer was a bad as most others that have reviewed it. That being said, it didn't do much to further ABC's cause (or Atlanta's for that matter) as a solid brewery (or brewing town).
804 characters

3.12
/5
rDev
+0.3%
look: 3 | smell: 3.5 | taste: 3 | feel: 3 | overall: 3
Virtually no head when poured, just a thin accumulation around the glass sides, zero lacing. Deep brown core, further out towards the rims there's orange and yellow shades, almost fully opaque. Boisterous banana, fruitcake, plum, cherry and ginger, coriander spices, licorice too, the nose is a mother lode of sweetness, milk chocolate, bubblegum, all that junk in the trunk. Full-bodied in terms of weight but weak in terms of maintaining that weight and palate pressure. Seems more foamy than carbonated, prematurely breaks up the concentration of the brown sugar, molasses, chocolate sweetness. Banana, green apple, plum, cherry fruit fade into bubblegum flavors. Dried oranges and tangerines. Not as sweetly spicy as in the nose. Double clutches on the finish, you can't get to to soak in before it hiccups on you.
818 characters
3.13
/5
rDev
+0.6%
look: 3.5 | smell: 3 | taste: 3 | feel: 4 | overall: 3
Appearance: A lightly effervescent, dark mahogany-hued body with a small, fizzy, white head.
Smell: Aroma that's fairly fruity and a bit high on the fusels, coming across like sniffing a basic DeKuyper liqueur. Lesser spicy, herbal hints as well as notes of dark malts.
Taste: A blend of dark malts displays flavors of caramel, bread (though light), and roast (even lighter). Hmm, right from the word "go" it's kinda conspicuously boozy. Tastes of plums, figs, bananas, and spicy licorice try their very best to usher you away from the glaring alcohol character. Lightly hopped with a slight herbal pop and only ever mildly bitter. Finishes dry and fruity with a bit of lingering alcohol heat on the tongue.
Mouthfeel: Medium-plus body. Medium carbonation.
Drinkability: Try as I might, I just wasn't too crazy about this one. However, for good or bad, it's at least pleasing to see Atlanta Brewing Company trying their hand at some new brews.
947 characters

3.35
/5
rDev
+7.7%
look: 3.5 | smell: 3.5 | taste: 3.5 | feel: 3 | overall: 3
Until this year, ABC's Winter Brew was a porter. But this year, it's a new style: a big 8.2% ABV dark belgian ale. The closest thing I can describe it as is a dubbel...but let's get drinking.
Deep reddish brown in the glass with nary a head, just wispy bits of foam. Nose is full of candi sugar, herbal hops and big fusel alcohol aromas. Hints of banana, believe it or not.
Fruity and caramel malt, slight sweet astringency from candi sugar or something of the like. Plum and blackcurrant. Very sticky in the mouth, only the driness from the alcohol keeps it from being cloying. It's hot, lots of alcohol. Long sticky aftertaste.
Perhaps a bit young and hot but interesting nonetheless. Maybe a bit of age will settle it down.
729 characters

3.54
/5
rDev
+13.8%
look: 3 | smell: 4 | taste: 3.5 | feel: 3 | overall: 3.5
Purchased at Capital City Package in Atlanta.
12oz bottle.
A- Pours a murky brown with some ruby hues when held up to the light. The small white head quickly disappears and leaves no lacing on the glass.
S- Bubblegum, banana, some alcohol present. Pretty good and what I would expect from a Belgian Ale
T- Aroma carries over to the taste, with strong yeasty and banana tones. A bit phenolic.
M- Brew is a bit light-bodied, and rather dry. It also leaves you with a slight sourness that I wasn't expecting.
D- Decent drinkability. I put one down fairly easily for 8% but wasn't jumping up to have a second. It did make for a decent end to my evening though.
Overall, an OK offering from Atlanta Brewing Company. I wouldn't go out of my way to get it, but wouldn't turn it down either...
787 characters
4.32
/5
rDev
+38.9%
look: 4 | smell: 4.5 | taste: 4.5 | feel: 4 | overall: 4
I'd heard that ABC had switched the winter brew to a Belgian and couldn't wait to try it. ABCs brews aren't typically the greatest on the market, but they're a solid choice when the pickins are slim.
The 2008 Belgian pours a deep brown color, slightly cloudy from the sediment in the bottle. Light head, no lacing (and I know the glass is clean).
First sniff and I think, "Belgian ale," but we need to explore this more. Definitely alcohol in there, but I'd expect that from a dark Belgian. Fruits, bananas... reminiscent of Leffe. Nice.
First taste (cold) and I think, "I rather do like this." A bit astringent, but as I let the brew dance over my tongue and warm a bit, I get the banana flavor, maybe some toffee(?), and a bouquet that reminds me of a tasty, spicy raisiney fruit mincemeat pie. Again, much of what I'd expect from a dark Belgian ale.
The brew is dry from start to finish, leaving behind a peppery banana finish. Interesting.
This would be a great dessert or nightcap brew. One should be enough, but I'm already on my second... ;-)
1,054 characters
1.43
/5
rDev
-54%
look: 2.5 | smell: 2 | taste: 1 | feel: 2 | overall: 1
Apparently, Red Brick Winter Brew changes every year. Last year's was an oatmeal stout, this one a "Belgian Style Ale." Since it pours brown, one can only assume it's a Belgian brown ale. EDIT: i have been corrected that they had the oatmeal stout as the winter brew for a few years, and have now decided to make it year-round. So this year's winter brew is replacing that.
The beer pours a muddy brown with a slight greenish tinge when held to the light. (?) Head is minimal after a medium strength pour, and drops to a ring quickly. Some bubbling, and a bit of yeast sediment from the bottom of the bottle. Not a super attractive beer.
Smells a bit like a weizenbock - banana, a bit of bubblegum, actually a lot of bubblegum... There's some molasses like malt in there, but also some higher, fusel alcohols evident as well as some band-aid... doesn't bode well.
Flavor is also reminiscent of a weizenbock, but not a very good one. Banana bread malt with orange that turns to orange peel bitterness. It's really a mess. Phenols, diacetyl, fusels, a lingering bitterness that tastes more like bad pecans and orange peel than hops. There's some band-aid phenols and some DMS, as well as a burnt citrus... did they burn the hops? I'm having difficulty finding one positive about the way this tastes. :-(
Mouthfeel is not terrible, except for the high fusels and crazy astringency in the finish that I can't seem to attach to a flavor. As I said, the bitterness is more like bad pecans than anything else, and there's little to no hop flavor, or really anything besides flaws, bubblegum, and orange peel.
This is not a good beer at all. It's a shame, because I wish more semi-local breweries could produce quality product. However, if this were a homebrew of mine, I wouldn't even enter it in a competition. It's honestly one of the worst commercial beers I've had. Hopefully they'll work out their apparent sanitation/fermentation temp issues and produce a quality brew next year, as it appears they did last year. This one is a shame, and a drain pour.
2,057 characters
Long John Ale from Red Brick Brewing Company
3.11
out of
5
based on
36
ratings.