Red Brick Brick Mason Series #4: Smoked Vanilla Gorilla
| Red Brick Brewing Company
BA SCORE
81
good
81
Reviews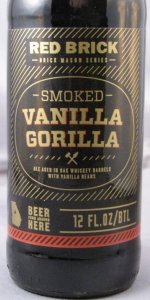 BEER INFO
Brewed by:
Red Brick Brewing Company
Georgia
,
United States
atlantabrewing.com
Style:
American Porter
Alcohol by volume (ABV):
7.80%
Availability:
Limited (brewed once)
Notes / Commercial Description:
No notes at this time.
Added by AdamBear on 09-21-2011
This beer is retired; no longer brewed.
Reviews: 81 | Ratings: 196

4.42
/5
rDev
+24.2%
look: 4 | smell: 4.5 | taste: 4.5 | feel: 4 | overall: 4.5
March 25, 2012 update. Opened a bottle from the cellar and it appears an infection is setting in. Big rocky foamy head that doesn't go away, stark contrast from fresh bottles. Biggest difference is a funky sour/tart character coming to light in the nose and particularly flavor. Not totally gone at this point...still gonna drink it but not nearly as good as when it was fresh. A shame...
Score is from the fresh, and excellent, bottles I enjoyed last fall...
--- --- --- ---
12oz bottle, served around 50F.
Pours dark brown with a one finger tan head that leaves some sheets and spots of lacing and holds a light creamy cap and ring.
Aroma starts with the smoke, primarily of the smoked meats variety, beneath the smoke is a nice healthy dose of vanilla, really nice, light whiskey notes along with your typical roasted malt, chocolate and coffee of a good porter. Very good strength and quite complex.
Flavor basically follows suit, smoked ham and bacon, vanilla, caramel, chocolate, roasted malts, coffee, touch of whiskey, fairly sweet, hint of alcohol on the finish. Kind of like a meal and dessert wrapped into one. You get the savory smoked meats along with the sweet, almost sundae like qualities of the vanilla, caramel and chocolate. Unique and very tasty!
Mouthfeel is medium-plus bodied, somewhat creamy, good carbonation.
Okay so this is really good. Excellent smoky notes along with a lot of vanilla...definitely lives up to its name. The whiskey barrel aspect does take a backseat, but there is enough going on here where that isn't a big issue with me.
★
1,581 characters

3.25
/5
rDev
-8.7%
look: 4 | smell: 4 | taste: 2.5 | feel: 3.5 | overall: 3.5
a: Pitch clear black beer in color, some spare head that quickly dies. Some tan lacing in a mug.
s: bourbon, vanilla, smoke. any hops or yeast was crushed in the barrel. lol. also no malt as is all overpowered in a bad/good way.
t: at first the smoke overpowers the bourbon/vanilla combo, then on the back of the mouth that flavor comes through. Sort of boozy. lightly sweet, no hops, yeast or malt as above. with the right food this beer could work.
m: oily, full body beer, rich thick and semi chocolate.
o: humm not a big fan of oak aged beers, or smokey beers. This is both. I bought the 4 pack and this is my 2nd go around with it. Its not as bad as the first one was. now with this beer the smoke overpowers it, but not in a bad way. I just find I like less smoke, and I bet the regular porter done this way would be OUTSTANDING! However if you are a smokey beer lover then you think this is a great beer and too you it will be, to me its so so. its worth a try but if you hate smoke beers stay away. I will never buy a 4 pack again.
drink: after taste when it warms up is like drinking an ashtray. YUCK!
★
1,115 characters

4.62
/5
rDev
+29.8%
look: 4 | smell: 4.5 | taste: 5 | feel: 4 | overall: 4.5
pours dark pitch black, thin off white head dissapates quickly to a nice mm ring around inside of tulip snifter.
smells smokey, caramel, toffee, fresh cut vanilla beans
thick full body, well carbonated.
Immediately getting smokey bourbon, milk chocolatey malts with slight hoppy backbone
Best beer Ive had from Red Brick. Definately best smoked beer Ive ever encountered thus far.
★
384 characters

4.3
/5
rDev
+20.8%
look: 4 | smell: 4 | taste: 4.5 | feel: 4 | overall: 4.5
dark black with some deep ruby highlights. a very thin tan head that is very bubbly but disappears quickly leaving sheet like lacing.
smells very rich with some strong roasty coffee notes and a deep smokey nose. it also smells a bit salty, perhaps even a very light vanilla bean scent.
the taste is amazing, very roasty but the smokey salty flavor has become very much more prevalent and amazingly delicious. the vanilla is also much more up front. even has an almost scotch like flavor. very complex.
the mouthfeel is a bit thin though slightly syrupy but has a significant amount of very prickly carbonation. dry finish.
this beer has some really complex flavors and characters but still remains fairly easy on the palette and not very filling, also at just under 8 percent, this beer is fairly sessionable.
overall this is an amazing beer, I've only had a few smoke beers, but this beer is quite something else. as a porter it even is fairly good. thumbs up, now I gotta try some more beers from red brick.
★
1,014 characters

4.42
/5
rDev
+24.2%
look: 4 | smell: 4.5 | taste: 4.5 | feel: 4 | overall: 4.5
Wow.... this is by far their best beer they make and possibly one of my favorite smoke beers. This is a big smoke beer. Bourbon and vanilla are there as well as typical chocolate/coffee flavors of typical porters, but the smoke aspect of this beer is the real star. You have to be of fan of the smoke to enjoy this as well as the big woody flavors coming from the barrell aging. More body and head retention would/make this world/class.
★
436 characters
4.6
/5
rDev
+29.2%
look: 4.5 | smell: 4.5 | taste: 4.5 | feel: 4.5 | overall: 5
The brew pours a deep brown-black and is topped with a frothy tan head that deposits significant lacing upon the glass. The nose does not lend any appreciable vanilla, which is surprising given the brew's moniker. What I am getting from the aroma is a very nicely apportioned balance of roasty malt, charred sugar, and smoke. The flavor is outstanding; vanilla makes an appearance, and lives up to its billing in that regard, but there is a high level of complexity going on here. It is woody, roasty, slightly smokey-sweet, with leather, vanilla and dark chocolate notes. Big creamy mouthfeel too. Overall, a big winner in my book. It is actually much like a Bourbon: though it does not taste like Bourbon, it finds its success by utilizing much of the same palate and profile, as the aforementioned descriptors suggest. This delicious beer has taken me by surprise, and has left quite an impression on me.
★
907 characters

3.83
/5
rDev
+7.6%
look: 4 | smell: 3.5 | taste: 4 | feel: 3.5 | overall: 4
12 oz bottle from Brick Mason series. $12/4 pack.
A: Two fingers of light tan head with a vigorous pour that settled down to a half finger of head. Very, very dark brown (almost black) and completely opaque.
S: Very roasty smell with the slightest hint of smoke in the background. I get a little dark chocolate and a bit of sweet vanilla. Maybe the slightest bit of whiskey as it warms. Overall, the roast dominates.
T: Woah! Much more flavorful than the smell would indicate. Fairly strong vanilla and smoke flavor with some whiskey flavor present as well.
M: A bit light in body, but I wouldn't necessarily say it's too light for a porter.
O: Very tasty especially for the price. I recommend seeking this out.
★
716 characters
4.44
/5
rDev
+24.7%
look: 4 | smell: 5 | taste: 4.5 | feel: 3 | overall: 4.5
Happy to pick up a 4-pack of this today as the first two in the Brick Mason Series have been very nice. No freshness info. Enjoyed on 09/22/11. Poured around 55-60F.
A - Very dark brown, almost black with a small cream colored head. Recedes to a ring around the edge of the glass and leaves little to no lacing.
S - Wow, this is the best aroma I've experience from an American porter. Huge vanilla character from both the whiskey barrels and vanilla beans, along with some roasted malts and dark chocolate aromas. Somewhat smokey but the vanilla shines.
T - This stuff is delicious. The dry, roasted malt character is balanced excellently by the sweet vanilla. Some dark chocolate on the back end and a somewhat smoky character along with nice vanilla, oaky, whiskey flavor throughout. Finishes perfectly balanced with some smokey, roasty flavors along with great chocolate and vanilla sweetness.
M - The mouthfeel is average for a porter. This is the only knock against this beer I have. With a more full, rich mouthfeel, this one could be greater than it already is.
O - Overall, this is the best of the Brick Mason series and maybe the best beer Red Brick has ever made. I'm kicking myself for only getting one 4-pack and will be making the trip back to ATL in the coming weeks exclusively for this beer. Well done.
★
1,323 characters

3.73
/5
rDev
+4.8%
look: 4 | smell: 3.5 | taste: 4 | feel: 3.5 | overall: 3.5
Dark brown body with a tan head. I didn't experience the "thin head" issues that the other reviewers before me noted. Aroma is an onslaught of smoke -- can't pick up on much else. It's like sniffing your clothes after sitting around a camp fire all night. Taste is again predominantly smoke, with a backdrop of vanilla as well as the malt profile I've come to associate with porters or low-ABV stouts. The vanilla compliments the smoke well and really shows up, and it almost puts the smoke in check -- but the smoke still dominates. I can't say I picked up any coffee or chocolate; if there was any, the smoke was completely blotting it out for me. The bottle says it was aged in whiskey barrels, but I can't say I noticed any whiskey. Thinnish body.
When I found out this was a smoke bomb, I didn't expect to like it. But I actually ended up enjoying it. However, the smoke is so strong that it ends up being a bit of a one-trick pony. I think I would have liked a higher ABV, or a slight toning down of the smoke with more coffee/chocolate thrown in instead.
This one really lives up to its namesake though -- smoke and vanilla. I'm not sure if the whole "gorilla" part is fair though at only 7-and-change on the ABV.
★
1,222 characters
3.92
/5
rDev
+10.1%
look: 3.5 | smell: 4 | taste: 4 | feel: 3.5 | overall: 4
Saw this and had to try it, if not for the name alone.
Almost no head, even with an aggressive pour into a pint glass. Extremely dark brown boredering on black color.
Excellent aromas to this beer. Coffee, chocolate, hint of vanilla and smoke.
Served cold, the smoke flavor tends to overwhelm the other flavors. Definitely let this one warm up a bit to fully appreciate the other flavors.
I did think it felt a little thin compared to the aroma and flavor profiles, but all in all a very nice beer.
★
505 characters

4.4
/5
rDev
+23.6%
look: 4 | smell: 4 | taste: 4.5 | feel: 5 | overall: 4.5
Found a bottle of this at Total Wine in Sarasota. it was the last one left.
Thought this might possibly be a remake of the original "vanilla gorilla stout", but according to the site, this one is based on their porter.
Bottle reads.."Smoked Vanilla Gorilla. Aged in Oak Whiskey barrels with vanilla beans"
A-very dark brown to black. you need to pour harshly to get a thin light tan head that quickly fades to nothing.
S-smells like dark salted and smoked cocoa beans. there's a scent of vanilla that is faint but stable. fairly complex and big smelling.
T-comes in with a smokey and slightly spicy taste of dark roasted malts that taste like a strong brewed mocha. there is a faint but very tasty hint of vanilla. the after-taste is mostly dark roasted malts with some small but good evidence of the oak whiskey barrels. its a very complex and solid flavor. not detecting any off-flavors or undesirable traits in the taste. Probably should serve this warmer than cooler.
M-good smooth medium carbonation that quickly fizzles with a crisp finish.
O-overall, this is a great beer, something i wouldn't mind getting a lot of. its rare to find this much flavor in a reasonably priced 12 ounce bottle. also besides the good pricing, i'm guessing the ABV is much lower as well, though it achieves the tastes of a big stout.
★
1,328 characters
Red Brick Brick Mason Series #4: Smoked Vanilla Gorilla from Red Brick Brewing Company
3.56
out of
5
based on
196
ratings.