Red Brick Brick Mason Series #5: The Lost Years
| Red Brick Brewing Company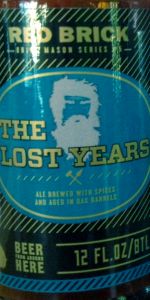 BEER INFO
Brewed by:
Red Brick Brewing Company
Georgia
,
United States
atlantabrewing.com
Style:
American Strong Ale
Alcohol by volume (ABV):
9.00%
Availability:
Limited (brewed once)
Notes / Commercial Description:
No notes at this time.
Added by chefmikeanderson on 01-24-2013
This beer is retired; no longer brewed.
Reviews: 11 | Ratings: 73
3.74
/5
rDev
-4.1%
look: 4 | smell: 3.75 | taste: 3.75 | feel: 3.5 | overall: 3.75
Seems like this beer hasn't been brewed in a while. I'm surprised sine there were several sitting in the cooler. Poured from a brown 12 oz. bottle. Has a dark brown color with a 1 inch head. Smell is of malts, bourbon, oak. Taste is of whiskey, malts, light spice, alcohol is present. Feels medium bodied in the mouth and overall an enjoyable beer, it seems to have aged well.
376 characters

3.82
/5
rDev
-2.1%
look: 4 | smell: 3.75 | taste: 3.75 | feel: 4.25 | overall: 3.75
12oz bottle poured into a Bruery tulip.
A - Pours a touch hazy and muddy in the glass with a nice mahogany color with a finger of creamy light tan head. Foamy lines of lacing ring the glass matching the level of the beer after each sip.
S - Mildly roasty malt with some toasted aspects and touches of caramel. Sweet vanilla, hints of wood. Quite fruity with some spicy and perfumey aromas mixed in. Slightly warm alcohol aroma to round things out.
T - Very smooth. Mild alcohol warmth, malty sweetness with light caramel and some biscuit flavors. Floral and a bit herbal spiciness, sweet, perfumey. Nice vanilla in the middle and finishing with a mix of sweet and some mildy bitter hops.
M - Smooth and creamy texture. Medium body with a low carbonation that works giving a super velvety mouthfeel. Probably the best feature of the beer.
O - Interesting beer. Very nice malty base, subtle but nice barrel addition especially with the vanilla character. Spices give a bit of an odd herbally, perfumey and floral note to the beer that on some sips works and others not as much...a bit of a potpourri type mix that is a bit difficult to describe otherwise.
1,158 characters

3.93
/5
rDev
+0.8%
look: 3.75 | smell: 3.75 | taste: 4 | feel: 4 | overall: 4
Pours with one finger of off white foam on top of a dark brown body. An aroma of vanilla, whiskey, brown sugar, and dark malt. Some toffee and molasses up front in the flavor with vanilla, cocoa, cinnamon, and herbal hops in the finish. Medium thick body, moderate carbonation, and a slightly sweet finish. Not bad, though honestly just not being infected is a relief after past experiences with barrel aged red brick.
418 characters

4.13
/5
rDev
+5.9%
look: 4.25 | smell: 4.25 | taste: 4.25 | feel: 3.5 | overall: 4
Poured from bottle into a tulip , deep dark brown with offwhite 2 finger head that sticks around , minimal lacing
The aroma is a sweet and malty with some dark fruit and earthy smell hitting you at the end , really nice smelling brew
My one complaint on this is it's a little weak on the mouth , a lot thinner than I had expected
The taste is really nice as well , lots of dark fruits coming at you with the sweet malt , can taste the dark sugars in it with the alcohol and the bitterness topping it off at the end
Overall this is a really tasty brew , reminds me of a nice dubblel with out the Belgium yeast. I would buy more if I run across it again
655 characters

3.89
/5
rDev
-0.3%
look: 4 | smell: 3.75 | taste: 4 | feel: 4 | overall: 3.75
"The Lost Years: Ale brewed with spices and aged in oak barrels". Brick Mason Series #5- although this counter has been restarted once before at the beginning of 2012, this is another one-off beer from the Brick Mason reserve series, brewed and released in January 2013. Brewed in the style of an American Strong Ale. Released in 4 packs, these go for around $11 per pack.
Poured from a 12 oz. bottle to a snifter. Served north of 60º Fahrenheit.
(Appearance) Pours a caramel cream head of a frothy and crisp consistency. Body tone is a deep maple/ruby tone with ample carbonation and high clarity. Retention is slightly above average despite a sudsy texture. Lacing is thin and streaked. A pretty solid appearance. 4
(Smell) Aromas of lightly toasted caramel grain, faint maple-laden bourbon, moderate acidity and a fruity blend of tart dark grapes, figs and plum. Mild spice character added, hints of clove, nutmeg and vanilla complement the dark fruit notes. All along the way a mild oak character lends a subtle dryness and sharpens the tartness and sour qualities of the aroma. Potency is medium/high. Enjoyable and inviting aroma. 3.75
(Taste) Up front a lightly roasted caramel malt, some mild toasted grain, dry oak chips. Midway, a hint of figs and dates give a moderate sugary sweetness, rounding out to a finish with a subtle hint of bourbon booze and licorice, a pinch of semi-sweet chocolate grain with a dash of vanilla and nutmeg creaminess. The finish is pleasantly mild for a oak barrel aged beer, with just a touch of alcohol warmth. Not nearly as tart or sour as the aroma gave off, this better displays the sweet characteristics of an oak-aged ale. Drinkability is high. 4
(Mouthfeel) Texture is slick, very mildly dry with a touch of oak and a smooth, lasting vanilla and bourbon finish. Carbonation is very mild, adding just a touch of creaminess to liven up the slick texture. Alcohol is mild+ overall, quite well hidden and the body is medium for a strong ale, medium/heavy amongst all beers. The texture is straightforward and simple, sweetness isn't cloying and the booze is just mild enough to make this an approachable beer. 4
(Overall) Red Brick does a pretty solid job with this one- all the scary points turned out to be much more tame than I thought and most of the flavors meshed together well. It ultimately turned out to be much more of a success than a shortcoming. One of the better installments to the Brick Mason line and one of Red Brick's top beers in my opinion. I wouldn't mind seeing this return in the future. 3.75
Red Brick Brewing Company's
Brick Mason Series #5: The Lost Years
3.9/5.00
2,642 characters

4.25
/5
rDev
+9%
look: 4 | smell: 4.5 | taste: 4.25 | feel: 3.75 | overall: 4.25
Growler from The Beer Growler in Atlanta, served in a St. Bernardus snifter. "an American Strong Ale brewed with spices and aged in Jim Beam bourbon oak barrels" that are being used for the 2nd time, imparting a more subtle bourbon character, according to Red Brick..
Pours very dark reddish-brown, clear with a moderate size tan head. The head reduces to a partial coat and ring too soon, but then hangs on, leaving attractive lacing on the glass.
Disclaimer: I don't like bourbon and think a number of beers have been harmed by over-exposure to bourbon barrels. Nonetheless, this ale has a fantastic aroma that seems at first to consistent almost entirely of sweet bourbon. There's also a solid malt component, a note of orange peel, some spices, and a trace of oak: these all mesh completely with the bourbon effects. The taste is also exceptional: high complexity; very flavorful yet not challenging; and superb bitter/sweet balance.
O: Art, science and luck all came together in this beer from a brewery known for making good but not great beers. With a marvelous aroma; great flavor, and high complexity, The Lost Years is highly recommended. Red Brick: please make more!
1,182 characters

3.68
/5
rDev
-5.6%
look: 4 | smell: 3.5 | taste: 3.75 | feel: 3.5 | overall: 3.75
A - Pours a tea brown, pretty opaque with a light tan one finger head.
S - Light bourbon, vanilla, toffee and slight oak.
T - I'm getting more oak up front, some citrus, caramel and bourbon on the finish.
M - High carbonation with a light medium body.
O - Bourbon isn't overpowering in the beer, which lets other subtleties come forth. Not a hot beer and an easy drinker for the abv.
388 characters
3.84
/5
rDev
-1.5%
look: 3.5 | smell: 3.75 | taste: 4 | feel: 3.75 | overall: 3.75
Poured into a tulip glass
A: An opaque, ice tea brown with hints of copper. A half finger off-white head that dissipates pretty quickly, leaving bubbles in its wake. Decent lacing.
S: A wonderful bourbon/vanilla concoction that begs to be sipped.
T: Smooth, bourbon-y. Light chocolate malts. Toffee, vanilla. Sweet.
M: Medium with smooth carbonation.
O: On par with their 17th Anniversary ale. Bourbon is more muted, which is nice. Highly drinkable.
456 characters

3.99
/5
rDev
+2.3%
look: 4.25 | smell: 4.5 | taste: 3.75 | feel: 3.5 | overall: 4
12oz bottle, fresh release. Served at cellar temperature. For the record, this is aged in Jim Beam Bourbon barrels.
Pours lightly hazy reddish brown with a two finger beige head that leaves nice bubbly rings and sheets of lacing and recedes to a light to wispy cap.
Aroma is bourbon, toffee, alcohol, caramel, vanilla, oak, bread, molasses, touch of fruit & anise, as it warms some chocolate and coffee come out. Very good strength. Smells amazing.
Flavor is oak, bourbon, vanilla, oak, toffee, caramel, nice dark fruits, anise, good bit of herbal hops, pretty woody, fairly sweet, mild to moderate bitterness, mild to moderate alcohol. Finishes a little weak for a barrel aged beer, doesn't quite live up to the aroma, but still quite good.
Mouthfeel is medium bodied, sticky, good carbonation.
This is really fresh and is pretty good out of the gate. The aroma is amazing, very complex. The flavor has a good bourbon presence, a lot of oak, hops could use some time to mellow, although it's not very hot, some age still might help.
1,042 characters

3.97
/5
rDev
+1.8%
look: 3.75 | smell: 3.5 | taste: 4.25 | feel: 4 | overall: 4
12oz bottle from Bullocks (Marietta, GA). 10.99/ 4 pack. No bottle dating but just hit shelves last week. Served in a Brick Mason snifter.
Pours ruddy brown with a quarter finger off white head. Very little lacing.
Smells of mild bourbon, pronounced star anise and caramel.
Tastes of smooth vanilla-y bourbon, oak, toffee, anise, citrus peel, coriander and caramel. A little alcohol but it's blended well.
Medium body with ample carbonation. Fairly creamy but the carbonation keeps it dancing. Long sweet boubon soaked citrus peel finish.
My favororite of the Red Brick anniversary brews that I've had. A much more complex variation than either 16 or 17 were. The spice additions really compliment the Jim Beam barrel aging. I'll be picking up more of this.
767 characters
4.13
/5
rDev
+5.9%
look: 3.5 | smell: 4.25 | taste: 4.25 | feel: 4 | overall: 4
75% bourbon aged strong ale with citrus peel and star anise 25% Amber
A: lovely amber color with a bubbly white head. Lace coats well and a thin layer of head remains
S: sweet bourbon alcohol. Vanilla oaky tones with a touch of apricot dark citrus
T: Mellow bourbon comes first and very quickly slips away into a base kind of old ale taste. Almost like a light Manhattan with the bourbon citrus notes. Sweet dark citrus tones push the bourbon away in the background. Very little noticeable alcohol
M: a little more carbonated than most barrel aged beers. I enjoy that because it makes it so easy to knock this one back. Nice slick mouth feel gives the urge to keep drinking
O: A very nice introductory bourbon barrel aged beer. At first you get the bourbon you're looking for, then it quickly mellows out and doesn't overwhelm in any way. Sometimes its nice to have an easy drinking flavorful barrel aged beer. Worth a try for sure
932 characters
Red Brick Brick Mason Series #5: The Lost Years from Red Brick Brewing Company
3.9
out of
5
based on
73
ratings.