Jokki (Jug Nama)
| Suntory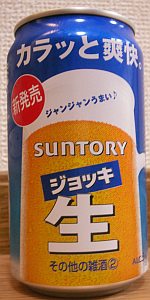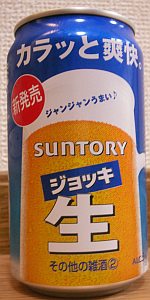 BEER INFO
Brewed by:
Suntory
Japan
suntory.com
Style:
Happoshu
Alcohol by volume (ABV):
5.00%
Availability:
Year-round
Notes / Commercial Description:
No notes at this time.
Added by Naerhu on 02-23-2006
HISTOGRAM
Ratings: 6 | Reviews: 5
Reviews by davidchollar:
2.06
/5
rDev
-13.1%
look: 3 | smell: 2 | taste: 2 | feel: 2 | overall: 2
another day, another happoshu. like nama beer, (japanese rice lagers) their more expensive counterparts, happoshus tend to be strikingly similar. everything from the look, smell, taste, even the can designs look alike. this one is no different, but at least it's not terrible.
and that's about all i can say about suntory's jokki, it's not terrible. very average for the style, it has no smell or taste to speak of. think watered down bud.
442 characters
More User Reviews:

2.41
/5
rDev
+1.7%
look: 4 | smell: 3 | taste: 2 | feel: 2 | overall: 2.25
Can brought back from Japan by Terry, thanks for the opportunity!
Brilliant medium golden color with a frothy white head. Skunky almost dusty aroma with little else. The flavor is horribly light and somewhat metallic, this could be an older can. Nice to try, but nothing to ever seek out.
288 characters
2.13
/5
rDev
-10.1%
look: 3 | smell: 2.5 | taste: 2 | feel: 2.5 | overall: 1.5
I've never seen a beer label with this many ingredients -- with so many additives! 13 ingredients in this...yikes. Definitely beer of the future!
Fine looking lasting white head (which additive was that..) and standard light gold color (that was definitely the caramel coloring.
Smells like nothing, which is positive for the style. Taste is mildly sweet and impressively neutral with a touch of something chemical-like and artificial in the aftertaste, which seems to be unavoidable in these no-malt brews. Ug. Wildly overcarbonated.
538 characters
2.48
/5
rDev
+4.6%
look: 2.5 | smell: 2 | taste: 2 | feel: 2.5 | overall: 4
12 ounce can consumed in Japan several months ago, just found my notes in an old school notebook, had this while studying abroad in Tokyo, drank at my host family's home
A-Clear golden yellow color, big one inch foamy white head that went away quickly, very little retention, and no lacing
S-Mild sweetness, metallic notes, some faint hoppiness, cannot detect any malt, some starch, sugar, and citric acid
T-Definitely feel a bit of metal or chemical-like feel that is not just coming from the can, weird flavor and sensation, taste is light with very faint sweet accents, very little dryness or hop activity, very watered down overall and that is what most sticks out, sugary when it warms and becomes sweeter by the end, would have gone better with some salty food if I had any
M-Thin body, more carbonation than you even know what to do with, light mouthfeel overall, some sweet and mildly dry textures, taste does not linger
D-Could pass as water at times, super light on the stomach, cannot taste a hint of alcohol, smooth, goes down way too easy
I knew I had tried this style before but forgot which one until I saw this and even had a picture to along with it, they sold six packs of this stuff at the local grocery store I believe, one of the weirder beers I had over there, probably will never drink again but not too worried about it, probably better examples of this style but who knows
1,400 characters
2.11
/5
rDev
-11%
look: 3 | smell: 2 | taste: 2 | feel: 2.5 | overall: 2
A - Transparent yellow body with huge visible carbonation and a healthy pure white head. Not nice to look at, but OK for the style.
S - Smells like starch.
T - Slightly sweet (which would make it extremely sweet for the style). Starchy plain flavor.
M - Light body, overly carbonated.
D - Went OK with food, bu once the grub was gone, there was definately no desire to drink this. I guess this is just a poor substitute for water.
435 characters

Jokki (Jug Nama) from Suntory
Beer rating:
2.37
out of
5
with
6
ratings