Suntory The Premium Malt's (Kuro)
| Suntory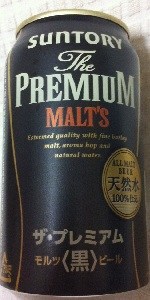 BEER INFO
Brewed by:
Suntory
Japan
|
website
Style:
Schwarzbier
Alcohol by volume (ABV):
5.50%
Availability:
Year-round
Notes / Commercial Description:
No notes at this time.
Added by soulgrowl on 07-01-2007
Reviews: 7 | Ratings: 14
Reviews by davidchollar:
4.05
/5
rDev
+11.3%
look: 4 | smell: 4 | taste: 4 | feel: 3.5 | overall: 4.5
I was very happy to see this at the store recently. Along with Yebisu's The Hop, and Kirin's Grand Ale, there have been some totally decent J-macros coming out lately.
Same color as the can, the beer is, in fact black (kuro being the Japanese word for black) with a fluffy, tan head. Not much to smell at first, straight out of the fridge. I get a generic dark beer, roasted malt. But as it warms, the nose really opens up. Suddenly it's full of dessert smells, caramel, bread, chocolate, maybe even some dates, almost like an ale!
Wow, very tasty! This is probably a Japanese take on a style that I haven't liked much in the past, it seems a bit sweeter, less bitter. Light-bodied with a clean aftertaste, I agree with what soulgrowl said, but I definitely like it better than Yebisu Black. Highly recommended, I'll be getting this again - maybe tomorrow!
★
863 characters
More User Reviews:

3.76
/5
rDev
+3.3%
look: 4 | smell: 3 | taste: 4 | feel: 4 | overall: 4
Grabbed this one at the grocery store tonight on a whim.
Anyway...
Nice looking tan head stuck around for a bit leaving a fair bit of lacing.
Nose was a bit weak and not very enticing. Not really bad just a bit weak.
First taste was great. Strong roasted chocolate malt came through to my surprise and delight. However subsequent sips weakened the initial flavor.
Mouthfeel was pleasant, nice carbonation
Drinkability was good, I could drink a couple of these but I wouldn't seek it out.
In my opinion, this style is kind of hard to mess up. All the so-called kuro-nama macros are pretty much average and taste about the same. This one is a bit maltier than average and isn't bad at all. Certainly preferable to most other macro options
★
742 characters
3.51
/5
rDev
-3.6%
look: 4.75 | smell: 3 | taste: 3.5 | feel: 3.5 | overall: 3.75
2.27
/5
rDev
-37.6%
look: 4 | smell: 2 | taste: 2 | feel: 2.5 | overall: 2.5
A - big puffy compressed air vanilla beige head. Settles over the course of 60-120 seconds. Color is a thin, clear, but mostly opaque watery brown. Like cheap red wine and melted chocolate.
S - Compressed air. Some chocolate notes from the can. Freeze dried strawberry astronaut ice cream. No hops. No yeast. A bit of Mr. Pib. Lacing puts up a good fight trying to hang on to the end, but ultimately doesn't have the viscosity to last long.
T - Straw, flat soda, ginger, aluminum. Instant oatmeal without sugar. A sharp malt vinegar aftertaste.
M - Strange. The fizz gives it a slightly creamy effervescence, but somehow at the same time it's is strangely watery and hollow. Like flat Diet Dr. Pepper.
D - Well this is actually worse than the regular Suntory The Premium Malts. They remembered to use all malt barley. But it seems like they forgot the hops and the yeast and the flavor and well...to make it good. Average is being pretty generous.
★
951 characters
3.67
/5
rDev
+0.8%
look: 4 | smell: 3.75 | taste: 3.5 | feel: 3.75 | overall: 3.75
5
/5
rDev
+37.4%
I had this at The Rose & Crown British Pub at Akihabara station in Tokyo. A smooth dark beer with a hint of sweetness but not too sweet. It paired so well with the fish & chips that I had it several times while I was there. Have not found it in the US.
★
255 characters
4.2
/5
rDev
+15.4%
look: 4 | smell: 4 | taste: 4.5 | feel: 4 | overall: 4
Dark brown head sitting on a very dark brown body.
Soft aroma of chocolate.
Rich taste of slightly burnt chocolate cake. Vibrant palate and light body.
This is an excellent beer, but turns slightly sweet as it warms to room temp. So drink fast or ensure its chilled.
★
271 characters
4.08
/5
rDev
+12.1%
look: 4.5 | smell: 4 | taste: 4 | feel: 3.5 | overall: 4.5
The style of this beer is, of course, not labeled. But putting an all-malt beer in the "Euro Dark Lager" category just doesn't feel right, especially when that beer is as rich and flavorsome as this is. So I'm entering it and reviewing it as a Schwarzbier.
Appearance: Molassesy black with a lagery lightness and a creamy, cappuccino tan head. Fair retention and some wispy lacing.
Smell: Caramel abounds, with a soft marshmallowy sweetness and hints of vanilla and cocoa. Biscuity notes, honey, and a tight, green, estery hop character lurk in the background. Reminiscent of Oreos.
Taste: Nutty and rich, with a tangy, noble hop bitterness and dry, roasty chocolate notes to counter the sweetness of the malts' abundant caramel and honey flavors. Surprisingly, Suntory's highly trumpeted natural spring water lends an underlying crystal clarity that helps subtle flavors snap into focus. Finish is bright and clean, with lingering cocoa and nutty notes and a clenching hoppy tang. Almost like s'mores in a glass.
Mouthfeel: Too thin; the richness of the flavor deserves a fuller body. That said, the beer is remarkably clean and dry for how malty it is.
Drinkability: Very nice work from Suntory. I've been anticipating the release of this in Kyushu for a while now, and I am far from disappointed. I may even like it better than Yebisu Black!
★
1,359 characters
3.9
/5
rDev
+7.1%
look: 4 | smell: 4 | taste: 3.75 | feel: 4 | overall: 4

3.62
/5
rDev
-0.5%
look: 3.75 | smell: 3.5 | taste: 3.75 | feel: 3.5 | overall: 3.5
3.45
/5
rDev
-5.2%
look: 3.5 | smell: 3.5 | taste: 3.5 | feel: 3 | overall: 3.5
Appearance: Deep black brew with a fizzy tan head.
Smell: Metallic, chocolate, coffee and toffee.
Taste: Roast malt, hints of bitterness with a slightly smoky finish.
Mouthfeel: Light-medium body. Slightly chalky during consumption.
Drinkablity: Tasty brew, but lighter than expected. Still a good effort.
★
311 characters
Suntory The Premium Malt's (Kuro) from Suntory
3.64
out of
5
based on
14
ratings.