Maxlrainer Aiblinger Schwarzbier
| Schlossbrauerei Maxlrain GmbH & Co. KG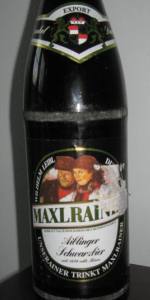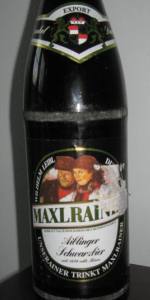 BEER INFO
Brewed by:
Schlossbrauerei Maxlrain GmbH & Co. KG
Germany
maxlrain.de
Style:
Schwarzbier
Alcohol by volume (ABV):
5.00%
Availability:
Year-round
Notes / Commercial Description:
No notes at this time.
Added by PhageLab on 05-22-2011
HISTOGRAM
Ratings: 12 | Reviews: 7
Reviews by thekevlarkid:
3.33
/5
rDev
-9.3%
look: 4 | smell: 3.5 | taste: 3 | feel: 3.5 | overall: 3.5
Out of a bottle purchased for a very affordable $3.49 this beer was a murky brown color with one finger of tan head. The retention was good and the lacing in broken sheets. The aroma was a bit musty with notes of toasted malt, earth and leather. The flavors were good, but dominated by roasted malt. I did also taste the earthy/smoky elements along with sweet malt and caramel followed by a strong, bitter finish. In my opinion the hops were too pronounced and too much. The mouthfeel was good, the body medium/full and the carbonation appropriate.
548 characters
More User Reviews:
3.36
/5
rDev
-8.4%
look: 4 | smell: 3 | taste: 3.5 | feel: 4 | overall: 3
500ml. A very dark brown pour, just a thin layer of white.
Aroma, kind of non descript molasses and caramel malt. Fairly standard for the "average" German brewery.
Taste, caramel, sassafras, mild chocolates. Milder roast malt. It's not bad, but could almost just pass for a Beck's dark.
Heavy side of light, good carb, drinks no problem. Just kind of average, though very standard.
385 characters
3.7
/5
rDev
+0.8%
look: 4 | smell: 4 | taste: 3.5 | feel: 4 | overall: 3.5
Poured out of the bottle into a pilsner style glass. Best before Jan 25th 2011, onward!
An off brown like head that is soapy and fairly large but falls at a slow pace. Body is at first a dark red/black but on closer inspection is truly a classic Indian red/brown and clear. Some minor retention and clumpyness sticking to the glass.
Crisp sweet clove, and husky grain quality. Fresh and grain ripping husk sensations with maybe a hint of roast. Small sweetness of perhaps nutmeg as well.
Small palate and flavor long story short. Little carbonation but missing roasted malt character or just about well... anything. Muted small, but with a very good mouthfeel that has just the right body, nothing too wet or syrupy.
Pretty easy drinking, but kind of underwhelming and can't say I'd desire this one again for this style. Sort of Schwarzbier light but at least enjoyable and for a low abv hits the spot.
907 characters
3.12
/5
rDev
-15%
look: 4.5 | smell: 2.5 | taste: 3 | feel: 3.5 | overall: 3.5
500mL bottle. Best by May 31, 2012. 5.0% ABV, 12.3 degrees Plato.
Appearance: Deep coppery-brown color. A careful pour yielded a generous one finger of dense, creamy, off-white head. Excellent head retention. Large rings of lacing spaced down the glass.
Smell: Very little aroma. Cooked and lightly toasted grains. No hops aromas.
Taste: Mild bitterness with a slight roast character.
Mouthfeel: Light bodied, with little carbonation. Seems a bit watery. Pleasingly mild bitterness in the finish.
Overall: Easy to drink, more so than other schwarzbiers I have had. On the other hand, this may have been because there was not enough body to it. Nice enough to try again, but not an outstanding example of the style.
720 characters

4.22
/5
rDev
+15%
look: 4 | smell: 4.5 | taste: 4 | feel: 4 | overall: 4.5
Id never heard of this brewery, till I spotted this and two of it's brothers at Harvest Moon health food store in Floyd, VA.
A dark brownish amber with a tannish head initially 5 fingers, becoming chunky on finishing the pour. Some moderate sticky lacing.
A familiar aroma, though my first thought was simply "grainy". The previous reviewer gave me a clue with his description of "husky grain". It's the aroma of whole grains cooked a bit too much so they stick to the bottom of the pot, but are not quite burnt.
Light sweet malt with more toasted grain and a bit of rising hoppy biterness in the end.
Light to moderate mouthfeel, somewhat sticky with some warming alcohol in the throat, although it's only a 5.0.
I really liked this, it was a new taste for me. Not like the other two schwarzbiers I've tried at all. This was much better.
843 characters
3.3
/5
rDev
-10.1%
look: 4 | smell: 4 | taste: 3 | feel: 3 | overall: 3
1 Pint, 0.9 fl oz bottle purchased from The Wine Seller in Williamsburg. Poured into the Lowenbrau mug. This one is a foamer, so beware.
A - Deep, dark ruby coloration with a massive pillowy head. Excellent retention and spotted lace.
S - Very sweet nose of caramel malt and brown sugar. Hints of grain and grassy hops.
T - Initially quite buttery, but once you get into the body it is disappointingly bland. Neither sweet nor bitter, it just has the flavour of grains and a slight grassy aftertaste.
M - Light to medium body, mild carbonation, slightly oily.
D - Inoffensive, but nothing really here to report. It got considerably sweeter by the end of the bottle, but not enough to warrant another go. If offered one I would probably partake, but I won't be seeking it out again anytime soon.
809 characters
4.15
/5
rDev
+13.1%
look: 4 | smell: 4 | taste: 4.25 | feel: 4 | overall: 4.25

3.77
/5
rDev
+2.7%
look: 4 | smell: 3.75 | taste: 3.75 | feel: 3.75 | overall: 3.75


3.83
/5
rDev
+4.4%
look: 4 | smell: 3.5 | taste: 4 | feel: 3.5 | overall: 4
Split a bottle of this with Dad. Rootbeer dark with a stiff beige 2 finger head. Smell is malt (almost pretzel malt). Some unpleasant leather dominated the smell off the pour, but quickly burned off and righted itself. Taste is pretzel malt with some caramel sweetness. Hops are just to bitter. The thinness of the mouthfeel made it really drinkable. I think this is a great representation of the style. This tasted fantastic with some brownie-bites. I will be getting this again, but will be sure to have it with some schwarzwälder kirschtorte.
546 characters
Maxlrainer Aiblinger Schwarzbier from Schlossbrauerei Maxlrain GmbH & Co. KG
Beer rating:
3.67
out of
5
with
12
ratings