The Manx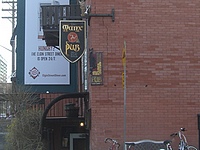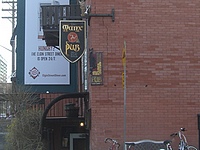 PLACE INFO
Type:
Bar, Eatery
370 Elgin St
Ottawa
,
Ontario
, K2P 1N1
Canada
(613) 231-2070 |
map
Notes:
No notes at this time.
Added by Phyl21ca
PLACE STATS
Reviews:

9

Ratings:

pDev:

11.72%
HISTOGRAM
View: Place Reviews
Ratings: 13 | Reviews: 9
4.03
/5
rDev
+4.9%
vibe: 4 | quality: 4.5 | service: 3.5 | selection: 4 | food: 4


2.83
/5
rDev
-26.3%
vibe: 3.5 | quality: 4 | service: 1 | selection: 2.5 | food: 4
Travelled here many times. Over the year this place's food has stayed excellent but man...The Service is A.W.F.U.L.L.
its a nice little place, in the basement on Elgin street, a nice non-studenty but young downtown streat.
The food is fantastic, the issue is the constantly run out of food by 7pm on weekends. Its really frustrating.
The beer selection is ok, the have some Ontario Microbrews but like so many places inOttawa, Heavy on Lagers and lighter ales. No real beers that are interesting. No Cask or antying like that.
A nice place to go, but be prepared to be frustrated by the awfull service from time to time.
628 characters
3.88
/5
rDev
+1%
vibe: 4.5 | quality: 4 | service: 3.5 | selection: 4 | food: 3.5
On our first trip to Ottawa last weekend we arrived around 2-ish and headed to The Manx for a late lunch and a pint or 2. They were serving brunch so I got a breakfast burrito and the beautiful bride got an omelet or something. Both were decent. Service was solid. A few taps 5 - 6 - we opted for the McAuslan stuff - an oatmeal stout for me and a pale for the BB. Nice tight funky little old-style English pub scene. Decent music, friendly neighborhood crowd. I liked it a lot - we'll hopefully make our way back there sometime soon.
534 characters
4.05
/5
rDev
+5.5%
vibe: 3 | quality: 4.5 | service: 4.5 | selection: 3.5 | food: 4
Finally got a table here. I had been a few other times, but it was always packed and I left without even asking.
Board by the bar lists all their draught beer. Above average, but not spectacular (maybe I'm just getting bored with the Ontario offerings). Creemore, St. Ambroise apricot, pale ale, oatmeal, Welli county and best, Mill Street coffee and Beau's on the domestic list. Imported list is a tad disapointing, i would have expected at least a Fullers', but instead there was Guinness, Boddingtons, nothing to write home about. Asked if they had any Scotch-Irish in, no such luck.
Staff are very friendly and relatively attentive considering the number of people crammed into this small place. They seem to know their stuff too, none of this "you know that's a little bitter eh?" We waited at the bar for maybe 15 minutes for a table, no problem. People would sit down as soon as an empty table opened up but the barmaid quickly let them know there was a wait, good to see them on top of things.
Beer was reasonably priced at $5 a pint for the Welli's. Had a County Ale and a Best Bitter, both of them served far too cold.
Food was fantastic. Small menu but incredibly tasty (and filling) wraps. Had the pulled-pork, yummy.
Mixed feelings about the atmosphere. The bar itself is wonderfully cozy, from the basement location to the dark decor and local artists on the walls (available for sale on request). The drawback, and my only real problem with the place, is the trendiness. This clientele is friendly enough and they give it a community feel, but they can be more than a little pretentious. Listening to someones latest trip to tibet on one side and how to solve Afghanistan on the other gets old. The patrons seem to be almost exclusively UofO poli sci grad students and their professors. Not my chosen scene.
I'll go back.
1,846 characters

3
/5
rDev
-21.9%
vibe: 3 | quality: 3 | service: 3 | selection: 3 | food: 3
This was an interesting location, at the corner of Elgin Street and Rue Frank, down a flight of steps and into a basement setting. It had a real English-pub feel, with the bar and its seventeen (17) taps, all of the way aft. To the left of the bar was a recessed wooden booth. The middle of the space is flanked on either side by booths with red velvet upholstery. The kitchen is to the right of the bar and they have a small, but vegetarian-friendly, menu. The washrooms were straight in from the entrance, but their markings were too clever by half, using the ancient Roman symbols for Male and Female, rather than just saying so. Fortunately, I chose correctly. Lunch was satisfying, but the beer menu seemed to include a lot of Euro macros. Keith's IPA was not up to my expectations. It all added up to a solid "ho-hum."
827 characters

4.28
/5
rDev
+11.5%
vibe: 4 | quality: 4.5 | service: 4 | selection: 4.5 | food: 4
First, I want to thank our canadian friends for alerting us to this place. I would never have walked into this pub without having know about it first. It is located in a basement, down a set of stairs under an apartment type building. On a street with so many other bars, it is extremely low profile and even slightly dangerous looking from the outside. A completely different world inside. Small, cozy, dark tables and chairs with red velvet seats and booths. Books and board games abound. The bar seats only 4, the rest is tables. A very comfortable atmosphere.
21 taps, on the menu and a blackboard. great selection of locals, with a few macro imports (stella, boddington, etc.). the local taps would give it a 4.5 for selection, but the overall selection was limited. There is no list of bottles, but I was told they had a few in stock. I saw not a single person drinking one while I was there, over 2 hours. I score this a 4.5 only because they had a beer on tap made by someone local named Perry Mason, a beer that is limited in distribution even locally.
Service was prompt and courteous, without being overly friendly. More polite than new york, but that ain't saying much, it is. The food was quite good, although the menu was limited in scope. It was interesting at least.
All in all, a good place, to which I will return should I ever be in Ottawa again. It needs more places like this, as do we all!
1,420 characters
4.4
/5
rDev
+14.6%
vibe: 4 | quality: 4.5 | service: 4.5 | selection: 4.5 | food: 4
The Manx is a small pub on Elgin St among many other pubs and restaurants. It's a little walk from the center, but it is definitely worth to go right past all those other places to get to The Manx.
The place is small which for me made it cozy even though all tables were taken and it was relatively full. Decor is your typical pub. Atmosphere was very relaxed. I made an interesting note: it seemed that the place was only filled with couples - no large groups, very few singles. I was there during dinner time (not too late), so maybe that is a typical relaxed dinner-date kind of place.
Beers were very good - in quality and in selection. About 15 taps. Mostly local micros. Once I chose the beers I wanted to try, I actually had to narrow down my selection to meet my 3-pint limit that night. This is the only time this happened to me on my one week trip in Canada.
Food was not typical for a pub. A lot of sandwiches. All dishes were presented in a creative appetizing arrangement which would be typical of a good, higher class, modern restaurant. Despite the place being full. waitresses did a superb job of taking care of everyone. The unusual (and amazing) thing is that we didn't have one waitress (or so it seemed) - whoever was closest took care of our food and refills. And they got everything right!
Their restroom doors were marked with symbols of Mars and Venus, which I must say made me pause after a few pints to make sure I entered the right door (my friend on the other hand didn't pause and walked into the wrong one).
Bottom line: nice modern pub with friendly service and good selection. Very recommended.
1,646 characters
3.7
/5
rDev
-3.6%
vibe: 4 | quality: 3 | service: 4 | selection: 4 | food: 4
A nice looking british style pub, on a street that hosts dozens of british style pubs, in a town that seems to have litterally hundreds of british style pubs. Ontarians really seem to like their loyalist background, and businesses in town are milking it for all it's worth.
The Manx seems a bit more discreet, and probably a lot less tacky than the rest. Signs for upcomming bands are posted near the entrance, but where do they actually play? This place is tiny!
Went there on a saturday around noonish, after a stop to fill up on Beer at the LCBO. The place was packed to capacity (~60), we had to wait a minute to get a seat, but it was worth it because we got the best table in the house, in the far left corner, right next to the bar. There's an opening in the wall that connects to the bar, so we got served quickly.
About 20 taps available, a few from St-Ambroise, a few Ontario micros and the usual linup of UK imports, unfortunately nothing from Scotch Irish today, so I went for a Wellington's Bitter. It kinda tasted rusty, even though I did see the barmaid pour a little down the drain before filling my pint, she could have let it pour a little bit more...I'll give them the benefit of the doubt for quality, since most patrons were only having coffee, it must have been the first pint of the day. I did enjoy it nonetheless, the faint hoppy aroma was easy to pick up since the smokers were outside freezing their asses off instead of drowning out my sense of smell inside.
We were there just in time for brunch, consisting of eggs served up a dozen different ways. The scrambled eggs with smoked salmon served on english muffins with Hollandaise sauce was excellent, and I just loved the mashed garlic potatoes it came with. My girlfriend also really enjoyed her goat cheeze omelet. Prices were quite reasonable for the above-average pub grub and pints. I'll have to go back one of these days and see how the place is like in the evening.
1,963 characters

4.28
/5
rDev
+11.5%
vibe: 4.5 | quality: 4 | service: 4.5 | selection: 4 | food: 5
An awesome, quaint, British style pub that is in an unassuming basement on Elgin street. Erica and I went here right after we got into town and it was quite the place. The atmosphere was quite nice with dark wood, and a very quaint bar area. On the day that we visited not many people were drinking beer, because it was only noon. It seemed that most people we're nursing there Friday night hangovers with some awesome food, tea, water, and the like. As for us we had a few pints of quality ale. I had some wellington bitter, and county ale as well as some Scotch Irish session ale and some big rock grasshopper. The quality of the ales was quite nice, and the selection (although 20 strong) was just a little above average. The service was fast and friendly and the food was absolutely phenomenal! We had a brunch item called the "good morning peep" which consisted of 2 huge pieces of multi-grain toast with butter, 2 perfect scrambled eggs, fresh mushrooms, sprouts, garlic smahed potatoes, and spicy "cowboy-style" beans! An awesome brunch, and for $6 Canadian!!!! Come to this place for a hangover brunch, or some early pints. Highly recommended whilst in Ottawa!
1,168 characters
3.76
/5
rDev
-2.1%
vibe: 4.5 | quality: 3.5 | service: 4 | selection: 3.5
The Manx is a small pub in a basement in Ottawa on Elgin Street. The atmosphere of this english style pub is great and the place can accomodate around 50 people. It can get a bit noisy when they have live entertainment (once or twice per week). Carrying more then a dozen of taps from some of Canada's best microbreweries, including Scotch Irish, Kawartha and Creemore Springs (they also serve the McAuslan Oatweal stout on tap which is a must). The service is great even though the beer is serve a bit too cold (ask for a free sample if your not sure what you want to drink). The price are not too steep. I haven't tried the monthly menu but it seems they have a trad pub menu.
678 characters
The Manx in Ottawa, ON, Canada
Place rating:
3.84
out of
5
with
13
ratings