Extra Special Bitter
| Moylan's Brewery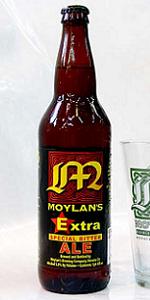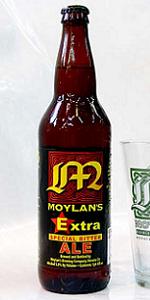 BEER INFO
Brewed by:
Moylan's Brewery
California
,
United States
moylans.com
Style:
Extra Special / Strong Bitter (ESB)
Alcohol by volume (ABV):
5.00%
Availability:
Rotating
Notes / Commercial Description:
No notes at this time.
Added by Mark on 10-10-2005
HISTOGRAM
Ratings: 40 | Reviews: 23

3.35
/5
rDev
-1.8%
look: 4 | smell: 4 | taste: 3 | feel: 3.5 | overall: 3
On nitro tap for the 2nd Anniversary event at Tony's Darts Away in Burbank, CA.
Pours a clear orange with a dense foamy off-white head that lasts. A foamy latticework of lace coats the glass on the drink down. Smell is of malt, citrus, and some perfume-like hop aromas. Taste is of malt, earthy hops, and some herbal flavors. There is a mild amount of bitterness on the palate with each sip. This beer has a lower level of carbonation with a slightly crisp mouthfeel. Overall, this is a pretty average ESB with a better smell than taste.
539 characters
3.8
/5
rDev
+11.4%
look: 3.5 | smell: 3.5 | taste: 4 | feel: 3.5 | overall: 4
A: A slightly hazy gold color with a finger's width white head.
S: Herbal hop, toasted malt, a slight citrus fruit aroma.
T: A nice mix of toasted malt and herbal hop. There's a slight citrus fruitiness in the finish along with a faint mellow smoke flavor.
M: Light in body with a good level of carbonation. Refreshing and very drinkable.
O: Overall a solid ESB. Good flavors and goes down easy.
399 characters
2.4
/5
rDev
-29.6%
look: 3 | smell: 3 | taste: 2 | feel: 3 | overall: 2
Bomber with thanks to Beermasons.
Orange amber with the barest haze. Light and fluffy two-finger head departs rapidly without leaving a trace.
Nose is moderately sweet and almost cidery, with apple and a sweaty aroma which is decidedly like urine. Blegh. Somewhat saved by some candied orange and some light caramel malt character.
More insipid cidery piss blended with citrus pith. The latter leads it toward a bizarre tart, chalky, and metallic finish.
Did not gel with me at all. Not that experienced with the style, but this does not belong in the same breath as ESBs like Fullers or Hargreaves Hill.
610 characters

2.08
/5
rDev
-39%
look: 2.5 | smell: 2 | taste: 2 | feel: 2.5 | overall: 2
Bomber courtesy of a Beermasons subscription, poured into a Tripel Karmeliet tulip. Listed as 5.0% ABV.
A gusher, pouring with a large 4 finger head of small-bubbled, off-white foam. Has a light-copper/golden colour which is lighter than expected.
Smell initially is of green apples and pear, i was thinking it was underfermented with the gushing and these aromas. Later on there is a little bit of malt, but not overly nice smelling, along with some orange zest.
Taste is slightly citric acidy, mixed with some malt, but not enough.
Mouthfeel is slightly acidic and finishes a touch cloying, a very odd mix.
Can't think of an area where this beer goes better than average, am thinking it is underfermented. Maybe this was a bad bottle, quite possibly as most of the Moylan's stuff i've come across is decent or better. Given this, however, i won't be buying another to see whether or not this is the case.
911 characters
3.5
/5
rDev
+2.6%
look: 3.5 | smell: 3.5 | taste: 3.5 | feel: 3.5 | overall: 3.5
Pours a orange copper hue which leaves a two finger fast vanishing head and little lacing,the smell is boiled candy and citrusy hops,the mouthfeel is just over lightbodied and easy going with tastes of orange rind,lemon zest,fruity candy and finished with a touch of toffee and tangerine bittersweetness and overall its alright and glad ive tried but wouldnt go out of my way for it again.
389 characters
4.05
/5
rDev
+18.8%
look: 4 | smell: 4 | taste: 4 | feel: 4.5 | overall: 4
22 ounce bottle - $4.99 at Hop City in Atlanta, Georgia.
Appearance: Pours a clear, golden-copper body with a rather frothy-looking, whitish head. Thin smattering of lace on the way down.
Smell: Sweetish toffee, though not overly aromatic, with notes of day old, toasted, buttery biscuit tops, tea leaves, and a bit of fruitiness.
Taste: Lightly toasty, biscuit-hinted malts with a low caramel sweetness. Herbaceous, black tea-like hops with a light balancing bitterness. Small hint of fruit, some citrus, too. A bit more toffee coming through as it warms. Drying, slightly minerally on the finish.
Mouthfeel: Medium-light body. Medium-light carbonation. Fairly soft mouthfeel.
Overall: Benefits from some warmth and patience. Light (both in terms of body and flavor), tasty (for being light), and easy-drinking.
817 characters
3.4
/5
rDev
-0.3%
look: 3.5 | smell: 3.5 | taste: 3.5 | feel: 3.5 | overall: 3
Clear golden colour with no head disappointing.
Sweet, mild malt aroma with some mild citrus hop notes.
Crisp but soft malt with a touch of citrus hops. Quite light on the palate.
Medium body with moderate carbonation.
Not really an ESB in my books. This is too thin with insufficient malt depth and character.
314 characters
3.64
/5
rDev
+6.7%
look: 4.5 | smell: 3 | taste: 4 | feel: 3.5 | overall: 3.5
I do not know why this has not been reviewed more since it has been out in the bottle format for some time now. 22 oz. from Hi-time.
5% abv listed on the bottle. The look is a light copper color. Smelled of toasty malts and a bit soapy.
The taste was surprisingly malty and bready. The flavor was a bit thick and hearty for a light ESB.
Above average ESB, hope more people can dig this up and try it.
405 characters
3.8
/5
rDev
+11.4%
look: 4 | smell: 4 | taste: 3.5 | feel: 4 | overall: 4
Moylan's Special Bitter
On nitro at The Avenue Pub, New Orleans, LA
Appearance: honey, medium head, and a lot of lacing.
Smell: fruity and hops.
Taste: barley, hops, and faint citrus fruit.
Mouthfeel: light and silky smooth.
Overall:
Its very light, but the flavors a good and well balanced. It is watery in feel, but not taste.
337 characters

3.1
/5
rDev
-9.1%
look: 3.5 | smell: 3.5 | taste: 2.5 | feel: 3.5 | overall: 3.5
Medium copper in color with a big creamy white head, about a finger and a half.
Slightly bitter, with more sweet malts and some touches of citrus fruits.
Fairly sweet and malty, moving to a bit of citrus, followed by a little bit of bitterness on the finish.
Creamy feel, upper-light in body, slightly dry and crisp.
Decent drinkability.
While it's not bad, it's fairly under-whelming and I think I'd like it more if it weren't on nitro...
448 characters

4.65
/5
rDev
+36.4%
look: 4 | smell: 4 | taste: 5 | feel: 4.5 | overall: 5
I was fortunate to get this cask-conditioned at Toad in the Hole, Santa Rosa, on their weekly cask/real-ale night. It's among the best US ESBs I've had, at least from the cask, with great balance, restrained but very flavourful.
Faintly hazy light amber, it has a smallish off-white head slowly thinning to a lasting ring and some nice lace.
The aroma is malty with grain, lightly caramelly and lightly toasty, a little clear grapefruit, hints of fruit, a bit flowery overall. It's good but seems a bit too grapefruity and hints at an all-too-common grapefruity character.
On taste, however, the actual character is only lightly grapferuity and has a lot more. It is very balanced in malt/hop and sweetness/bitterness, it is well-rounded, lightly complex, light in character, yet flavourfull with sweetness and bitterness, a lot of lightly toasty grain, raisininess, light caramelly toast, light grapferuit with some lemon, pepperiness, light spicey leafiness, and faint hint of yeastiness. It has a definite Engish quality to it, especially in the restrained but flavourful, subtley complex and well balanced character. It is less richly/darkly toasty and fruity than the likes of Fuller's and in overall nature of the flavours is a little more along the line of Old Speckled Hen or the like. It is light, crisp, and very drinkable. So far this is by far my favourite bewer from Moylan's, which to me has produced some real duds.
1,433 characters
4.18
/5
rDev
+22.6%
look: 4 | smell: 3.5 | taste: 4.5 | feel: 4 | overall: 4.5
I had this on tap at the brewpub in Novato, CA. It's served as a nitro tap. It poured bright copper very clear with a light off white head. There wasn't much in the nose, possibly because it was served just a touch cold. Light caramel and toffee with a little orange. Maybe a little bit of date. Flavor is rich caramel and toffee, light bitterness carries throughout in the form of a tangy orange. Light and slightly slick mouth feel. Excellent ESB. Not enough brewers deliver on this style. This would be an excellent session beer.
534 characters
4.2
/5
rDev
+23.2%
look: 4 | smell: 4 | taste: 4.5 | feel: 4 | overall: 4
Tried this offering at the Moylans pub. Poured a medium amber with a white head that lasted pretty long. lacing was in clumps and scattered about the glass. Nice aroma of malt with some slight hopping, kind of reminded me a bit of some offerings I've had in the U.K. Nice malt based tase profile with some long lingering hop finish. Not quite as smooth as most U.K. ESB's but very nice. Mouthfeel is just right and it's nice and drinkable. I had two. Went well with my salami pizza, which was excellent as well by the way. Go Moylan's.
535 characters
Extra Special Bitter from Moylan's Brewery
Beer rating:
3.41
out of
5
with
40
ratings