White Christmas Double Wheat

Moylan's Brewery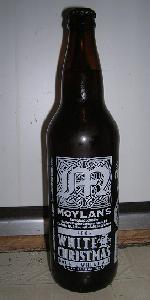 Write a Review
Beer Geek Stats:
| Print Shelf Talker
Style:

ABV:

6.8%

Score:

78

Avg:

3.09

| pDev:

22.98%

Reviews:

12

Ratings:

From:

Avail:

Retired (no longer brewed)

Wants

Gots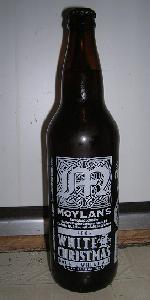 Notes:
Reviews by TheLongBeachBum:
TheLongBeachBum from California
2.86
/5
rDev
-7.4%
look: 2 | smell: 3.5 | taste: 3 | feel: 2 | overall: 2.5
Presentation: Sampled a Pint of the advertised special "White Christmas Double Wheat" on draft at Moylan's Brewery in Novato during a recent trip North.
I know that I have had the 2003 version of the White Christmas in bottles but that was a "Bock" (and not a very good one to boot if I recall). Seems like Moylan's White Christmas has morphed into a "Double Wheat" for 2005 and is available in both bottles and on-tap.
Appearance: Rather flat looking medium orange-gold body. Perfectly clear but it struggles to keep the very thin white broken head it arrived with, it soon gave up the fight to look like a Pint of Iced-Tea.
Nose: Malty aromas start, finishes with a nice background of orange peel and warm honey with some nice fruity aspects. The best part of this brew by far.
Taste: As with the nose, a malty start with a fruity character in the middle. Orange in the finish is very zesty and lingers long after the swallow. Alcohol is there but not warming. After a few mouthfuls it becomes sickly and the cloying orange and malts begin to annoy.
Mouthfeel: Very low carbonation, results in a heavy feel which makes it hard to drink at times. Cloying, thick yet thin, if you know what I mean. Desperately lacking life it is a hard slog.
Drinkability: I managed the whole Pint, thankfully I wasn't hanging around for any more because it leaves a funny "orange tingle" on the tongue which seemingly lasts forever, it took a few spearmint Tic-Tac's on the drive to Dempsey's to get rid of that.
Overall: I did not care for the Moylan's White Christmas 03 and 04 Holiday Bocks and I don't care much for this White Christmas 05 Double Wheat either.
Jan 08, 2006
More User Reviews:
weeare138 from Pennsylvania
3.62
/5
rDev
+17.2%
look: 3.5 | smell: 4 | taste: 3.5 | feel: 3.5 | overall: 3.5
Thanks to hopdog for popping this 2005 vintage...
Appears a cloudy, pale gold with a fizzy white head that quickly fades out into a small cap.
Smell is of creamy wheat, sugar, orangey citrus, earthy herbs.
Taste is of the mentioned aromas with a fruity grape like flavors, and perhaps an apple mixed with honey & apricots flavor as well that seems to surface.
Mouthfeel is slick and dry but very clean with medium amounts of CO2 running along the tongue.
Oct 20, 2006
RoyalT from Ohio
2
/5
rDev
-35.3%
look: 2 | smell: 2 | taste: 2 | feel: 2 | overall: 2
Appearance – This is orange and flat with almost no head. It's very dull-looking.
Smell – This smells like moldy orange soda with a dollop of yeast.
Taste – The flat orange soda is here at the taste along with rotten tomato.
Mouthfeel – This is flat in the mouth and a bit bigger than light-bodied.
Sinkability – I can't find one good reason to continue drinking this concoction.
Dec 20, 2006
Dukeofearl from California
3.82
/5
rDev
+23.6%
look: 3.5 | smell: 4 | taste: 4 | feel: 3.5 | overall: 3.5
Note: I originally had this review under their 2004 vintage; I moved it here.
Vintage 2005. I tend to believe that this is not the same recipe as the 2004; this does not mention a Bock at all, and does not remind me of a Bock. The label says 2005 White Christmas Double Wheat Ale with Orange Zest, 6.5% ABV. But I researched the bottle and Moylan's web site to learn nothing else. I'm not sure what style to call it, so I'm not adding it as a new seasonal beer.
Pours a moderate golden- slightly orange in translucent light. A nice small white head quickly dissipates and just a few tiny bubbles float to the top.
Aroma is thick and sweet- honey, orange blossom honey. Apricots.
Flavor is the aroma intensified. Orange and thick honey, almost syrupy. Wheat clean grains much more than barley malts. Hops? Not that I can find. A mild to moderate alcohol burn at the back of the throat, not too much, but it means they didn't hide the alcohol enough (in my opinion). I let this warm from the fridge quite a bit, thinking the flavor would come out more (it didn't).
I couldn't drink a lot of this, but it is pretty nice for a winter warmer kind of beer.
Dec 03, 2005
brentk56 from North Carolina
3.43
/5
rDev
+11%
look: 3.5 | smell: 3 | taste: 3.5 | feel: 4 | overall: 3.5
Appearance: Pours a cloudy honey color with a decent head that fails to produce much lace
Smell: A bit of orange rind and some clove, perhaps; maybe allspice
Taste: Opens with a bit of a tangerine flavor that grows spicier, with clove, allspice and white pepper elements appearing by mid-palate; after the swallow, the flavors tend to fade away
Mouthfeel: Medium body with moderate carbonation
Drinkability: With the age that was on this, I was expecting it to be awful (particularly given some of the other reviews); in any event, I got one of the carbonated bottles and it has held up reasonably well
Thanks, Boolshot, for the opportunity
Apr 06, 2008

RedwoodGeorge from California
3.84
/5
rDev
+24.3%
look: 2.5 | smell: 3.5 | taste: 4 | feel: 3.5 | overall: 4.5
2005 Release - apparently a previous version of White Christmas was a Bock. This one is described as a "Double Wheat Ale (with Orange Zest)"
Pours rather unconvincingly into the glass - a medium golden color with very little carbonation gives the impression of a thin body. No head, no retention, no lacing.
Smell is all malt and orange. A rather fruity nose with lots of orange notes and quite a bit of grainy sweetness. Taste is similar - lots of malt body, just this side of too sweet without crossing over. Plentiful orange notes which compliments the grain rather than dominating the brew. No noticeable hops to speak of (even though they speak of them quite a bit on the silkscreened label)
It's a bit undercarbonated and while there's an oily feel the finish is clean. There must be some hops to lend the dry note at the end. Good finish makes you want more.
Another interesting brew from Moylans - I wasn't sure if this should be classified a wheat beer (not much wheat in the flavor) a fruit beer (only flavored with orange zest) or a spiced beer. In the end it's the product of a brewer getting creative with his flavors - I'd certainly want to have more of this around on the holidays.
Nov 16, 2005

sloejams from Oregon
2.13
/5
rDev
-31.1%
look: 2.5 | smell: 2 | taste: 2 | feel: 3 | overall: 2
2005 Edition
This poured a very light clear orange. The wheat smell was the first thing I noticed, nice with a slight citrus touch. I took a sip and the wheatiness overwhelmed the taste. As it finished the flavor was strong and it tasted like peas. I passed it to my girlfriend, she find the same thing: peas.
That makes it sound more unpleasant than it actually was – the beer was not terrible, it had a nice spice to it. But after a few ounces, the taste of peas was too strong; I had to discard the rest.
Dec 05, 2005
MaltyGoodness from Pennsylvania
2.79
/5
rDev
-9.7%
look: 3 | smell: 4 | taste: 2.5 | feel: 2.5 | overall: 2
22oz. bomber purchased at The Jug Shop in San Francisco
Pours a hazy light amber with a thin white head that fades. Decent lacing on the glass.
Smells like orange soda with a light wheat beer backdrop. This smells quite unusual and quite good.
Taste is not as good as the smell. Flavor is orange dominated, and slightly bitter. Not much wheat beer flavor to mention. Finishes with a slight alcohol taste.
Seems a little thin and undercarbonated.
Ehh, the novelty wore off a quarter-way throught the bomber. Interesting to try, but not a keeper by any means.
Mar 14, 2006
DogFood11 from California
1.7
/5
rDev
-45%
look: 2 | smell: 2 | taste: 1.5 | feel: 2 | overall: 1.5
Yikes!
I poured slowly but soon realized I needed a super aggressive pour just to get something of interest out of it. Offwhite eggshell colored head that fadeds to nothing with no lacing to speak of. Transparent light color with loads of carbonation.
Smell was a mystery although the citrusy orange peel type aroma comes through. some wierd malted presence was there but not pleasant at all.
Tasted like it was a confused experiment. Wheat was obviously the main ingredient mixed with what tastes like an orange extract of sorts. It had a belgium yeast addition that blurred the focus. Musky at the finish.
I would not buy this beer again.
Dec 07, 2005
wcudwight from North Carolina
3.49
/5
rDev
+12.9%
look: 2.5 | smell: 3.5 | taste: 4 | feel: 3 | overall: 3
Pours a dirty golden color with lot's of sediment floating around. Thin white head disappears to a spotty sudsy crown.
Smells of orange peel mixed with fresh herbs. A wierd combination, but it works well.
Taste is very heavy on the malts at the beginning and very sweet. Lot's of orange from middle to finish with a lasting orangish aftertaste. Nice spice kick in the finish.
Mouthfeel is good, but feels a bit heavy.
I like this beer and I usually do not like wheat beers but I can't imagine drinking more than the bomber.
This bomber is a result of the most incredible BIF... The Double Trouble BIF!!!
Dec 06, 2006
Enola from North Carolina
3.26
/5
rDev
+5.5%
look: 3.5 | smell: 2.5 | taste: 3.5 | feel: 3.5 | overall: 3.5
Obtained through the Double Trouble BIF.
Oh look, a double wheat ale. Aged. Oh boy.
2005 version.
Served in a Larry the Cable Guy Git-R-Done pilsner glass.
Actually I must say this is the best wheat anything I have had. It does not have that mold taste that is prevalent in most of the style. The beer is a nice orange with a fair head that dissipated quickly. The smell is somewhat like an old orange that is past it's prime. The taste is still wheaty but there are sweet flavors of citrus and just a touch of hops. The mouthfeel is very smooth and there is almost a cask like texture. The drinkability is fine for this beer. I would actually try this beer again and that is a compliment from me considering the style. And I might have scored it a bit higher if it were a little warmer than 30 degrees outside. Overall, good.
Feb 06, 2007
clickpush from Pennsylvania
3.47
/5
rDev
+12.3%
look: 3 | smell: 3.5 | taste: 3.5 | feel: 2.5 | overall: 4
Pour: 22oz bomber to pint glass. Comes out w/ a loud and fizzy one finger white head that goes down quickly and leaves very little in the line of lacings. It's a pretty, lightly cloudy apricot color and has a few lazy bubble trails streaming up the sides of the glass.
Nose: Has a sweet, tangerines and peaches aroma with glimpses of the malts and a touch of vanilla bean. Smells attractive and tasty.
Mouth: Has a nice firmly carbonated entrance full of orange flavor and a touch of alcoholic warmth in the back, but the mouthfeel falls apart as it works its way through the mouth and by the end has creamed out to an almost watery feel. There's not much in the line of a hop balance in this one, but the front flavors are pleasant and highly drinkable.
Jun 01, 2006
White Christmas Double Wheat from Moylan's Brewery
Beer rating:
78
out of
100
with
12
ratings