Barrel Aged Ryan Sullivan's Imperial Stout
| Moylan's Brewery
BA SCORE
82
good
15
Reviews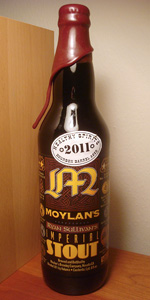 BEER INFO
Brewed by:
Moylan's Brewery
California
,
United States
moylans.com
Style:
American Double / Imperial Stout
Alcohol by volume (ABV):
10.00%
Availability:
Rotating
Notes / Commercial Description:
Ryan Sullivan's Imperial Stout racked into a fresh barrel from Heaven Hill.
Added by womencantsail on 06-24-2010
Reviews: 15 | Ratings: 52
2.98
/5
rDev
-15.3%
look: 4.25 | smell: 3 | taste: 2.75 | feel: 3 | overall: 3
2014 version smells and tastes of an infected bottle. Was a gift from manager of my regular bottle shop. Smell of sour butter followed by an equally unpleasant taste.
166 characters

3.84
/5
rDev
+9.1%
look: 4 | smell: 3.75 | taste: 3.75 | feel: 4 | overall: 4
On tap at Beachwood bbq Seal Beach poured into snifter. Appearance is nearly opaque black with a finger of tan head and patchy lacing. Aroma is booze, chocolate, vanilla, oak. Flavors are similar with lots of sweetness and a touch of roasty malt. Medium-full bodied, thick, chewy, slick texture; long sweet, hot finish, low carbonation.
336 characters
1.89
/5
rDev
-46.3%
look: 4 | smell: 1.75 | taste: 1.75 | feel: 1.75 | overall: 1.75
I'd like to add the fact that I managed to contact Brendan Moylan (the owner) himself via e-mail about this beer, and he admitted that the 2014 batch of this brew had excessive amounts of diacetyl - ergo, he asked all distributors carrying this product to pull it off the shelves ASAP. I feel bad for all those who bought this beforehand, but this is still a nice way of showing some signs of accountability. You live and you learn...
---
22 oz bottle into a teku.
Appearance: Pours a very dark brown color. The head is two fingers high and khaki in shade. It has the texture and duration of a good saison, rather than a BA imperial stout. This fact is slightly worrying me because that usually means infection. Having said that, and also in spite of the lack of lacing left on the glass, this is a good looking brew. (4)
Smell: Huh. It seems like there's something wrong with this brew. I do pick up some notes of dark chocolate, vanilla, and brown sugar - I also get lots of butter (not from oak barrels, but from diacetyl), paint thinner, shoe polish, and good ol' fashioned lactic sourness. This is definitely not what the brewers intended, and I'll leave it at that... (1.75)
Taste: Sadly, the taste follows the nose. Initial pleasant notes of dark chocolate and dark fruits last for a second, and is the best part of this brew. After that, it turns into shit, finishing with metal shavings, paint thinner, and plenty of diacetyl. No significant tartness - to me, that would have improved this some. It's not irredeemably bad, but it is still pretty damn bad. (1.75)
Mouthfeel: Overly fizzy and thin. This actually makes it somewhat drinkable, when I can get past the lousy taste that is. Even worse, it's turning my stomach some. :( (1.75)
Overall: The sad thing is, I can taste a decent imperial stout behind the infected mess. Maybe lacking in barrel notes, but nothing to complain about either. As it stands, though, it's very worthy of complaint - I normally don't review infected beer, but seeing as this cost me around $13, I'm definitely going to put out a caveat emptor for this. Avoid the 2014 batch at all costs. (1.75)
1.86/5: Infected beer makes me really sad
2,185 characters
2.56
/5
rDev
-27.3%
look: 4 | smell: 3 | taste: 2.5 | feel: 2 | overall: 2
On tap today at the source.
Light and thin Barrel Aged Stout. No body or real complexity to speak of other than roast coffe, some vanilla and cherries. Where's the bourbon? Where's the sticky Barrel? I'm a fan of Moylan's for the most part but this is a huge miss. The least interesting barrel aged stout I've had.
316 characters

4.29
/5
rDev
+21.9%
look: 4.25 | smell: 4.5 | taste: 4.25 | feel: 4 | overall: 4.25
2013 Vintage - Aged six months in bourbon barrel
Saw on their Twitter account they had this. No mention on their restaurant board about having it, so you gotta ask. And I did. Good for me. Was gonna wait and age it but thought....nahhh.
Pours a nice black ale with a dark beige foamy head with nice staying power. Light lacing.
The aroma has a great blend of chocolate and bourbon right from the first whiff. Oak, cocoa and a wine presence are also here.
The taste is on par with how I like my barrel age stouts. Not much of the "apple" taste and aroma blasting through. Bourbon is up front but not in a harsh way. Big chocolate and char flavor with some hop and bitterness on the swallow. Slightly spicy and bit of warmth from the booze.
Oily mouthfeel but also full.
Overall I must say I enjoyed this a lot more than the regular version. I also feel the base beer here is a perfect way to enjoy a barrel aged brew. It's bitter enough on it's own and stands up very well when thrown into a barrel. The barrel was not overly strong but definitely let you know that it's still present with each sniff and sip. There is really no need to cellar these as the blend is working perfectly right now.
1,199 characters
3.55
/5
rDev
+0.9%
look: 4.5 | smell: 4.5 | taste: 3 | feel: 3 | overall: 3.5
I was a bit disappointed after getting hold of this barrel aged imperial stout. It was suggested as a very limited edition beer by my local distributor and they had a sixtel with my name on it, so, I took the plunge. One of the pricier sixtels I have had, in fact, just a few bucks less than a sixtel of Chimay, which is one of my favorite beers (though have not had it, yet, on draft at my home). Anyhow, Back to this beer review...
It was a rich, dark pour that had a beautiful, long lasting thick head on it. It smelled like something I would really, really enjoy. It had a very strong bourbon ale aroma mixed with a rich roasted coffee like, hops fragrance. In my opinion, very appropriate for this type of beer. Not a lot of lacing remnants, but, a nice show with a swirl every once in a while. I would typically pour this in a rounded bottom glass, like a snifter or tulip stemware.
With that type of build up with the look and smell, I was expecting a taste that would knock my socks off. It was good, but, it certainly didn't wow me. Not really any flavor that came back beyond that coffee & bourbon smell. ...Maybe a little malt aftertaste, but, nothing really outstanding. It did taste as strong as it smelled, and it had the high ABV to back up the aroma, too. Unfortunately, I felt the taste about average, and, there in lies the disappointment, given the other characteristics and the rarity of this brew.
It had a rich, thick taste on the tongue, yet still had some hoppy zest to it. The feel was a bit overtaken by the higher alcohol, but, was still pleasant. Not bad, just not great.
Overall, I think this would be a great "one night, to be different" beer. It would be enjoyed as a one or two beer sitting, maybe even as an after dinner beer as a special treat. It is a beer that you can easily stop yourself from over consuming. Unfortunately, that is not the way I want to enjoy my home drafts. Not that I want to guzzle a pitcher, but, I don't want to feel like I am forcing the rest of that second beer down the belly, either. And, that is where I am with this one, therefore, I would rate this only a little better than an average beer.
I have several different selections on tap, just to mix them up, but, this is one that will likely be consumed a little slower than most, while I try harder to pair it with the right foods.
2,355 characters

3.77
/5
rDev
+7.1%
look: 4 | smell: 4.5 | taste: 3.5 | feel: 3.5 | overall: 3.5
22oz waxed bomber. Healthy Spirits Eagle Rare Version 2011. Served in a tulip.
Poured vigorously and got a two finger mocha colored head on top of a completely opaque dark brown brew. Head settles to a very creamy film and thick ring. Bits of thick lacing.
Very strong aroma. Powdery milk chocolate dominates, with a good bit of bourbon behind that. Tons of woody oak keep things dry. Some booze.
Flavor hits with an initial sweetness that fades into a drier bourbon bite. Chocolate malt is there but is kind of overwhelmed by an astringent bitter alcohol/barrel flavor. Finish is a little better with a roasted malt and smokey whisky bitterness. Alcohol flavor is too present through the middle and finish.
Body is medium-ish full, but feels a little thin for this style. The carbonation is interesting as it has a sharp soda water quality and feels a little disconnected from the beer.
If the middle didn't drop out of the flavor and the soda-water feel was better, I would rate this beer higher. That said, I think it's very cool that Healthy Spirits is creating these types of single barrel beers. Looking forward to trying the rest!
1,142 characters

3.82
/5
rDev
+8.5%
look: 3.5 | smell: 4 | taste: 3.5 | feel: 4.5 | overall: 4
Healthy Spirits Eagle Rare Barrel Aged Version
A: Pours jet black, with a quickly dissolving half- inch head on it. It leaves a nice ring along the side of my Sierra Nevada balloon snifter.
S: Sweet Bourbon, slight maple, sweet espresso, and some light dark chocolate and coffee notes
T: Spicy Bourbon, tobacco, dark coffee, unsweetened cocoa, and and some oakiness from the barrel.
M: A rich, full bodied beer. It has a light carbonation that allows the flavor to pop on the taste buds.
O: This definitely shows the characteristics of the barrel, and the bourbon itself. The difference that coming from a single bourbon barrel makes is huge, because it allow not only the bourbon to come through, but the characteristics of the barrel. The base stout definitely brings a lot of tobacco, leather, and unsweetened cocoa to the aging, which then allows for the barrel add the sweetness from the Eagle Rare and the barrel. I definitely enjoyed this beer, and I would to see what more single barrel treatments will do with other styles of beer; maybe a barleywine, porter, or a strong ale of some sorts.
1,107 characters
3.85
/5
rDev
+9.4%
look: 4 | smell: 4 | taste: 3.5 | feel: 4.5 | overall: 4
Healthy Spirits 2011 Release.
A- Pours a deep, dark black with a small brown head that recedes quickly. Some visible alcohol and lacing on the glass.
S- Plenty of bourbon here. Some roastiness and a bit of chocolate. Smells a little hot.
T- Yep, this is barrel aged. Bourbon all over. Vanilla and oak. Roasty finish. I can definitely taste the alcohol, there's lingering heat on the palate.
M- Nice and thick, coats the mouth. Appropriate carbonation.
O- This beer needs some time to mellow out. A little too much bourbon for me, not enough complexity. I'll hang on to my other bottles for a bit. Stoked that Healthy Spirits is doing this series, looking forward to their other offerings.
693 characters
4
/5
rDev
+13.6%
look: 4 | smell: 4 | taste: 4 | feel: 4 | overall: 4
This the Healthy Spirits release.
A: Pours an opaque black, with a fairly small amount of foamy dark tan head. A ring around the edge of the glass retains, along with a few spots on the surface, which is enough to leave a few spots of lacing.
S: Mainly bourbon; it's pretty similar to the way an empty glass which has just been drained of bourbon smells. It also has only a touch of harsh booze. There's also a touch of roasted malt.
T: Malty stout at first, with the bourbon coming in mid palate and more or less taking over through the finish. Long, thick, and boozy aftertaste.
M: Full body, fairly high carbonation.
Overall, it's pretty good, and a pretty cool thing for Healthy Spirits to do. The bourbon is a bit over the top, but it's not a bad execution of the over the top bourbon style.
801 characters
3.82
/5
rDev
+8.5%
look: 4 | smell: 4.5 | taste: 3.5 | feel: 4 | overall: 3.5
This is the Healthy Spirits Eagle Rare version.
A-looks viscous, but not syrupy. Well carbed.
S-Nice Bourbon smell with chocolate.
T-Here is where this beer fails a little. It is very boozy. The chocolate notes are nice, but it tastes like someone poured a shot into it. I hope some time heals this. A real chore to drink at the moment for me at least.
I have to give props to Healthy Spirits for making this happen and it is a good attempt. If it mellows with age it will be a really great beer, just too hot now. Can't wait to try some others during sf beer week.
570 characters
5
/5
rDev
+42%
look: 5 | smell: 5 | taste: 5 | feel: 5 | overall: 5
Love this Imperial Stout, Served on tap at Choice city butcher in Fort Collins CO, It was dark as night perfect creamy head. The alcohol is apparent but in a good way its not too much in the mouth chocolate and malts subtle it before it gets over powering. Definitely one of my Favorite stouts of all time, I believe it should have a following bigger than old resputine it definitely kicks that old beers butt dont listen to the hype have a good Imperial Stout!!
462 characters
3.31
/5
rDev
-6%
look: 4 | smell: 3 | taste: 3.5 | feel: 2.5 | overall: 3.5
On-tap at Beachwood BBQ,
A: Pours black with a medium light tan head, some good lace.
S: Notes of whisky, somewhat medicinal with a hint of chocolate and vanilla.
T: Good dark chocolate flavours along with an adequate barrel play which really doesn't do much. Nice enough flavours, whiskey, treacle, chocolate, but nothing complex.
M: Thin overall body for this style. Pretty smooth, but there's nothing substantial here.
O: Take regular Ryan Sullivan's over this. The barrel aging has thinned the flavours out an not added a lot in return. Doesn't taste bad, but this is not even close to a must try.
606 characters
3.71
/5
rDev
+5.4%
look: 4 | smell: 3 | taste: 4 | feel: 3.5 | overall: 4
Served on tap in a very full snifter at Blue Palms in Hollywood, CA.
Jet black with 1/4 to 1/2 inch amber head which disappeared quickly.
Aroma was very mild which may be due to the fullness of the snifter, malt and vanilla.
Taste was a mixture of vanilla, almond, and most strongly whisky. The whisky taste was on the sweet side, not syrupy like a liquer, but like a sweet whisky without the alcohol. It was a dry sweetness.
I found this to be a beer that is hard to classify. It is definitely a dessert beer to be sipped. The taste is too pronounced to be called smooth, but still pleasant. This is one to have for dessert on its own and is almost a whisky for beer drinkers (10.5% alcohol contributes to that). I think you either find this pleasant and interesting or you will hate.
790 characters

3.46
/5
rDev
-1.7%
look: 4 | smell: 3 | taste: 3.5 | feel: 4 | overall: 3.5
On-tap at the Stuffed Sandwich
A: The pour is nearly black with a very thin tan head and a decent viscosity to it.
S: Not an all that impressive nose on this one. Certainly some oak and whiskey notes, along with chocolate and a hint of vanilla.
T: A much more intense flavor than the nose would suggest, thankfully. This beer is very heavy on the whiskey component along with a decent bit of vanilla. There is just a ton of chocolate in here as well, which is nice for a time, but can become a bit too much sweetness.
M: The body is medium with a low, smooth carbonation to it.
D: A bit too much milk chocolate flavor for my tastes and not nearly enough balance. That said, this is miles better than the regular version of this beer.
748 characters
Barrel Aged Ryan Sullivan's Imperial Stout from Moylan's Brewery
3.52
out of
5
based on
52
ratings.