Liquor Barn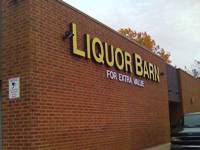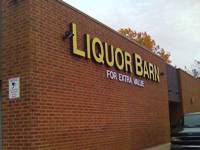 Store
8170 W Golf Rd
Niles
,
Illinois
, 60714-1143
United States
(847) 581-0060 |
map
theliquorbarn.com
Notes:
Reviews: 9 | Ratings: 10
Reviews by emerge077:
3.45
/5
rDev
-7%
If you are a fan of Polish, Russian, Lithuanian, Bulgarian, or any other Eastern European imports, this place is well worth a stop.
The floor is set up a little strange, expansive aisles for the wine & spirits, and towards the left corner, stacks of import beer up to the ceiling. Belgian and English imports are banished to corner shelves near the entrance, stuck behind an odd little display case. Many euro imports to be found in the center aisles, a few rarely seen in IL.
Glassware is toward the center, on some dusty shelving that looks like it came from Grandma's house. When I asked a guy on the floor if they had Polish mead, he directed me to the far opposite corner of the store, where they had a decent selection.
Worth a stop if you're jonesing for Okocim in Niles...
addendum: For the intrepid seeker of vintage/aged beer, check out Quality Liquors (7639 N Milwaukee Ave) down the road...one "shelf of oddities" had some interesting contents. Namely singles of Aass Bock, Artevelde, Brigand, Spotted Cow, & St. Bernadus. Also some random Belgian glassware. The beers are ancient...you may have to haggle for a fair price on these...
1,153 characters
More User Reviews:


3.58
/5
rDev
-3.5%
vibe: 3 | quality: 3.5 | service: 3.5 | selection: 4
Location is good, down the street from Golf Mill Mall, in Niles, IL, but due to the fact that it doesn't face Golf Road it might be the kind of place you might just drive right by. My curiosity got the better of me after a lot of Christmas mall shopping and I am glad I did.
The layout is like a warehouse, mostly stacks of cases, with not too much organization. Over here are some craft bombers, right next to ciders and macros, but if you take some time you will find their overall selection of Eastern European imports are one of the best around. I have found numerous brands I had never heard of before and needed to check BA for more information. Plus the beer guy who seemed to be around the cases was pretty knowledgeable.
I think they try a little to get crafty, but due to such limited space they only have a small supply.
I think it is a good place to pop into from time to time to see what is available or on sale. I consider it the best liquor store for Oktoberfest or Weiss beers in this area.
1,006 characters

3.8
/5
rDev
+2.4%
vibe: 3.5 | quality: 4 | service: 3.5 | selection: 4
Stopped in here after Binny's and Cardinal to complete the third leg of the comparison trifecta. The place seems like a run-down sort of miniature warehouse, with the beer kind of tossed in haphazardly in a few of the aisles on the left-hand side. The selection is comparable to the other stores in town, but they've got imports and "vintage" finds that the other two haven't conceived of yet. That said, their normal stock seems smaller than the other two. The service is hit or miss, but they are at least marginally attentive (which is all I really ask most of the time). The prices are generally normal for the area, though some of the "vintage" stuff is either too pricey or seemingly too good to be true. Overall, a nice spot, one I'd put above Cardinal but below Binny's in Niles's rankings.
798 characters
3.64
/5
rDev
-1.9%
vibe: 3.5 | quality: 3.5 | service: 3.5 | selection: 4
While visiting the greater Chicago area and making my usual trip to Binny's in Niles [IL] I happened upon the Liquor Barn on West Golf Rd.
Liquor Barn specializes in liquor [as it name implies] however, has a better than average selection of import, macro and craft beer. The beer section of the store is rather cramped and should be organized better. As regard to Liquor Barn's offerings they have [as mentioned in other reviews] a large variety of Eastern European imports, along with a selection of American craft and macros, and a limited selection of German and Belgian.
In regard to service, the staff allowed me to check-out their offerings without the feeling anyone was looking over my shoulder. However, it wasn't until I was almost out the door that they asked me if I needed any assistance…longer than I would have liked although they did ask.
Being from out-of-town it appears to me that Binny's is Liquor Barn's big competition. If Binny's is out of stock check out Liquor Barn [i.e. Liquor Barn had 2011 S.N. Bigfoot], as it would be worth the trip.
1,081 characters
4.28
/5
rDev
+15.4%
vibe: 4 | quality: 4 | service: 4.5 | selection: 4.5
Definitely a great stop. I usually come here even though I live almost 30 minutes away.
Tons of Eastern European imports with new ones that seem to always be popping up. You can spend hours in here just looking at the different types. Tons of 99 cent euro beers to try too :)
The American craft selection is probably one of the best around, with Gumballhead seemingly always in stock. They also recently added a rack of 12oz singles so you can try new things. Nice selection of glassware as well.
All the workers usually are pretty good, and always ask if I need any help with a few of them pretty knowledgeable in beer. They will also special order anything you want if you just ask.
If your in the area its definetly worth taking a stop in here.
751 characters

3.84
/5
rDev
+3.5%
vibe: 4 | quality: 3.5 | service: 4 | selection: 4
This is one of my regular places when I'm in the area. I understand they've really stepped up their craft and non-Eastern Euro imports in the past few years and I think they've done a solid job.
It's a very Polish place, from staff to lots of Polish imports, to weird-ass liquors, but the crafts are right in the middle of the store and the selection is nice. They always seem to have Gumballhead, which is rare for anywhere and they seem to hold onto rarer beers for longer i.e. Hopslam. They have a decent selection of sixers and bombers alike, with all the stuff that you'll find at Binny's, plus or minus a few. They also have some glassware for a couple of bucks, including some Trappist glasses.
Overall, this is a decent little store, but they seem to be too knowledgeable of beer pricing, in that you won't find the awesome deals you can find at some hole-in-the-wall liquor stores. Still a good place to stop if Binny's doesn't have what you're looking for.
968 characters
4.2
/5
rDev
+13.2%
vibe: 4.5 | quality: 4 | service: 4.5 | selection: 4
Decent sized store not too far from Binny's or Cardinal
It is very eastern European, and it has a ton of bizzare imports (at least 20) that i haven't seen before. The prices are surprisingly cheap for Chicago. The craft is spread out, and the imports are the focus, though there are very few Belgian beers.
They also had a bunch of Hopslam, and a minikeg was only 35$, what a price, get it before it is gone.
There was one worker in the beer section and he was eastern European, but knowledgeable and friendly.
Not a bad stop.
1/9
Went again, even more bizarre things and the prices are even cheaper, just dirt cheap prices on everything even glassware.
The service was again very good.
692 characters
3.3
/5
rDev
-11.1%
When you pull up to the front of this place it looks closed but the main door is on the side of the building were the larger parking lot is located. They have lots of sale posters in the window and in each isle including the beer isles.
The beer is off to your left when you walk in and there are stacks and stacks of cases but work your way back to the 6-packs and coolers. They do have a good number of singles from Eastern Europe and many were 99 cents on sale. They also had a good selection of 5 L kegs and a run of the mill section from the rest of Europe. It was nice to see a large selection of beer glasses in many different sizes and shapes although they were a bit dusty.
That got me worried about how long the beer sits and they did have some Sam Adams Imperial IPA and Chocolate Bock sitting around with a few other beers I haven't seen in a while. They did have a good selection of sessionals and plenty of the new Sam Adams 4 pack of historic brews.
This was a nice little store and worth a stop in if you are close on Golf road. The lady that bagged my beers put all 5 singles in one thin little plastic bag and that was it. So if you are buying singles you might want to bring your own bag. They had lots of European chocolates at the checkout and I was surprised to see a row of dried octopus in there aswell?
1,339 characters

3.3
/5
rDev
-11.1%
The Liquor Barn in Niles Illinois located not to far from Golf Mill, just east of Milwaukee. Not very clean, the beer does not appear particularly well cared for, miserable selection of Belgian, miserable selection of micros. Then why am I wasting your time? Because they have a huge selection of beers from Eastern Europe: Poland, Russia, and the former Soviet republics. There is a huge immigrant community from Eastern Europe in that area, and this place caters to them. Lots of inexpensive imports, some of which were clearly not designed for export. The owner appears to be from Eastern Europe. Lots of half liters of Polish style pilsner and porters for little more than a buck, plus lots of German beers, and the major craft brewers. The prices are very competitive, and if you are in the area, I'd stop by because there is likely something available here that you've never seen any place else.
903 characters
Liquor Barn in Niles, IL
Place rating:
3.71
out of
5
with
10
ratings