Gerrards Market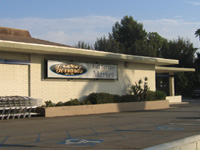 PLACE INFO
Type:
Store
705 W Cypress Ave
Redlands
,
California
, 92373-5848
United States
(909) 793-2808 |
map
gerrardsmarket.com
Notes:
No notes at this time.
Added by ChappyCubsFan
Reviews: 8 | Ratings: 14

5
/5
rDev
+19.6%
vibe: 5 | quality: 5 | service: 5 | selection: 5
absolutely the best. two giant beer caves not to mention the build a six pack wall. my favorite place to go for hard to find brews. whatever you've been looking for, they have it.
179 characters
5
/5
rDev
+19.6%
vibe: 5 | quality: 5 | service: 5 | selection: 5 | food: 5
In early 2013 Gerrards Market went all in with the addition to there Beer Cave. This supermarket now carries over 1000 different craft beers. The beer cave is refrigerated and they also have over 8 coolers with beer aswell. If the beer is distrubuted in the inland empire, Gerrards has it and they also take requests.
Another one of the awesome things they do is they have a beer club email list you can sign up to. They update you weekly with what new beers are coming in and also allow you to reserve very limited beers ahead of time. Just ask any cashier to speak to someone about the brews and they will get someone to help you right away. Service is great and very knowledgable about what they can get, have had, and dont carry.
There selection covers many states and local breweries. They have many coolers dedicated to Foreign beers. Beers from, Europe, New Zealand, Asia, and even a cooler with craft beer from Mexico. The Beer cave holds about 80 percent of the craft beer from the states while the other 20 is in the coolers. To name a few breweries, Stone, Ballast, Green Flash, Bash Brothers, Bruery, Dogfish, Flying Dog, Black Swan, Clown Shoes, Praire Artisan, Bootleggers, Port Brewing, Lost Abbey, Knee Deep, The Dudes, Pizza Port, Saint Archer, Modern Times, Craft, Rough Draft, Calderas, Brew Rebellion, and probably a hundred more.
The supermarket always has cooked meals ready to go and there awesome. Bakery is fresh with tons of samples put out all the time. I personally love their cheese samples. They also have a salad bar in the produce area. Store also carries wine and hard liquor. This place is a one stop shop. From my experience of living in southern california, this store ranks as one of the five best places to buy craft beer in all of southern california.
1,794 characters
4.21
/5
rDev
+0.7%
vibe: 3.5 | quality: 4 | service: 4.5 | selection: 4.5
Used to shop at Gerrards quite frequently years upon years ago. The family and I happened to be in the area, so we decided to stop in. Was expecting a decent selection at best, but was really surprised to see a whole isle of coolers dedicated to craft. Some of the things I noticed were, Ballast Point, Alesmith, H24, Port/Lost Abbey, Bruery, Firestone Walker, Bootleggers, DFH, Lagunitas and much more.
Prices are very reasonable, and you can even mix a six pack for $9.99. Staff were all friendly, and the young lady working the beer section was pretty knowledgable.
All in all, a really solid place. Definitely going to be my new go to place for sixers. Would highly recommend to someone who is in the Redlands area.
Cheers...
732 characters
4.16
/5
rDev
-0.5%
vibe: 4 | quality: 4.5 | service: 4 | selection: 4
You wouldn't expect a good sized grocery store to be right in the middle of a residential area. Given the zoning laws of today, I suppose Gerrard's wouldn't be where its at if it weren't founded 80 years ago. A few tables and a Boar's Head stand sit outside of the store, which is clean and organized on the inside. Beer is located to the left from where you enter.
All the beer is refrigerated, organized well, and have associated pricetags. There's a section of single 12 ounce bottles where you can even mix a six. Hundreds of different lables are sold overall, and among thm are Liefmans, Lost Abbey, Delirium, Napa Smith, Buffalo Bills, Anchor, Hacker Pschorr, Chimay, The Bruery, Bootleggers, Ballast Point, and surprise,(!) Hangar 24. The prices are very competitive, borderline $/$$ rating. Checkout was quick, which ended the journey inside.
851 characters
3.35
/5
rDev
-19.9%
I stopped here tonight on my back from Blockbuster
It is a small grocery store off of Cypress Ave. all by itself in a small shopping center
Their craft brew selection was pretty impressive
Standouts were Stone's 11th Anniversary, Alesmiths, Sierra Nevada Anniversary, Aventinus, and Weihenstapher Hefeweissbier
Prices were real good too, most Stone bombers were only 2.99 and most six packs were 5.99-8.99
Would check out again if I venture into the area, but BevMo in Redlands is still hands down better than this place
They have about small coolers of microbrews and 3 others for domestic beer, the rest are wine
Still have Butte Creek 10th Anniversary Ale for only 4.99 too
Did not grab anything tonight because my cellar is about as full as it could possibly be right now
783 characters
4.15
/5
rDev
-0.7%
I shopped here quite a bit when I lived near Redlands about 15 years ago, Gerrard's is one of a dying breed in America- a homegrown local grocery (founded in 1930) that hasn't been forced out of business by the big grocery conglomerates. I like to give these kinds of places a lot of love.
When I shopped here before, craft beer wasn't a big deal to me, and I never really paid much attention- this store (back then, there were 2 stores) actually were known for their wine selection. But I recently checked back in, and it has a very good beer selection as well. About 4 cooler doors full of craft and non craft beer. I counted over 100 beers, and after removing the BMC crowd, there are still probably 80 or so types of beer left. They are a mix of 6 and 12-packs of the usual suspects (Sierra Nevada, Stone, Full Sail, Rogue, Humboldt, Kona, Firestone, Abita, etc.) and bombers, many (but not all) from the same breweries, but different types. I don't want to call it a great selection- what you find here is available at other places in the area, nothing unusual or unique, but a good solid list to choose from.
All of the beer is found in coolers. Their slightly higher prices (not expensive compared to other places, but in the higher end) probably keep rotation down a bit, so aging may be a problem, but the cooling should help.
Overall service is very good. I didn't get a chance to talk to the liquor manager, so I don't know his/her knowledge of craft beer, but overall everyone tries to be very helpful.
1,524 characters
4.15
/5
rDev
-0.7%
When I lived in Riverside, I would regularly stop by here on the way to the mountains to pick up some treats along the way. I even used to ride my Vespa 20 miles to come here (before they opened up Trader Joes).
The review before mine was pretty much on the mark. I would like to add that this is a great one stop place to grab items for cheeses, meats, and other goodies to give you palate some goodies to feast on. This is defnitely a great spot to not only pick up good brew, but also pick up some other tasty goods along the way.
536 characters
4.35
/5
rDev
+4.1%
Gerrard's Market is a mid-sized, privately owned market in the center of Redlands with a mom & pop atmosphere and excellent service attitude. Over the years the liquor department has developed an excellent microbrew section, primarily because they listen to their customer. You can find just about all of Stone Brewing's products, several of AleSmith, Bear Republic, Lagunitas, Kona, Spanish Peaks, Pyramid, Sierra Nevada, Anderson Valley, and Lost Coast (to name only a few). They have an excellent selection of English ales, and their wine selection is fantastic. The only two stores I've found in the Inland Empire to rival Gerrard's microbrew selection are La Bodega in Riverside and Liquorama in Upland.
Two of the products, Lagunitas Maximus and AleSmith IPA, are on the shelf because I took the time to speak with the liquor department manager about what beers I would purchase if given the chance. In each case he told me he would include them in his purchase next time he was in the San Diego area (Lagunitas, of course, being a Northern CA brew) and he had both these brews for sale within a matter of weeks. Now I just need to figure out a way to convince him to have Alpine Beer Company's Pure Hoppiness on the shelf and all my wishes will come true.
So if you are in Redlands, check out Gerrard's Market on the corner of Cypress and Center Street. For microbrew enthusiasts, it's worth the trip.
1,414 characters
Gerrards Market in Redlands, CA
4.18
out of
5
based on
14
ratings.