Uncle Woody's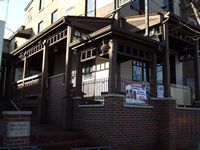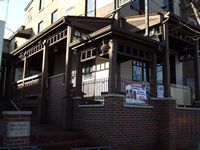 PLACE INFO
Type:
Bar, Eatery
339 Calhoun St.
Cincinnati
,
Ohio
, 45219
United States
(513) 751-2518 |
map
Notes:
No notes at this time.
Added by SheepNutz
Ratings: 8 | Reviews: 8
Reviews by Urbancaver:
2.88
/5
rDev
+2.5%
vibe: 2.5 | quality: 2 | service: 4 | selection: 2.5 | food: 4
A very typical college bar. But this one, unlike most. Has a huge range of people at it. Frequented by law students and 19 year old bimbos and everything in between. The taps are not really good. BMC and the occasional craft beer. The bottle list isn't that much better but they always have a few craft beers to chose from. Great Lakes, Bell's, similarly common things. The service is pretty decent so long as it isn't packed. The place gets REALLY gross and sticky in the evenings and weekends so I would NOT recommend it if you don't like the college dive bar atmosphere
572 characters
More User Reviews:

3.2
/5
rDev
+13.9%
vibe: 3.5 | quality: 3.5 | service: 4 | selection: 2 | food: 3
What can I say, I am a regular there, so I am sure I get a little bit better service than most.. A nice place, though the bathrooms suck and there is not a very good selection of beer. This bar is under new management, and being a group of regulars we have gotten a few better beers there, but still working on a better list. Unfortunately the frat crowd is probably the biggest group that goes here, so that influences the type of beers they sell. The food is decent, not great, but it hits the spot.
Prices are average for the area.
535 characters
2.33
/5
rDev
-17.1%
vibe: 4 | quality: 3 | service: 1 | selection: 1.5 | food: 4
This bar has really had some identity issues over the last few months. The old bar used to be a Fraternity/Sorority stronghold where they didn't card to closely and the weeknight crowds could get ridiculous.
Since changing management they've done a really great job of cleaning up the bar and making it into a much more reputable looking place inside. Unfortunately the bar staff is mostly terrible. They've managed to bring in Big Mike who is a great bartender, but by and large they are te worst bartenders in Clifton. I've seen them overchage for drinks and then pocket the price difference. Also with the pre-mentioned exception, they don't no beer or mixed drinks at all.
The food is actually fantastic and very reasonable. Unfortunately they generally have fewer beer choices than my girlfriends refrigerator and are less knowledgable than the cart pusher at the grocery store. I still come here, but only when I'm already drunk.
937 characters
3
/5
rDev
+6.8%
vibe: 4 | quality: 3 | service: 2.5 | selection: 2.5 | food: 4.5
If I had been reviewing this place 6 months ago, our score here would be much higher back in the days of the MBA(Master Beer Aficionado) and John the Bartender's rants at dumb people for having dumb opinions...This used to be my 5-6 times a week home bar and place of work....
But alas...
Under it's new management they've cleaned up the place considerably. New red and black tile and flat screen TV's is very cool. The bathroom has toilet seats with change sealed inside the clear plastic. They built a second bar in the back to disperse crowds nicely.
The bartenders here all appear to be either my age (22) or younger. They struggle to still find where there beers are stored and any drink requiring more than two ingredients must be explained. The head bartender struggled to tell me what the beer of the month was. The selection has been reduced from a 175 beer selection to 7 the best craft either being what Sam Adam's seasonal is or what the Beer of the Month is, which can either by Labatt Blue Light or GLBC Eilliot Ness...
The food is the only area where this place is great. The selection is bar food favorites but all the food is delicious and very reasonably priced (entire basket of onion rings for $2 or basket of loaded fries for $1.75)
1,254 characters
3.25
/5
rDev
+15.7%
vibe: 2.5 | quality: 3 | service: 3.5 | selection: 3.5 | food: 3.5
This bar is a staple for all UC students. It's very close to campus and on the "Good" side of campus. It also doesn't hurt that is very close to late-night eating places.
Atmosphere: This bar is very cramped and quite narrow. Once you walk in the bar area and hallway are wide enough for about 2 people to fit. The back area is a little bigger but when you get a crowd of people it is very hard to move. It is very crowded during the cold months when the outside patio is closed.
Quality: Again, this is a really fun hangout while your a student at UC but when you graduate it seems to lose its appeal. It's fun to go back for old time sake.
Service: The servers and bartenders do the best they can. A lot of times it gets so crowded that it's not possible to keep up with everyone.
Selection: Nothing special on tap but they make up for it with their better than average selection of bottles.
Food: Not a lot of people usually get food here because of the close Jimmy John's and Papa Dino's but honestly they really do have good food.
1,041 characters
2.5
/5
rDev
-11%
vibe: 3 | quality: 3 | service: 2 | selection: 2 | food: 3
As of late 2008 Woody's is under new management. The place has been cleaned up significantly, lots of new TV's and such has been added, but sadly, in terms of beer the place has taken a turn for the worse. All the BMC fare, with the only redeeming beer the Clifton Bar Association Beer of the Month. The bartenders are mostly inexperienced and "like a good dark beer once in a while" or have such refined palates as to "like the hoppy flavor of "Woody" (PBR on tap) over Bud Light". The beer of the month was GLBC Elliott Ness and I actually had to inform the bartender that it wasn't a mixed drink, but the beer of the month (then pointed to the bottle).
The food is better then it was, and it's far cleaner and a nicer bar, but sadly the selection and inexperienced bartenders mean that I won't be frequenting it as much as other bars in the Clifton area.
858 characters
2.58
/5
rDev
-8.2%
vibe: 2 | quality: 2.5 | service: 2.5 | selection: 3
Stopped in here real quick just to see what the scene was like as these are not normally the type of places I end up in. It was your typical college bar. A very loud crowd and not enough of a selection for me. I hate when I see a BMC tap, but here I saw one again, which really wasn't surprised. They did have some Great Lakes, Sierra Nevada, and Guinness as well that I saw. Some bottles listed on the chalkboard, seemed pretty much the standard fare for the area. The prices seemed a little rough for me, at least twice as much as normal. Did not try the food as I did not even hang around long enough to grab a cold one as this was just really not my style of place. I guess if I was a little younger perhaps, but I have seemed to outgrown these college bars and this one seemed to be just about that, another college bar.
826 characters
2.75
/5
rDev
-2.1%
vibe: 3 | quality: 3 | service: 2.5 | selection: 2.5 | food: 3
Atmosphere here is a college bar, if you're not into that scene then this is probably not the place for you. Not sure how it is on weekdays, but I know that on fridays they've got all you can drink BMC for five dollars. That really brings the frat boys in. Overall its about average, nothing great, and not a hole in the wall. Service is alright, it varies with each bartender. Being a college bar I was pretty surprised when one of the bartenders told me style of each beer that he had on tap. On the other hand, a different bartender didin't know the difference between an APA and an IPA. I know that sounds snobbish, but when five minutes before the other bartender was telling me each style of beer on draft I assumed that this guy would have knowledge just as good. They've about 5-6 beers on tap. One of them is Bud Light I think, and I believe the rest are craft beers. They carry a pretty wide selection of bottles, they've them listed on a chalkboard. However, it seems to me that they most likely don't have all of those bottles. They probably rotate things in and out.If you ask them for a particular beer there's a 66% chance its on the board and they don't have it. Prices there are pretty expensive. I ordered an Arrogant Bastard figuring it'd be about 6-7 dollars-twice what it would sell for in a store. I was charged 10 dollars, its too bad when I asked him how much it was he opened it first then answered. Never had the food, but it looks decent enough.
1,472 characters
Uncle Woody's in Cincinnati, OH
Place rating:
0
out of
100
with
8
ratings