Kelso Industrial Pale Ale
| Greenpoint Beerworks / Kelso of Brooklyn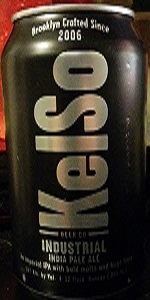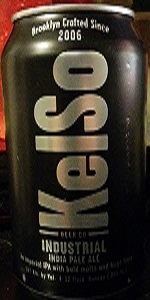 BEER INFO
Brewed by:
Greenpoint Beerworks / Kelso of Brooklyn
New York
,
United States
kelsoofbrooklyn.com
Style:
American Imperial IPA
Alcohol by volume (ABV):
10.00%
Availability:
Rotating
Notes / Commercial Description:
No notes at this time.
Added by dragonWhale on 04-24-2011
HISTOGRAM
Ratings: 265 | Reviews: 55

4.5
/5
rDev
+10.6%
look: 4.5 | smell: 4.5 | taste: 4.5 | feel: 4.5 | overall: 4.5
picked up a 32oz fill locally about 30 minutes ago. billed as Kelso Industrial IPA. poured into a brooklyn snifter.
a - brew poured a murky hazy orange with a huge frothy classic creamy off white ipa head that clung to the glass like a milkshake. really beautiful.
s - smells like sticky sweaty pine cones with a burst of sweaty sweetness. Nelson Sauvin is all over it. tingle of grapefruit. kicks ass.
t - a burst of bitter crisp cooling hops. very full flavored. thick and rich. quite tasty, one of the better tasting IIPAs i've had.
m - great carbonation, great feel. well done.
o - overall, this ipa kicks ass. one of the best i've had in a long time. really pumped that this is around right now. cheers to kelso! hell of a beer. always love it when the locals knock it out of the park.
795 characters


4.34
/5
rDev
+6.6%
look: 4 | smell: 5 | taste: 4 | feel: 4 | overall: 4.5
Kelso Industrial IPA, on tap at Pony Bar in Hell's Kitchen, NYC.
Appearance: Served in the Pony 8-oz glass, Industrial comes with barely a rim of foam for a head, but great lacing and retention. Amber looks, slightly transparent.
Smell: Bouquet of flowers, super aromatic- soap, laundry detergent, pine, resin. Verbena eau de toilette. Newlyweds Amish teenagers frolicking in fields of lavender. Pungent hop bite at the end. Exceptional indeed.
Taste: Intense maltiness and hop bite (following nose). And the booze! The floral aroma remains. Spice and dry at the end, pine sap. Moderate sweetness.
Mouthfeel: Full body and flavor, medium-but-perfect carbonation. Sticky, lingers. Again, the hop bite leaves a pronounced bitterness in the mouth.
Overall: Super delicious, best Kelso ever (up there with their barrel-aged dopplebock). Strong but drinkable, although booze does creep up eventually.
904 characters

4.5
/5
rDev
+10.6%
look: 4.5 | smell: 4.5 | taste: 4.5 | feel: 4.5 | overall: 4.5
Hazy burnt orange with a creme colored head that leaves sheeting and lace. Nice retention and consistency. Fades to a light covering. Smell has tropical fruits, lots of pineapple and guava. Pine forrest with hop oily accents. Taste is superb. Caramel sweet malt front is quickly covered by a pine cone bomb that leaves a firm but restrained grapefruit presence. Tropical fruits from the nose flesh out the flavor. Dry finish has resinous pine and oil with faint mint. A lingering hop oil and breadcrust. Feel is medium weight with a crisp carbonation that has a light creaminess. Each swallow brings forth a cascade of superfine bubble that refreshes the covering that stays on the beer throughout consumption. So easy to drink this one It goes down like a standard IPA. No trace of alcohol anywhere. Crisp and refreshing this may be that alltime great session DIPA if one existed. Wow!
886 characters
4.42
/5
rDev
+8.6%
look: 4 | smell: 4.5 | taste: 4.5 | feel: 4 | overall: 4.5
A: The beer is hazy light amber in color. It poured with a half-finger high off white head that died down but left a thin layer of bubbles covering the surface.
S: There are strong aromas of grapefruit in the nose.
T: Like the smell, the taste is very citrusy with strong flavors of grapefruit.
M: It feels medium-bodied and crisp on the palate with a moderate amount of carbonation.
O: Considering its strength, this beer is very easy to drink because the alcohol is remarkably well hidden from the taste.
506 characters



4.42
/5
rDev
+8.6%
look: 4 | smell: 4.5 | taste: 4.5 | feel: 4 | overall: 4.5
Called "Industrial IPA" at DeCicco's in Ardsley...same ABV/same style listed so I'll go with it...
$8.99 for a 32 ounce growler fill.
Pours a typical shade of amber, slight haze, light tan head, creamy and luxorious, slowly going to a thick film, collar and nice webs and bands of fine lace.
Pungent hopped up nose, fortified with pinapple, mango and more resiny hop notes.
Full throtle DIPA, they are not kidding! "Industrial" sums it up. On the palate it's crunching hops, waves of tropical and citric fruit...Lots and lots of ripe pineapple dominates. Lime soaked alcohol notes trying to peak through, but the hops/malt/fruit thingy keeps their tendrils mostly at bay.
Big bold and quite heady stuff, not for the faint of heart...bring on the stinky cheese and smoked meats, I love it...please make more of it...keg it, bottle it, distribute it...
855 characters

4.47
/5
rDev
+9.8%
look: 4 | smell: 4.5 | taste: 4.5 | feel: 4.5 | overall: 4.5
On draft at The Lark, East Northport, New York.
Poured a murky dark copper hue with a half finger foamy white head. There was decent retention and lacing.
The smell featured a balmy resinous tropical fruit aroma with waves of pine and citrus.
The flavor consisted of mouth coating hop resins - mango, pineapple and apricot. Full piney spice detected as well. A well masked alcohol crept in toward the finish along with a smooth and soft sweetness.
The mouthfeel was full and all encompassing.
Overall a major league DIPA. One of the best beers to come out of NYC in recent memory. Incredibly user friendly.
616 characters
4.5
/5
rDev
+10.6%
look: 4.5 | smell: 4.5 | taste: 4.5 | feel: 4.5 | overall: 4.5
A - Yellowish-Orange with a little haziness
S - Smells very piney, and I got a very citrusy lemon note too
T - You can definitely tell this is a very strong beer right off the bat but it does a good job of not overpowering the beer. This is a piney, lemony DIPA that is very smooth for it being 11.5% abv. It's also very sweet.
O - This is a very good beer from Kelso that I hope they keep making. They nailed this one for sure and I definitely want more!
458 characters

4.47
/5
rDev
+9.8%
look: 4 | smell: 4.5 | taste: 4.5 | feel: 4.5 | overall: 4.5
Have had the opportunity to try this beer at a couple of events now. First had on tap at the Stag's Head. It was devastatingly effective. Orange almost red, a little hazy. Big and beautiful citrus aroma with some pine. Heavily resinous, some aromas of sweet malt, a little caramel, and definitely some alcohol phenols. Big and bold aroma that you could get lost in.
While it's a little on the sweet side, the bold bitterness and massive wave of citrus go a long way towards making this an excellent beer. Definitely can taste the alcohol creeping, but it's oddly unobtrusive, just noticeable. Thick and resinous all up in my mouth.
Yes, more of this please. Brew much more.
673 characters
Kelso Industrial Pale Ale from Greenpoint Beerworks / Kelso of Brooklyn
Beer rating:
4.07
out of
5
with
265
ratings