O'Griff's Irish Pub & Brewhouse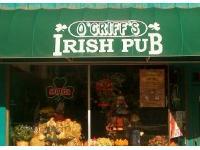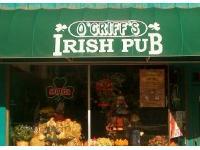 PLACE INFO
Type:
Brewery, Bar, Eatery
415 Hampshire St
Quincy
,
Illinois
, 62301
United States
(217) 224-2002 |
map
ogriffspub.com
Notes:
No notes at this time.
Added by BeerAdvocate
Ratings: 11 | Reviews: 10
Reviews by pmcadamis:
3.65
/5
rDev
+16.6%
vibe: 3.5 | quality: 3 | service: 4.5 | selection: 3.5 | food: 4
We drove up to Quincy to check out O'Griff's during a weekend in Hannibal Missouri. As other reviewers have mentioned, it's on a quaint old-fashioned town square in an attractive part of Quincy, and the bar itself is a pretty typical small-town bar with pool tables and dart boards behind a nice long wooden bar with padded armrests.
I tried several beers, including the Porter, and one that the bartender called a Steambock?, and overall they are pretty average but not at all bad brews. The Hefewiezen was the only one that really stood out, but be sure to ask for it without the lemon!
All of the selections seemed a little bit watered down, but I saw some Scottish beers in the fridge that I've never seen before. Service was very friendly, fast, and excellent. Even though the bartenders aren't total beer geeks, they are more than willing to spend time answering questions as best as they can, and they offer a small sample before you commit to buying a pint of one of their brews.
Definitely the best beer bar in the area, and worth the half hour drive from the touristy, but not-very-beer-friendly town of Hannibal. They also serve some damn good chicken wings.
1,178 characters
More User Reviews:

3.25
/5
rDev
+3.8%
This is a good place for a meal and to enjoy a decent local brew. Its a bar setting and got a little loud in the evening but the staff was friendly and service prompt.
169 characters
3.2
/5
rDev
+2.2%
vibe: 2 | quality: 2.25 | service: 4.5 | selection: 3.5 | food: 3.25
Gonna have to call a spade a spade, this is a fairly sad brewpub.
You'd think after 10 years or however long it's been open, the beers would improve, but it's just the usual brewpub-in-a-box, dull extract-type stuff. Cheers to them for trying in a town where it seems like 99.9% of the clientele still pound BMC, judging by the large presence in the coolers. It's not the worst one in Illinois, that would be Illinois Brewing Co. in Bloomington (since closed).
The vibe here is dreary, like a roadside motel with that stale cigarette and cheap air freshener smell. Dark, dank, and divey. Moe would be proud. When a brewpub only has a bud light neon in the window, that's a bad sign. Of course, the irony is good for a laugh, but it certainly ain't respectable.
Our bartender was the sweetest young lady, and she cared for all the patrons in a very honest and genuine way which we really appreciated. I didn't feel like her talents are really being used here though. Somehow she even managed to sell me on a six pack to go, after I didn't even finish the 10 beer sampler.
The beer is dismal. Out of 10 there were 2 that were passable, the Gems IPA and the Irish Amber. The rest is either watery, buttery, artificial, or all of the above. Regretted the stop halfway into the sampler.
This was on my bucket list as the last brewpub in Illinois I hadn't visited, sometime in 2011 or so... fast forward to today and there are dozens of new ones, so that personal goal went out the window. Skip O'Griff's if in Quincy and head over to the Mark Twain Brewery in Hannibal, MO which just opened a few weeks ago.
1,611 characters

2.75
/5
rDev
-12.1%
vibe: 2 | quality: 2.5 | service: 2.5 | selection: 3.5 | food: 3
While in Quincy on business, I learned that there was a brewpub in the center of town. So, I decided to give it a try. It was dead quiet on a Monday night, and the place had the feel of a dive bar. The bar had a cracked leather cushion, and the fixtures were more than worn. The place was small and kind of dingy. The wait staff were mostly young girls that seemed disinterested in service or beer. I had a steak, which was truly average, although the portions were enormous. The beer selection consisted of standard ales, but they seemed well diversified, and the beer was fresh. It had a home brew quality, and, although there wasn't anything spectacular, it was tasty. I wasn't impressed with this place, but it is still great to find local beer in a genuine local small town.
779 characters

3.61
/5
rDev
+15.3%
vibe: 3.5 | quality: 3 | service: 4 | selection: 4
So the wife and I were driving back to Decatur, Illinois from Warterloo, Iowa. I had read that Quincy was full of mansions, museums and history, so I planned a route through this town. As it turns out, we did not find anything historical or beautiful in Quincy, but the drive down 96 by the Mississippi was mighty gorgeous, and stopping at Joseph Smith's grave in Nauvoo was "interesting" to say the least.
And we're driving around Downtown Quincy thinking, "shitty town this is" when we decide to stop at the main square and check out the bars. Guess what? We parked RIGHT by this freaking brewery!
Inside and out, O' Griff's looks like a worn-out Irish pub in a small town (huh, I guess that's what it is after all!?). It was empty on a Labor Day evening when we visited. An old joint, with some pool tables in the back, light-beer ads all over, dim lights and a mothball aroma all around.
The bar girl was gruff and efficient, and warmed up when we started talking to her. She just wants to get the hell out Quincy, damn the mansions and the monuments. As for the food, we didn't try any and I think we're good.
The beers... they have 10 different taps, no less! For a small microbrewery in a small town in the middle of nowhere, this is quite a feat. But maybe they should refocus on having only four or five really good beers? As it is right now, only their IPA is outstanding (we even got a growler to go). The Wheat beer is good enough and the rest (Irish Amber, Pilsner, Blueberry, Strawberry, Oatmeal, Honey Brown, Porter and Lyte) just don't have it.
My homebrewing buddies do better than this, but the IPA is real good. Not sure why they brew one great beer and nine mediocre ones. Most of them appeared to have carbonation issues too.
Still, this is a solid joint in a town and an area that has no other microbrew options. So give it a chance. I would definitely go back if I were or lived in the area. Also, prices are damn nice- $3.50 for a pint, $7.50 for a sample of all 10 beers, $12 for a growler.
Kudos to O' Griff's for at least trying to go beyond Bud Light!!!!
2,096 characters

3.78
/5
rDev
+20.8%
vibe: 3 | quality: 4 | service: 3.5 | selection: 4 | food: 4
A. More of a bar than a brew pub. The walls had the average neon decor. There are pool tables in the back as well as some video games. TV's played sporting events. The dress was after work casual.
Q. Not a fancy bells and whistles brew pub, however the brews I sampled were served in clean pint glasses and the food was pretty good.
S, I did not have a problem getting served and the wait staff was friendly. The bar was about 3/4 full and I was always asked if I needed anything as my glass and plate empytied.
S. The beer selection was decent 7 of their own brews were on tap as well as bottles of other brews and the regular big brews on tap as well.
F. I had some catfish. The prices are really a bargin for the amount of food I got and it was really good.
V. Nice overall place friendly waitstaff, although they didn't know alot about the beer. There wasn't any kind of crazy brews that you would have to question as the ingredients are usually listed in the title of the brew. I will visit this place again when I return to Quincy IL.
1,047 characters
2.99
/5
rDev
-4.5%
vibe: 2 | quality: 2.5 | service: 4 | selection: 3
A - from the name of the place I was expecting an Irish pub / microbrewery. This was more of a bar with microbrews. It seemed like they pushed other beers more than their own (especially BMC products). There were multiple tvs and a couple pool tables in the back.
Q - I only had one beer, their Porter, which was okay. I didn't try any of the food, but it sounded decent enough.
S - there was one bartender, and he made sure we were satisfied throughout the night. It wasn't overly crowded, but the bartender was busy enough that I was glad he checked on us throughout the night.
S - there were multiple taps of their own beers and a fridge stocked with a bunch of random stuff, including a bunch of BMC and 40s.
V - I had a pitcher of one of their beers for $5, which isn't a bad deal at all. This place okay, I will be back for more being that I am on business here and have nothing else to do.
901 characters
2.94
/5
rDev
-6.1%
vibe: 2.5 | quality: 3 | service: 3 | selection: 3
Atmo - The brewhouse was visable from the street, but once inside you had no idea there was a small (~30BBL) brewery next to it. There were doors leading to the brewhouse, they were glass and laser etched with large AB logos. Other than that there were AB banners all over the place and no real "Irish" feel to it. The only way you knew about the microbrews, which are called "homebrews" here, is a chalkboard right next to the door.
Quality - I only came in for the "homebrews", the glasses were clean but were just pint glasses, so whatever. The beers had no head to them but were carbed. The beer quality was off, none of the service staff knew the beer so I just chalked it up to aged beer.
Service - I only got attention when my glass was empty, and I was sitting at the bar. The place was somewhat busy but it seemed very disorganized and under-managed. I wanted to chat about their beers but again whenever someone would take the time to stop and talk to me they knew nothing.
Selection - They boast 100 craft beers, only 81 beers were in the cooler, 15 were malt liquors, 50 were BMC beers, the remaining 16 were split between Boulevard, SA, SN, and Likenhuegel.
Food - Didn't try
Overall - Not going back. I want to try the IPA, but the two that I had were horrible (District Weizen and Irish Red) and they were more concerned about serving up Bud and Bud Light than their own Ales. I was going to pass my concerns to the head brewer but apparently they don't brew that often and weren't in that day. If they happen to read this, beermail me and I will come by again to meet you all.
1,597 characters
2.35
/5
rDev
-24.9%
vibe: 2.5 | quality: 3 | service: 2 | selection: 2 | food: 2
While working in Quincy, I stopped by on a recommendation from a co-worker. Monday night and only about 6 people around the bar. A fair amount of TV's to watch but only 4 choices of programming at that time. A plain almost non-descript bar. If I remember correctly they had about 8-10 taps of which they had 4 of their own. Pool tables, darts, fooseball and air hockey are in the back. The beer was average. I had their IPA and Irish Red. I didn't get to their Porter and Stout. Service was almost terrible. One bartender who didn't know a thing about beer besides one is dark and the other is light. A place to stop in for reasonably priced beer but not for the food or service.
679 characters
2.9
/5
rDev
-7.3%
vibe: 3.5 | quality: 3 | service: 2.5 | selection: 2.5 | food: 4
While in Quincy for a wedding, I decided to stop in and check out O'Griffs. It seemed like their beers were secondary to the rest of the bar. Besides their own beer, they also have a wide selection of microbrews and the typical domestics. The atmosphere is failry typical for a midwestern bar. The bar seemed fairly spacious with plenty of room to congregate and talk to your companions. The food was pretty good, but nothing out of the ordinary. They were a little understaffed the day I was there and the service suffered because of it. The bar is located in a pretty neat area in downtown Quincy, adjacent to an old town square. I was pretty disappointed in the beers, and wouldn't make a special trip out of my way to taste them. However, if you do happen to visit Quincy it may be worth a visit.
800 characters
O'Griff's Irish Pub & Brewhouse in Quincy, IL
Brewery rating:
35.3%
out of
100
with
34
ratings