Stocks & Blondes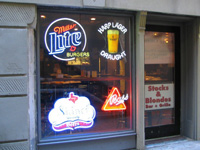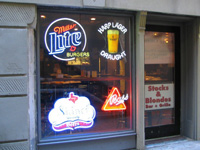 Bar, Eatery
30 N Wells St
Chicago
,
Illinois
, 60606-3410
United States
(312) 372-3725 |
map
stocksblondes.com
Notes:
Recent ratings and reviews.
Ratings by jrallen34:
Reviewed by jrallen34 from Illinois
2.28
/5
rDev
-38.9%
vibe: 1.5 | quality: 2 | service: 3 | selection: 1.5 | food: 4
Amusing that the last reviewer said this place was for the regular folk. If he means regular beer drinkers yes, regular people know. A downtown bar with downtown d-bags. Lots of tools come here, especially for lunch. Not impressed with the people, not impressed with the atmosphere either, old and dirty looking, blah... The selection is sparse, a 4 drafts and what is there is mostly regular macro. A few low tier things but nothing of quality. I hate this place and strongly recommend against going.
Mar 18, 2011
More User Ratings:
Reviewed by Redrover from Wisconsin
3.68
/5
rDev
-1.3%
vibe: 3.75 | quality: 3.75 | service: 3.5 | selection: 3.75
As others have described it, this is a dive bar with a pretty good beer selection. We ended up here as Monks had no open seats at the bar....

As you enter, the bar is right in front of you. There are lots of tables and is more spacious than it first appears. As with most Chicago bars, there are plenty of tvs to catch the games.

I was there on a Wednesday and they were advertising all Revolution draft pints for $4, which is a good price for downtown. Unfortunately, the reduced price only applied to Cross of Gold and not the rest of the Revolution beers. I happen to really like that beer so no biggie, but they should make that clear.

The rest of the beer selection was pretty solid. Service was business like. I did not try the food but given the general dinginess of bar, I think I would pass, as there are so many other good places all around it.
Feb 09, 2018

Reviewed by vikingpillager from Illinois
4.08
/5
rDev
+9.4%
vibe: 3.75 | quality: 4.25 | service: 4.25 | selection: 4.25 | food: 3
This is a dive bar, plain and simple. It's small, dirty, worn down, and old. Even still, it's pretty awesome! Lots of drafts (at least 20), generally good deals/specials, and a great local spot for after work. It's easy to walk right by it, though. I probably wouldn't go for lunch or dinner, but for after-work drinks in a casual spot, it's pretty awesome for The Loop! Right next to Washington/Wells L stop (Brown, Purple, Pink, and Orange lines).
Mar 01, 2017
Rated by ajgood04 from Illinois
4.51
/5
rDev
+20.9%
vibe: 3.5 | quality: 4.5 | service: 4.5 | selection: 5
Great beer selection. Didn't try the food.
May 02, 2015

Reviewed by emerge077 from Illinois
3.5
/5
rDev
-6.2%
vibe: 3.5 | quality: 3.5 | service: 3.5 | selection: 3.5
2014: Popped in here recently and the selection had improved quite a bit. Seasonals from Rev and Half Acre on draft, maybe 18 total.

09-28-2008 2.78
Stopped here with a couple other BA's after Flossmoor's release party for Collaborative Evil. We were downtown, and in need of a beer, so we figured why not...

Dive bar with dark wood, exposed brick, tons of service patches above the bar, state police, firefighter,etc. Tile floor, with rickety stools and a table that needed a few sugar packets to balance out. Nice wood back bar, but pretty sub par all around. Cafeteria vibe, with a closet sized restroom. The divey charm wore off after the first sip of beer.

Four taps were adorned with plastic cups when we walked in, limiting the craft options to either Hoegaarden or Great Lakes Eliot Ness. 3 of the 4 advertised GL taps were out. Nothing special in bottles, they did have Hacker-Pschorr and Schneider in bottles. Bar service was timely, but it wasn't busy at all. I wasn't brave enough to try the fri/sat fish fry here. Personally I never plan to return, I think better beer bar options lie nearby, including Rock Bottom, Binny's South Loop, Kasey's, Hackney's, even Cal's, Miller's, etc.
Sep 28, 2008

Reviewed by jackndan from Illinois
3.8
/5
rDev
+1.9%
vibe: 3.5 | quality: 3.5 | service: 4.5 | selection: 3.5 | food: 4
Stocks and Blondes, on Wells just South of Washington. This is a relatively small space, tucked into the first floor of a historic old building below the El tracks on Wells, just South of Washington. Lots of exposed brick, and not fake brick, but real Chicago Common, holdng the floors above up. Very small bathrooms.

The owner is a former trader on one of the financial boards in Chicago, hence the play on stocks and bonds.

I was reluctant to add this place to the site, but then I realized that the Loop is really lacking in places to get more than beer just by the big three A/C/M. This place actually has about twelve beers on tap, and most of them are decent. They serve Pilsner Urquell in tall branded glassware, and its hard not to order several of those when I'm there. They have Sammy, Hacker Schorr and a few other bottles worth mentioning.

I like the food, and I think their wings are as good as many I've had, big and meaty, and sometimes so spicy that they are not for the weak hearted. They have good chicken sandwiches, and more fries than you really need. They also have big, filling salads. For a tiny kitchen, they do a good job.

The service is top notch, the waitresses are friendly and competent, and the owner and his wife are always there trying to make people happy.

Far from fancy, but you can get a good beer, at a reasonable price, and thus this place is recommended.
Jan 17, 2004
Stocks & Blondes in Chicago, IL
Place rating:
3.73
out of
5
with
9
ratings