Von Klopp Brew Shop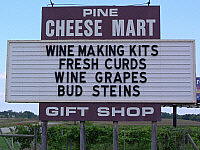 PLACE INFO
Type:
Homebrew
51146 Highway 52 Blvd
Pine Island
,
Minnesota
, 55963-7640
United States
(507) 356-8336 |
map
pinecheesemart.com
Notes:
No notes at this time.
Added by garymuchow
Ratings: 4 | Reviews: 4
Reviews by garymuchow:
3.85
/5
rDev 0%
I haven't been there for awhile, but a helpful store when I worked in the area. Wide selection of extracts, less of grains, adequate for hops and only Wyeast (as I recall). The owner formerly brewed beer, but now sticks to making wine, in fact at one time he grew his own grapes outside of the store. Also a pretty good selection of reading materials on hand, a fair amount of beer memorabilia and miscellaneous things.
Store also sells wine making goods and is an okay cheese shop. Also attached to a resturant that formerly always had a Schells beer on tap (and maybe it still does). Decent store for the area and made my life easier when I didn't work in the Cities.
670 characters
More User Reviews:

3.5
/5
rDev
-9.1%
vibe: 3.5 | quality: 3.5 | service: 4 | selection: 3
I finally had a chance to visit the Pine Island shop after hearing about it for many years from my fiance and her family.
Several points worth mentioning, straight off-the-bat:
- Earlier reviews made note of an attached restaurant, but this has been removed fairly recently and as such, there is no beverage alcohol for sale on-premise (fwiw, there are several on/off sale bottle shops nearby).
- The vineyard is still on-site, and I'm interested in learning if grapes are strictly ornamental.
- There's a (seasonal?) greenhouse adjacent to the vineyard, and this was filled with hanging baskets and garden plants.
My lasting impression is that this is a homebrew supply and gift shop first, with ready-to-eat foodstuffs being a secondary focus. More generally, I see the Brew Shop as being a fun stop for the family on the way to and from the nearby Whitewater State Park, as there's ice cream and candy for the kids, string cheese and cheese curds, small bags of gourmet potato chips, and cans of soda for sale. And there's no doubt that seasonal sales in the greenhouse help to keep the lights on and the yeast cold ; )
The shop is basically split into two halves, with gifts and food items on the south half, homebrew supplies on the north half. Included among the gifts are Ole and Lena books, slim tomes on regional Minnesota history, and shot glasses. While this sort of thing didn't interest me at all, the cheese case did interest me. The cheese case is stocked with a couple-dozen varieties of cheese (mostly from Wisconsin suppliers) along with summer sausage from Usinger's, gourmet mustards, and processed cheese spreads -- a small display freezer filled with hard-packed ice cream is situated roughly at the halfway point, near the checkout.
In the north half of the shop you'll find beer steins and glassware along with books on brewing and and books on wine-making. There are other gift items here, as well as cheese-cutters, bottle-openers, a selection of insulated/cold bags for picnicking, and other wine and beer-related accessories. For you collectors, it's worth mentioning that the Stein selection is comprised almost entirely of Anheuser-Busch collectibles, with only a few items from other breweries (including a 1973 Hamm's mug). A generic Mass and several branded flutes (Meininger, Konig Pilsener) round out the selection of collectible steins and glassware.
As far as homebrew materials go I have to say I was somewhat impressed with the selection of available pre-packaged and bulk grains, including several specialty malts. While the selection doesn't compare to a bigger supplier (e.g. Northern Brewer), this struck me as being indicative of an active client-base; several instructional books for in-store reference were also available. Likewise, there were enough extract kits, wine and soda kits, and wine and soda-making books for in-store reference as well.
Altogether the Von Klopp Brew Shop makes for a fun stop and no doubt acts as a convenient supplier for the community of homebrewers in southeast Minnesota.
I'll definitely be back: they've got a killer 12-year cheddar, and seeing those grains piqued me interested in brewing again : )
3,191 characters
4.3
/5
rDev
+11.7%
Average prices and average selection (a lot of wine making kits, too). The people here are exceptional and outstanding. They have helped me since my selling me my first kit. They have regular sales and an email list serve. I actually have emailed the Von Klopps for help: they usually respond the next day.
About 30 minutes outside of Rochester or an hour to an hour and a half from the cities. For Rochester, this is certainly your best bet to talk to someone who knows what they're doing. If you can afford the drive out here (you're spending money on gas instead of online shipping/handling fees), it's worth it. Also, well-versed in homebrew root beer and soda/pop.
670 characters

3.85
/5
rDev 0%
I've been driving by Von Klopp for years since the sign along Hwy 52 says wine kits and cheese curds, I've never stopped. Only when a fellow homebrewer pointed it out as where he gets all of his supplies did I realize that it is a brew shop. I needed a few incidentals and didn't want to drive the 10 mi to my own brew shop, so stopped here on the way back to the Twin Cities from Rochester. Not bad. A very eclectic shop, but a good supply of beer making materials, and so far, all of my friends beer has been good and he's received sound advice from the shop. The kits are commercial, which was interesting since I had never seen one--my shop makes its own. It seems to be a much better wine store, including a small field of grape vines planted to the north of the shop. Also, lots of specialty cheese, nic nacs, touristy trinkets, etc. And, a lot of traditional German beer steins, including the "world's largest" which held 9 gallons or something and an inscription that read (in German) that "he who can drink all of this is a real man." Sorry, that was the only one not for sale, but lots of very nicely crafted drinking vessels if you're into that sort of thing. Friendly help, but not pushy. I rated selection low for beer; however, if you're looking for wine like things for beer--french oak wood chips, etc--this might be a good place to call if you're having trouble elsewhere.
1,389 characters
Von Klopp Brew Shop in Pine Island, MN
3.85
out of
5
based on
4
ratings.