Homebrew Too @ Hydroponic Garden Centers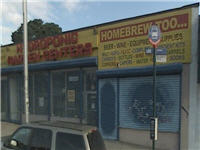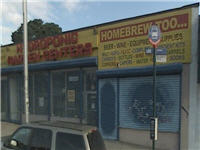 PLACE INFO
Type:
Homebrew
146-49 Horace Harding Expy
Flushing (Queens)
,
New York
, 11367-1243
United States
(718) 762-8880 |
map
Notes:
No notes at this time.
Added by twilight
PLACE STATS
Reviews:

14

Ratings:

pDev:

21.5%
HISTOGRAM
Ratings: 14 | Reviews: 14
Reviews by rodney45:

3
/5
rDev
+2.4%
vibe: 3 | quality: 3 | service: 2.5 | selection: 3.5
Pro's
-they have hard to find hop plant varieties. if youre into growing your own hops.
-Although they have a limited selection, for me, this is the closest local homebrew store, so if i need yeast, thermometer or hydrometer last minute, this is the place to go.
Cons
-Limited selection
-they arent very knowledgeable about brewing or their material.
-Slightly overpriced.
-No fresh grains.
-No whole cone hops.
Personally, the cons outweigh the pros. But, I do frequent this place often when i dont want to make the hour plus trip to brooklyn or manhattan for a top of the line homebrew store.
600 characters
More User Reviews:
3
/5
rDev
+2.4%
Moderately stocked supply place. They specialize in Hydroponics so their beer and winemaking supplies are mostly a tack-on. Prices aren't very competitive, but this is the closest store to me. The staff are very friendly but not brewing experts.
Decent selection of specialty grains, not much in the way of bulk grains. Moderate selection of yeast and hops.
The owner says he doesn't get enough demand to give more floor space to brewing. He told me if there's something I'm looking for to give a call and he'll try to get it in a few weeks. While limited in their stock, all the same I usually end up finding what I need.
632 characters
1
/5
rDev
-65.9%
This place is not good. The workers don't know what they are talking about and are often flat out wrong with their advise. They sell out of date yeast (yes it has happened to me). I've seen the same dented can of Mutons for sale for the past two years. I've walked out of the this place more than once because of bad/rude service. I've personally seen the owner treating his workers poorly. I only shop here if I'm in a real pinch for something like corn sugar, bottle caps, botttles, or anything where freshness isn't an issue. It is five minutes from my home, but I'd rather drive out of my way to Brooklyn, Manhattan, or L.I. Basically, I try to never shop here.
665 characters
3.5
/5
rDev
+19.5%
I'm kind of a neophyte in the beer world, but I'm making an effort to dive headfirst into both the world of craft beer and the world of home brewing. This is basically the only choice i have in the area barring purchasing from the internet. I've read a lot of the other reviews of this place from other people, and most are not impressed. Well, I can understand the frustration of not carrying a more eclectic selection (I went in to ask about witbier or hefeweizen brewing and got little useful info) and being pricier than internet stores, but I factored in shipping and got basically the same price for the brewing equipment i got there, compared to internet. It's not a great place for experienced homebrewers, but i found it to be a perfectly decent starting point for my brewing forays. And while not the most knowledgeable, the staff there were friendly and enthusiastic about beer.
889 characters
2.4
/5
rDev
-18.1%
* Review is of homebrew section only. The gardening part of the store looks impressive, but I don't know anything about worms or grow lights *
I can't believe I haven't reviewed this place before. This is the only game in town and I've been shopping there sporadically for three years... guess my opinion of the place has always been more or less in agreement with the other reviews.
But now I've given up on this store completely except for last-second bottling sugar or cap purchases.
Why? Because last weekend I went there to pick up some caps and DME and maybe some grains, and first of all was amazed to find that they don't carry any specialty grains for Belgian beers, such as biscuit, special b, or aromatic (although if I think about it, they never have). Yet they have Trappist ale yeast in stock. The owner/manager guy always asks me what I'm brewing when he rings me up (points for showing interest), but when I told him "something Delerium Tremens-ish" he had no idea what I was talking about. This is so typical of my visits there.
Over the past three years the homebrew section of this store has slowly shrunk, and it has been shifted three times, each time farther and farther from the front door. Now it is on the margins, and this pretty much sums up their attitude toward homebrew customers. The staff is willing to fetch items from the stock room, but their regular inventory of ingredients is so-so, homebrewing knowledge is limited, and prices are now high enough that it makes more sense to order from a site like Northern Brewer and pay shipping.
I'm a partial mash brewer who's dying to go all-grain once I have the space, so this incident from two years ago remains fresh in my memory: I was loitering in front of the grain selection, just trying to decide if I wanted to stock up on anything, when the owner came by and said, "why don't you just by a kit?"
Grrr.
Kinda makes me want to open my own homebrew shop. Close to a subway line.
1,970 characters
2.85
/5
rDev
-2.7%
As a warning to first-time brewers, the True Brew Series Kits sold here are about $20 overpriced. I made the mistake of bringing one home for seventy bucks before checking online prices. Ingredient products seemed to be decently priced, though. I got an ingredient kit from the same manufacturer for about thirty dollars, which I found for the same price online.
The selection had all the necessities, but beyond that it was unimpressive. This place is primarily a hydroponics shop, and a really nice one at that, but I would only suggest buying here to someone who needs ingredient in a pinch. Buy any equipment kits online or at a brewing-specific store.
Also, the guy helping me was alright and gets points for a Slayer shirt.
731 characters

3
/5
rDev
+2.4%
Located on the north side of the LIE, just west of Kissena Blvd.
The store functions mostly as a hydroponics and gardening center. Pretty interesting actually. The homebrew supplies are to the back, tucked away in an alcove of sorts.
The selection was a bit below average. There were many malt varieies in the one pound bag, but only pale and pilsner in the 10 pounders. The one pound bags were at least 20 cents higher than any other LI outlet.
The hop and yeast selection was average and the equipment a bit pricey.
Overall good enough for the basic Queens brewer. Not a place I would travel a great distance for however.
627 characters
2.65
/5
rDev
-9.6%
This has been the only homebrew store in the city for a while, and it's a hassle to get out to without a car/motorcycle. I've been going for several years though, as it's the only game in town.
As others have said, it's 95% gardening with a heavy hydro leaning, and maybe 5% homebrew. They just recently (late fall 07) reorganized the store, but it seems like the homebrew stuff is even more short changed now. The staff has always been friendly to me, and helpful if you're totally new to brewing... as I've become more experienced, I've realized that they're fronting a lot of knowledge that they don't necessarily have... but as someone who's worked plenty of retail, I can't blame them for that. But it's worth mentioning. If you know what you want, or if you're reasonably new to brewing and looking for basic ingredients or kits, it's a non-issue. If you're looking for knowledgeable brewing advice, you'll be let down.
The real reason I've stopped going is that I've switched to all grain and they just don't have an inventory to support it. I still stop in and support them whenever it's reasonable--it's great to have a spot to hop over to for a bag of yeast or priming sugar in a pinch--but they're not in enough of a homebrew frame of mind to thrive.
Good place to buy live ladybugs for the garden, though!
Luke
1,326 characters
3.3
/5
rDev
+12.6%
So, as others have said, for some reason in all of New York City this is really the only place to buy homebrew equipment and supplies. I take the subway and then a bus to get here from Manhattan and that's usually a 2 hour trip one way.
Everyone inside is nice and they know a lot about gardening and a little about homebrew, too. Their selection is very good for beginneers but certainly not a library of choices. Prices are comparable to the place I went to in Minnesota, which was a surprise to find at a New York shop with zero competition.
545 characters
3.2
/5
rDev
+9.2%
I saw this from the side of the hihway while going out to LI so i figured I would stop on the way back.
The beer supplies are in one small corner of the store. Suppl is prett limited as the have small quantities of various malts and extracts. Hops and yeast were in a fridge to the side. I ended up getting a couple of cans of muntons malt extract, some hallertau hops and a pack of wyeast. I was also able to pick up a 5 gallon carboy as well.
This place is more of a hydroponics store but they are the only place in the city to buy any homebrew supplies. Service was good, the guy helped me out well enough. He knew where things were but I dont think he really knew too much about brewing. Prices are cheaper online but you have to consider shipping as well.
764 characters
2.85
/5
rDev
-2.7%
This place is decent, but due to the lack of any competition, I end up going here because I lack the foresight to order stuff online. Of course it means I need to get my brewing buddy to drive, as mass transit going this far out into Queens is pretty poor. As everyone else has said, it's pretty much one corner of the hydroponics shop, they have an alright selection of equipment and ingredients, but not a lot of variety. They have one type of everything, which means that you can find a hefeweizen yeast, but if you're looking for any other type of weisse yeast, you're out of luck. The dry malts are all Munton's, the hops are all pellets (except Cascade plugs, which were nice). Good selection of grains, though. Looking to get a new brewpot, and they only had one size, which was inappopriate. The guys on the floor were fairly helpful, but the owner was behind the counter one time I was there, and he was a real jerk. As I said, you don't have a real choice in NYC, though I'm thinking about getting out to Staten Island one of these days...
1,049 characters
3
/5
rDev
+2.4%
It is possible to get to the store using public transportation (even though it takes a fairly long time): take the 7 train to Flushing-Main Street. Take the Q17, Q25, or Q34 bus south to Horace Harding Expressway. Then, walk west a couple blocks to the shop.
The store has an o.k. selection of equipment and ingredients, but the items I needed weren't in stock when I visited. They also could not mill any grains I purchased, even though a grinding station was in the middle of the store. One staff person was helpful while the rest were standoff-ish, carrying on their own conversation and ignoring me when I tried to pay.
I would only go to this store if you're in a pinch on brew day. You'll likely find fresher grains and better service by ordering online or visiting another store.
792 characters
3.7
/5
rDev
+26.3%
I rate the selection as a "3" here only because it is average for a homebrew shop. But if you're in NYC, this is really your only option unless you want to be in the car for a couple hours!
The store is mainly dedicated to hydroponics, and judging by the clientele when I visited, there's only one plant anyone is interested in cultivating indoors, if you catch my drift. The store also has small sections dedicated to complimentary crafts: wine and beer making, with the beer section being the largest -- a little island near the center of the store. All the basic equipment and accessories are there. They have about one in stock of everything, except the malts and stuff, which were better-stocked. The fridge had a list on it with all the "available" yeasts, hop pellets, hop plugs, and even some fresh hop leaves, but by "available," they mean "we can get it for you, because we probably don't have it in stock." This is a problem with a lot of homebrew shops, because product turnover, especially in the summer, is just not fast enough. Regardless, everything seemed fresh enough and like it hadn't been sitting around forever. They were friendly and helpful, though there wasn't a brewing expert on hand, so you kind of have to know what you want. Also, no one could grind my malt for me, although they did have a grind-your-own station. The catch: "We take a $10 deposit, and if there is no malt on the floor at the end, you get it back." I don't know if he was kidding or what, but it hardly seemed worth the trouble, so I didn't bother.
Prices were reasonable, and even better than some other upstate homebrew shops I've been to. If you just need to do some uncomplicated homebrewing, you could easily make this your place. For anything more involved, you might want to hop in the car and head north.
1,814 characters
3.5
/5
rDev
+19.5%
My friend and I get here using his fiancée's car. I don't know how far it is from public transportation like the 7 or the buses, but I'd imagine it would be out of the way.
This is primarily a hydroponics store, but they have a good small selection of homebrew and winemaking materials almost at the center of the store. Good selection of grains, but they only carry Munton's extract in all shades. We were making a Duvel clone, and wanted Alexander's, but you do with what you've got.
I do however, take issue with the yeasts and hops being out of reach. You have to ask for them. This is nice and all, but I like flipping through yeast packets and hop foil packs just to see them lined up in the fridge. Ah, I gripe too much. Last time they were out of yeasts, but this time we were able to score some American Ale yeast.
Service, of course, is great, and they're always willing to answer your questions about anything homebrew (and I imagine planr)-related.
This has become our standard store (we used to drive out to Farmingdale) but I wish they had more stuff to choose from.
1,093 characters
Homebrew Too @ Hydroponic Garden Centers in Flushing (Queens), NY
Place rating:
2.93
out of
5
with
14
ratings