The King's Head Pub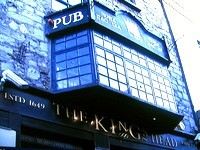 PLACE INFO
Type:
Bar, Eatery
15 High Street
Galway
County Galway
Ireland
+353(0)91-566630 |
map
Notes:
Not worthy of inclusion on BeerAdvocate!
Added by SixpointJMH
Reviews: 12 | Ratings: 17

3.4
/5
rDev
-10.1%
vibe: 4 | quality: 4 | service: 4 | selection: 2 | food: 3
First of all this really isnt a BA bar. It just offers up the usual macro lagers. But the pub has nice vibe and its a reasonable venue in the tourist heart of the city. I had lunch here, food was decent. Beer selection is very poor but this is a more mainstream tourist venue. Worth a check in for lunch. Also has a good reputation at night for a fun night out.
361 characters
3.59
/5
rDev
-5%
vibe: 3.75 | quality: 3.5 | service: 3.5 | selection: 3.75 | food: 3.5
Didn't eat there, and since n/a isn't an option, gave an average rating on food. Traditional pub atmosphere, but much larger than most. Good folks run the spot and prices were good.
181 characters

3.45
/5
rDev
-8.7%
vibe: 4 | quality: 4 | service: 4 | selection: 2
Good craic. Has a late license but often books lackluster bands to play. Service varies, but is usually pretty good for Ireland (don't expect New York style bartending anywhere in Ireland).
It can often be a bit difficult to hear the girl you're talking to over the music, which is bothersome.
Prices are poor by American standards, but typical for Ireland.
It attracts a lot of us NUIG students, but we're a fun lot. Luckily, it's not an old man's pub like Murphy's.
Despite its size, seating is usually difficult to come by at night, so you can count on having to stand with your friends whilst drunken tourists push past you.
Overall a good pub. I'd come back, but it's not my first choice. For a late license pub with great craic, try The Front Door.
763 characters
3.85
/5
rDev
+1.9%
vibe: 5 | quality: 4 | service: 5 | selection: 2 | food: 4
I liked this pub so much, I had to get a T-Shirt. The pub is huge compared to what one would think by looking at it from the outside. The interior is well kept and renovated, I would never guess it was so old.
The waiter was well attentive, and never left us hanging. Though the selection of beers was the typical run of the mill the service and food menu made up for the lack of beer variety. Speaking of food, I had the mussels and they were out of this world.
Overall the prices were reasonable, and the lunch menu was even more reasonable. This pub is so rich in history, it is a must see for you history buffs. The incentive is of course a freshly drawn pint of Guinness, Smithwicks, or Kilkenny!
703 characters

4.05
/5
rDev
+7.1%
vibe: 4.5 | quality: 4 | service: 4 | selection: 4 | food: 4
I spent some times in Galway. It's a beautifull medieval town on the very west coast of Ireland.
The King's Head was my favorite pub. Inside, it looks mediaval, the wall are made of stone and you can actually feel the medieval vibe in that pub. There is live band almost every night playing traditionnal irish music or rock'n roll
So the atmosphere is great!!
As every pub in Ireland, beer is very good
taken from the goireland.com
The Kings Head Pub is located on High Street. It is steeped in history, with original medieval fireplaces and windows dating back to the 16th century. Visit the pub and learn of all the stories and legends surrounding this historical venue.
Customers can enjoy 3 floors of bars, stages, snugs and seating set against a magnificent medieval setting making 'The Kings Head' one of the finest bars in the city.
The premises has disabled access.
875 characters

4
/5
rDev
+5.8%
vibe: 4 | quality: 4 | service: 4 | selection: 4
Visited in 8/2007.
Located at High Street, Galway. Boasting a rich history with origional medieval features from the 17th century, Kings Head is a landmark pub. The pub has live music every night and the longest running Sunday morning jazz session.
The Kings Head is one of, if the most well known pub in Galway. The first stop for many visitors to the City, it is also one of the busiest pubs in Galway.
Good selection of beers.
The kings Head is a must go destination if you are on a trip to Galway.
502 characters
3.45
/5
rDev
-8.7%
vibe: 4 | quality: 4 | service: 3 | selection: 3
First off, when I was over there, the euro was like $1.35 or something and being a student at NUIG that is really expensive to me. I really liked this place, and it added a very nice atmosphere, but it did have an "American" influence, noted by music and patrens. The overall structure of the building was very cool, and skattered around was stories about the history and the name etc. There were better more "Irish" pubs around the area, but this was a nice place to enjoy some free time. I must say that they are very respectful of beer over there and insure that you don't get in trouble. Don't drink and review.
615 characters
3.98
/5
rDev
+5.3%
vibe: 4.5 | quality: 4 | service: 4.5 | selection: 3 | food: 4.5
A great pub to visit in Galway. Is way bigger than what it appears it would be from the outside. Big rooms with nice chairs and tables and fireplaces roaring. Upstairs is huge as well. There's a stage but nobody was playing when I was there. Went there twice, once at night and once during the day. Really crowded at night with the local college students. Daytime it was more of a restaurant, lunch spot with quite a crowd as well. Selection is average, about like what you would find in all of Ireland. Service was excellent, really friendly and helpful. Food was also really good. Well worth a stop any time of the day while in Galway.
637 characters
4.22
/5
rDev
+11.6%
vibe: 4.5 | quality: 4 | service: 5 | selection: 3.5 | food: 4.5
Didn't add this pub years ago upon my first visit, as it certainly didn't classify as a beer bar in my mind, and probably still doesn't. But what does in Ireland, by our standards? This is arguably my favorite pub in Galway City. I spend a *lot* of time here when I'm in town, and for good reason. The place is very large, has live music, fantastic bartenders, pours a good pint and the food is excellent. On my most visit to Galway I ate here nearly every day, even if it was just the soup and brown bread.
The King's Head can get quite crowded, but it's generally large enough to accomodate. During the day it brings in a nice crowd - many people reading the paper, watching a football game on the large TV, or just conversing over a pint. The bartenders, who are mostly female, are extremely efficient, friendly, witty, and happy to strike up a conversation. (And for you other men, most are very attractive too!)
Galway is largely a college town, so night time brings in the younger crowd ready to party. This may or may not be for you, but be forewarned. It's fun.
The soups and sandwiches here are fantastic. They have daily specials and everything I've ever eaten here has been really tasty. I recommend whatever the soup of the day happens to be, and they serve a large variety of sandwiches. Don't know if there's anything else in the way of food, but what I've had has always been quite filling.
Beers are typical Irish pub. Oh, and they now have a late license so they can stay open until 2 AM Thursday - Saturday. Just a fantastic place that I'll always go back to.
1,593 characters
3.63
/5
rDev
-4%
vibe: 4.5 | quality: 3.5 | service: 4 | selection: 3
This was the second pub that we visited in Galway on a recent trip with my wife. (The first was Quays Pub) A good blend of modern and old. Lots of dark wood and one good size fireplace that was nice on a cold, fall day. The fireplace is one of the first things you see as you enter. The bar is large and located to the left as you enter.
This place is large. Seats go all the way out back past the bar, nevermind the upstairs. (Which is where the toilets are located) It appears as though they have live music at night. We arrived in the afternoon and didn't see anyone playing.
The taps are the standards. Plenty of Guinness and Swithwicks, Murphys, Bud, Carlburg, Bulhmers and MGD. The wife and I both stuck to the Guinness. Overall a warm, inviting pub in one of the best cities in Ireland.
801 characters
3.79
/5
rDev
+0.3%
vibe: 4.5 | quality: 4 | service: 3.5 | selection: 3.5
One of Galway's most happening pubs. The atmosphere is definently hopping. It is a good place to have a few pints, engage in lively conversations with native Irish folks, and most definently, and find a hook up with one of Galway's finest lassies. Ah, the good times! Also, if you wanted to catch a game of footy, this was the place to see it, with a monster telly downstairs. The selection of beers is typical of the pubs in Ireland: three taps of Guinness, Carlsburg, a couple of British beers, a cider like Bulmer's, and a crappy tap (usually occupied by an American beer). The service can be good, on an off day. However, the pub was usually filled with people and you had to wait for a while for a new round. This is a pub to check out in Galway, especially on a rainy day!
778 characters
3.84
/5
rDev
+1.6%
vibe: 4 | quality: 3.5 | service: 4 | selection: 4
OK picture if you will a music hall, say Paradise in Boston, Magic Stick in Detroit, 9:30 Club in DC...anyplace that's a stage/bar atmosphere. Picture several different rooms, each with its own vibe, and it's own bar. Throw in second and thrid floors with pool tables and more bars. Oh yeah, also picture all that in a building that dates back to the 16th century with medieval fireplaces and tapestries. THAT's King's Head.
It was surreal watching a top 40 cover band playing here, there's an aura that this place is a lot older than you, and will be around long after you're gone. Priceless works of art should be stored here with the nations heirlooms, instead you have three floors of drunken university students and young tourists dancing and spilling beers.
There was a pretty good selection of beer here from what I heard. I drank only Guinness while I was over there, about 16 gallons worth when it was all said an done, but that's neither here nor there. Most people were drinking anything wet in a cup that was called beer, people just wanted to get drunk and hook up, not that that's a bad thing mind you, but certainly no beer advocates (save for myself and hamiltonliam.)
It was a fun time and definitely worth a visit if you find yourself in Galway. My experience was tarnished as I slipped in urine and got it all over my pants, forcing me to stay in the bathroom for an eternity trying to dry myself off before making the walk of shame out of the bar with my new stain and stench of piss. Other than that it was a great time.
1,552 characters
The King's Head Pub in County Galway, Ireland
3.78
out of
5
based on
17
ratings.