Pale Rider
| Kelham Island Brewery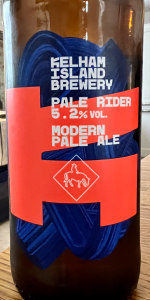 BEER INFO
Brewed by:
Kelham Island Brewery
England
,
United Kingdom
kelhambrewery.co.uk
Style:
English Bitter
Alcohol by volume (ABV):
5.20%
Availability:
Year-round
Notes / Commercial Description:
No notes at this time.
Added by BeerAdvocate on 03-15-2005
Ratings: 12 | Reviews: 8
Reviews by CBFanWish:
2.77
/5
rDev
-26.7%
look: 2.5 | smell: 3 | taste: 2.5 | feel: 3 | overall: 3
This was on specail at the Old Toad the other night.
Poured a clear pale golden yellow colour with absolutly no head. The aroma was that of apples, grains and floral scents. The taste was almost like cider. Strong on the apple taste. Not something I would recomend. CAMRA calls it the champion, but I have to disagree.
319 characters
More User Reviews:

3.23
/5
rDev
-14.6%
look: 3.5 | smell: 3 | taste: 3 | feel: 4 | overall: 3.5
A 500ml bottle with a BB of Dec 2012. Picked up from Asda a little while back. A former Supreme Champion Beer of Great Britain. The label looks like it was put together with dodgy clip art.
Poured into a tulip pint glass. A hazy golden-amber hue with good carbonation. Forms a smallish head of frothy white foam that collapses rapidly. Aroma of caramel malt with notes of earthy yeast, stewed hops and a whiff of alcohol in the background.
Tastes of caramel malt with a dry, bitter finish. Notes of earthy yeast and stewed hops with a rather harsh quality. A spicy bitterness upon swallowing, along with a solventy hint. Mouthfeel is smooth, tingly and dry, with good body. Pretty astringent. Aftertaste of yeast and stewed hops.
Disappointing - I guess I was expecting this to be better. I imagined a pale ale with delicious aromatic hop flavours; instead this is decidedly average. Aromatic hops are virtually absent, while yeast and stewed hop notes abound. Good body, but that's about the only plus. Not sure I could really recommend this, but perhaps I'll try it on cask sometime and revise my opinion. At any rate - subpar.
1,132 characters
4.47
/5
rDev
+18.3%
look: 4 | smell: 4.5 | taste: 4.5 | feel: 4.5 | overall: 4.5
Not as bitter as some beers this one slips down a treat.
Looks great with a nice yellow colour and a smooth creamy head that lasts as I expect from a cask beer. Totally flat this one has nice gentle hop flavours with a hint of peach on the finnish.
Had it in a bottle and i wasn't impressed, I just can't get used to real ale with carbonation, and I only buy real ale in bottles when going to a party.
403 characters
3.97
/5
rDev
+5%
look: 3.5 | smell: 4 | taste: 4 | feel: 4 | overall: 4
Very suprised to see how few times this beer has been reviewed. The breweries most famous beer and a former winner of CAMRA cask beer of the year (2004), I just assumed it would have had more BA's clambering for it's virtues.
This 500ml brown bottle with a best before the end of date Sept 2009 was poured into a Corsendonk stemmed tulip glass (twice) with only a month remaining before it turned into an aged beer!
One of the palest UK beers I've ever seen or had. Golden pale, lager/pilsner looking, clear, bright and clean. The pure white head was larger than your average pilsner and stayed a whole lot longer too.
The aroma was sweet biscuits, freshly cut wheat and an English country garden.
The taste was a well balanced mix of hops, malts and yeast.
The 5.2% was well hidden and only arrived towards the end of the mouthfeel. A very pleasant beer in its bottle form, as scored in this review: I have had it on cask too, it is even better in that form.
965 characters
3.95
/5
rDev
+4.5%
look: 4 | smell: 4 | taste: 4 | feel: 3.5 | overall: 4
Had on cask at The Castle near Farringdon station in London.
A- Pours a nice amber with an off-white head, no haziness.
S- Subtle hops aroma, a little maltiness.
T- A nice subtle sweetness with a nice dry finish.
M- Medium on the tongue, not too dry, just enough carbonation.
D- A good example of an English Pale Ale, very nice.
333 characters
3.88
/5
rDev
+2.6%
look: 4 | smell: 3.5 | taste: 4 | feel: 4 | overall: 4
On cask at the GBBF, 2011.
Bright gold with an oily film head. Musty, skunky nose.
Honey and musk melon malts, a sour honeydew hit, with citrus and sap hops.
Oily sweet comeback and fruity linger. Medium, chewy, sticky.
Creeps up on you. Good balance, not too heavy on the IBUs. Not un-American. Deserves attention.
319 characters

4
/5
rDev
+5.8%
look: 4 | smell: 4 | taste: 4 | feel: 4 | overall: 4
4.3
/5
rDev
+13.8%
look: 4 | smell: 4 | taste: 4.5 | feel: 4 | overall: 4.5
Kelham Island Pale Rider is very rare to find in the states. I had the opportunity to have this pale ale, on cask and on tap, last year at the Old Toad in Rochester, NY. Unfortunately, the review (below) by Beer Advocate "CBFanWish" was for the Southern Tier version of this beer. The owner of Kelham Island Brewery, along with the Old Toad, has made an arrangement with Southern Tier to make this beer with the same ingredients as the original and back in March they were still in the "trial and error" stage. Currently, the "American made" version of this beer is very close to the original.
The imported genuine Pale Rider is complex pale ale with a well balance of malt and hops with a hint of fruit. The light hoppiness is typical of the UK pale ales, but there is a full flavor finish to this golden pale.
It is very apparent why this pale ale was voted 2004 Champion Beer of Britain.
898 characters
3.53
/5
rDev
-6.6%
look: 4 | smell: 3.5 | taste: 3.5 | feel: 3.5 | overall: 3.5
Having tried this award-winning beer on cask on many occasions (incl. at Fat Cat, Kelham Island's brewery tap), finding its bottled version in Sheffield adds to my expectation of this fine brew. Looking pretty clear without sediments from the outside, I suspect it is filtered. BBE July 2007, served cool in a pint glass.
A: slightly murky, pale tawny in colour, the white pillowy beer head retreats slowly to a thin foam, on top of a moderately fizzy body.
S: malty and sweet, actually like malt candy plus melted rock sugar with a touch of boild green asparagus(?!); a flow of floral scent of hops (a bit like Styrian Goldings, yet also a bit like First Gold--my random guess) surrounds the maltiness in the centre, but not sufficient to make it a hoppy ale on the nose.
T: crisp, floral hoppyness (Styrian Goldings?) and a tangy edge of citric zests follow the initial grainy+malty entry, turning drier and more zesty-bitter as it settles... more chewy, bitter hops quietly rub the back of the palate, while an intriguing tinge of dried grains blends well with that dryish hoppyness to result in a bitter-sweet, yet clean, finish.
M&D: lightly fizzy, not as smooth as the cask version (of course), yet the body is really light that one'd easily forget about its alc. strength. Compared with the cask version this one is beaten hands down, but the nice hop element and lingering dry-ish palate ensures its quaffability. By all means try to taste the cask-conditioned version, though.
1,486 characters
Pale Rider from Kelham Island Brewery
3.78
out of
5
based on
12
ratings.