Bound Beverages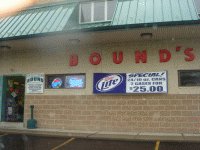 PLACE INFO
Type:
Store
308 Easton Rd
Warrington
,
Pennsylvania
, 18976-2418
United States
(215) 491-6600 |
map
boundbeverages.com
Notes:
No notes at this time.
Added by NeroFiddled
Reviews: 7 | Ratings: 10

2.64
/5
rDev
-38.6%
vibe: 4 | quality: 1.5 | service: 2 | selection: 4
So, I've gone here a handful of times over the last ~2 years... it's a nice looking place, bright and clean. A decent amount of cold storage area, split between craft and macro. They have a large selection of craft beer. That's the good...
Now the bad... they have a lot of out of date beer. I first noticed this about a year ago and I politely pointed it out to an employee. They looked at me and said, "OK" but It was clear they didn't plan to do anything. I went there again recently and I saw even more out of date beer. I probably won't go back... there are other beer distributors near me I trust more.
610 characters
4.44
/5
rDev
+3.3%
vibe: 4 | quality: 4.5 | service: 5 | selection: 4
The drive-thru rocks! My neighbor and I both get half kegs, CO2, and Propane swapped here at the drive-thru. The guys are fast and efficient.
If I'm in the mood to tap up some craft brew, I head on in to their walk-in cooler that has 2 rooms. One for the standards and a few non-standard cases that the drive-thru guys grab from and then the keg room. There's a list of what the have in keg form hanging from the wall. There are shelves of all kinds of 1/6's and then there are 1/4's and 1/2's on the floor. If you don't see something you want, ASK THEM, they may have it in the other half of the building. If they don't they will order it and have it ready usually in less than a week, sometimes in a day or 2.
The craft case selection is above average, with some craft and seasonals always on display as you walk in and also visible while driving through. The walk around craft area has a good selection with prices that are decent.
936 characters

4.51
/5
rDev
+4.9%
vibe: 3.5 | quality: 4.5 | service: 4.5 | selection: 5
Great beer distributor in Bucks County, Pa. Cases & kegs only but great selection of both- by far the best selection of kegs I've ever seen. Last visit I saw sixtels of Bear Republic, Founders (including Breakfast Stout), DFH, Allagash- just tons of great stuff. Also for those with kegerators, they have a selection of parts & replacements. For cases, there is also an excellent section for craft & imports in addition to the standard BMC fare. Service has always been super friendly & helpful. They have a website that is updated fairly regularly and a Facebook page and if you are looking for something specific you can email them or post on their wall and they will let you know if they carry it or will special order if possible. Prices are definitely reasonable even when compared to Jersey, especially when comparing per bottle prices vs bombers/4 pack pricing (recently Life&Limb, FW Double Jack, Founders beers). Oh and as others have mentioned, there is a drive-thru! Highly recommend a trip to Bound Beverages.
1,021 characters

3.8
/5
rDev
-11.6%
****Update - Revised Review****
Went here a month ago and found a Sierra Nevada Stout that was on the shelf and had a date on the case of noverber of 2008 - wow. Wasnt to bugged out about it, thought maybe it was a one time goof.
Then I just bought a case of Celis White and the case appeared dusty, but I couldnt find a date on the packaging. Bought it anyway and found the date on one of the bottles that was well hidden to be a best drank by 9/09. Wow this brew is old. Not only that but the building is always open and never conditioned, so the brews in there go from being 40 f in the winter to 85-90 f in the summer. Obviously if a brew is a quick seller you have no problem, as it moves off of the shelf quick enough. But if it is a rare find or hard to find craft brew (something that sits longer) buyer beware. This place has no problem letting top tier brews sit for over a year in a building that is unconditioned (very cold then very hot). Which for me I cant trust the brew is as good as the brewery intended. So sadly I am going to have to pass on this place for craf brews. Maybe get your brews that fly off the shelf fast here instead. Not worth the risk though. Seeing a Bell's brew sit on the shelf is tempting, but its probably been there for a long time.
***
Went here recently on a very cold day. The place is located nicely to get in and out of, and has a drive thru for picking up - very sweet. Becuase of the drive thru the place is open, so the wind and cold kicks on through. Was greeted by a pleasant worker, who asked if we needed help. As you stroll trough you right away see a nice display of kegerator equipment for sale and priced very reasonable. Then they have a craft beer section towards the back side which has a very nice selection of good cases with some that are hard to find in this area. They have prices on the boxes or on the shelves and are very resonable with their pricing. The place is well laid out as well and is easy to just browse through. Nice selection, nice pricing - if you need to buy cases or sixtels of brew this is the place...just remember to dress warm in the winter.
2,130 characters

4.45
/5
rDev
+3.5%
Well I have heard of this place but never went in. I mean were else can you find a drive thru beer distibutor? That alone scores 5 points. Seems like your average run of the mill distrubutor. There is a selection that has a huge sign above the little room saying CRAFT BEER !!! with an arrow pointing down. Decent selection of beer better than anything around our immediate area. My wife and I picked up a variety pack of southern tier very hard to find around here and a Sam Adams mug. The case selection is kind of average ok maybe slightly above average but I have never seen as many craft kegs for sale at a distributor before. Very impressive keg selection. The cashier was very friendly and a little out of it long day I guess. If there is something hard to find in the area I will definetly try this place first.
819 characters
4.7
/5
rDev
+9.3%
Okay, other than having to buy a case and not six packs, this place is the best in PA!!! The have a wide variety from micros to imports. They also carry a good supply of variety pack cases which is really nice.
The staff is always willing to offer any help you need (if you decide to walk in)...they have a drive thru if you know exactly what you want. I can't resist going in tho. It's like the beer version of Home Depot; you can walk around for an hour browsing the isles.
Their prices are really really nice considering PA. And if you need or want something they'll order it for you. (Thanks for the case of Vertical Epic.)
And did I mention they have a drive thru?
679 characters
4.5
/5
rDev
+4.7%
Stopped in last night on the way home from work. What a great place, I can't believe that I've spent the past year going elsewhere when this place is maybe 3 minutes out of my regular route back to the city.
It's a big warehouse with everything neatly stacked. It flows pretty nicely with the macros very prominent in the middle and front. Off to the side there is a connected room with all of the imports and a good selection of Belgians and Germans and for whatever reason a lot of Mexican offerings not normally found. This room flows right into the American craft offerings. Lots of Rogue and Stone and of course the local PA brews were very well represented.
There are price lists all over the place and one of the workers even came up to me and asked if there was anything particular that I was looking for. He said that they can order anything and have it usually within the week.
That sealed the deal and this is my new "go to" place.
948 characters
Bound Beverages in Warrington, PA
4.3
out of
5
based on
10
ratings.