Brewer's Outlet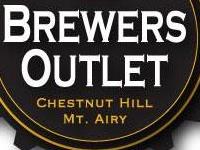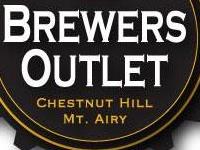 PLACE INFO
Type:
Store
7401 Germantown Pike
Philadelphia
,
Pennsylvania
, 19119
United States
(215) 247-1265 |
map
mybrewersoutlet.com
Notes:
No notes at this time.
Added by NeroFiddled
Ratings: 7 | Reviews: 7
Reviews by jmatthew:
2.85
/5
rDev
-25.2%
If you find yourself here, it's because you live in Mt.Airy/Chestunt Hill, hopefully not because you sought it out. It's mostly like any other Philly distributor, but they do have a larger selection of micros and imports than is typical, which is convenient if you live nearby.
They've improved lately; the place is a bit more organized. Only 80% of the beers in stock are priced on the wall or on the list by the register, but if you ask the cashier they'll help you out. Turnover on more obscure micros is not high, but it's a climate-controlled stone building without windows, so I think their stock keeps fairly well. Just be cognizant of the style and its date. I haven't personally had any problems with freshness, but I often make my more exotic purchases elsewhere. I've never bought any of the Belgians in the corner, because they're over-priced, and by the looks of it no one else has either. Service is non-existent. None the less, it's not an altogether bad establishment, but only worth stopping by if you're in the immediate area.
On an anecdotal note, I ventured into the walk-in cooler one winter day only to be confronted by an empty room with a large man in a tiny chair watching the tube. Not entirely what I was expecting, but it sums up the type of place you can expect.
1,297 characters
More User Reviews:

3.72
/5
rDev
-2.4%
vibe: 3.5 | quality: 3.75 | service: 3.5 | selection: 4
This store is large and sells almost exclusively cases and 12 packs. The selection of craft beer from around the country is quite good, although I noticed that some of the beers that they have in quantity are quite old.
220 characters
4.34
/5
rDev
+13.9%
vibe: 4.5 | quality: 4 | service: 5 | selection: 4
This should be obvious, but the reviews from before '08 are irrelevant, and the more recent A's are well deserved. The more mainstream craft beer moves quickly, and the selection is very good. There are only a few dusty imports that I'd be concerned about (just consider the style, and whether it's bottle conditioned, for anything visibly aged). Paul and his staff are friendly and helpful.
Compared to somewhere like Bella Vista, there's a smaller selection of the more esoteric stuff. For example, you won't see LA Angel's Share, but you will find Port Wipeout and Hop 15. The difference probably isn't a lack of willingness, but the demand here in NW Philly is holding them back - there just isn't the critical mass of hardcore beer nerds to sell whole cases of something like Angel's Share. (Mixed cases would help solve this problem, but I'm not holding my breath for PA regulations to catch up with the modern beer market.)
931 characters
5
/5
rDev
+31.2%
I've been going to Doc's World of Beer for ages (great store!). You can say that I'm very loyal to one of my favorite beer proprieters. I discovered Brewers Outlet this past weekend and I can honestly say it was THE BEST service and selection I've experienced at a beer store in a long time. Paul (the owner) and his wholesale distributer (forget name, sorry) were engaged in conversation about new craft beers ready to hit the market and they didnt flinch when i asked them questions about the Blue Point Hoptical Illusion and Bell's Hopslam (they have both in stock...btw). It's a mecca for beer enthusiasts. You must visit!
626 characters

4.35
/5
rDev
+14.2%
Well the wife and I had a nice afternoon going to Earth Bread and McMeniman's. So on our trip home we see this place and said ah let's pick up a couple of thing's. First thing I must say is this place had a shit load of beer from different breweries. A much better selection than anything I have at home here in Levittown. We must have spent a good 45 mins just looking for different varieties. Anyway we ended up walking out with a Founders variety pack and Lancaster variety. I mean can you believe that we can not get anything from Lancaster Brewing were we live in PA. Pretty sad. Anyway all the main macro's are in front of you as you walk in that fill about 3 quarter's of the store. The other quarter which is to your left is all craft. Needless to say this is simply the best place we have seen outside of our distrubutor's that sell alot of different beers.
866 characters
3.65
/5
rDev
-4.2%
In downdown Mt. Airy on Germantown Ave. Plenty of parking! The place is much bigger than what you'd expect by looking at it from the street. It's actually a warehouse. It has all of the macro's and import macro's you'd expect at good prices. Also has at least a decent selection of imports (I didn't look too thoroughly, so don't quote me). It has an EXCELLENT selection of US micro cases. I would guess at least 50+ types and it may be more. Plenty of locals such as Victory, Yards and PBC as well as the larger micros such as Dogfish, Lagunitas, Abita, etc. I was surprised at the selection. Prices for these were on par with other distributors in the area and less than those that are on the main line. I did not ask for any assistance and nobody there offered any.
768 characters
2.76
/5
rDev
-27.6%
vibe: 1.5 | quality: 2 | service: 3 | selection: 4
On the borderline between Germantown and Chestnut Hill, this unassuming corner building is much bigger inside than it appears to be from the outside.
There are three sections -- to the left, soda and water, to the middle, macro heaven, and to the left, micros.
A quick note on the macros -- they have almost any obscure macro label you're looking for, the cheaper the better. Haven't seen Golden Anniversary in Philadelphia in years? You'll find it here. Worth just to look around to see what obscure brews are lying around for 6 bucks a case.
But I assume you're reading this for the selection of micros and imports. There is one row of mostly german and british breweries, Bitburger, Smithwicks, you get the idea, and then two rows of US micros and a little corner of Belgians. Very good selection -- but there's a catch.
Cases are all over the place, with no rhyme or reason, even to the point of having one brewery's selections scattered around here and there. There is a serious layer of dust on some of these boxes....the Belgian section alone, some of those cases have been there going on two or three years -- because I've seen them sit there with my own eyes. I've purchased several cases, of all styles here, only to find the beer within was long past it's prime, damaged by heat, time, and light.
All over the place, cases are broken into, single bottles are missing, things like that. Sure, you'll find a case of Dreadnaught, but it'll be under a Dogfish Head case, be from July 2002, and only have 11 bottles. Oh, and the list price will be $89.00.
Pricing is another huge problem, as nothing is clearly marked. There is a huge board on the wall, but it's been there for years, half the breweries aren't listed, and those that are, the prices have likely changed. You'll have to ask the cashier for prices, or for a new price list (sometimes they have one). Because there's always at least a dozen people in line for lottery tickets, they have installed recently a "beer only" window, which speeds things up a bit.
There's a lot of potential here, but I just don't think they do good enough business in micros to create the turnover they need. This is, sadly enough, the sort of place that if you buy a case of Miller Light, it probably just got off the truck yesterday -- but if you want an unpasturized, hoppy, fresh micro...well, you'll find it, but it won't be any good to you anymore. In short -- fantastic selection...but I wouldn't want to drink any of it.
I think I've officially given up on this place, but if you live on the Philly border, and this is your closest distributor, you should stop by anyway. For all the frustration, you might just find a great aging-friendly Belgian in a far corner (as long as you trust the aging process here, and you have the green to buy a whole case). Perhaps you'll have better luck than I've had.
P.S.: If you're into spotting local celebrities (and I don't know why you would be), Temple coach (and craft beer fan) John Chaney can be found hunting around in the good beer section on a fairly regular basis.
***
Why To Make The Scene: Because the other distributors are closed -- or you want a case of some three-year old, dusty Aventinus. Quantity, not quality here, folks.
3,245 characters
Brewer's Outlet in Philadelphia, PA
Place rating:
0
out of
100
with
7
ratings