Little Ortino's Restaurant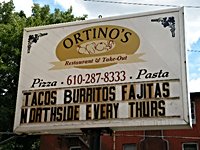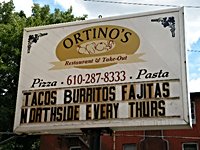 Bar, Eatery, Beer-to-go
800 Main St
Schwenksville
,
Pennsylvania
, 19473-1016
United States
// CLOSED //
Notes:
Reviews by TheLongBeachBum:
TheLongBeachBum from California
3.58
/5
rDev
-4.8%
vibe: 3 | quality: 3.5 | service: 4 | selection: 3.5
Started out a "ride around" pub crawl last Sunday with a gentle drive out to Schwenksville. It took a little finding but despite BA Erica's frustrations when we were less than a mile or so away, a cool head, some expert map reading and our combined tingling beer senses, soon had us parked in a lot just off the Route 29 / 73, or Main Street as it is called in Schwenksville, at the side of Ortino's Restaurant & Take-Out (Pizzeria).
Not much to look at from the outside, but a large illuminated sign which uses those old style stick on letters so often seen outside old Cinemas for the film titles, proudly announced Oktoberfest and Pumpkin beers. On the sidewalk a Pilsner Urquell Sandwich Board advertised the food and beer specials too, just in case you missed the other signs. The exterior is about 30 feet wide and is a mixture of yellow painted rendering, exposed brick wall with two large windows, one to the left on central entrance has the Bud symbol and the words Pasta + Pizza + Salad + Steaks + Wings painted on, it also has a large red neon sign that announced that it was 'OPEN'. The window to the right has the word "Dining Room" painted large on it. In between the two windows a full glass aluminum framed door has the words Ortino's painted on it.
Once inside it has the immediate air of any normal Take-Away Pizzeria. The kitchen it to your immediate left as you enter, several people were shouting above the crisp rings of frying food and other culinary noises. Smells of pasta and pizza with deep fried food hung thick in the air. Several people were milling around waiting for orders, so it was difficult to absorb the surroundings until I got chance to walk past this serving area towards a couple of coolers. The entire kitchen runs behind the high serving counter to your left when you get inside. A couple of coolers to the right form a walkway which lead you to the back wall, where a couple of more coolers face you. Past the coolers on your right by the door and once facing the ones on the back wall, a small gap to your right between these leads you into an area that sits behind the left hand coolers. This is a carpeted area with half wood paneling which houses around 5 or 6 furnished tables, it's a tight squeeze but it seats around 20 or so people if you want to "eat in".
Neither Erica or I were hungry, we just wanted beer, so we inquired if it was to OK to just drink. A very helpful chap, who could have been the owner/manager maybe, told us yes and to take a seat and peruse the coolers but to also take note of his 5 draft brews on tap. One of the 5 was a Pumpkin Ale from AB but it had just kicked. The coolers on the right contained many 6-Packs of regular macro and local micro brews as well as Sodas. The coolers on the back wall had the most interesting brews, including; all the Chimays in 750's, Rodenbach Grand Cru, Victory 750's, the odd Ommegang, Dogfish Head, Avery, Great Divide, Young's, Biere du Boucanier, Magic Hat, Black Sheep Holy Grail, Sam Smiths, Sam Adams, Duvel, Sierra Nevada, Flying Fish, St.Bernadus, Hoegaarden et al. For a small-ish place this had a very surprising beer range, some effort has been put into it. Maybe I'm being a little harsh with the 3.5, it has a very nice varied range of macros and micros but I don't think it quite gets a 4.0, close though.
I shared a DFH Punkin and a 750 of Rodenbach Grand Cru with Erica, the prices seemed reasonable and the Service was attentive.
The atmosphere was OK, sort of Take-Out Pizzeria meets small family Restaurant mixed with a chique Beer Store. Nothing special but clean. I get the impression that it would be better to have a few beers with sit-down food here to get the best from Ortino's in Schwenksville, assuming you can get a seat later on that is. If you're on Rte. 29/73 it is well worth a pit-stop if you're feeling thirsty, or hungry, or both. Sells both food and beer to go too.
Thanks to -e for the patient ride out here LOL.
Last Visit: Sunday 30th October, 2005.
Nov 06, 2005
More User Reviews:
Pete9094 from Pennsylvania
2.4
/5
rDev
-36.2%
vibe: 1 | quality: 3 | service: 3 | selection: 1 | food: 4
Now a BYOB. Great pizza. Kind of sad because they always had great draft and 6 pack offerings. Try their other place in Zieglerville if you want a decent craft selection.
Oct 04, 2015
jmdrpi from Pennsylvania
3.84
/5
rDev
+2.1%
vibe: 3 | quality: 4 | service: 4 | selection: 3.75 | food: 4
this is a small little pizza shop and Italian restaurant. tiny inside, there are only a few tables. But they have a good six pack cooler of decent craft beer. the food is good - both take out and eat in.
Jun 24, 2014
Bartrash from Pennsylvania
4.03
/5
rDev
+7.2%
vibe: 3 | quality: 4 | service: 4.5 | selection: 4 | food: 4
Don't blink or you will miss the place. Location is a little tough at the wrong time of day. Overall a great place to stop if you need something quick. The coolers are full of plenty of American craft selections as well as some nice imports as well. Picked up a 2008 interlude right out of the cooler. This place is a bit of a sleeper by looking at if from the outside. If you can catch John the owner while you are there it is worth the time to strike up a conversation. John is a beer nerd like us and has been known to bring out stuff from the back if you know your beer. Worth the time and also check out their other location Northside its just up the road a bit.
May 21, 2011
weeare138 from Pennsylvania
4.05
/5
rDev
+7.7%
vibe: 4 | quality: 4 | service: 4 | selection: 4 | food: 4.5
The atmosphere is very nice and quaint. Some Italian decor, along with some signed photos of guests who have appeared on QVC with Linda Ortino. The small dining area can fit a little more than 20 on a given night. There are about 4 beer coolers with a nice takeout selection of takeout differing from time to time. You'll see Victory, Dogfish, Penn, Avery, Great Divide, Weyerbacher, Magic Hat among many others, including a decent Belgian and Mexican selection.
Service is always helpful and well informed on the changing specials, food selections and draft selections. If they have not tried the beer, or if you ask politely, they will give you a small sample of a current draft choice.
The selection is very nice as far as taps are concerned. Usually 4-5 changing micros and they are usually all winners. Food selection stays in the Italian food category, including my wife's favorite, the tortellini in rose` sauce. I suggest the lasagna with a side of sausage. Very reasonable and generous portion sizes. You should save room for one of Linda's wonderful homemade desserts. I've never had one that I wasn't crazy over. Though a tad small for a restaurant, Ortino's offers some nice bang for the buck...both food and beer!
May 24, 2005
NeroFiddled from Pennsylvania
4.18
/5
rDev
+11.2%
vibe: 3 | quality: 4.5 | service: 4.5 | selection: 4 | food: 4
Just up Route 29/Gravel Pike from Collegeville in the tiny town of Schwenksville is Ortino's. It's a small but comfortable, deli-like restaurant with 5 beers on tap and a wide selection of foods to choose from. There are appetizers, salads, pastas, burgers, steaks and hoagies, and strombolis and pizza as well as specialty entrees. And the prices are reasonable (a bacon cheeseburger is just $3.75; a 9" cheese steak is $4.75; a 16" pizza is $8.50). There's a large, 3-doored cooler as you walk in that's loaded to the gills with 6 packs, and all of the prices are clearly marked. Some brands that stand out in my memory include Abbaye Val Dieu, Wittekerke, Victory, Dogfish Head, Old Dominion, Flying Dog and Leffe. A few steps further is a cooler that includes singles. The singles selection isn't quite as expansive as the six-pack selection, but there's still plenty to be had during lunch or dinner, and some larger bottles to take home. Some rarities are displayed up front (Victory Hop Wallop, Avery X-Mas, La Trappe), but none of those are currently in stock. But the display shows that they get some really special beers in from time to time, and that their selection varies. It's not a great place to go if you're shopping for beer, but it is a nice stop for a quick lunch or dinner (Mondays 4-9pm, Tue/Wed/Thurs 11:30-9pm, Fri/Sat 11:30-10pm, Sun 12-8pm); or if you happen to run out of beer.
Jan 31, 2004
Little Ortino's Restaurant in Schwenksville, PA
Place rating:
3.76
out of
5
with
7
ratings