Mariachi
| Cervecería Centro Americana, S.A.
BA SCORE
72
okay
11
Reviews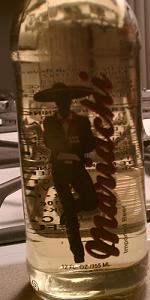 BEER INFO
Brewed by:
Cervecería Centro Americana, S.A.
Guatemala
cerveceriacentroamericana.com
Style:
Light Lager
Alcohol by volume (ABV):
not listed
Availability:
Year-round
Notes / Commercial Description:
No notes at this time.
Added by socon67 on 02-06-2011
Reviews: 11 | Ratings: 16
1.88
/5
rDev
-26.8%
look: 2 | smell: 1.5 | taste: 2 | feel: 2 | overall: 2
Poured from a 12oz bottle into a US tumbler pint glass.
A: The beer is a pale yellow color with a short white head that fades very quickly and leaves a thin lace on the glass.
S: The aroma is of light malts, adjuncts and a faint touch of hops.
T: There starts out bready with flavors of adjuncts and a light malt character. Then some mild sweetness comes in. The hops presence is very mild and provides a little bit of balance. The after-taste is slightly sweet and slightly bready.
M: Crisp and a little smooth, light body, medium carbonation, clean finish.
O: Not very flavorful, goes down easily since there isn't much to the beer, not filling at all, very mild kick, decent representation of style, it's a typical fizzy yellow beer imported from south of the US.
779 characters

2.89
/5
rDev
+12.5%
look: 3 | smell: 2.75 | taste: 3 | feel: 2.5 | overall: 3
I spied this with my little eye in Contry Garden Six-Pack's cooler recently and, like a previous reviewer, decided that eve if the beer wasn't any good, at least I would get a kicky sunshine yellow cap for my collection in the bargain.
I do not much care for the extant picture as it is very hard to see the mariachi dancer of the label when the bottle is empty. A clear, light-yellow beer in a clear bottle?!? Hmmm. I had a moment of a finger of fizzy, bone-white foam that wilted in today's heat. Nose smelled of grassy hops, probably Saaz, but it was not skunked. Mouthfeel was medium and the taste was mild, slightly grassy, mostly unobtrusive. Finish was crisp, dry and refreshing, but water might do just as well. This was a novelty for me and it was a worthwhile novelty, but not much beyond that.
806 characters
2.8
/5
rDev
+8.9%
look: 3 | smell: 3 | taste: 2.5 | feel: 3 | overall: 3
Poured from a clear 12 oz. bottle. Has a light golden color with a 1/2 inch head. Smell is a bit skunky, lots of grains. Taste is light, mild, some grains, a touch of malts. Feels light in the mouth and overall, while nothing special, really ain't that bad as far as light beers go.
282 characters
2.71
/5
rDev
+5.4%
look: 4 | smell: 3 | taste: 2 | feel: 3.5 | overall: 3
Random liquor store find, this was in a little bucket at the register for 99 cents. The yellow sunburst bottlecap was reason enough to buy it.
Pale straw yellow with stray trails of rising languid bubbles. Billowing head of white foam, upwards of 4 inches. Creamy soft surface texture, some concentric lacework rings in the glass.
Smells bland... cardboard, dextrins, clear bottle malaise. Sorely in need of a lime wedge, sadly.
Papery and dry, wet hay, cereal grain. Somewhat crisp and dry finish however. On a hot day in Guatemala, sure i'd drink this. After a squirt of lime juice, it took the bland flaccid edge off a little, but wasn't a huge improvement. Not bad to wash down some costillas de puerco.
711 characters
3.48
/5
rDev
+35.4%
look: 3 | smell: 2.5 | taste: 4 | feel: 4 | overall: 3.5
Appearance - Pours a clear pale yellow color with almost no head whatsoever.. and has very thin lacing.
Smell - The smell is very feint.. I get some feint aromas of corn and grains. That's it.
Taste - Very light and watered down.. Has a light corn flavor along with grains.
Mouthfeel - Has a very light body with little carbonation.
Overall - Honestly.. I don't know if I just obtained an old bottle or something, because I think it should be more carbonated than this (according to other reviews). But it is a very drinkable beer, no idea what the ABV is though..
568 characters
1.7
/5
rDev
-33.9%
look: 1.5 | smell: 1.5 | taste: 2 | feel: 1.5 | overall: 1.5
The reason I'm reviewing this is because it's disco'd (posted off) for 12.99 a case at my local corner store (which has one of the best selections in the NorthEast) because store is also within walking distance from a state college!
At first I was surprised that it got such a high rating, but then if one looks at it as a Corona alternative with a slice of lime (which is how we drank the rest of the 6 pk, then I'd add a whole point!
Yellow color, faint head, extra cold, pre-lime - lime sense, watery, drink fast with lime and its not bad ! LOL
So the question is: Will it last til the summer - should I buy a few cases for then or for a big tex-mex dinner !!
To put it in perspective, the last case I got at their bargain corner was Gritty's Halloween Ale for 13-14.99 ! If I had reviewed the Gritty - would have been a 3.1-3.6
in edit: I came here to find out its ABV - so its really might be low alcohol too .
924 characters

2.5
/5
rDev
-2.7%
look: 2.5 | smell: 2.5 | taste: 2.5 | feel: 2.5 | overall: 2.5
A: A very pale, watery brass color with a crystal clarity that has a washy, chalk white head that fizzes out quickly. A light misty rise of effervesce. Some washy snake band for lace. Pretty much what you would expect per style and nothing more.
S: The aroma has some strong indications of grains and corn along with some wet greenery. Again fairly basic, no frills, and in line with expectations per style.
T: The flavor was sweet corn meal and grains, fairly clean and crisp off the palate and fairly non-offensive. The flavor is light per style with some corn and green ears on the close.
M: light bodied, with no carbonation. Would of expected to be a bit sharper with a crisp bite but is rather lax and laid back.
O: Won't win over the craft drinker, but think this is much cleaner brewed then most American macro's so may find a niche there. Multiple mindless downer for those who like lawnmower beers and not being weighed down with a heavy malt base or shocked by flavors. Props for a cleanly brewed beer but ive had a sam adams light and iron hill light lager so I know what this style could potentially be and have some point of reference for comparison.
1,176 characters
4.12
/5
rDev
+60.3%
look: 4 | smell: 4.5 | taste: 4 | feel: 4 | overall: 4
Appearance – Golden Color
Smell – Like American style lager, like malt, a little corn, nice more than Corona.
Taste - Crisp with faint hops
Mouthfeel – Similar to American style lager with hints of a German lager
Overall – Had on a hot humid day after mowing the lawn. They went down easy and refreshing beer for those hot days when looking for a good drinking beer.
378 characters

2.06
/5
rDev
-19.8%
look: 3 | smell: 2 | taste: 2 | feel: 2 | overall: 2
The image on the bottle just screams "I'm a hipster!"
Pours a clear yellow color with lots of carbonation and a thin head into my glass. Is it a light lager? You betcha!
Cooked corn and sweet malt to greet the nose. I didn't honestly expect anything more.
Cooked corn and DMS? Hmm. It certainly has its' own "flavor" if we can even call it that. Bland.
Goes down like water and obviously, isn't far removed from it either. Cheap and thin.
I'll be honest: It sucks and no review can ever redeem the lack of effort that went into this brew.
545 characters

2.4
/5
rDev
-6.6%
look: 2 | smell: 2 | taste: 3 | feel: 2 | overall: 2
A: Very pale golden color and clear with a fizzy appearance and a fizzy white head that went to almost nothing rather quickly.
S: Slightly skunky with some husky grains somewhere int there. Bit of a canned corn smell too. Hops? Faint and not fresh.
T: Actually a mild toasted malt and bready flavor that did not offend my palate. Hops must be there to balance but do not give any real flavor to this one. Finish is sweet but not real clean.
M: Light body, almost watery, with a very fizzy carbonation not unlike a sprite or other soda.
D: May go down but not very easy and if it was cold I would drink it on a hot day over a corona but only if nothing else were around. It is one to pass over if you see it.
711 characters
2.35
/5
rDev
-8.6%
look: 2 | smell: 2 | taste: 2.5 | feel: 1.5 | overall: 3
Bottle is imported to US by Iron Horse Beverage of Melville, NY
A - Pours very clear yellow. Obvious carbonation. At first galnce reminded me of Easter egg dye.
S - Not much here. A little skunky, with some malt.
T - It is light for sure. Very little here.
M - Not liking the carbonation. Just too watered down, and yet the carbonation makes this like a cheap soda.
D - It is drinkable, but there are so many other options.
Slightly better than Corona. Avoid.
478 characters
Mariachi from Cervecería Centro Americana, S.A.
2.57
out of
5
based on
16
ratings.