Altenmünster Urig Würzig
| Allgäuer Brauhaus AG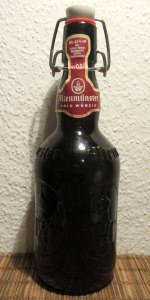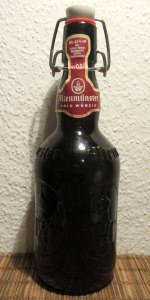 BEER INFO
Brewed by:
Allgäuer Brauhaus AG
Germany
Style:
Munich Helles Lager
Alcohol by volume (ABV):
4.90%
Availability:
Year-round
Notes / Commercial Description:
No notes at this time.
Added by BeerAdvocate on 01-21-2004
HISTOGRAM
Ratings: 14 | Reviews: 9
Reviews by SmashPants:

3.11
/5
rDev
-5.2%
look: 3.5 | smell: 2.5 | taste: 3.5 | feel: 3 | overall: 3
Bottle: funky and chunky 500mL embossed brown bottle, swing top.
Appearance: light golden colour with a fairly substantial head - reduces to a thin foam. Some lacing.
Aroma: some aromatic spices and honey sweetness, but it is countered by a slightly off doughy fug untertone.
Taste: fortunately the dough sourness is muted in the mouth, replaced by an almost biscuit malt sweetness. The honey and spices are faint but there to back it up.
Aftertaste: dissipates reasonably quickly, but lingers better than the average lager. The malts stay for a while.
Mouthfeel: light bodied and medium-to-high carbonation. Standard lager fare.
Overall: a reasonably good lager, a notch above the standard macro fare. The price attached, however, is proposterous - AU$60 a case of 12 x 500mL? Your joking.
796 characters
More User Reviews:
3.98
/5
rDev
+21.3%
look: 4 | smell: 3.5 | taste: 4 | feel: 4 | overall: 4.5
Big ass two liter bottle. Glassware was worth the price alone. Hope the beer is drinkable.
Unhinged the lid and was greeted by a large pop. That's a reassuring sign. Pours with a very large foamy white head. High carbonation and the beer has held up nicely. Clear straw color with plenty of tine bubbles decorating the brew. Head settles nicely with a bit of lacing.
Light golden malt aroma. Slight noble job spicyness but very faint.
Taste starts with a nice mild maltiness which gets cleaned up by a wonderful spicy hop bitterness. Finish is clean with a light sweet malt majing you crave another swig.
Despite the seemingly high carbonation the mouthfeel remains smooth and the beer not filling.
Crazy drinkability. That two little bottle is probably half done sips of this turn to gulps way too easily. This would be the bargain of the year for me. Am seriously considering another bottle.
900 characters
3
/5
rDev
-8.5%
look: 3 | smell: 3 | taste: 3 | feel: 3 | overall: 3
Comes in the usual heavy brown half liter Altenmünster bottle with the swing top and a label only on the neck. The label identifies this is "Brauer Bier Urig Wurzig" or "brewer's beer unusually spicey". The Russian import label calls this an Export Lager. Purity law applies, of course. Best before 9/26/04, I opened it on 4/21/04.
Pours an unremarkable clear pale gold under a two finger white head that lacks body but lingers a bit and leaves a few spots of lace. The nose is grainy (Adjuncts? Say it ain't so!), with a touch of metallic. The mouth is very prickly and light. The opening taste is tinny malt, with a bit of breadiness. This is followed by a crisp, almost harsh metallic hoppy bite. The bitterness lingers long in the aftertaste, but is really too metallic harsh. I can't say that I found this "unusually spicey." It's a pretty plain, average lager.
870 characters

2.45
/5
rDev
-25.3%
look: 2 | smell: 2 | taste: 2.5 | feel: 2.5 | overall: 3
A: Gold color with an off-white head, which didn't impress me and didn't last too long.
S: A permeating sweetness, which at moments seemed like honey, malt or something in between. Not annoyingly strong but I couldn't detect anything else.
T: At first, some malt flavors and a rather oily sense, which you could also describe as "round" I guess... When it goes down it leaves, ocassionaly, a light acerbic feeling. Overall, it didn't give me any excitement. Plus, no aftertaste, for better or worse.
B: Certainly on the light side, but the malty / oily character keeps it from appearing too thin. Light carbonation that still manages to give a pinch to the tongue.
D: You could drink a few of those, depending on how much you can stand boring beer.
756 characters
4.47
/5
rDev
+36.3%
look: 4 | smell: 4.5 | taste: 4.5 | feel: 4.5 | overall: 4.5
I believe this is the beer I last had about 25-years ago and have been looking for ever since. If you know where I can get it in the USA please make a posting and review here.
As I recall it was a smooth, well balanced, slightly sweet, light mouthfeel with a nice finish.
272 characters
3.75
/5
rDev
+14.3%
look: 3 | smell: 3 | taste: 4 | feel: 4.5 | overall: 4
Big thick bottle with swing top. My first impression was this beer is very light in nature and very un-carbonated. Went down very well. A great beer to enjoy with a meal seeing how it's so light in texture and taste. Would buy again but I can't recall if purchased in Munich or Frankfort.
288 characters

2.82
/5
rDev
-14%
look: 3 | smell: 2.75 | taste: 2.75 | feel: 2.75 | overall: 3
C / AVERAGE
11 characters

3.24
/5
rDev
-1.2%
look: 4 | smell: 3 | taste: 3.25 | feel: 3.25 | overall: 3.25
2.97
/5
rDev
-9.5%
look: 3.5 | smell: 2.75 | taste: 3 | feel: 3 | overall: 3
2.92
/5
rDev
-11%
look: 3 | smell: 2.75 | taste: 3 | feel: 2.75 | overall: 3
Bottle from Toom-Getrankmarkt. A little flat and unexciting. not much stands out here, just an average lager...I had higher hopes from this brewery, some minor herbal notes
172 characters

3.25
/5
rDev
-0.9%
look: 3.25 | smell: 3.25 | taste: 3.25 | feel: 3.25 | overall: 3.25
From bottle, Pours clear golden with nice white head. Aroma of mainly grass, cereals. Taste is Light malts bready, almost no aftertaste. Very drinkable.
152 characters
2.68
/5
rDev
-18.3%
look: 3.5 | smell: 3 | taste: 2.5 | feel: 2.5 | overall: 2.5
Swing-top 500ml fat brown bottle, BB 18/12/2007, served chilled in a large weizen glass.
A: bright, dark-yellowish straw in colour; a creamy and tight white froth sits on top of lively carbonation full of large bubbles.
S: a sharp doughy sourness and mild lager malt's cookie-ish and corn-ish aroma come hand in hand; a slight syrupy touch hides in the background, while hoppiness is quite muted. Refreshing enough, but not quite complex.
T: a slightly metallic and plastic touch comes with a very bland taste of lager malts and a faintly tart edge of a typical lager; the finish is short, with a residual touch of chemical sourness and pretty bland bitterness.
M&D: the body is very light and the mouthfeel is softly fizzy but also very thin; all in all, this beer is not interesting or delicious with some bad influence from inferior ingredients. Below average.
864 characters

3.49
/5
rDev
+6.4%
look: 3.25 | smell: 3.5 | taste: 3.5 | feel: 3.5 | overall: 3.5
Altenmünster Urig Würzig from Allgäuer Brauhaus AG
Beer rating:
3.28
out of
5
with
14
ratings