Altenmünster Winterbier Dopplebock
| Allgäuer Brauhaus AG
BA SCORE
82
good
90
Reviews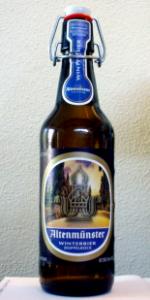 BEER INFO
Brewed by:
Allgäuer Brauhaus AG
Germany
Style:
Doppelbock
Alcohol by volume (ABV):
7.20%
Availability:
Winter
Notes / Commercial Description:
No notes at this time.
Added by Todd on 11-21-2007
Reviews: 90 | Ratings: 123

3.14
/5
rDev
-12.3%
look: 4 | smell: 2.5 | taste: 3 | feel: 4 | overall: 3.5
The aroma is dark malt with toffee and cream. The appearance is dark brown with a nice head. The flavor is like the aroma with a slight astringent taste. The palate is smooth. Overall it's good without being very remarkable. I would not buy again but maybe drink for free.
272 characters
3.12
/5
rDev
-12.8%
look: 3 | smell: 3.5 | taste: 3 | feel: 3 | overall: 3
1 Pt. .9 Fl. Oz. bottle poured into mug.
A: Very dark almost purple brown. Pours thin frothy head. Sediment at bottom of mug is apparent with a few CO2 bubbles.
S: Malts, barley, and a little bit of rye.
T: Sweet dark malts that have a faint cocoa quality. Contains an unwelcomed sourness.
M: Medium on tongue.
D: Body is mild, flavor is limited, but alcohol is surprisingly well covered.
389 characters

3.08
/5
rDev
-14%
look: 3.5 | smell: 3 | taste: 3 | feel: 3.5 | overall: 3
Poured from the .52 Gal, swing-top, bottle.
The beer was a clear, dark-amber colour with a very white, foamy head. It smells lighter than one would think that a bock should be. Very mellow malt and hop blend. The taste was slightly metallic for some reason, but ignoring that, the beer was slightly malty with a subtle hop flavour. Nothing overwhelming... pretty generic "beer" taste. Not good, but not bad... nothing special about it. Definitely doesn't taste like most bock beers.
Would I buy it again? Probably not.
520 characters
3.06
/5
rDev
-14.5%
look: 3 | smell: 2 | taste: 3 | feel: 3 | overall: 4.5
X-mas present from my uncle. 16.9 oz bottle with pop top. Poured into my Stone 20oz imperial pint glass.
A: Soft fizzy head that quickly dissipates with no lacing.
N: Very mild nose, caramel, and traces of malt.
T: Light malt sweetness, touches of roastiness, traces of hops at the tail end. Lingering caramel and raisins(?). The 7.2 ABV gives mild alcohol warmth throughout.
Notes: Not my favorite style, but good for what it is. A good stepping stone for BMC drinkers into more complex taste profiles.
507 characters

3.04
/5
rDev
-15.1%
look: 4 | smell: 2.5 | taste: 3 | feel: 4 | overall: 3
Altenmunster Winterbier Doppelbock pours a dark brown with orange around the edges and a thick ivory colored head from a brown half liter swingtop bottle. The aroma is underwhelming, a touch of cocoa perhaps, but otherwise hard to distinguish anything else and it just isn't very good. The mouthfeel is relatively thick. The flavor isn't particularly doppelbock like, it's better than the aroma though. Malt is the dominant flavor, raison seems present at certain temperatures and not at others, and maybe some cocoa is noticeable, hops are minimal. Just kind of an average beer.
579 characters
3
/5
rDev
-16.2%
look: 3 | smell: 3 | taste: 3 | feel: 3 | overall: 3
From notes 12-18-08
Eye: This one pours really nice. When first poured into the glass it let off a huge cascading head that slowly receded to a more appropriate size. The head is dirty white going towards tan in color and is now peacefully sitting at about a 1/4 tall, however it does continue to diminish to little more than a moth eaten blanket over the top of this beer. Color of this beer is brown, dark brown. When light passes through this crystal clear brew some red highlights are present. Lacing is poor, spotty at best.
Nose: This beer has a much different aroma than I expected. Its aroma is very clean. Very weak malt aroma, which is odd given that this is a doppelbock. Saaz hops are prevalent. Infact, were it not for that spicy hop aroma, this beer wouldn't have any aroma whatso ever. The aroma is very much akin to that of a german style pils. Maybe some weak malts fighting to be noticed in the back.
Tongue: As in the nose this one is thin on the big malty flavor that it should have. This reminds me more of a schwartz beer, its dark but tastes very light. Those hops are foreground again as in the aroma, spicy in flavor and definitely noble. Alcohol is perceivable. There is some roasty dark malt flavor in here, but nothing like what a doppelbock should be. This is very bland in flavor, and again it seems more of a schwartz. I've had quite a few doppelbocks and I'll have to say that this is nowhere close to what I think of when I think doppelbock. Not a bad beer, and don't get me wrong, I would drink this again, I like it but as a schwartz and not a doppelbock. It tastes fine, smells fine but not for a doppelbock. I'd not classify it as a doppelbock...did the brewers taste this one before they decided to call it a doppelbock?
edit: The best way to describe this one is a pils with a bit more malt and some hints at dark grain/malt.
Feel and Drinkability: Not heavy on the palate, nowhere near being heavy or filling like many of the doppelbocks I've had. Again, it drinks more like a Euro Pale Lager or a Pils. Carbonation is high, it scrubs the palate and the finish is crisp and clean, no lingering flavor, no big malt here. This is a very easy brew to drink, but if I want a doppelbock I'll not be reaching for this. Glad I tried it, but really I only bought it for the cool looking 2L swingtop it came in. Overall not a bad brew, but stylistically the brewers missed doppelbock bay a longshot...maybe that's what happens when a traditionally seasonal brew is brewed year round...this and Shiner Bock are both off for what their brewers claim them to be.
2,597 characters
3
/5
rDev
-16.2%
look: 4.5 | smell: 2 | taste: 3 | feel: 4.5 | overall: 3
Altenmunster/Allgauer's Winterbier (a bock, whether it be a doppel or helles is your choice, I guess) is a fairly enjoyable, straightforward lager that displays its light malts fairly well, adds in a bit of Germanic hops for complexity, and is generally clean and perfectly masking its 7.5% ABV. Where it falters, though, is in the fairly bland aroma and average flavor profile: it's a good lager, and I could drink this all night without noticing how intoxicating it was. Would I get it again? probably not (the Oktoberfest had bigger and breadier flavors than this, I thought), but I like heavier malt flavors and more complexity in my -bocks.
Pours a 2cm tall head of frothy, light tan foam, made up of very small bubbles, giving a very frothy appearance. Retention is excellent, the foam lasting well over two minutes in a decline to a thin film atop the body of the beer, thicker around the perimeter of the glass. Lacing is excellent, with complex and heavy patterns clinging to all sides of the glass. Beer's body is a moderately bright golden orange color, with light bringing out very bright golden orange (or dark golden yellow) hues. Carbonation visible through the transparent body, low in number, but moderate in pace/activity.
Aroma is fairly muted, some general malt sweetness with hints of light caramel and possibly light toast from Vienna, but lacking substantial maltiness as one would expect from a doppelbock's Munich malt background.
Front of palate is lightly sweet, with gentle bright sweetness from Vienna or light caramel malts, and a hint of floral hop character. Mid-palate is sweet, slightly malty with a light toast and light caramel component, just a hint of bittering hops that also contribute slightly floral qualities. Back of palate is sweetly malty, with slightly more bitter hops. Aftertaste of lightly toasted bread, light caramel-like sweetness, very mild bitterness.
Beer is medium-bodied, with carbonation of medium-low intensity, resulting in a slightly foamy (1/3) and smooth (2/3) mouthfeel that is super-pleasant and gentle, kind of like a fine, slightly frothy cream. 7.5% ABV discloses none of its ethanol. Closes dry, with moderate to heavy stickiness clinging to the palate and lips.
2,236 characters

2.94
/5
rDev
-17.9%
look: 3.5 | smell: 2 | taste: 3 | feel: 3.5 | overall: 3.5
Cool swingtop 500 mL bottle poured into a Celebrator glass. Medium brown color with orangey highlights. Beige head settles to a thin film in about a minute, leaving little lacing. Brown malt aroma with a big dose of metallic character. Smells like it was aged in a barrel made of coins. Some perfume and nuts as well. Thankfully the flavor has none of the metal, but it doesn't have a lot of anything really. Bready brown malt with a little cocoa sweetness and a hint of roast. Not bad, just not full enough. Body is just under medium in heft, carbonation is good.
564 characters

2.81
/5
rDev
-21.5%
look: 3.5 | smell: 2.5 | taste: 3 | feel: 3 | overall: 2.5
A find at the BevMo.
This is a clear coke a cola colored beer with a thin tan to light brown colored head.
Smell is very light, just a little bit of malt and a little banana and very faint bubblegum.
Little bit sweet and fruity at the start and it is mostly apple. Astringent bitter aftertaste. Again I keep tasting apple flavor in this. Not much else here the hops only seem to show up in the aftertaste.
Mouthfeel is OK.
Not to over use a word but everything seems little about this beer. Drinkability is below average. This doesn't really taste like Bock Beer. At best it is better than Budweiser I guess but I really have no reason to taste another one of these.
671 characters
2.81
/5
rDev
-21.5%
look: 3 | smell: 2 | taste: 3 | feel: 3.5 | overall: 3
Poured into a glass. Looks brown golden brown. Small amount of head moderately bubbly. Not very much taste or after taste. Smooth and easy to drink. Smells a little hoppy and slightly skunky, tinny. Lacking taste somewhere and what is there is pretty average. Nothing very special, nothing too bad about it either.
314 characters

2.72
/5
rDev
-24%
look: 4 | smell: 2 | taste: 3 | feel: 3 | overall: 2.5
Pours a clear mahogany with a big, frumpy, tan head with decent retention. Smells is neither pleasant nor doppelbock-like. Smells way to much like rotten raisins; also has overly heavy notes of yeastiness, sawdust, and cheap tequila. The actual taste is somewhat redeeming, but ultimately the nose just kills it for me. It is possible that I am drinking an expired bottle and should taste it again to give it another hearing but at 4 dollars per bottle I am not willing to try it again.
486 characters
2.59
/5
rDev
-27.7%
look: 4 | smell: 2.5 | taste: 2.5 | feel: 2.5 | overall: 2.5
Ruddy brown with bright orange accents. The sand colored crown fills almost half the glass after a vigorous pour and has a tight-bubbled creaminess that predicts persistence. Broken sheets of thick lace keep things on the attractive side. This is a classic looking doppelbock.
The nose is much less impressive. What I can appreciate is cocoa powdery, faintly nutty and disconcertingly metallic. Where's the dark malt, the dark fruit, the... anything at all that would make me want to tip up the glass? Could Winterbier Doppelbock possibly taste as lackluster as it smells?
Thankfully, it does not, but it certainly isn't anything worth celebrating. This beer clearly isn't in the same league as Allgauer Cambonator Doppelbock, a fine lager that I enjoyed several years ago. I didn't expect something that good, but I did hope for something better than this.
For starters, there isn't anywhere near enough barley. The ill-fitting flavors include poor quality baking chocolate, a substandard attempt at artificial raisin extract, used tea leaves and old cigarette ashes. It hasn't taken me long to decide that the flavor is at least as bad as the nose, if not worse. Novices should steer clear because this is definitely *not* what a doppelbock should taste like.
The mouthfeel is way too thin for the style. Not only that, but what bubbles are present do a poor job of volumizing the beer. The less said here the better.
Altenmunster Winterbier Doppelbock has an odd flavor and is anything but representative of the style. If you see them both on the shelves, grab the Cambonator Doppelbock and thank me later. Can I get my $3.99 back please?
1,646 characters
2.47
/5
rDev
-31%
look: 2.5 | smell: 3 | taste: 2 | feel: 3 | overall: 2.5
16.9 oz. German bottle,
A: Pours a dark brown, almost black, with a fizzy off-white head, with poor retention and no lacing.
S: Cola, actually smells a lot like a Pepsi, with some chocolate malt added.
T: Not good, way to bitter, odd sugar character, with cola.
M: Don't really have a problem, could use some more heft though.
D: Not a good dopple when comparing it to Salvator, Korbinian, and Celebrator, won't buy again.
437 characters
2.42
/5
rDev
-32.4%
look: 4 | smell: 2 | taste: 2 | feel: 3 | overall: 3
A dark brown, almost black and opaque. It let a little light through. A good dark brown head which faded to a little lace. I couldn't smell much of anything, and the only thing I could taste was raisins or figs... no caramel, no malt, nothing else. I noticed no overwhelming aftertaste.
286 characters

2.02
/5
rDev
-43.6%
look: 4 | smell: 2 | taste: 1.5 | feel: 3 | overall: 2
Winterbier's an orange stained nut brown color. Ruby highlights are revealed by a little light. It's topped with a gigantic light caramel colored head that reaches over three fingers deep. Pretty impressive. It was surprisingly quick to disappear given its stature. Lacing was on the lighter side too. It looks good, but its behavior is a little peculiar.
The nose is a little below average. It doesn't exactly leap out of the glass. There are some sweet malty notes present. Smells mostly like chocolate malt. There's something bearing resemblance to raisin or dark fruit, but it smells a little off. Uh-oh. Is that a little metal that I'm smelling? Grain is noted a little late. That about wraps it up. Honestly, it smells worse with each passing smell. I've changed my mind. It's worse than below average. It's bad.
Abomination. The flavor profile is equally as bad as the nose (if not a little worse). I'll hit what little good there is first. A light cocoa flavor kicks it off. There's obviously some chocolate malt here, but it doesn't taste like much. It's a little sweet and tangy. There's some sort of dark fruit presence here, but it's not well done at all. It's sort of raisin-y, but trails off. I can't quite put my finger on it. It's extremely metallic and the flavor evolves into a rank pungency that's difficult to put into words. Man, this stuff is bad. The more I drink the worse it tastes. The aftertaste is downright foul. The flavor is worse than the nose. I had really hoped for better, but it just isn't meant to be. Did I get a bad bottle?
Winterbier has a light body that feels way too thin. Carbonation isn't bad, but it's not exactly close to smooth. Drinkability is downright poor. There's frankly nothing enjoyable about this experience. Do not want.
Oh boy. What a letdown. This is probably the most disappointing beer I've had in quite a while. I'm hopeful that I didn't get a bad bottle, but an overall score of "B" for this stuff certainly gives me pause. There's simply no way this a "B" beer. It's flat out bad. I'd love to give a few pointers on how this beer could be improved, but it'd take way too long. Just stop and let's forget it ever happened. Wow.
2,196 characters
Altenmünster Winterbier Dopplebock from Allgäuer Brauhaus AG
3.58
out of
5
based on
123
ratings.