Altenmünster Winterbier Dopplebock
| Allgäuer Brauhaus AG
BA SCORE
82
good
90
Reviews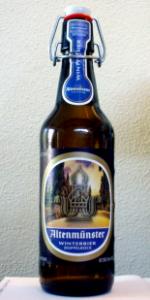 BEER INFO
Brewed by:
Allgäuer Brauhaus AG
Germany
Style:
Doppelbock
Alcohol by volume (ABV):
7.20%
Availability:
Winter
Notes / Commercial Description:
No notes at this time.
Added by Todd on 11-21-2007
Reviews: 90 | Ratings: 123
4
/5
rDev
+11.7%
look: 4 | smell: 4 | taste: 4 | feel: 4 | overall: 4
I love a beer that keeps it simple with the full on potential of becoming complex. I'll keep it simple too; 4's down the board. So sexy sitting idely in a red wine glass, so beconing with its porter-esque smell, so satisfying with its medium body taste. Can you say, "chocolate and toffee." Great, now "crisp". Beautiful. And finally "Mocha-choca-latta." You got it.
366 characters
4
/5
rDev
+11.7%
look: 4 | smell: 4 | taste: 4 | feel: 4 | overall: 4
500 mL German swing-top bottle with a batch code on the back; roughly one year old. Pours a deep, dark brownish red with dark scarlet highlights - just a tick lighter than a porter - with a few particulates, low carbonation, and a quarter inch of tan head that eventually recedes, and doesn't do much lacing. Rich and malty sweet nose contributes raisins, cherries and a big dose of prunes. Big and malty on the palate as well, lightly sweet, with prunes, milk chocolate, toasted and roasted malts, and hops that bring a light leafiness and mild bitterness. Lightly oxidized as well, with more paper than cardboard and, surprisingly, not all that distracting. The body is smooth, tongue-drying, with low carbonation and a medium finish. This is a very easygoing dopplebock that hides its alcohol well. Delicious and worth a try.
828 characters

4.03
/5
rDev
+12.6%
look: 4.5 | smell: 4 | taste: 4 | feel: 4 | overall: 4
A: Very dark. Scary opaque. If held up to the light im convinced there is a small demon swimming around. He's red. Head doesnt stay around long.
S: I get a hint of fruit, almost pomegranate. Malty, somewhat of a rye smell. Hints of chocolate, and toasted crystal malt.
T: This beer is all malt, really smooth, and i mean i cant find any hops. Its a caramel, or crystal malt too... I like it... but a hop head wouldnt get anything from this. It feels like a porter, drinks like a stout, but they call it a doppelbock... crazy Germans. My favorite part of this beer is the fact that unlike so many other german bock's, it has no astringent flavor. Very good representation of the style.
M: Very velvety, and smooth. I cant find the alcohol. But like many of the imperial stouts, dopples and quads ITS THERE.
D: Dangerously drinkable. I could put back the whole bomber and not notice it. (shhh I just did)
Hard to find, but if you can its a good value German doppelbock. Its a good first if you've never tried the style.
1,025 characters

4.03
/5
rDev
+12.6%
look: 4 | smell: 3.5 | taste: 4 | feel: 4.5 | overall: 4.5
Poured from 16.9 oz swingtop bottle
Pours very dark brown with a reddish hue. Head is a pretty tan color that lasts a while and then goes to a nice skim.
Smells of Malt, some cane sugar, caramel and dark fruit.
Tastes of Malt sweetness and prunes.
Very smooth beer. Medium bodied and rich.
Very nice sipper. Interesting without being too complex.
346 characters
4.05
/5
rDev
+13.1%
look: 4 | smell: 4 | taste: 4 | feel: 4.5 | overall: 4
Label reads 07 L264 M3...maybe the 264th day of 2007 (August?), who knows.
Pours from the .5L a dark brown, but is a dark transparent crimson in the light. Two fingers of light tan foam rise and fall, maintaining a healthy skim.
Bready aroma with banana esters, underlying licorice, and a tiny bit of mysterious spice.
Lightly sweet, bready and malty, fairly full-bodied with a good hop bitterness towards the end into the finish. Lingering tobacco leaf, wood, and dark chocolate. A minor note of grain is there in the back, but it's not unpleasant.
Carbonation is balanced, although it seems to lose a little after a few swirls. Light stickiness on the lips, but not too sweet by any means. Robust and full, a perfect winter choice for a snowy night.
758 characters
4.1
/5
rDev
+14.5%
look: 3.5 | smell: 3.5 | taste: 4 | feel: 4.5 | overall: 5
Pours a deep Pours a depp brown, thick ruby color. Only a small head right after the pour, then quickly recedes to nothingness. The smell is a a mild, sweet roasted malt with small hints of dark fruits. The taste is a bit more tantilizingly sweet, roasted, and fruity. Starts with sweet roasted malts, then slowy moves to dark fruits, prunes, figs, and very light maraschino syrup. The palte is very smooth, a little sugary, and deeply malty. Great, drinkable beer for 7.2%.
474 characters

4.1
/5
rDev
+14.5%
look: 4 | smell: 4 | taste: 4 | feel: 4 | overall: 4.5
It's a good doppelbock with an interesting blend of spices, hops and malt. The malt is strong and thick, nice and proper for a doppelbock. There's a little bit too much alcohol flavor. It's not bad, but it could be a bit more warming and less vodka. The nose is pretty good. There are some earthy metallic hops. The flavors are honey, chocolate, spicy, caramel and earthy hops. The feel is pretty good, but it's not exceptional, like some of the top doppelbocks. On the other hand, it's very drinkable. I blended it with Tetley's English Ale and that turned out very well, like an interestingly creamy bock.
607 characters

4.2
/5
rDev
+17.3%
look: 4 | smell: 4 | taste: 4.5 | feel: 4 | overall: 4
This came in a 500ml. brown bottle with swing-top and no freshness date. It pours a dark cola-brown with a big two-finger beige head that dwindled to an 1/8", leaving initial intricate lace.
Sweet malty nose with notes of dark overripe fruits and a boat load of alcohol. This brew certainly smells a lot stronger than the ABV of 7.2%...nothing wrong with that.
The taste is great...sweet, malty and fruity with the strong presence of alcohol really mixing things well. Nice balance with a clean and mild warming finish.
Good body, mild but ample carbonation give this brew a smooth and creamy, kind of fluffy mouthfeel...very nice.
Highly drinkable and a very good representation of this style IMO. When feeling like a Doppel, I wouldn't hesitate to buy this one again.
773 characters

4.2
/5
rDev
+17.3%
look: 4 | smell: 4 | taste: 4.5 | feel: 4 | overall: 4
2007 vintage
500ml swing top bottle
A good seal lets a nice "POP" go when i flip the cage on the swing top bottle. The brew pours a light bending but still semi transparent red/mahogany color with a monster 2 finger beige head. Sweet woody and nutty malts directly upfront. Other notes include brown sugar, cinnamon, mint, baked and fresh apple, orange and other citrus notes. A lot going on here, definitely a well made, quality brew. Good balance through out, not overly sweet, and not cloying in the slightest. Good drinkability, the bottle took me about 5 minutes of play during a Devils game.
599 characters
4.23
/5
rDev
+18.2%
look: 4.5 | smell: 4 | taste: 4.5 | feel: 4 | overall: 4
I purchased this beer in a 1 Pint, .9 fluid oz bottle with a fliptop. I poured it into a pint glass and was quite impressed by the dark brown amber color and thick, creamy, beige colored head. The lacing is exelent and smells of sweet roasted malt. The smell does not deceive as it is a true litely sweet, roasted malt flavor. Very smooth mouthfeel and a drinkability that invites another bottle to from the cooler. Great German beer with full body and flavor. I would indeed buy this beer again.
496 characters
4.3
/5
rDev
+20.1%
look: 4 | smell: 4 | taste: 4.5 | feel: 4 | overall: 4.5
Pours very dark brown, almost black with ruby highlights. Modest head is crisp and white. Fading quickly to a thin ring.
Aroma is roasted malt, dark fruit and understated spices.
Taste is initially quite sweet with a smokey caramel malt, and brown sugar presence. Chocolate and slightly tart dark fruit add complexity. Yeasty with plenty of wheat grain. Clove and nutmeg make an appearance, and linger throughout the dry finish. There is only a mild warming alcohol sting.
Mouthfeel is smooth with a crisp finish.
This is an interesting brew. I thought it had aspects similar to a dark Belgian, such as the generous yeast and spices. However, it also had the malty presence and dry finish of a dopplebock. Initially sweet with a clean finish adds to the drinkability. Complex and enjoyable. Pick this one up if you get the chance.
834 characters
4.36
/5
rDev
+21.8%
look: 3.5 | smell: 5 | taste: 4.5 | feel: 3.5 | overall: 4
Black bodied brew. Amber hues through the light. Small tan head. The scent is caked with malt. Sweet syrupy with a hint of alcohol nose. Bubblegum. Taste is all over the place. Sticky malts, candy, a bit of smoke, bit of spice as it warms. Mouth is fairly wet and medium bodied. Oohdalolly its dank.
299 characters
4.44
/5
rDev
+24%
look: 3.5 | smell: 4.5 | taste: 4.5 | feel: 4.5 | overall: 4.5
500 ml bottle split and poured into a La Chouffe tulip. 7.2% ABV, at least 1.5 years old as it was aged by my friend; thanks for this one Bryan!
A - A slow pour creates nothing more than a thin foam of tan bubbles with low retention. It's incredibly dark mahogany brown, almost black, but totally clear.
S - Rich roasted malts are super potent and strong, mainly comprised of caramel, crystal, and chocolate. Robust and filling just in the aroma, this dopple is strong. No hops present at all.
T - Rich and creamy caramel malt, toasted to perfection, blends with sweet chocolate and crystal malts to provide a sweet but even taste. Again, no hops come through.
M - Clean and smooth with a silky texture and robust, filling body. It goes down nicely and finishes sweet and malts with a minuscule touch of alcohol.
D - Very drinkable and smooth with a small warming quality to the finish. Even with it being mid summer, it's still a drinkable beer. A great dopplebock!
971 characters
4.49
/5
rDev
+25.4%
look: 4 | smell: 5 | taste: 4.5 | feel: 3.5 | overall: 4.5
This was a random pickup due to pleasant past experiences with doppelbocks.
Appearance: Poured into a pilsner glass. A gorgeous mahogany color with a khaki head that disappears to nothing almost instantly. The color is so rich but it loses points on a lack of head.
Smell: It leaps into your nose, toasted malts...caramel, is that some dark fruit? Cherry perhaps. It's a beer that I stuck my nose in and said "Woah!" I couldn't wait for the first sip.
Taste: Those caramel notes follow through to the tongue. It has a nice complexity that keeps you searching for new flavors with each sip. I'm pretty sure I taste some toasted malt and cherry. Either way, pretty damn tasty.
Mouthfeel: This doppelbock loses points here from me. It's a little thin with very light carbonation. It's not an unpleasant mouthfeel, just not exceptional...I like a little more body.
Drinkability: I could easily have another since it tastes so nice. I have a homemade pizza in the oven and it might go nice with the sausage on top.
Overall: A nice beer that I was lucky enough to grab off the shelf. You won't be disappointed it you give it a shot.
1,133 characters
4.6
/5
rDev
+28.5%
look: 4.5 | smell: 4.5 | taste: 4.5 | feel: 4.5 | overall: 5
Deep red/brown, a good 3 finger head subsides to a 1/2 finger lace after 5 minutes or say and stays that way. Head is tan and packed with tiny bubbles. Obviously filtered.
Aroma is malty, but 'malty' malty, like milkshake malt, you dig? European milk chocolate and a minty hop character.
Rich, tangy roast character akin to the 'Guiness twang'. Dark chocolate covered raspberries produce a sweet/bitter combo similar to this beer. Very, very light prune/raisin, but without that inky-quality that makes those flavors chewy. Hops are floral and minty, like a Northernbrewer hop in the Anchor Steam beer, though less extreme. What this beer doesn't have is a lot of DMS or diacytel, those buttery/butterscotch flavors, which make s this offering so damn smooth.
Mouth is like a milkshake after it has melted a little.
Highly drinkable. Not the perfect doppelbock, but it is the perfect doppelbock for RIGHT NOW!
913 characters
Altenmünster Winterbier Dopplebock from Allgäuer Brauhaus AG
3.58
out of
5
based on
123
ratings.