The Ship & Mitre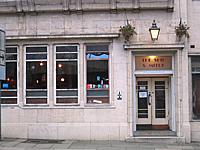 PLACE INFO
Type:
Bar, Eatery
133 Dale Street
Liverpool
,
England
, L2 2JH
United Kingdom
+44 151 236 0859 |
map
theshipandmitre.com
Notes:
No notes at this time.
Added by BeerAdvocate
Reviews: 8 | Ratings: 10
Reviews by ReluctantScooper:

4.18
/5
rDev
-1.4%
vibe: 4 | quality: 4 | service: 4.5 | selection: 4 | food: 4.5
It's on the corner or a road that doesn't seem to go anywhere, almost underneath a flyover and
it looks like a bank that shut years ago. It's full of haphazard furniture, odd grade changes and the slight whiff of ticker. But the cask beer is great in quality and range; the bottled German beers are solid (mmm Edelstoff) and the food by the guys of Burning Kitchen is fresh-cooked and filling.
The first pub I visit when I'm in Liverpool; sometimes, it's the only pub I need. Great, attentive staff and plenty of banter at the bar. A proper boozer.
549 characters
More User Reviews:
4.43
/5
rDev
+4.5%
vibe: 4.25 | quality: 4.5 | service: 4.25 | selection: 4.75 | food: 4
I've only been to the Ship & Mitre once but I had a good time with good food and good beers. After a day that ended at the Walker Museum, we wound our way over, not easily due to the way the roads are set up right there, and grabbed a beer and found a table. My group sat in the back and watched the crowd come and go, but it seemed like it would have been more fun to be at the bar up in the front (crowded though!).
It's not the most sparkling place, but it's interesting, and apparently the upstairs room is something to see, but what we're really here for is the beer, right? Namely the 12 cask ales, 3 cask ciders, and 25 other beers on tap. As a visitor most of it was all new to me, although for some reason I had to have a beer from New York which is almost local to me, a Brooklyn Weizenhammer! Ha! I also had a Titanic Plum Porter, a Banks & Taylors Fruit Bat, and a Jurassic Vanilla & Bourbon Portland Porter. I should also mention they have about 100 beers in bottled from Belgium, Germany, and the Czech Republic but I rarely drink bottled beer when there are good taps to be had.
The food was good (I shared some Scouse and had Fish & Chips w/ mushy peas), and a good night was had by all. Following this we stopped by Doctor Duncan's which is not far way.
1,273 characters

4.46
/5
rDev
+5.2%
vibe: 4 | quality: 4.5 | service: 4.5 | selection: 4.75 | food: 4
Great choices for real ales with numerous offerings both from the region, across the UK, and abroad. A locals atmosphere. If you want classic pub furnishings, go elsewhere -- Dr. Duncan's, The Philharmonic, stew The Brewery Tap, etc. (All good choices by the way) We started here for an intended pub crawl. With so many options, the crawl started and stopped here. They will provide tasters and they sell small volume amounts for those who want to taste many different beers. Food is available from a "hole in the wall". Try the scouse, a local stew (free for the asking when I was there in May 2013). Scouse (start saying scout, but end with "suh" instead of "ta") is also the name for the brand of English accent in Liverpool and Merseyside. Better tune in well if you want to understand. S&M is less than a 5-minute walk from Lime Street Station. They have a companion bottle shop, The Ship in a Bottle. It's five minutes away just off Liverpool One, the huge city center shopping plaza. Small, but well stocked.
1,023 characters
4.5
/5
rDev
+6.1%
vibe: 4.5 | quality: 4.5 | service: 4 | selection: 5
Truly superb pub and totally unexpected, I had not been looking forward to spending a few days in Liverpool but this made the trip worthwhile.
As stated by other reviewers a stuuning selection of beers, 13 real ales on tap and a further around 7 continental. Throw in around 100 bottled beers and why would you go anywhere else. Easily the best choice for a UK pub that I have visited.
The beers I had were well kept and often asked if I wanted a taster before I bought. Attentive and knowledgable staff though usualy only two on so could have a little wait when it got busy.
Feels a bit like more European inside than British, not a bad thing, though the toilets are pretty manky. Did not try the food while I was theere but looked decent enough for those that were trying it.
All in all a fantastic pub and a worthy winner of all its CAMRA awards. Certainly would mean I would not be averse to another trip to Liverpool just to visit this place.
951 characters
3.9
/5
rDev
-8%
vibe: 4 | quality: 4 | service: 3.5 | selection: 4.5 | food: 3
Just 10 minutes walk from Lime Street Station, and just further along from Dr Duncans, at top of Dale Street. From the exterior appearance, its not very encouraging, but a surprise when inside! Interior has 'fake' wooden fittings and ceiling in the appearance of being inside a wooden ship which is a bit strange. Two rooms off the main bar area, basic wooden flooring and simple tables and chairs.
Amazing beer range, 13 hand pulls in several groups around the bar area, in addition to several imported foreign beers, plus a large selection of German and Belgian bottled beers in chiller cabinets. Two boards on the walls give a list of the current beers available and ones to come. Also a range of ciders. Several beer festivals held during the year, featuring foreign beers and speciality themes.
Simple but decent value food available 12 till 2 and 5pm till 9pm from a separate food counter.
Good service from knowledgable bar staff, this pub is very popular with local real ale enthusiasts and visitors alike - and well worth seeking out. Highly recommended.
Would be my first stop on any trip to Liverpool!
JohnW B'ham UK
August 2010
1,144 characters
4
/5
rDev
-5.7%
vibe: 4 | quality: 4 | service: 3.5 | selection: 4.5
What a wonderful, grotty bar. It looks a bit rough on the outside and it doesn't change much on the inside.
This is the third review and the others haven't mentioned the pool table, food bar or the old antique crap, dust collecting items, towards the back of the pub on the upper level, so I won't either!
Impressive selection of beers, strange three sided, kind of central serving bar, all with different beers on view, but you can have whatever is on from each serving area.
Only visited three times, but the beer quality has been good on each occasion.
564 characters
4.16
/5
rDev
-1.9%
vibe: 4 | quality: 4.5 | service: 3 | selection: 5
Visited this place on a trip up north to Manchester for the National Winter Ale Festival last month. Before I arrived in Liverpool I had no information what-so-ever about where to go for a good pint, as Liverpool was not even on my itinerary until my GF decided we should pay homage to the Beatles' hometown. Yet merciful Bacchus lent a hand with an inspiration from a small leaflet randomly picked up at the Tourist Information, which spent merely two pages on the city's drinking places but mentioned this place as a must-see for real ale drinkers, so off I went~~
Situated on the side of the city's ring road, the location is not that tourist-friendly. From the outside of the pub, it almost looks like a quiet and, uh, abandoned, office, with very neat, creamy-white paint, and slightly mundane exterior, plus a huge road sign right outside the pub. Once I got inside, there was a whole different world!! A big white board on the wall lists all 12 real ales and ciders available, foreign beers (6-7 German+Belgian) on tap, and those real ales soon coming up. One'd suspect there was a serious presentation going on or something. The interior is a bit weird: I thought it's done up to mimick a ship-cabin, but my GF said it was more like a Swiss cottage, with all the wood beams, wood panels, wooden sloping roofs, everything made of wood... The narrow bar in the centre of the pub, strangely shaped like a "slug", connects the front part of the pub and the rear, larger part which looks more like a German canteen with big wooden tables and benches around. Very spacious it is. Taking a circular walk around the bar, the whole place surely doesn't look like a British pub, but has some intriguing characters to it.
The bar has 12 handpumps for real ales, 6-7 taps for German and Belgian beers, and a very very wide range of German and Austrian bottled beers, perhaps the largest selection I've seen in any single British pub/bar. The five British beers I tasted and two Paulaner beers my GF had were all in pretty decent condition. The long, narrow strange shape of the bar with three serving sides devided b/w the front, the rear and the side, means some customers at awkward corners might not attract the barstaff's attention too well. In fact the two barmaids appeared not so patient and sometimes off-focus, maybe thanks to the design of the bar (I hope).
The atmosphere is just great. No music and lots of passionate conversations b/w beer-loving locals/regulars, and much info. about their beers to read if one prefers to be quiet, this is no doubt a very serious, quality real ale+real continental beer bar. If given a chance to visit that city again, I won't hesitate to spend hours and hours and hours imbibing there~~
2,740 characters

4.25
/5
rDev
+0.2%
vibe: 4 | quality: 4.5 | service: 4.5 | selection: 4.5 | food: 2.5
I've been to The Ship & Mitre on several occasions; most are which are to introduce friends to the real delights of proper beer, instead of the inferior lagers they drink which are full of chemicals which provide a gut churning taste.
This pub is a nice little establishment with an amazing ambience; this is due to the laid back attitude and amazing service. It also helps they offer a assortment of real ales purchased from micro-breweries nationwide, along with i would around one hundred imported beers from Belgium, Germany, Austria and Czechoslovakia. This is reflected by the fact they have been voted "Pub of the Year" by Liverpool's CAMRA branch for the previous eight out of ten years!
701 characters
The Ship & Mitre in Liverpool, GB2, United Kingdom
4.24
out of
5
based on
10
ratings.