Josef Hoffbauer Ice
| Cold Spring Brewing Co.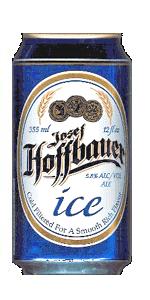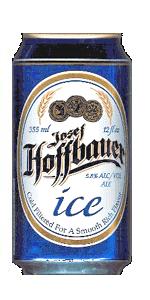 BEER INFO
Brewed by:
Cold Spring Brewing Co.
Minnesota
,
United States
coldspringbrewery.com
Style:
American Adjunct Lager
Alcohol by volume (ABV):
5.80%
Availability:
Year-round
Notes / Commercial Description:
No notes at this time.
Added by AtLagerHeads on 07-22-2003
This beer is retired; no longer brewed.
HISTOGRAM
Ratings: 7 | Reviews: 7
Reviews by maccroz:
1.57
/5
rDev
-25.2%
look: 2 | smell: 2.5 | taste: 1 | feel: 1.5 | overall: 1.5
I'm a firm believer that a cheap beer doesn't neccessarily have to be a poor tasting beer. Unfortunately, to prove this point I have to sift through the majority of cheap beer that tastes like ass. Josef Hoffbauer Ice is no exception. This beer tastes like it was composed of malt and twice as much sugar as should have been added. The result: a thinly tasting beer that is as sweet as maple syrup. It has the amazing ability to stick on your taste buds for 10 minutes after you last sip reminding you of the mistake you'd just made. Purchased for $5.59 at Kroger only because they were out of Steel Reserve (my cheap beer of choice at $6/12 pack
646 characters
More User Reviews:

2.45
/5
rDev
+16.7%
look: 2 | smell: 2 | taste: 2.5 | feel: 2.5 | overall: 3
Ok down the cash flow situation is bad..and its only Tuesday..solution buy this stuff out of the local Fred meyers ..its less than $5 for a 12 pack.
Comes in a nice enough looking simple blue and white can.
The colour when poured is the usual macro..pee colour..had a small head..thats gone in an instant.Minimal lacing.
Smell is pretty weird sort of like papier mache..or wet carboard.
Tatse is not that bad really..better than some Ice beers..its sweet than theres a touch..a faint touch of hops near the end.
Reasonably smooth feeling for such a cheap beer.
Ok for a mid week drinker..better than many more exspensive macros.
634 characters

2.57
/5
rDev
+22.4%
look: 3 | smell: 3.5 | taste: 2 | feel: 2.5 | overall: 2.5
My first from Gluek Brewing. Pours out to a medium yellow color with vibrant carbonation resulting in a short lived head of white foam. No lace. Aromas of malt and some sweet yeast. Unique for a beer this cheap (5 bucks for a 12 pack). Unfortunately, the praise stops there. Overly sweet notes of malt dominates, with little else being detected due to the high level of permeation on the palate. Some alcohol could be noted, but aside from the sticky sweet flavors, that was it. Mouthfeel was kind of syrupy. Drinkability is questionable at best. I know my non-beer buds will love this Iced Beer swill.
THE BLOODHOUND FACTOR: Benjie and Peaches dug this one. Must've been the sweetness.
690 characters
1.7
/5
rDev
-19%
look: 2 | smell: 2 | taste: 1.5 | feel: 2 | overall: 1.5
This is what yellow fizzy is all about. Pale yellow body with little lasting head and no lace effect. The aroma is of adjuncts, rice, corn or whatever and the flavor is basically nonexistent. The feel is thin and watery with no drinkability factor worth mentioning. Cheap, poor supermarket beer.
295 characters
2.65
/5
rDev
+26.2%
look: 3 | smell: 3 | taste: 2.5 | feel: 2.5 | overall: 2.5
I put this beer in the same style as the big 3 brewers.(bud,Miller,coors)
Only this one is stronger. At 4.95 per 12pack (ralphs) it's a smoking deal. Why 9.00 per 12 pack for all the other clones?
The only problem is once you BUY this...You have to drink it ! (LOL) ! Poor this beer in a BIG beer mug, getting it out of that can helps a-little. No real noticable hops, mostly a little hot from the alcohol and some adjunct's (corn/sugar?).
I refuse to buy the mainstream beers so I try different ones all the time.
WE SHOULD PUT A NEW CATAGORY RATING OF: VALUE___:
How many time have we over paid (7.00+ per 6 pack) for light tasting water?
Josef Hoffbauer Ice would get a 4.5
truly one of the cheapest beer's on the market !
737 characters
1.69
/5
rDev
-19.5%
look: 2.5 | smell: 1 | taste: 1.5 | feel: 2 | overall: 2.5
12 ounce can from Ralphs
Poured a light brown into my pint glass with no head really
Smell is making me sick almost, really stale aroma
Taste was not good either, bad aftertaste with sweetness
Taste did not last long thankfully, could drink more than one of these if you enjoiyed the taste because it is light, but not me
325 characters
2.1
/5
rDev 0%
look: 2 | smell: 2 | taste: 2 | feel: 2 | overall: 2.5
I think reviews should also list the reviewer's favorite brew so readers can better understand where the reviewer is coming from. My favorite is Pilsner Urquell, but I sometimes search for a cheap beer that reminds me of my college days ... as well as being very cheap and drinkable.
I think an earlier reviewer got this beer EXACTLY RIGHT: "Cheap, tastes like water, and gets me drunk." It doesn't taste bad, but is very, very thin and nearly tasteless (there is obvious skimping on the malt with this one). Although very cheap, there are better choices in this price range -- For the same price and alcoholic content, I think Milwaukee's Best Ice is a better choice. Milwaukee's Regular is better still, maybe because it has less alcohol. I couldn't describe either as good, but … they are definitely cheap!
816 characters
Josef Hoffbauer Ice from Cold Spring Brewing Co.
Beer rating:
2.1
out of
5
with
7
ratings