John Henry 3 Lick Spiker Ale
| Cold Spring Brewing Co.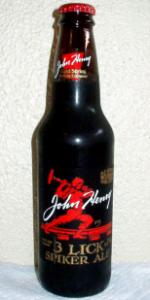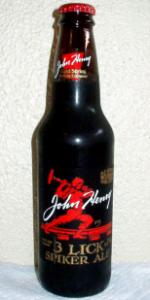 BEER INFO
Brewed by:
Cold Spring Brewing Co.
Minnesota
,
United States
coldspringbrewery.com
Style:
American Strong Ale
Alcohol by volume (ABV):
9.10%
Availability:
Rotating
Notes / Commercial Description:
Three Lick Spiker Ale is brewed with three different roasted malts creating chocolate flavors and full body taste. After fermentation has been completed with our top fermenting ale yeast we infuse our brew with bourbon oak aged chips and let the extended aging process take over. Hints of bourbon and vanilla from the oak come through the aroma and flavor.
Added by ClockworkOrange on 01-02-2009
HISTOGRAM
Ratings: 415 | Reviews: 173

4.15
/5
rDev
+12.2%
look: 4 | smell: 4 | taste: 4.5 | feel: 3.5 | overall: 4
I'll be completely honest. I am worried about this beer. Cold Spring has some awful beers, and I can only assume this one will be the same.
Pours a murky brown into my Darkness Tulip. About half a finger of just off white head produced, and it doesn't have great staying power. Eventually dissolves to a small ring with splotches here and there.
The nose definitely lets you know this was oak barrel aged. I don't get much Bourbon, but the oak is definitely there. Vanilla and nuts, caramel, light chocolate and roasted malts. I'm surprised at how good this smells, pleasantly surprised.
Here goes nothing. Wow...again, completely not what I was expecting from Cold Spring. Oak and very light Bourbon, almost not noticeable, but there is a pleasant chocolate and roasted malt with a hint of vanilla and caramel. I'm enjoying this, and glad that I am.
Mouthfeel is medium, but on the lighter side. Nice and smooth, almost...almost creamy. I do get a weird metallic aftertaste that sort of takes away from the rest of the beer, but other than that, great.
Drinkability is very impressive. The 9.1% is hidden completely. Not even a little warming presence, just completely hidden. Dangerous, even.
I am totally taken aback by this beer. I was told from a reliable source that despite my prior misconceptions, this was in fact a good tasting beer. I didn't believe it, but figured for the price tag it was worth it. I'm very glad I gave it a shot. Honestly, I wouldn't be surprised if this was in my fridge a lot this fall.
1,526 characters
3.65
/5
rDev
-1.4%
look: 4 | smell: 4 | taste: 3.5 | feel: 3.5 | overall: 3.5
Deep brown with tan, short, quickly dissipating head.
Aroma of bourbon, brown sugar, oak/vanilla, a little boozy.
taste is similar. I hope I was not predisposed, but I couldn't help but feel like this is what a BMC bourbon barrel aged beer would taste like. Take Amber Bock and throw it in some bourbon barrels? Not bad at all. Maybe a little artificial tasting?
Mouthfeel is a little thinner than I expected. Abrupt finish too.
Drinkability isn't bad at all. Although I could feel the 9.1% abv after finishing one bottle.
Not a bad beer at all considering the $6.99/sixer sale pricetag.
593 characters
3.75
/5
rDev
+1.4%
look: 4 | smell: 4 | taste: 4 | feel: 3.5 | overall: 3
A little worried plopping down $10+ for a Cold Spring beer but it appears to have promise...quality bottle...9.1 ABV and I've heard some buzz on this somewhere..
A-Black/brown...little head..
S-The oak aging is immediately evident...oak...vanilla....nougat...it's all there...some caramel as well...not much for stout notes though..
T-I love oak aged beers and this one is big in those notes...nougat...vanilla...oak....good flavor but where are the stout flavors?? They are totally overwhelmed by the oak aged notes....with that said I do enjoy how this tastes but a little more chocolate/coffee notes from the stout would have been nice...
M-Not as big or creamy as I expected....more of a medium body....smooth but thinnish.
D-The best Cold Sping/Gluek beer ever made and well worth trying...just not up there with the top in the class. Still, this is an enjoyable beer to drink..a few tweaks and this could be really good.
931 characters

3.95
/5
rDev
+6.8%
look: 4 | smell: 4 | taste: 4 | feel: 3.5 | overall: 4
A: Pours thick with lots of legs in the stream. Very dark, nice and black. Starts with a decent head, but that does away pretty quick. Could have some active carbonation, but I can't really see.
S: From a foot away I can smell malty sweet. Digging my nose in I get that, some candi sugar, and dark fruit, particularly plum. No hops though. The slightest hint of unroasted coffee bean.
T: A good strong ale. Not boozy, leaves a good tingle on the tongue. The aftertaste has a hint of charcoal, but is otherwise very similar to the nose. There's a good amount going on here, and the flavor profile changes a bit with each sip as it builds upon itself.
M: Not as creamy as I'd hope, but still good. The strength mixed with the feel is a nice combo.
D: Because of the strength, flavor and mouth feel, I could see getting pretty messed up on this.
846 characters
3.92
/5
rDev
+5.9%
look: 4 | smell: 4.5 | taste: 3.5 | feel: 4 | overall: 4
Pours a stout like black color with a small tan head that settles to a thin cap. Moderate amount of spotty lacing is left on the glass. Not that impressive looking but considering its high ABV, it is good. Has a rich malt aroma of mocha and roasted grains. Hints of vanilla and bourbon from the oak chips. You can definately sense the 9.1 % ABV before you even taste this ale. The bourbon charactor dominates the flavor. There are hints of vanilla, espresso, and chocolate. Great flavor up front but it all disappears even before the ale leaves my mouth. Very dry and slightly boozy. Medium body with a chewy texture. Nice carbonation that compliments the flavor. I applaud Cold Spring for brewing this beer. Please bring us some more beer of this caliber.
756 characters
4.56
/5
rDev
+23.2%
look: 3.5 | smell: 5 | taste: 5 | feel: 3.5 | overall: 4
Pitch black body. Amber hues show through when held to the light. Little brown head that disappears quickly. Serious chocolate malt scent. Dark fruit tones. Spicy alcohol. Major malt taste. Caramel and chocolate. Dark fruit, licorice. Some bitter hops. Somewhat thinner mouth for a beer of this size than i expected. Very tasty
327 characters

3.65
/5
rDev
-1.4%
look: 4 | smell: 4 | taste: 3.5 | feel: 3.5 | overall: 3.5
Poured into New Belgium Globe Glass
Pours 1/2 finger dark tan head. Not very good retention. Leaves some slight splattered lace. Color is a deep black, very opaque.
Aroma: Oak, honey, bourbon/booze, caramel, chocolate, coffee, roasted malts. A big malt bomb. This is a great smelling beer from Cold Spring, not saying too much.
Taste:Oak, bourbon/booze, chocolate, coffee, big roasted malts, honey, I love the barrel aged aspect of this beer. Very great tasting beer from Cold Spring.
Mouthfeel: Bourbony and smooth. A tad creamy. Leaves a big bourbon malt aftertaste. Full bodied. Lower level of carbonation but it's alright. Lots of oak feeling across the palate.
Overall, I am very fairly with this beer. They need to make more beers like this and less beers like their normal offerings. Boozey but good for Cold Spring.
828 characters
3.9
/5
rDev
+5.4%
look: 4 | smell: 4 | taste: 4 | feel: 4 | overall: 3.5
APPEARANCE:
Pours an opaque dark brown almost black color with a small tan head. A small amount of lacing.
AROMA:
Dark fruit (raisin, dates), pumpernickel bread, smoke, whiskey, alcohol and hint of vanilla.
TASTE:
Rich sweet caramel malt, dark fruit, smoke and oak. You can definitely taste the alcohol. Finishes with a slight bitterness that is hard to distinguish from the alcohol burn/smoke.
MOUTHFEEL:
Full bodied syrupy mouthfeel. Soft carbonation. Warm feeling from alcohol.
DRINKABILITY:
With each sip I think this beer is going to be too sweet, too much alcohol and too much smoke. But it finishes really smooth with a dry smoky texture that makes you want to have more. Not something I would drink normally but if I can't decide between beer and scotch this would be a great compromise.
NOTES: BBCSD-0906-Dan
822 characters
3.35
/5
rDev
-9.5%
look: 3.5 | smell: 3.5 | taste: 3.5 | feel: 4 | overall: 2.5
12 oz. bottle poured into a snifter.
A-Murky, opaque, dark brown beer. Dark tan head rose off a vigorous pour, fronth, 2 cm, then reduced moderately quickly to sparse bubbles.
S-Strong aromas of vanilla and oaky character. An ale fruitiness lies beneath, subtle, with some bready malt aroma, and a bit of earthy, roast/toast, almost smoky malt.
T-Strong vanilla, earthy, slightly spicy, with a hearty, almost fine chocolate flavor. Then fruity characters, subtle and berrylike emerge, followed shortly by the return of the oaky character and vanilla. Hop bitterness provides a pleasant offset.
M-Low carbonation, but just enough, pairs well with a thick, creamy full-bodied brew. Somewhat viscous within my mouth.
D-The oakiness seems a bit out-of-balance, overwhelming at times to the point of detracting from the beer flavors. This seems to be an otherwise well-developed beer, and a breath of fresh air compared to some of Cold Spring's less-craft-oriented brews.
971 characters
4.47
/5
rDev
+20.8%
look: 4 | smell: 4.5 | taste: 4.5 | feel: 4.5 | overall: 4.5
Saw a six pack for the first time while visiting San Diego and I had to try it at 9.10%, if for nothing else.
Pours thick and black with a nice tan head. Good looking.
Rich sweet dark chocolate nose with hints of vanilla (the oak). Hints of smoke. A most welcoming nose. I was delighted and hoped the flavors would match the nose.
Creamy mouthfeel and flavors of mocha, creamed sweet coffee and sweet dark chocolate flavors. Flavors are full and rich and delicious while very being very straightforward. Flavors are rich while a bit shorter than a big imperial stout. This like a rich "baby stout" to me. I generally need 3 "sips/tastes" before I get the full character. This one starts off slow but on that third taste really came through.
Can see this with a variety of foods, as well.
Very attractive and drinkable. Worth seeking out if you're a stout fan or just a fan of beers that taste good!
906 characters
3.53
/5
rDev
-4.6%
look: 4 | smell: 3.5 | taste: 3.5 | feel: 3.5 | overall: 3.5
Picked up a single at Princeton Liquors in Maple Grove, MN. Poured a dark brown body with a short tan head. Based off of reviews I've read, this is probably the best thing coming out of Cold Springs. It's just a mellow bourbon ale that relies almost entirely on the bourbon and wood aging for it's character. There's a hint of dark malt in the background, but that's about it. It drinks without a hint of alcohol and is thin enough for me to suspect adjunct sugar was used. However, if you're looking for an affordable beer with bourbon character, this is it.
559 characters
3.53
/5
rDev
-4.6%
look: 4 | smell: 3.5 | taste: 3.5 | feel: 4.5 | overall: 3
12 ounce bottle I brought back from my recent trip to Colorado, poured into my Dogfish Head snifter tonight, originally from a six pack
A-Medium brown color with some darker tones, thin 1/2 inch creamy off white head that did not last long, not much lacing either
S-Light bourbon, caramel, salt, oak, vanilla, burned bread, dark chocolate, light hops, and caramel
T-Starts off salty with some lingering oak, boozy in the middle with moderate whiskey notes, lots of caramel and toffee in the finish, gets more mellow as it warms up, still is a little hot by the very end, needs more dryness, not a very big oak presence
M-Dry, oaky, salty, and slightly boozy mouthfeel, thin to medium body, moderate carbonation, taste lingers
D-Filling and not smooth, decent drinkability but pretty heavy on the stomach, would have liked to taste less alcohol
Surprised to find a beer like this in this serving size, usually an expensive bomber with this style but this came in a ten or eleven dollar six pack, would drink again, too bad I did not bring more back, recommended
1,063 characters

3.43
/5
rDev
-7.3%
look: 4 | smell: 3.5 | taste: 3.5 | feel: 4.5 | overall: 2.5
My roommate picked this new release up from our local liquor store as soon as he saw it and brought me home a couple. I had never heard of it before and was very curious about it.
Pours a *dark black* molasses color in the mug. Really thick stuff here. The head and lacing is both thick/heavy and quality. A scent of cocoa and a bit of sweetness eminates from the top. Interesting smell.
The taste is even more interesting. A complex swirl of nuts, chocolate, piney oak trees, and smokey aftertastes fills the mouth for minutes on end. The mouthfeel comes out extremely creamy and solid and I believe it's the best aspect of this beer. Drinkability on the other hand is the lowest - I do not believe I can drink more than a few of these in a night, due to the thickness and extremity of the intricate taste.
Overall, I feel this is a great beer, but one that I would buy on sporadic occasions. I am pleased to have tried it, and can't say any other beer I've tried is comparable.
982 characters

3.31
/5
rDev
-10.5%
look: 4 | smell: 3 | taste: 3.5 | feel: 3.5 | overall: 3
12oz. longneck brown bottle with a red twist-off cap. It pours a dark rootbeer brown with deep ruby highlights when held to the light. The 1/4" cocoa tan head fades very quickly leaving initial delicate lace clinging to the glass.
Sweet dark fruity nose with hints of oak, smoke, caramel and definetly alcohol as it finally warms up.
The taste is pretty good at first with butterscotch, oak, smoke and some roastiness. After a few sips it becomes a little cloying in flavor and sweetness. The 9.1% ABV start to creep in as it warms, along with a stronger bourbon soaked oak chip flavor and a rauch like smoke taste.
The carbonation makes the brew a bit fluffy giving the otherwise thinnish body some girth. The finish is a little spikey on the tongue...hops perhaps? Overall it's ok drinking, but I doubt I'll buy this one again
831 characters
3.93
/5
rDev
+6.2%
look: 4 | smell: 3.5 | taste: 4 | feel: 4.5 | overall: 4
This was a new offering that I scored at Hi-Times in Costa Mesa. The color is black coffee brown from the bottle with dark red-brown highlights around the edges. It is dark, nearly opaque brown in the glass with a dark, almost purple red color when held in front of a light. The head is chocolatey tan and foamy and lasts well. The smell is bready and brown sugary. The mouthfeel is surprisingly creamy--very nice! The taste is also brown sugar or molasses up front (though this makes it sound very sweet, it's not--how do you describe the non-sweet aspects of brown sugar and molasses? caramel?). This is a very interesting flavor. It's pretty complex. It's categorized as an American Strong Ale. It has similarities to Brown Ales. It isn't nearly as bitter as the other Strong Ales I've had. The beer is aged on bourbon oak chips. The oak is present though understated (which is fine by me). The bourbon is clearly noticeable. I would guess that the wood contributes to the soft mouthfeel. This is quite a nice beer.
1,018 characters
John Henry 3 Lick Spiker Ale from Cold Spring Brewing Co.
Beer rating:
3.7
out of
5
with
415
ratings