The CEEPS / Barney's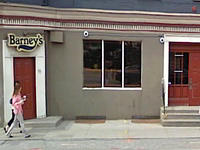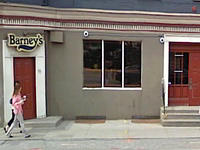 PLACE INFO
Type:
Brewery, Bar, Eatery
671 Richmond St
London
,
Ontario
, N6A 3G7
Canada
(519) 432-1425 |
map
ceeps.com
Notes:
No notes at this time.
Added by Popsinc
HISTOGRAM
View: Beers | Place Reviews
Ratings: 9 | Reviews: 7

2.42
/5
rDev
+1.3%
vibe: 3 | quality: 2.5 | service: 2.5 | selection: 2
EDIT - JUNE 2011: I'm told they're currently brewing a pale ale, so it looks like they're switching things up every now and then with a rotating brew. Great to see this slight improvement, but my rating remains for the time being.
---
Another reviewer rightly noted that this place doesn't really deserve the attention of BAs, but due to some recent improvements and the fact that it's 'technically' a brewpub (with two beers! LOL), I've decided to review it.
I'm going to ignore The Ceeps, which is the section of the building that faces Mill Street. Barney's comprises the outdoor patio as well as the indoor bar facing Richmond Street. The inside was recently renovated and it's now much more patron-friendly, with lots of tables and booths, a stage for weekend performers, and a respectable import selection.
The service? Well, I don't think there is any. You go to the bar to order drinks, and on most nights you'll wait awhile because the place is always so busy. But the indoor bartenders serve draught beer in its proper, branded glassware, which is a nice plus.
Selection is all InBev brands, but there's half decent ones like Bass, Boddington's, Guinness, Kilkenny, and Stella. Ceeps Lager and Cream Ale are the brewpub's underwhelming beers. At $3 a pint, though, you can't really complain. I've never tried the food, so I can't comment on that.
In sum, Ceeps/Barney's offers passable macro beer and rare 'brewpub' swill, but it mostly serves as a place to get shit-faced with students, and there are much better, more micro-friendly bars in London.
1,568 characters
3.2
/5
rDev
+33.9%
vibe: 4 | quality: 3 | service: 4 | selection: 2 | food: 4
So, the Ceeps has recently received a pretty bad rap, and only partially for good reason. Consider the following - yes, it has a pretty meager tap/bottle selection. Yes, it pales in comparison to the St. Gambrinus pub down the street (which, I might add, has the finest selection in southwestern Ontario).
However, there is a certain virtue that this humble brewpub exemplifies. It is a haven for the beer evangelist. Can we not all agree that the world would be a better place if more people drank and enjoyed good beer?
This establishment currently offers a mostly respectable pale ale. Sure, I wouldn't pick it over many other options in a decent pub, but still. You've got droves of university students piling in and choosing a moderately hoppy beer over the macro garbage, and even though the main selling point is the low price, I bet you a few kegs that a fair few of them might actually prefer it.
Either way, those who truly love beer should surely respect an establishment that seeks to ease the public into the realm of quality brews.
1,050 characters
2.46
/5
rDev
+2.9%
vibe: 3.5 | quality: 2 | service: 3 | selection: 2
A huge establishment with a large patio, suitable or grups of university students to hang out. The place has potential to add several taps. It belongs on the site because it is a brewpub, the only one I may point out in London Ontario. Currently the one tap they have on is a passable cream ale. It is a notch up from their lager. Instead of brewing,which they are capacity limited, they could bring in several tap lines and make it interesting. Central location. Points were$4 each, with tip. Go to Chauncey Smith down the road.
529 characters
2.5
/5
rDev
+4.6%
vibe: 3 | quality: 2 | service: 3 | selection: 2 | food: 3.5
This bar doesn't really belong on as site like beeradvocate. This is pretty much a university bar that gets really packed on weekends. The patio is always busy in the summer mainly due to its location in downtown london. For a good nightclub/bar to go to I really like this place, but I'm 22 and in school.
THis is not a beer lover's bar or a beer destination by any means. During the day it has a nice atmosphere to relax and have a pint but the selection is bad, and thier brew is especially terrible. Thats my opinion of the place at least.
544 characters
2.28
/5
rDev
-4.6%
vibe: 3 | quality: 2 | service: 3.5 | selection: 1 | food: 2.5
BE WARNED: This is not a place for beer geeks to flock! But it is a brewpub, and they do make one beer, called Ceeps lager/Mustang Ale. The rest of the beer is macro stuff. There's only a few taps, and the rest is in bottles. Service is always pretty good, and the food is typical deep fried stuff, burgers, fries, etc. It's full of old retirees in the day, drinking ceeps lager, cause it is only like $2.00 for a half glass, but at night, hundreds of local students flock here to get drunk. Only go here if you are looking for a new rating of rare swill.
557 characters

2.93
/5
rDev
+22.6%
vibe: 3.5 | quality: 3 | service: 2.5 | selection: 3 | food: 3
Back in my uni days ceeps was our go-to bar. Good music, hot girls, decent beer and best of all pretty cheep. It used to have this whole dingy drinking hole/dive atmosphere (which was dirty & great) but was renovated a few years back to have that whole well-lit trendy blub (bar/club) atmosphere. A decent amount of seating, with a small dancefloor and stage and a few pool tables. Always busy for the most part and usually a pain with lineups. I remeber getting there sometimes at 8:30 and having to wait for a good half hour outside. Anyway the beer selection is pretty average with the few big canadian macros on tap and a decent bottle selection, all of which are relativlely well priced. They brew their own "Mustang Ale" named after the UWO football team. This beer is pretty dismal and due to inconsistancy ranges from borderline drinkable, to tasting like they threw cigarette butts in the fermentor. But it's pretty damn cheap, and some nights are $1 pints, so you cant go too wrong. The food is pretty average as well, nachos, wings and other pub fare that only tastes unusually good when your totally drunk. Overall not a bad place, had some great memories here (from the nights i actually remember of course), and for the most part always had a good time, if you're in london, check it out
1,301 characters

2.2
/5
rDev
-7.9%
vibe: 2.5 | quality: 2 | service: 2.5 | selection: 2
This is the old Canadian Pacific Railway hotel/pub. It was refered to as the CPR, CP, then finally the CEEPS.
They brew a lager and an ale, but as far as I know, they only do one at a time. It's typical North American/Canadian mainstream brew... watered down, without much flavour. Damn cheep though!
The Ceeps is a real meat-market, with fraternity-types and the girls that follow them. Barney's has a VERY large patio, and is a trendy hot spot in the summer.
It's certainly not a place for the beer geek.
515 characters
The CEEPS / Barney's in London, ON, Canada
Brewery rating:
2.5
out of
5
with
4
ratings