Pierre Celis Memoirs Triple Ale
| Brouwerij Van den Bossche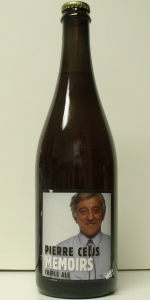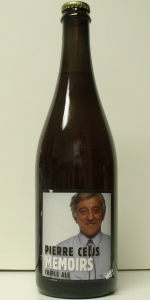 BEER INFO
Brewed by:
Brouwerij Van den Bossche
Belgium
brouwerijvandenbossche.be
Style:
Tripel
Alcohol by volume (ABV):
8.00%
Availability:
Limited (brewed once)
Notes / Commercial Description:
No notes at this time.
Added by dogfooddog on 07-02-2006
This beer is retired; no longer brewed.
HISTOGRAM
Ratings: 9 | Reviews: 7
Reviews by beerking1:
4.25
/5
rDev
+1%
look: 4.5 | smell: 4.5 | taste: 4 | feel: 4 | overall: 4.5
Bottle from 2006, aged in our basement since. Dark gold color with a huge, dense white head that lingers well. Aroma is candi sugar, with hints of citrus peel and some slight pepper notes. Flavor is extremely smooth. Sweet, fruity but mildly so, with some faint white pepper in the finish. Body seems to have thinned a little with age, but still nice.
351 characters
More User Reviews:

4
/5
rDev
-5%
look: 4 | smell: 4 | taste: 4 | feel: 4 | overall: 4
A tawney gold with a good amount of cloudiness. Head is nice sized at first fading somewhat quickly to a thin layer. Not much lace at all. Smell is sweet with light malt and a healthy bit of doughy bread. Some alcohol and light fruits, apples and fain grape. A touch of spice and a hint of banana. Taste follows the nose with a white wine facet that no doubt has blossomed from all the years in my cellar. Finish is pretty clean and dry with a mild vinous tartness and sourdough breadiness. A trace of mineral as well. Feel is softy effervescent and medium weight. A nice beer overall that may have lost some of its Tripelness in the time stored but gained a lovely wine like depth in return.
692 characters
4.32
/5
rDev
+2.6%
look: 4 | smell: 4.5 | taste: 4.5 | feel: 4 | overall: 4
A: The beer is relatively clear dark yellow in color and has a light amount of visible carbonation. It poured with a finger high white head that has good retention properties and never completely faded away.
S: The smell has moderately strong aromas of fruits with some sweetness. Apples and oranges seem to stand out in particular.
T: The taste has sweet flavors of bananas with notes of wheat and hints of cloves. There are also some notes of candi sugars.
M: It feels medium-bodied and very smooth on the palate with a moderate amount of carbonation. There are some hints of dryness in the finish.
O: The complexity of the fruity aromas and flavors make this a very interesting beer to sip and savor.
703 characters
4.53
/5
rDev
+7.6%
look: 4.5 | smell: 4 | taste: 5 | feel: 4 | overall: 4.5
This is a damn fine tripel from a damn fine brewer. Thanks to Dogfooddog for the opportunity to sample this rare beer. Looks like a tripel should. Light golden yellow with a feint amber hue. Decent carbonation supporting a moderate white head. Retention is decent, but lacing is minimal.
The smell could use some more oomph, but it's there. Nice fruity esters with a surprising amount of hops. Grainy pilsnery malt.
The taste is phenomenal. Starts off with a sweet grainy flavor supported by some excellent berry esters. Dries off in the finish with a beautiful floral/spicy hops finish. A hint of banana and clove in there as well. Very crisp and clean.
The body is moderate to full. Very creamy. Still has a crisp carbonation that works very well with the hops. Overall it is a damn fine beer, and probably the best tripel I've had.
843 characters
4.1
/5
rDev
-2.6%
look: 4 | smell: 4 | taste: 4 | feel: 4 | overall: 4.5
750ml beerclub offering, pretty sure this is a one-off. Pours into chalice with overkill head, nose is intially very fruity and citrusy, typical belgian triple yeast esthers. After a few minutes of waiting for the head to get to manageable size, nose becomes more tangy.
Taste is initial tangy bitter citrus, fades into a hint of malt with a pervasive bitterness in the aftertaste. There is a very mild spiciness in the finish.
Perfectly decent triple, though there is nothing to distinguish this from the many other good offerings of this style available. MJ seems to like this brewery, as he has used their beers more than once for his beer club, most recently the Lamoral Triple (from the same brewery). Interesting selection criterion.
745 characters


3.61
/5
rDev
-14.3%
look: 4 | smell: 3 | taste: 3.5 | feel: 4.5 | overall: 4
My last bottle from MJ's Rare Beer Tour back in '06 I believe... this has been cellared for about two years and waiting for the right moment.
750ml capped bottle served at cellar temperature in a Duvel tulip.
Appearance- This beer almost erupted all over my laptop... with a *whoosh*, the bubbles rush out of the neck and I quickly bring the glass towards it. The color is deep, for a tripel it's a rich burnished gold with a yellowish three finger head. Good, cakey lacing adorns the inside of the glass, while the effervescence from the etching below fires up a stream of microbubbles. Definitely big on the eyes.
Smell- The first sniff literally makes me choke... all the alcohol concentrated in the bulb of this glass is like a gas grill cranked up but without the burners on. Once that's over with, I get a hugely integrated aroma of malt and hops... syrupy and sweet, with a trace of spice. There's even a suggestion of must and damp boxes lingering in the background.
Taste- The initial presence is a tart, acrid bite at the back and sides of the tongue... this soon gives way to a smooth, pleasant transition of spices, gentle malts, and wonderfully delicate hops. All is in balance, without a heavy alcohol hand.
Mouthfeel/Drinkability- Smooth as satin, the beer expands just enough in the mouth to ease its reach onto all surfaces of the tongue. After a few seconds, the bubbles disappear from the radar and the texture becomes pure bliss. The swallow is as elegant as any of the best beers I've tried. This would stand up to anything... sausages, strong cheese, stews... a pleasure to have sampled, never to appear again.
1,638 characters

4.6
/5
rDev
+9.3%
look: 4.5 | smell: 4.5 | taste: 4.5 | feel: 4.5 | overall: 5
Excellent beer from the Rare Beer Club, though I got mine in Aug rather than June as a new member. Bright, shiny gold color that almost sparkles when backlight by the setting sun from my patio. Hoppy, fruity aroma that increases as the head slowly disappates. Strong head formation from pouring, so pour carefully into a tall goblet (like a Duvel glass). Aroma dissapates as the beer warms up, but the taste only increases with the temperature. Fruit and spice taste is strong and pleasant with a dry finish. I was going to sell one of my bottles to a friend, but my wife liked it too much and kept the extra bottle. If you have chance, definately get it.
655 characters
Pierre Celis Memoirs Triple Ale from Brouwerij Van den Bossche
Beer rating:
4.21
out of
5
with
9
ratings