Azimut
| Brasserie Bièropholie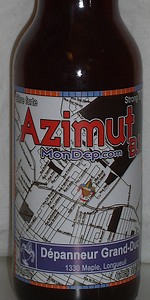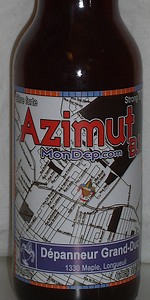 BEER INFO
Brewed by:
Brasserie Bièropholie
Quebec
,
Canada
bieropholie.com
Style:
Old Ale
Alcohol by volume (ABV):
6.80%
Availability:
Rotating
Notes / Commercial Description:
No notes at this time.
Added by 3Vandoo on 12-25-2005
This beer is retired; no longer brewed.
HISTOGRAM
Ratings: 10 | Reviews: 10
Reviews by fisherman34:
3.85
/5
rDev
+6.9%
look: 3.5 | smell: 3.5 | taste: 4 | feel: 4 | overall: 4
Slightly hazy amber brown in colour with medium carbonation. Aromas of mild citrus, peat smoked malt, caramel, and a bit of chocolate malt. Very gentle rounded flavors of caramel malts, vanilla, mellow herbal hops, and a bit of milk chocolate. Dries out nicely too. It has aged quite nicely, and is surprisingly drinkable without showing too many ill effects.
359 characters
More User Reviews:

3.81
/5
rDev
+5.8%
look: 4.5 | smell: 3.5 | taste: 4 | feel: 4 | overall: 3.5
Received from Martin (Goldorak) in Can Bif 2. Thanks again.
Appearance – This beer pours an extremely deep reddish color with a good amount of off white frothy head. A nice amount of lacing if left on my glass as well.
Smell – The smell initially reminds me of apple and sweet cherries. There is a nice amount of citrus present with some bread malt mixed in too. Something I smell slightly reminds me of caramel as well. All in all nice but a touch weak.
Taste – The beer starts off with sweet caramel notes with the addition of alcohol. I then sense some nice roasted, maybe even smoky flavors arising. There are some nice bread malt characteristics as well. Afterwards a nice hop bitterness kicks in with some citrus. I liked sipping this but at times astringent qualities arose which didn't help.
Mouthfeel – The beer has a good body to it. Carbonation is also nice. I can't complain here but it's not outstanding either.
Drinkability – The beer is very drinkable for me. Not much to say.
This beer was enjoyable. Nothing memorable but something that satisfied my thirst for a good brew today.
1,125 characters
3.69
/5
rDev
+2.5%
look: 3 | smell: 4 | taste: 3.5 | feel: 3.5 | overall: 4
Received in CANBIF 2006. Thanks, Matt!
This one raced out of the bottle with a towering head that took up 90 per cent of my pint glass before it settled — WTF? Once I was able to get the entire beer into my glass, it had an amber body topped by a rocky cream-coloured head.
I've not had a lot of stock ales, but the aroma seemed bang-on: malty and vinous with some fruity esters and a strong whiff of alcohol.
The taste started malty, with sweet caramel followed by some graininess in the middle. Dark malts came into play and it finished a tad bitter with a bit of alcoholic warming. A decent change of pace for me and I'd try another if it was available in my area.
677 characters
2.54
/5
rDev
-29.4%
look: 4.5 | smell: 3 | taste: 2 | feel: 2.5 | overall: 2.5
Bottle: poured a brown/reddish color ale with a huge foamy head with perfect retention. Aroma of sweet slightly roasted malt with some hops that are very hard to recognize. Taste is slightly sweet with a good malt presence and ends with astringent hops that don't really fit in there IMHO. Body is less full then expected and carbonation is quite high. I find this generally lack character and the presence of astringent hops didn't so it for me. Probably one of the less enjoyable offering from this brewer.
510 characters

3.82
/5
rDev
+6.1%
look: 4 | smell: 4.5 | taste: 3.5 | feel: 4 | overall: 3.5
Burgundy, amberish in color, small head retention that stick like glue to the glass. Limpid, golden hues, different shades of darkness in this beer.
Smell is at first hoppy, fruity, herbal aromas of hops, followed by bread flavors and malt.
Her taste is a tad bitter, buttery, malty and ends with the hops, at first the buttery of the yeasts comes and hit you, then followed by the caramel flavours of the malt with a nice floral hoppy finish.
Warm alcohol touch, with fruity notes that come in to play.
510 characters
3.26
/5
rDev
-9.4%
look: 4 | smell: 3 | taste: 3 | feel: 4 | overall: 3.5
Azimut means all over the place or in different directions. Fitting as this beer has about 20 different personalized labels one for each beer store in Quebec.
Got this one at Le Grand Duc, was released by the brewer about 2 years ago. Should be interesting to see how it held up.
Poured from a 341ml. bottle.
Appearance: Pours a hazy brownish red body with fairly thick head that fills half the glass then slowly recedes but lace clings to glass. Good start!
Smell: Mild roasted bitterness, not much else.
Taste: A bit astringent in taste. Has an earthy, mineral taste. Hops are subdued & carbonation though is up there. A little thin though.
Mouthfeel: This is better, citrus flavors come to the fore with some malt. Has a nice warming finish with a mild bitter bite. Also, mouthfeel is floral in nature.
Drinkability: At first, found taste a bit acidic, but then got used to it & enjoyed it. It drank fairly well.
Overall: Though aged, it held up moderately well. I'd be interested in sampling a fresher batch if RH gets to brewing it again. Middle of the road brew IMO.
1,080 characters
3.62
/5
rDev
+0.6%
look: 3.5 | smell: 4 | taste: 3.5 | feel: 3.5 | overall: 3.5
341ml bottle acquired in trade.
Poured a deeper and clear amberish / orange color with an averaged sized off white head. Aromas of caramel, nuts, woody, earthy, and some smoke. Tastes of caramel, toffee, dark fruits, light brown sugar, and lightly earthy. Malty and sweet.
Notes from 9/28/08
294 characters

3.86
/5
rDev
+7.2%
look: 5 | smell: 4 | taste: 3.5 | feel: 4 | overall: 4
A: Hazy (bottle conditioned), deep copper with a light tan head. Great retention & lacing.
S: Alcohol, floral hops, dark fruit, brown sugar.
T: Dark fruit, earthy minerals, light spicing, balanced bitterness, bready, floral hops, light caramel, hint of orange zest, alcohol is subtle.
M: Moderate to full body is smooth with a dry finish.
D: I'm not a big fan of old ales and I'm not fond of the earthy-mineral flavour in this one, but it is quite drinkable.
462 characters
3.18
/5
rDev
-11.7%
look: 4 | smell: 3.5 | taste: 3 | feel: 3 | overall: 3
bouteille brune de 341ml.
bière de belle couleur cuivrée avec mousse blanche qui tient la route. nez caramel, houblon et beaucoup de malt. en bouche la bière est ronde, moelleuse, pas très amère, elle a un petit goût de sucre brun, agréable, peut-être un peu vieille.
276 characters
4.35
/5
rDev
+20.8%
look: 4.5 | smell: 4.5 | taste: 4.5 | feel: 4 | overall: 4
341 mL brown bottle. Brewed for a dépanneur in Drummondville called Épicerie Lauzière.
Pours a nice ruby red with a white head that leaves some lacing.
Aroma is malty, a bit roasted and nutty with some citrusy hops.
The backbone of this brew is a sweet caramel malt flavour with some roasted notes. A solid hop bitterness compliments the malt very well. Citrusy and resinous, there must be some Cascade in here. Alcohol is well hidden and adds just a slight bite to the beer. Carbonation is moderate and mouthfeel is light but silky.
Another winner from Bièropholie - intense but balanced.
605 characters
Azimut from Brasserie Bièropholie
Beer rating:
3.6
out of
5
with
10
ratings