Vin D'orge
| Brasserie Bièropholie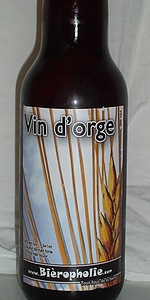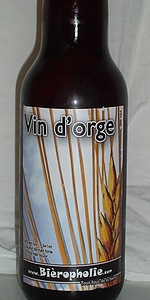 BEER INFO
Brewed by:
Brasserie Bièropholie
Quebec
,
Canada
bieropholie.com
Style:
English Barleywine
Alcohol by volume (ABV):
8.00%
Availability:
Rotating
Notes / Commercial Description:
No notes at this time.
Added by papat444 on 02-16-2008
This beer is retired; no longer brewed.
HISTOGRAM
Ratings: 7 | Reviews: 7
Reviews by santa109:
4.35
/5
rDev
+11.3%
look: 4 | smell: 4 | taste: 4.5 | feel: 4.5 | overall: 4.5
Served at 55 degrees.
A: Poured a very nice clear amber with very little head that quickly fades away into a few patches of thin film. A swirl seems to bring a bit more life into this beer. A decent amount of lacing appears on the glass. Served in a tulip.
S: Sweet aromas of candy and toffee is the first thing to strike me. Caramel malt is also present.
T: A hefty dose of candy and toffee hits the palate. Not much in the hops department aside from a slight bite mid-mouth on some sips, this beer seems to be all about malt which is not a bad thing. Ends with a bit of a boozy caramel finish without actually tasting like alcohol. A very well crafted beer.
M: Medium body with a moderate amount of carbonation. A sightly syrupy feel complements the taste quite well.
D: Surprisingly easy to drink for its abv. I really enjoyed this one and would gladly have another. More of a late evening type of beer.
Overall, I was quite impressed by this beer as with most Bièropholie offerings. The only think I think this beer could benefit from would be a bit more alcohol presence.
1,083 characters
More User Reviews:
3.29
/5
rDev
-15.9%
look: 4 | smell: 2.5 | taste: 3.5 | feel: 3.5 | overall: 3.5
Metro Joliette. A complete covering of lace, and a significant head on a medium coloured body. Not much really for aroma, maybe some sweet honey. Grainy mouthfeel,a little honeyish, was not sure what style this was but its not a barleywine. It drinks malty wheaty smooth.
271 characters
3.87
/5
rDev
-1%
look: 3.5 | smell: 4 | taste: 4 | feel: 4 | overall: 3.5
Bottle: Poured a deep clear copper color ale with a medium foamy head with good retention and some light lacing. Aroma of sweet malt with some toffee notes and caramel. Taste is also dominated by some sweet malt with distinctive notes of caramel and toffee. Fairly low hops presence which does fit the beer properly as accent should be put toward malt. Medium body with good carbonation and no apparent alcohol. I very much appreciated that one and it reminds me of Youngs Old Nick.
482 characters
4.1
/5
rDev
+4.9%
look: 4 | smell: 4 | taste: 4 | feel: 4 | overall: 4.5
From the brewer's website: Brewed entirely with one single variety of malt & one single variety of noble hops.
Vin d'orge is french for Barleywine, word for word, but the similarities end there. Unique in it's own way but if it had to be compared to one style, it would be English Barleywine (though the brewer was inspired by this style, this is not a barleywine in the strictest sense). More accurate translation would be wine from barley sugar.
Poured from a 341ml. bottle.
Appearance: Pours a light brown body with a tinge of ruby. Good-sized head that dissipates rapidly. Active carbonation.
Smell: All sweetness here. Aromatic in it's sweetness with an almost candy-like quality & mild hops aroma.
Taste: Mild at beginning. Sweetness vaguely ressembles a cough drop quality (not necessarily a bad thing) but then leans more towards a hard candy aspect. Sweetness not overwhelming but dominant. It really warms the throat all the way through, almost as if you drank a shot of liquor.
Mouthfeel: Light on the palate, mildly carbonated. Sweetness is persistant but does finish with a tinge of bitterness that lets you know the hops are alive.
Drinkability: Wow, this just glides right through. So much so that it's hard to stop & analyze. Though 8%, alcohol certainly does not impede the ease of consumption, although make no mistake, it definitely makes it's presence known. Kept sipping this one, would have another.
Overall: Don't be fooled by the label which says Strong Malt Liquor. Though that might conjure images of a lesser beer, this is not that. Simple tasting brew, not complex. Though soft tasting, it certainly leaves a strong alcohol presence. Nice balanced brew with lots of sweet candy (bonbon!) notes. Hard to pigeonhole this one (especially in describing it's inherent sweetness) but certainly a different kind of brew. I would revisit this one.
1,876 characters

3.82
/5
rDev
-2.3%
look: 3.5 | smell: 4 | taste: 4 | feel: 3.5 | overall: 3.5
Bottle courtesy of Phyl21ca poured into a snifter.
A: Pours a deep clear amber with a small bubbly head that dissipates almost immediately and leaves little lacing.
S: The smell is very unique with a big candied barley sugar and toffee smell that complements the caramel malt undertones. Faint bit of hops in the nose as well, though subtle.
T: Like the smell, a very distinctive sugary barley and malt taste. The sugary candy sweetness dominates but the boozy background is present throughout.
M: Mouthfeel is medium bodied and slightly syrupy with minimal carbonation.
D: The big candied sugar presence and syrupy mouthfeel keep the drinkability down a little for me, but this is an extremely interesting and unique beer. Thanks Phil for the chance to try it.
766 characters

3.97
/5
rDev
+1.5%
look: 4 | smell: 4.5 | taste: 4 | feel: 3.5 | overall: 3.5
Pours clear, dark copper, with an off-white head that rose to an inch.
The porous foam fell quickly leaving a few errant dots of lacework, and some crescent skimming on the surface.
Akin to malt candy in the nose. Sweet malt with purple grape jam. Floral and lightly fusel-laden. Smelling quite fresh and young.
The mouthfeel is sticky and lightly syrupy. Carbonation is light and keeps the beer clingy.
The pallet is loaded with sweet, clean malt.
Hopping is reserved for a smidge of bitterness, and fruitiness in the middle.
Alcohol is apparent and warming, but no heat.
Juicy malt continues throughout the finish, with some minerally crispness and lingering residuals.
A showcase for high quality, fresh malt with some petal-like hopping.
The excessive residuals cut down on the drinkability though.
803 characters
4
/5
rDev
+2.3%
look: 4 | smell: 4 | taste: 4 | feel: 4 | overall: 4
Clear amber body with a small film of white head. Aroma is candy, toffee and bubblegum, which is kind of interesting. Lots of bubblegum showing up in the flavour, alongside hard candy and toffee. The finish is smooth and warming, tailing out with a nice caramel malt and a touch of alcohol warmth. As for the alcohol - its very well-hidden, but you can tell that this one is a bit of a bruiser. Smooth, slightly chewy mouthfeel.
This is a very well made beer, but not one that I think I would revisit. The candy and bubblegum flavours seem well-integrated, but are not something that particularly attracts me. I would also like to have seen a bit more bitterness to cut through the sweetness and provide balance.
713 characters
Vin D'orge from Brasserie Bièropholie
Beer rating:
3.91
out of
5
with
7
ratings