Heavy Seas - Thank You, Thank You Very Much
| Heavy Seas Beer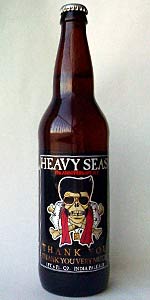 BEER INFO
Brewed by:
Heavy Seas Beer
Maryland
,
United States
hsbeer.com
Style:
American Double / Imperial IPA
Alcohol by volume (ABV):
8.00%
Availability:
Limited (brewed once)
Notes / Commercial Description:
No notes at this time.
Added by jsanford on 11-05-2010
This beer is retired; no longer brewed.
Ratings: 36 | Reviews: 25
3.98
/5
rDev 0%
look: 4 | smell: 3.5 | taste: 4 | feel: 4 | overall: 4.5
A - Really nice gold-brown color. Very fluffy white head that leaves nice lacing. Quite a bit of carbonation visible.
S - Grapefruit and pine - mild though - not as strong as I would have expected.
T - Quite clean. Typical hoppy flavors - quite similar to Hop3 IPA - a bit of a herbal and floral finish. Elderflower is what I want to say but I'm not sure that's right. Bitter finish as well but pleasant. Really digging the floral notes.
MF - Bubbly and pleasant. Coats the mouth and leaves the bitterness in the back.
D - I could drink a lot of this. Alcohol is totally hidden.
I have to admit - I expected more. I was expecting a level up in intensity from Loose Cannon but it was more of a step down. I really love LC so this was a bit disappointing. However, if it was stronger I think the florals would have been overwhelmed, so I do appreciate the balance here. Neat brew overall. If it were me I would have either bumped down the ABV and kept the same general intensity and classified this as an IPA or increased the hop value and made it a true DIPA - not sure this fits the DIPA category right now.
However, definitely worth a try and a very nice offering from Heavy Seas. Congrats on 15 years!
1,207 characters
4.2
/5
rDev
+5.5%
look: 4.5 | smell: 4.5 | taste: 4 | feel: 3.5 | overall: 4.5
Poured into a pint glass giving off aromas of apple. Off white bubbles and a three finger head. Very clear light copper/gold body with easy to see carbonation. Real nice looking pint here with minimal lacing.
Bouquet is quite good. Not small but not big consisting of a first hop nose and small bread/biscuit aroma. Afterwards gives way to a floral scent of lavender. Perfectly balanced quite nice, I dig it quite alot, but I will admit it is not very much in Double style which forces me to give it slightly lower grade.
Taste is a very wet consistency and a hop tang in mid palate. Upon swallowing is a sweet apple taste with some hop finish. A little alcohol noticeable but nothing too big and heavy like most doubles. Second swallowing will also bring out the floral notes. This brew seems to fall and feel somewhere in the between standard American and a Double IPA.
Easily drinkable and a good present to everyone who likes Heavy Seas. Thanks very much indeed.
970 characters

3.58
/5
rDev
-10.1%
look: 4 | smell: 3.5 | taste: 3.5 | feel: 4 | overall: 3.5
Bomber (huge thx to johnmichaelson!!) poured into my Murphy's Stout tulip, Thank You, Thank You Very Much is clear gold with a white head that leaves scattered lace.
Smell is a pretty hoppy, sweeter citrus fruits, nice tangerine, an earthy, stemmy character as well.
Taste is pretty good as well, fairly hoppy but not blistering, more of the citrus, the sweetness accentuated by the noticeable but clean alcohol character. The stem taste comes through as well, manifest in a peanut like flavor.
Mouthfeel is oily, slick and dry, fairly light body.
Drinkability is pretty good, a relatively balanced DIPA. Perhaps a bit underwhelming for an anniversary DIPA, but then again my palate is skewed to NW style, which this clearly is not. Glad I got to try, but would not seek out again.
788 characters

3.73
/5
rDev
-6.3%
look: 4.5 | smell: 4 | taste: 3.5 | feel: 4 | overall: 3.5
15th anniversary ale from Heavy Seas...is it possible a decent DIPA.
Beer is orange and clear with moderate to low carbonation and a thin head of small tiny white bubbles. Thin head breaks slowly leaves lacing on the glass. Looks good!
Aroma is sweet and piny. Earthy hop notes, its a little malty in the aroma but overall very pleasant.
Well, the beer falls a little flat in the flavor department. There is a nice earthiness to the hop palate but the finish is a ghost of a bitterness that crawls like a shadow across your palate the more I drink. There is an almost alcohol bite to this thing. It's decent but not ground breaking.
636 characters

3.71
/5
rDev
-6.8%
look: 4.5 | smell: 3.5 | taste: 3.5 | feel: 4 | overall: 4
22 oz bottle into an oversized tulip glass.
Pours a clear copper, with 2 robust and foamy fingers of bright-white head. Retention is fantastic, with a nice visible continual carbonation release and the head sticks around the head sticks around with a smaller, but no less rich, ½ finger of stiff froth. This just completely drenches the sides of the glass with creamy lacing that hangs in a sticky latticework. Floral, leafy, and herbal hops drive the front portion of the nose, before tropical fruit notes swoop in off the sides, and sugary smelling grains run through the center of things. There isn't a whole lot of bitterness to the aroma, maybe just light greenish grapefruit character. I'm picking up just a smidge of alcohol warmth as well.
The taste is much more bitter feeling, with grapefruit juice cutting across the tongue like a knife but is tempered on the edges by tropical fruit notes of orange & mango, as well as some toasted grainy sweetness from the malts. This finishes with lingering fruit and sugars, as well as a layer of gritty bitter citrus rind that lies heavy on the tongue with dryness. The mouthfeel is medium bodied, maybe even a bit fuller, with more of a soft and creamy feel on the edges, which then pulls together into more of a prickly feel as it hits the tongue. This is mostly pretty slick and easy feeling for the size, as that 8% ABV is very nicely hid here, except for just a tiny bit of warmth that soaks the back of the throat about every other sip or so.
In their pantheon of IPAs so far from Clipper City, this wasn't quite as flavorful and accessible as the Loose Cannon IPA but was definitely a step up from the overly boozy mess that was the Big DIPA. This was well balanced and easy drinking for the size but the profiles never really did grab me like I was hoping they would. I think I paid $6 for this bomber and that seems just about right for what I got out of this.
1,926 characters
3.88
/5
rDev
-2.5%
look: 4 | smell: 3.5 | taste: 4 | feel: 4 | overall: 4
Fair IPA, not particularly outstanding as an anniversary ale but rather welcome. Thank you Clipper City - Heavy Seas.
Presentation: 22 oz brown bottle. Perfunctory pirate skull themed label on this occasion with a take on Elvis Presley. The thing is so trite and badly done that at this point it is almost likable. Side narrative notes anniversary occasion and thanks the drinkers-supporters of the brewery on this their 15th anniversary. Notes style, and shows Alc. by Vol. (8%) Served in a tulip glass.
A - Gold pour with a fair frothy head, average retention with fair touches of lacing.
S - Good hoppy nose, grapefruit and citrus, a bit subdued.
T - Nicely balanced range of hops, grapefruit, a touch of sweet malt in the background, hint of turpentine...
M - Medium/light body with medium carbonation and a nice small bite in the finish.
D - Works rather well as generic quality IPA, which is actually not a bad thing to be.
Notes: Similar to the Loose Cannon Hop3, sure, maybe slightly better looking and with a touch below in the aroma. While nice, it´s nothing particularly admirable and sure enough a bottle of Loose Cannon would do the trick also nicely instead. But in any case, and given its proximity, and the role that this brewery has played in the past in my beer education, thank you, thank you indeed!
1,328 characters

3.62
/5
rDev
-9%
look: 3.5 | smell: 4 | taste: 3.5 | feel: 3.5 | overall: 3.5
Bottle thanks to bmanning. Served in a tulip.
Pours a light copper color with a very thin head. This falls quickly to a bubbly cap without any lacing. The nose is fairly strong with a lot of tropical-fruit from the hops. There is also a bit of tangerine and citrus. The taste is a bit grainy with some of the tropical and citrus fruits that were in the nose. The hop flavor is definitely a bit mild and there is some lightly-sweetened malt in the background. The feel is of a medium body with a good amount of carbonation though there isn't really all that much bitterness. Decent enough; the nose is definitely the highlight.
627 characters
4.15
/5
rDev
+4.3%
look: 4 | smell: 4 | taste: 4.5 | feel: 3.5 | overall: 4
Very solid pale orange color. Some decent sticky lacing on the glass. Huge floral aroma-very citrus like as well-big blast of grapefruit up front. Very strong and solid hop presence against a sweet, sticky malt backbone. Piney and resin like. Just enough alcohol to let you know the abv but is not detrimental to the overall flavor. Body could use a boost for my liking. Overall very nice and enjoyable. I can see doing this while fresh for sure. Would not think it is one to linger in the fridge.
497 characters
3.9
/5
rDev
-2%
look: 4 | smell: 4 | taste: 4 | feel: 4 | overall: 3.5
On cask at Max's tonight.
The beer pours a slightly hazy orange color with good head retention and nice lacing all around. The nose is attractive, showing mandarin orange, a hint of maraschino cherry, pine and white pepper. The flavor profile replicates the nose, though the cask version is a bit sweeter then the draft version, and there's a bit more alcoholic heat in the finish. Mouthfeel is medium bodied with a fairly long, dry and bitter finish. Drinkability is pretty good, though the noticeable alcohol detracts just a bit in that regard.
A solid effort, but I think this is another IPA that does not lend itself well to cask conditioning.
649 characters
4.34
/5
rDev
+9%
look: 4 | smell: 5 | taste: 4 | feel: 4 | overall: 4.5
Tap -> Heavy Seas/Clipper City 15th Anniversary pilsner glass.
Enjoyed several tastings of this at the brewery last night for their 15th birthday party.
Pours clear, dark gold-ish. Lots of head at first, simmers down a bit. Moderate lacing through the tasting.
First impression is the amazing floral aroma. This is what I really like about a good fresh IPA. Pretty complex hop notes throughout, as expected. Dangerously easy to drink for an 8% brew.
Between my wife and I we were able to take home four bottles. We'll likely crack in to a few this weekend. I feel the need to consume these immediately as age will do this no good.
I was told that this is actually the original recipe for Loose Cannon circa 2001-2002. The 100 barrel batch used six types of hops, about 150 lbs total.
792 characters
3.71
/5
rDev
-6.8%
look: 4.5 | smell: 3.5 | taste: 4 | feel: 3 | overall: 3.5
Picked up a bottle at the brewery tonight. Tried it on tap and from the firkin there. Saving this isn't going to do it any favors so I thought comparing all 3 would be interesting. 22 oz undated bottle poured into a nonic. This artwork, like all of their "artwork"...
Pours a perfectly clear, light copper color with a massive rocky light cream colored head. Excellent retention and lacing. Huge pine and spruce hop aroma with a mild solvent twinge near the finish that knocks half a point off my score. Mouthfeel starts medium thick, mildly syrupy and finishes watery thin with a general lack of carbonation throughout. Like the aroma and mouthfeel, the flavor starts initially promising with resiny and piney bitter hops on the front of the palate. The minimal carbonation catches up with the finish, ending syrupy and caramel sweet with a potent alcohol punch. Overall this walks the line somewhere between a single and imperial IPA, with characteristics of each. This is certainly an improvement over their Big DIPA but I'd still prefer Loose Cannon. I'm not going to review the other two I had tonight, but I'd rate this behind the draft version which benefitted greatly from the additional carbonation. Personally I thought this particular beer was a complete miss on cask. Regardless, if you get a chance, definitely try this, but don't sweat missing it; drink a Loose Cannon instead.
1,392 characters
Heavy Seas - Thank You, Thank You Very Much from Heavy Seas Beer
3.98
out of
5
based on
36
ratings.